How to Watch Japanese TV Outside Japan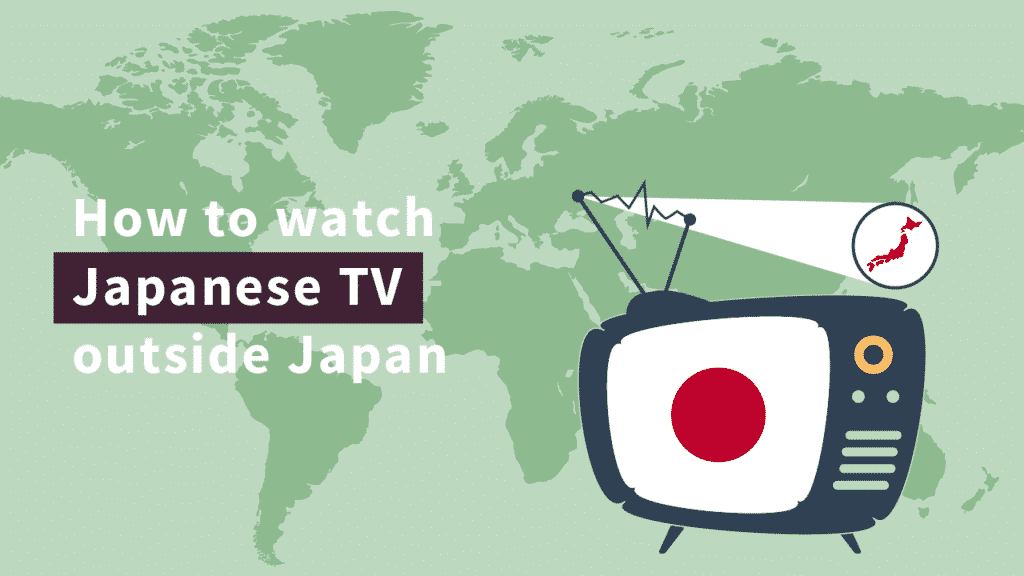 Japanese TV has become popular around the world in recent years. With captivating content on news, music, sports, radio, and much more, it's easy to see why people have grown to like Japanese TV. Before now, if you stay outside Japan, accessing these contents, can be challenging. However, we've come up with a straightforward solution on how you can watch Japanese channels with ease – use a VPN.
One popular site to stay updated on sporting activities in Japan is DAZN. There is also Netflix Japan, GYAO, AbemaTV, Amazon Prime, Niconico, and Hulu, where you can watch trending videos and movies. Radiko is one of the leading radio channels in Japan, and if you are a gamer, you'll love DMM games. All these sites have their full content accessible only in Japan. So, why can't you access them from other countries?
Why is Japanese TV blocked in other countries?
The reason is a simple one. Many of these sites have only purchased the rights to broadcast their content within Japan. Therefore, they do not have the rights to show it to others outside the country. And to stay within the confines of these rights, they implement what is called a geo-restriction which makes their content only accessible to those with a Japanese IP address.
How to watch Japanese TV even if you are outside Japan
The key to unlocking the geographical restriction that Japanese TV sites have placed on their content is by using a Virtual Private Network (VPN).
Japanese TV sites can identify devices that try to access their content from countries other than Japan through the IP address. For example, when it spots a French IP address, the site blocks its content on such devices.
Now with a VPN, you'll have a Japanese IP address to watch as many Japanese TV contents as you like. Your traffic will be sent through the VPN's server, so to others, it will seem like you are in Japan.
Five best VPN services for accessing Japanese TV outside Japan
Now, there are several VPNs out there, some free and others paid. Below, we'll show you five of the best VPNs that'll give you access to Japanese TV no matter where you are.
ExpressVPN

Features
Number of servers: More than 3,000
Speeds: Unlimited
Server locations: 160 in 94 countries
Maximum devices supported: 5
24 live chat: Yes
30 day money back guarantee: Yes
Pros/Cons
Fastest VPN out there
Strict no logs policy
256-bit AES encryption
A VPN that tops the chart for viewing Japanese TV outside Japan is ExpressVPN. With 160 server locations, it is not difficult to see why many people use this VPN as their preferred choice. It has exciting features that make it suitable for watching Japanese TV outside Japan.
Firstly, the VPN supports a wide range of device operating systems – Windows, Mac, Linux, Android, and iOS. So, you do not have to worry about being restricted to a particular device to access your favorite Japanese shows. ExpressVPN also has an excellent speed that allows you to stream HD content with ease from any of these devices.
On its privacy feature, ExpressVPN scores high points. It has an AES-256 encryption, which is the military-grade standard for security personnel in the world. With no activity tracked while you watch your favorite Japanese TV shows, you can be assured that no data leak will come from using this VPN. This provider runs its own DNS that is encrypted to give you faster and safer connections to Japanese sites. You'll also get a kill switch in case your connection drops while you are enjoying your favorite Japanese TV shows.
ExpressVPN allows you to connect five devices simultaneously to one account, which is pretty impressive. And if you have any issues with the service, a 24/7 email and live chat support is available to help you out. You can get a refund with its 30-day money-back guarantee.
Pros:

Fastest VPN out there;

Strict no logs policy;

256-bit AES encryption;

Lowest price: $6.67
NordVPN

Features
Cryptocurrency accepted? Yes
Simultaneous connections: 6
Dedicated IP-addresses? Yes
Servers: 5342 in 58 countries
Pros/Cons
Lots of pricing options
Netflix support kept up to date
256-bit AES encryption
For streaming content on Japanese TV like Amazon Prime, Netflix Japan, Tsutaya, Niconico, Wowow, and Tver, NordVPN is the perfect VPN to use. It offers fast performance with almost unlimited bandwidth so you can watch content all day long. There are a lot of reasons why this VPN service has made this list, so let's examine them.
NordVPN has a presence in 59 countries and 5134 servers in these countries. In Japan alone, the number of servers has risen to 82, so you'll have no problem watching any Japanese TV you want to. You'll also have a state-of-the-art encryption for your data to make sure you are protected from unsolicited adverts, hackers, and malware while you are watching your favorite Japanese shows.
This VPN is compatible with a wide range of operating systems. But it is its speed that makes most people prefer it to other providers. With NordVPN, you'll not experience buffering or video lags. If you are not happy with the service from the VPN (which we doubt), you can request your money back.
Pros:

Lots of pricing options;

Netflix support kept up to date;

256-bit AES encryption;

Lowest price: $3.71
ProtonVPN

Features
P2P support? Yes
30-day money-back guarantee? Yes
Country of origin? Switzerland
Servers: 600+ in over 40 countries
Simultaneous devices: 5
Pros/Cons
Professional support
Modern interface and apps
AES-256 encryption
ProtonVPN is a newbie to the VPN market but has made a name for itself in a short while. It adds on the fundamental features you'll expect from a VPN by including impressive features that'll make watching Japanese TV more enjoyable.
ProtonVPN has 526 servers in 42 countries, and a handful of these servers are located in Japan. On its reliability and speed, ProtonVPN beats many VPNs hands down. All of its servers have a minimum of 1Gbps bandwidth, with a few even getting up to 10Gbps connections. The most amazing feature is that with a single account, you can simultaneously connect as many as ten devices.
On its privacy policy, ProtonVPN ensures that none of your data is leaked by passing it through a secure network.
Pros:

Professional support;

Modern interface and apps;

AES-256 encryption;

Lowest price: €4
Trust.Zone

Features
Complete anonymity? Yes
Unblocking of all websites? Yes
Pricing options: 4
Servers: 164 in 80+ zones
Free trial: Yes
Pros/Cons
Military grade encryption
Bitcoin accepted
App for mobile devices
Another VPN that makes the list of best VPNs to use with Japanese TV is Trust.Zone. It unlocks the geographical restriction easily, such that even if you are miles away, you'll have no problem watching your favorite shows. Trust.Zone is only compatible with Android and Windows devices, but it comes at a reasonable price.
A feature that many paid VPNs do not have is a free trial version, and this is something you'll get from Trust.Zone. Like many other VPNs on this list, you'll get complete anonymity when watching Japanese TV content. Trust.Zone is located in Seychelles, which is not among the 14 surveillance countries, so you can be assured of no data leak.
With a presence in 87 zones and 156 servers, you'll have bypassing and unblocking geo-restrictions for different countries.
Pros:

Military grade encryption;

Bitcoin accepted;

App for mobile devices;

Lowest price: €3
HideMyAss

Features
Speeds: 20 Gbps
Money-back guarantee: Yes
Activity logs? No
Locations: 190+ countries
Pros/Cons
Best server database on the market
No-logs and kill switch policy
Multiple device protection
Expensive short term plan
HideMyAss is one of the leading VPNs with the service available in over 190 countries in the world. This number is even increasing sporadically, so you should be able to unblock restrictions in every country in the world very soon. But apart from its wide popularity, there are also a couple of amazing features that make watching Japanese TV more enjoyable.
On its privacy, the VPN uses a 256-bit AES encryption to prevent data loss, malware, and cyber theft. You are allowed as many as five simultaneous connections to one account, with a 20Gbps server speed. HMA has a 30-day money-back guarantee and cheap plans that can save you up to 64% for a 3-year plan.
Pros:

Best server database on the market;

No-logs and kill switch policy;

Multiple device protection;

Lowest price $2.99
Which one should you go for?
All five VPNs are excellent to use, so it can be very confusing which to select from. Here are some things to guide you on the decision you make.
Server location: This is the most important thing to consider when looking for a VPN to use to watch your favorite Japanese shows. For this purpose, only Japanese servers will work. Hence, it's no use getting a VPN that doesn't have servers in Japan. Always make sure that your preferred provider has a good number of servers in Japan before you commit to it.
Cost: There are different prices of VPNs out there, but most of them are relatively cheap. Ensure that the worth of your preferred choice matches the price tag placed on it before you subscribe to it.
Bandwidth and speed: No one likes watching a video that buffers all through. It can be a frustrating experience, so ensure that your VPN has fast performance. Imagine you are watching a movie on some captivating channel, and without warning, you get cut off. You try troubleshooting, but nothing works. If you get a VPN that has daily bandwidth caps, you will experience this often.
Number of simultaneous connections allowed: A VPN that allows many simultaneous connections at once is always a preferred choice. However, you still have to be careful so that your connection doesn't drop several times while you watch Japanese TV. Five is a good number to go with. Anything less doesn't allow for flexibility.
Protocols run on the VPN: With this factor, the more, the better. There are several protocols that can be run on a VPN service like OpenVPN, IPsec, PPTP, and so on. A VPN that runs on recent protocols is always better.
Is it legal to use a VPN?
In many countries, using a VPN to watch movies and news, play games, listen to radio programs and even chat with friends is legal. However, some countries restrict or prohibit their use for security concerns. For example, in Iraq and North Korea, it is illegal to use a VPN for any purpose.
In countries where it is legal to use VPNs, there are some illegal activities where you should not use a VPN. These include;
Hacking: Cybersecurity has become a major threat in the world in recent years, and hacking tops the list of these threats. With VPNs, the security concerns are heightened because of the anonymity that most services provide. It is a crime to use VPNs to hack other people's computers, mobile phones, or other devices.
Illegal-File sharing: Authors, writers, and other creators of artistic work have the license to determine how their content is to be shared. Even though VPNs provide a channel for this illicit activity, it is a crime to use them to share files without a license.
Carrying out activities on the Dark Web: The Dark web is a marked zone in many countries of the world. Therefore, using a VPN to sell, buy, or steal weapons, drugs, and illicit materials from the dark web is a punishable crime.
Cyberbullying and Cyberstalking: The anonymity that VPNs allow has caused many people to use it to stalk and bully others. VPNs are not created for this purpose.
In short, activities that are illegal without the use of a Virtual Private Network remain illegal with its use. The only difference is that a VPN will keep you anonymous and reduce the likelihood of getting caught.
Can I use a free VPN instead?
Like we mentioned earlier, VPNs can either be free or paid. But the free type has so many problems that we do not recommend them.
Firstly, free VPNs can be very slow. They are no match compared to the speed of paid VPNs. The bandwidth cap is also another problem with free VPNs. In most of them, you cannot watch as many Japanese TV shows as you like.
Lastly, and most importantly, free VPNs keep logs of your activities. There is no guarantee that your details are not saved for future use, with some even sending unsolicited adverts gotten from your search results.
In conclusion
Japan has some of the best TV channels to keep you glued to your screen all day long. But the problem has always been how to access its content even if you are several miles away from the country.
In this article, we have shown how you can go around the geographical restriction these Japanese sites place on their content, using a VPN. We've also included 5 of the best VPNs and the criteria to look out for when picking one to watch Japanese TV.
Happy viewing!