Best VPN for DMM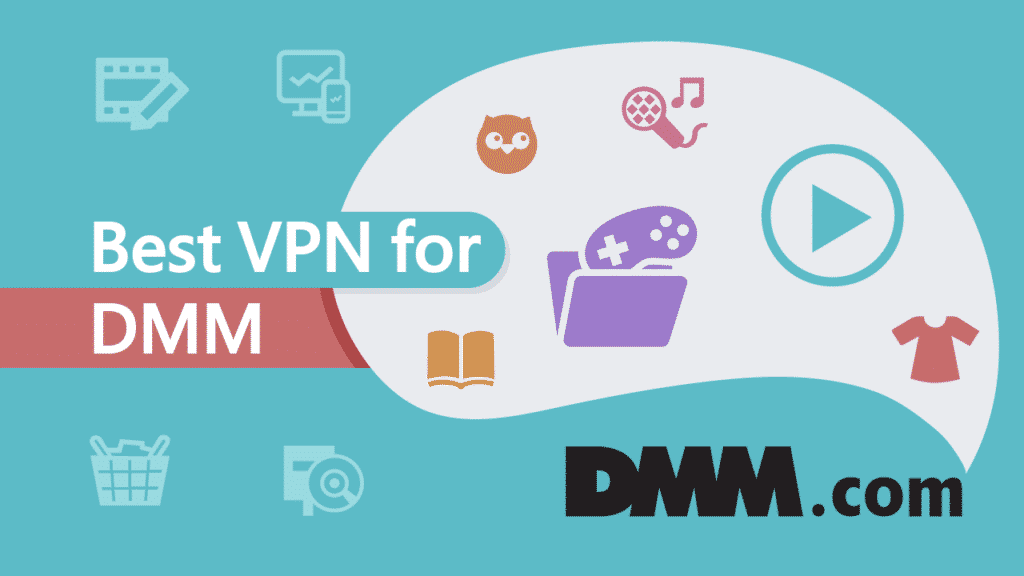 DMM is a Japanese online service that provides a vast variety of different services and products. Notably, some of their most popular offerings are within video streaming and games.
DMM has set up a limitation on its content, which means that a majority of contents are only accessible to Japanese citizens. In fact, only the English lessons and dating services are available for foreigners on DMM. This is of course rather disappointing to big anime, manga, and Japanese video game enthusiasts.
However, there is a rather simple, and legal, solution out there. This solution is to simply use a VPN service in order to appear as if you were located in Japan. After all, the only thing DMM looks into is that you are located in Japan, and through a VPN, you can trick the service into believing this. But how exactly do you use a VPN for DMM?
How Can You Access Japanese DMM Through a VPN Service?
A VPN is a service that enables you to hide our old IP address, and gain a completely new one – all at the mercy of one click. The only reason DMM is able to block you out, is that they can detect your foreign IP address. If you acquire a VPN service, you can simply connect to a Japanese IP address, and then visit DMM.
DMM will have no basis for knowing who you are, except the fact that your computer communicates that you are visiting from Japan. Following, all geographical restrictions are removed, and you can freely watch DMM content such as anime and manga, and of course play their popular Japanese video games.
Best VPN Services to Access Japanese DMM
However, the choice is not as easy as just picking a VPN service that provides Japanese IP addresses. For instance, many of the free VPN services provide this, but they lack quality servers that can provide you with stability and high connection speeds. This is why you should only consider paid VPNs.
Even within this segment, there are services that do not offer the optimal conditions you should seek. After all, the video games, TV shows, and movies available with the Japanese DMM are all reliant on a good connection to provide you with the best experience possible. That is why we have listed the best VPN services to access Japanese DMM below.
ExpressVPN

Features
Number of servers: More than 3,000
Speeds: Unlimited
Server locations: 160 in 94 countries
Maximum devices supported: 5
24 live chat: Yes
30 day money back guarantee: Yes
Pros/Cons
Fastest VPN out there
Strict no logs policy
256-bit AES encryption
Few VPN services can compete with ExpressVPN. In various tests, this service ranks in the top spots. This can simply be attributed to the fact that the service nearly has no flaws to pick at. NordVPN is always competing with the service, but apart from them, the other VPN services are simply just one level down from ExpressVPN.
ExpressVPN is located in the British Virgin Islands. That is rather important, as they are located outside of the EU and the U.S. jurisdictions. Within these zones, VPN services are known to share logs of user activity. While using ExpressVPN to access Japanese DMM is not illegal, keeping your privacy is still nice.
Furthermore, ExpressVPN is praised as a service that does not reduce your Internet connection speed noteworthy. When playing games or watching content on Japanese DMM with ExpressVPN, the last thing you want is lagging or a service that stops working. ExpressVPN provides fast servers that allows you to stream and play games without interruptions.
In total, ExpressVPN offers over 3,000 servers worldwide. More are added continuously, and they are currently spread out in over 90 different countries. Of course Japan is on this list, and ExpressVPN offer several high quality servers in this country. That means you are always ensured the best possible connection.
When accessing the user interface of ExpressVPN, most people forget the complicated technology that lies behind a VPN. You do not need to know what an IP address even is. Just click the Japanese IP address, and you will connect within a few seconds.
Lastly, customer support at ExpressVPN is a treat. While troubles are few and far in-between, it is always a great advantage to have access to help 24/7. ExpressVPN also work well with watching shows like AbemaTV, GYAO, dTV and TVer overseas.
Pros:

Fastest VPN out there;

Strict no logs policy;

256-bit AES encryption;

Lowest price: $6.67
NordVPN

Features
Cryptocurrency accepted? Yes
Simultaneous connections: 6
Dedicated IP-addresses? Yes
Servers: 5342 in 58 countries
Pros/Cons
Lots of pricing options
Netflix support kept up to date
256-bit AES encryption
As mentioned earlier, NordVPN is really the only service that can flex muscles against ExpressVPN. Following, it is only natural that this service is mentioned as one of the best VPN services to access Japanese DMM. When torn between NordVPN and ExpressVPN, the choice is almost irrelevant, as both are optimal services for all types of use.
NordVPN is outside of the jurisdictions of both the EU and the U.S., meaning logging is a non-existent issue here. They are based in the Central American country Panama, where the national laws allow for VPN services to keep a non-logging policy. Double encryption further secures your anonymity here.
However, this increased encryption does not have a negative impact on the server speed. While your traffic might be routed through two servers as opposed to only one, NordVPN still conserves your speed. This means streaming Japanese DMM and playing their video games is no issue while utilizing the NordVPN service.
In total, NordVPN offers over 5,500 servers in over 60 different countries. This means you will not have to look for a long time before you get logged on to a fast server. Furthermore, a lot of Japanese servers in the NordVPN service secures stable and fast connections on Japanese IP addresses.
As soon as you have installed the VPN service on your computer, you can securely connect to a Japanese IP address within one single click. There is no need for technical competence or configurations of the service. Just navigate to the Japanese IP addresses and click to connect.
NordVPN is also a great choice for watching shows like Japanese Netflix and Japanese Hulu.
Pros:

Lots of pricing options;

Netflix support kept up to date;

256-bit AES encryption;

Lowest price: $3.71
Surfshark

Features
Free trial? Yes
Simultaneous connections: unlimited
Ad blocking? Yes
Servers: 1000+ in 61 countries
Pros/Cons
No footprints
Allows torrenting
256-bit AES encryption
SurfShark is one of the newer additions to the VPN market, yet they have already made their mark. The service is praised for its ability to pack all the most important VPN offerings into a comprehensible and user friendly service. If you want to access Japanese DMM, then SurfSharkVPN is undoubtedly a great service to test.
Among the greater benefits to SurfSharkVPN are their lightning fast servers. While most VPNs cause you to lose some connection speed, SurfSharkVPN is known to maintain an almost unrecognizable transition in terms of this aspect. This way, you can enjoy both video games and streaming through Japanese DMM without any sort of interruptions.
SurfSharkVPN offers over 500 servers in over 50 different countries. These are recognized as high quality and fast servers, and many are located within Japan. That means connecting to Japan is a breeze through SurfSharkVPN. The vast amount of IP addresses gives you an excellent flexibility to always pick the best available option in the market.
Connecting is easy, whether you use the PC version or mobile version. Some VPN services can be tough to understand, but SurfSharkVPN lets you connect with one single click. This makes SurfSharkVPN one of the most user friendly VPN services out there, and even absolute beginners with the technology will have no issues getting connected.
Finally, SurfSharkVPN is a very cheap service in relation to their capabilities. While price should not necessarily be a determinant factor, it can be a good way of picking between two equally good services in the market. If you choose a longer subscription, notice that the price drops even further down.
Pros:

No footprints;

Allows torrenting;

256-bit AES encryption;

Lowest price: €2.49
UltraVPN

Features
One click connect? Yes
Servers: 100+ superfast servers
Bandwidth cap? No
Platforms: Mac, Windows, iOS, Android
Pros/Cons
Firewall
Apps for all devices
256-bit AES encryption
Not as many servers as others
UltraVPN is a service that consistently ranks as one of the best in the market. Despite being a young VPN service, they have a rumor already of being a serious competitor to the market. Their emphasis on anonymity, coupled with their many servers and high connection speeds, make this VPN service a good choice if you want to access Japanese DMM.
Despite being located within the UK, there has not been any reports of logging from UltraVPN. That means you surf completely anonymous through this VPN. While you might not care for the purpose of accessing DMM, as the use of a VPN is completely legal, it is still a nice added bonus for you.
UltraVPN reports a loss of only 10 to 15% in connection speeds. While that might sound like quite a bit, this drop in speed is absolutely normal with the VPN technology, and it is barely recognizable. When you want to stream content or play video games on Japanese DMM through UltraVPN, you do not need to worry, as the experience will be optimal.
That can be attributed to the great amount of servers that UltraVPN. They currently have servers in over 55 countries, and as a newer service, they are of course still growing. The Japanese servers here ought to be highlighted, as they are stable and fast.
UltraVPN is available for both PC and mobile, meaning you can utilize the technology wherever and whenever you want. This gives you the flexibility to connect to a Japanese IP address over your phone as well, such that you can access Japanese DMM whenever you would like to.
In terms of price UltraVPN is at the same level as the others, except it actually is one of the cheapest if you prefer monthly payments.
Pros:

Firewall;

Apps for all devices;

256-bit AES encryption;

Lowest price: €2.99
CyberGhost

Features
Connected devices at once: 7
Automatic kill switch? Yes
One click connect: Yes
Servers: 5900 worldwide
Pros/Cons
No logs policy
24/7 live chat
Apps for mobile devices and routers
CyberGhost allows you to be just that – a ghost in the cyber world. While the service might be a little behind the absolute best ones in the market, this is certainly still a VPN service to consider. If you seek to access Japanese DMM, CyberGhost will not have any struggles helping you do so.
This VPN service is registered in Romania, which means they are not bound by U.S. or EU jurisdictions. In essence, this means CyberGhost does not log user activity, meaning you may stay completely anonymous here. Furthermore, the 256-bit encryption, popularly used by the U.S. army, is also used by CyberGhost for extra security.
While this VPN service is recognized as one of the older services in the market, they have actually seen a great revival in the last few years. In 2018 alone, CyberGhost actually increased their amount of servers by 150%. CyberGhost owns over 3,000 servers in over 60 countries worldwide today.
The vast amount of servers means you can always connect to a fast IP address. When wanting to stream videos or play video games on Japanese DMM, you need good internet connections. CyberGhost can provide stability and speed that few other services can match, so that you can fully enjoy the experience.
CyberGhost`s programs for PC and apps for mobile are all easy to use. If you were ever to encounter any difficulties, or simply have a question about the service, CyberGhost can assist you 24/7. This gives you the sense of always having a helping hand nearby.
Pros:

No logs policy;

24/7 live chat;

Apps for mobile devices and routers;

Lowest price: €2
Find Your VPN for DMM
The services recommended above are all good VPNs for Japanese DMM. In order to pick the optimal option for yourself, utilizing the trial periods and money back guarantees might be the best idea. That way you can ensure you truly enjoy the experience of using the best VPNs for DMM.