SurfShark is one of the many younger services within the VPN industry that have taken up the fight with marked leaders. This exact sentence you have probably heard about many other VPN services too, but SurfShark is really one that has come to stay. Where the growth in the marked has been large, SurfShark has not only been involved, but they have been a part of creating it.
Today's VPN users want full anonymity and that involves zero logging. Services within EU and USA´s jurisdiction is required by law to log at least parts of your activity, if not all. SurfShark therefore stands out positively together with a handful of other VPN services and therefore they deserve a review.
Introduction
SurfShark is a VPN services that was founded in 2018. The service was started in the British Virgin Islands and this is still their headquarters. In this short time, SurfShark has worked their way to the top of the marked and it looks like they are ready to become an even more dominant actor in the future.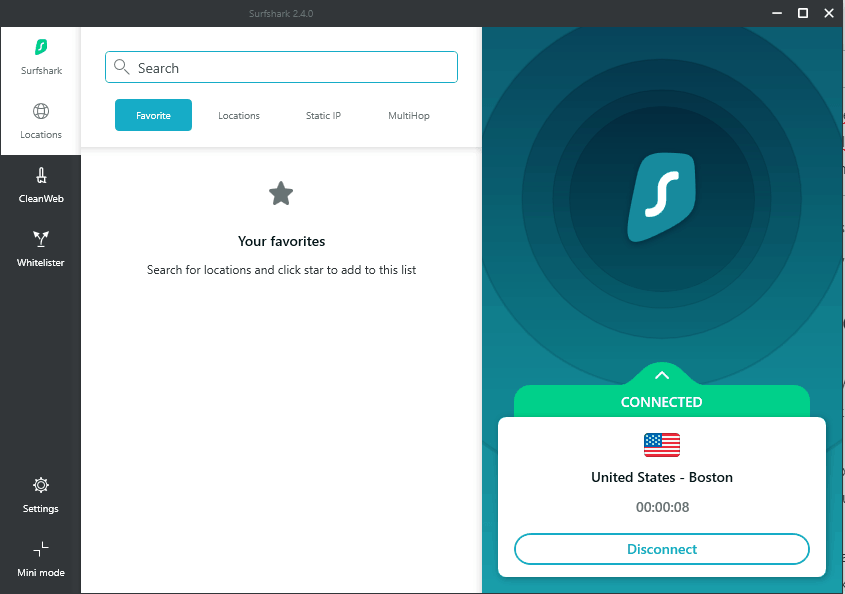 With such an exciting actor on their way up, we have chosen to make a review of their services. In this review we will look closer at their relationship to anonymity, security, number of servers, speed, stability, prices, user friendliness and customer service.
We will also evaluate how good SurfShark is on delivering American Netflix to international viewers, but also television for people abroad. Last but no least we will take a closer look on a few of the more advanced functions that SurfShark provides. With this review in your hand you can make a choice based on facts whether or not this is a good VPN service for you.
Anonymity and security
Where anonymity is very important with the use of VPN, sadly many VPN services partially or fully log the activity of their users. Since SurfShark is founded in the British Virgin Islands, they have no obligations to log any sort of data from their users.
You can therefore be certain that your data is not being logged and that SurfShark does not sell on any information about you. Actually, if you ask SurfShark to get access to your own activity they cannot give it to you – not because they do not want to, but because they do not have it!
Full anonymity is sadly no help unless the security is good, and this is where many VPN services fail. SurfShark on the other hand, provides 256-bit encryption so that all your information is not only anonymous, but also secure through VPN servers. This is actually the same encryption degree that the American army uses.
Pool of servers
Even if SurfShark is not at the top when it comes to number of servers, they are high up with their 800 servers spread across 50 different countries. SurfShark´s offer can in many ways be seen as quality over quantity to the extent that the countries that are missing are countries you will hardly care about.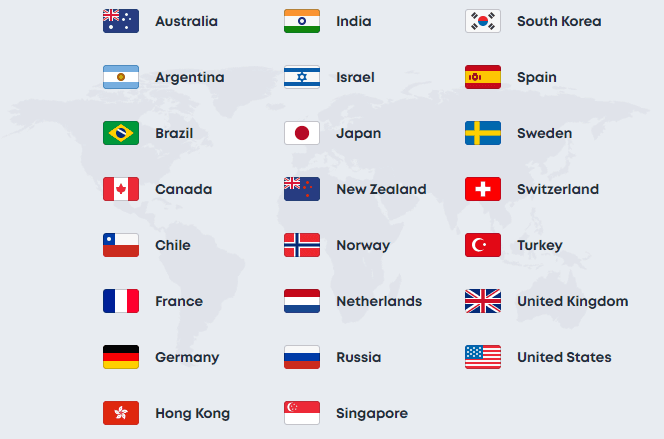 The large selection of service all over the word, with the exception of Antarctica of course, makes it possible for you to connect to almost anywhere you want. Not only does this give you flexibility in terms of hiding your IP-address, it also gives the opportunity to avoid geo blockings in countries you want to access content from.
Surfshark
Pros
No footprints
Allows torrenting
256-bit AES encryption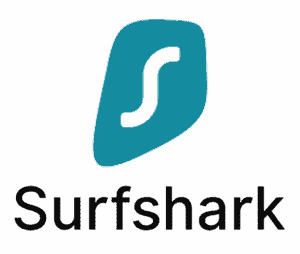 At SurfShark you should not have to look for good or bad servers – all servers shown are in «great shape» and they all perform very well. First and foremost, this is about how fast and stable the servers are, and SurfShark clearly informs you about this.
Speed and stability
Speed is without a doubt a priority for a VPN. This is because any VPN will lose some if its speed as all traffic is routed through an additional server. SurfShark is an exception when it comes to losing a lot of speed, as this is a VPN service that uses some of the best servers in the business, as mentioned above.
In practice this means you amongst other things do not have to worry about streaming HD content or gaming on your gaming console. Both of these can use a lot more data that just normal browsing, but with SurfShark this does not really matter, as the speed is so close to the original that you do not even notice the decline. I
The stability also stays at a pretty good level, i the degree that SurfShark ´s servers very rarely stops working. If this happens, SurfShark as a kill switch function that lets you disconnect from your net – in this way your original IP-address will not be revealed even when SurfShark servers are down. However, this happens very rarely.
Prices and trial periods
SurfShark works in the same way as other known VPN services in terms of pricing. You get three options, most services have at least 2-4 options, and with SurfShark these are 1 month, 1 year and 2 years. The longer subscription you order, the better conditions you get in terms of price.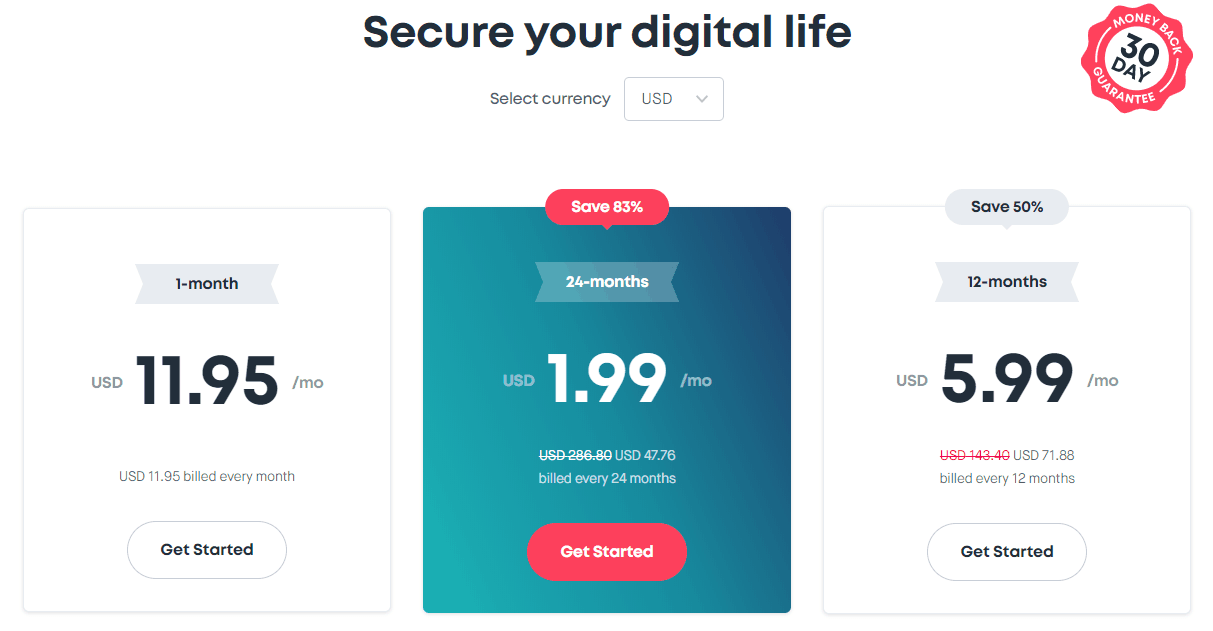 For 1-month SurfShark is quite expensive and costs almost 10 dollars per month. If you choose the 1-year subscription, the service is 5 dollars. Last but not least, if you choose a two-year subscription, you get SurfShark for less than 2 dollars a month. This makes SurfShark one of the cheapest services amongst the serious actors.
Furthermore, the packages at SurfShark also includes a 30-day money back guarantee. In this way you can get SurfShark for free for 30 days, as you can easily ask for a refund of your subscription.
Can You Get Surfshark for Free?
Even though Surfshark has a free trial, it is not available on all devices. However, Surfshark promises a 30-day money-back guarantee. This allows you to test it risk-free on any device. Once you register your account and pay for a subscription, you get 30 days to use their services with the possibility of getting your money back. If you are satisfied with the services, then you may proceed to renew your subscription at the end of the period. Otherwise, you can request for a refund before the 30 days elapse.
Surfshark offers a 7-day free trial for the mobile apps on both Google Play and Apple App Store. To get this free trial, you would need to download the Surfshark app on your Android or iOS phone, from these stores. After downloading, you open the app and click on "Start Free Trial".
The next step is to register by inputting the email and password you wish to make use of. Then select your preferred plan after the trial period is over. Although you would be asked to put in your Credit Card information, you would not be charged if you cancel this subscription within the 7 days. All that's left is for you to connect and dive into the world of browsing without restrictions.
User friendliness and customer service
SurfShark has a user friendly and easy website, which is probably the first thing you see. The website also offers and informative blog with many good help articles and other material that helps you get a better overview of how you can get the most out of a VPN.
The program itself follows in the website´s footsteps, as both the desktop version as well as the app for cellphone, tablets and gaming consoles. With SurfShark you are secured a platform that is easy to navigate and that delivers at its best at all times.
SurfShark also offers good customer service that can be reach via e-mail, phone and live chat directly on the website. The website also has a FAQ that has an overview of the most asked questions as well as the answers to them.
SurfShark for Netflix
The opportunity to remove geo blockings for Netflix has almost become as big of a priority for a VPN as keeping you anonymous online. In the degree that Netflix has blacklisted IP-addresses from many VPN services, it has become a contest to get past Netflix´ blockings.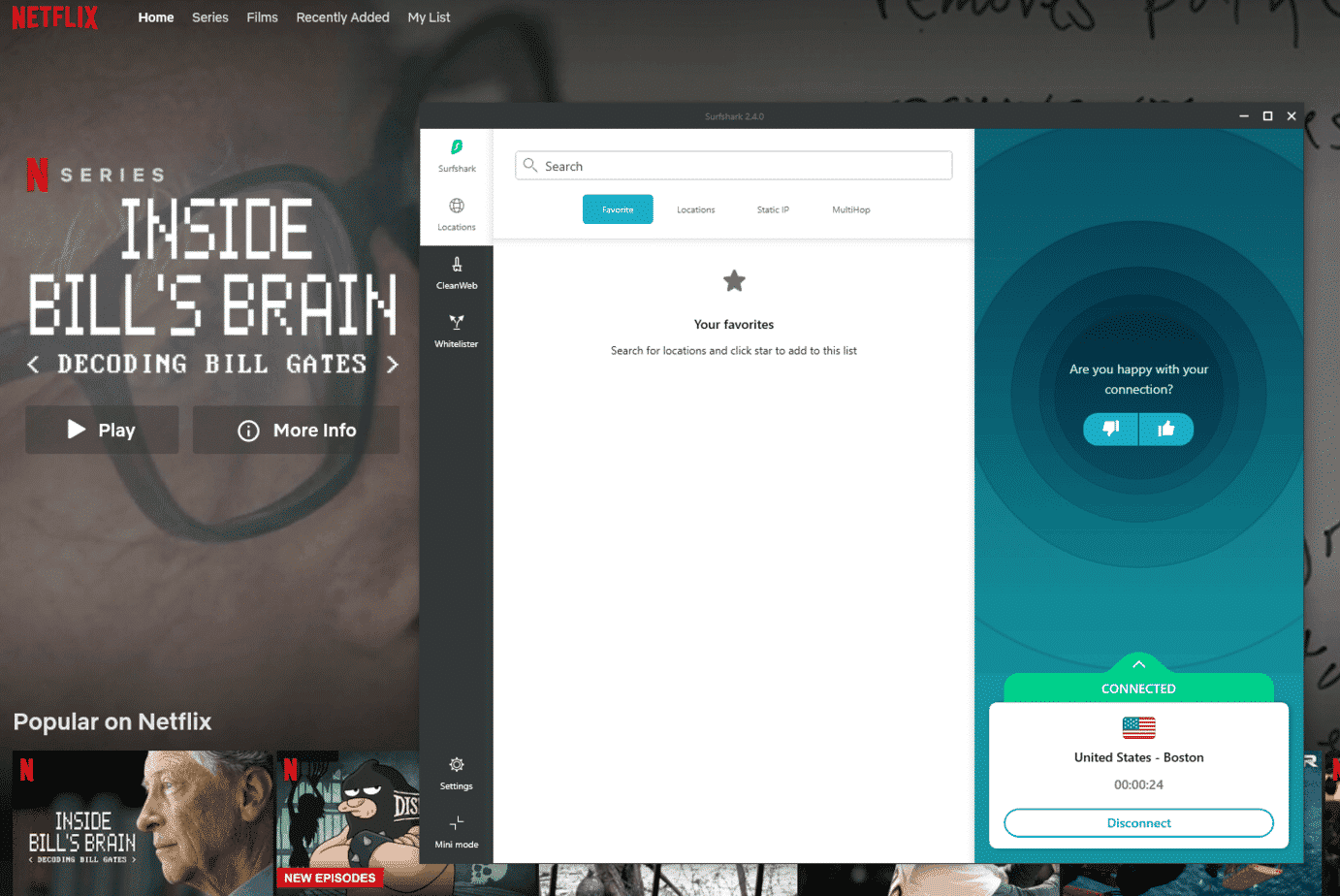 SurfShark easily passes Netflix´ blockings and this secures that everyone can access American Netflix. This will increase the selection considerably. Access to Netflix in countries such as Germany and United Kingdom will also be nice for inhabitants of countries with a low selection, such as Norway.
Watch TV abroad with SurfShark
When we are abroad, we long home. Sometimes we want to watch TV from our homeland and often this content is not available overseas because of geo blockings.
A VPN such as SurfShark secures the access past the geo blockings. In this way you can watch your home country abroad, either because you are there on vacation or if you have moved to start a whole new life.
How to Get Your Money Back from Surfshark
Surfshark gives you 30 days to decide if you like their services or not. If you do, you go ahead to renew your subscription. But, if not, you are free to request your money back without stress. In just a few steps and clicks, you can get your full refund from the provider.
First, go to Surfshark's website and click "help". There are several ways you can request for your money back: through the live chat, contact form, or by sending an email to customer support. To make use of the contact form, you select "Submit a Request", then fill in your email address and billing.
Next, indicate that you would like to cancel your subscription and get a refund in the description box.
After clicking "Submit", a Surfshark representative will contact you within 24 hours. If you cannot wait for 24 hours before getting a reply, you can use the live chat feature or send an email to customer support.
Of course, they would want to know why you are requesting a refund, but once that is out of the way, you would be given an estimate of when your refund will be sent.
Surfshark's Apps for iPhone and Android
Surfshark allows unlimited connections to a single subscription. This means you can keep your PC and mobile devices secure with one account. Configuring Surfshark on your mobile device is as easy as 1-2-3. All you have to do is install, log in and connect.
For your Android phone or tablet, open Play Store and search for "Surfshark", install the app, open it, log in your credentials and tap "Quick Connect" to enjoy your secure network. This is also similar to the download steps for iOS devices. On your iPhone, open the App Store and search for Surfshark, install the app and follow the same steps highlighted above.
Getting a VPN on your phone ensures that you stay safe and private while on the go. If you make use of a mobile VPN, you stay protected when you switch between different public Wi-Fi connections. Surfshark's apps are very easy to navigate and whatever action you want to take, it requires just a few clicks and it would be done. Although not all the features on the Desktop version of Surfshark are available on their iOS and Android versions, there are enough features on these apps for whatever you want to do.
Advanced settings
SurfShark comes with many advanced settings, but the most interesting is the functions that their biggest competitors do not offer. Amongst those are the removal of ads on websites, so-called Ad-blockers.
Whitelister is a program that lets certain apps get through the VPN filter. Last but not least, Multihop lets you connect several countries at the same time through one connection for increased anonymity and security.
Does Surfshark work in China?
Yes, it does. As of 2019, Surfshark joined the list of VPNs that can perform the almost impossible task of bypassing the Great Firewall of China. When you are in China, everything you do on the web is monitored and certain sites are highly restricted. In essence, China's Firewall prevents you from accessing anything on the Internet.
With Surfshark, you can binge-watch western streaming services such as Netflix, Hulu and BBC iPlayer. Surfshark is great at unblocking these services, and it lets you connect as many devices as you want on a single subscription.
This provider ensures that you have an enjoyable experience in China through their outstanding services. To bypass the Great Firewall of China, Surfshark uses its NoBorders feature. And for an extra layer of anonymity, there is also a Camouflage Mode that hides your IP address. It allows you to stream your videos at high speeds, in high quality, and with unlimited bandwidth. It also permits P2P sharing and torrenting in China.
Using Surfshark in China is just a matter of downloading the app on your device, subscribing on their website and connecting to a suitable server. Should you face difficulties setting it up, you can contact the customer service agents who are always on hand to help you.
Surfshark for Torrenting
When you want to make use of a VPN service, you should ask yourself "is it good for torrenting?" You need a VPN for torrenting so you can stay private while you download torrents. Asides privacy, a VPN also ensures unrestricted access to the internet and high bandwidth speeds for downloads.
You do not have to wonder anymore about Surfshark because it is definitely good for torrenting. And not only that, it also has features such as a kill switch, speedy servers, Whitelister and robust encryption.
Surfshark is very secure and reliable with over 1,700 servers; all of them allow P2P sharing. Furthermore, many of these servers are optimized for speedy torrenting. This provider keeps your IP address hidden from the "middle man" while you carry out your torrenting activities. Surfshark prides itself on the ability to protect and keep you anonymous while you torrent. Surfshark works well with your favourite torrenting apps such as uTorrent, BitTorrent, Deluge, etc.
Encryption
If your VPN does not place a priority on keeping you safe, then you should definitely rethink your choice. Surfshark protects its users and their data with a 256-bit military-grade encryption. It also supports protocols such as OpenVPN, IKEv2 and Shadowsocks (an open-source encrypted proxy).
When a VPN is said to be encrypted, it generates a key with which your data is encoded to prevent any form of unauthorized access. The 256-bit Advanced Encryption Standard (AES) encryption used by Surfshark was first adopted by the United States government and then later the military. It is almost impossible to decrypt a message that has been encoded with the 256-bit encryption.
Interestingly, AES encryption comes in different key sizes; 128, 192 and 256 bits. It has been discovered that the longer the length of the key, the longer it takes to crack the encryption. As a result of this, the 256-bit key is the most difficult to crack, no matter the speed of the computer used by the intruder. Surfshark makes use of this encryption method to protect your sensitive information and to prevent snooping or eavesdropping of your ISPs, the government, hackers and other third-parties.
Value for Money – Is Surfshark worth the money?
To know if a VPN service such as Surfshark is worth the money invested in it, you need to look at the services it offers. Presently, Surfshark is said to be one of the fastest-growing VPN providers on the planet. This is because of the amazing provisions that it brings to the table.
Surfshark operates a strict no-log policy that keeps all your data and logs private. It has over 1,700 servers in 63+ countries, which are optimized to give its users a wonderful VPN experience. Its servers support activities such as P2P file sharing and torrenting, with unlimited bandwidth.
It has the ability to bypass the Great Firewall of China. This great feat definitely deserves to be lauded. Unlike its competitors, Surfshark allows for an unlimited simultaneous connection of devices to one account.
What's more? Surfshark unblocks naturally geo-restricted services such as Netflix, Amazon Prime, Hulu and others. You can stream these services at incredible speeds, even though your speed is determined by your location and ISP.
Surfshark is available on most operating systems such as Android, iOS, Windows, macOS, etc. With all these features and more, you can certainly say that Surfshark gives you value for your money.
Summary
SurfShark appears to be one of the best VPN services on the marked today, even though they did not join until 2018. Localized in the British Virgin Islands, SurfShark can really promise you full anonymity because of the laws there.
Furthermore, the many good servers and fast speed means that you can enjoy American Netflix and your home country TV abroad. Security, user friendliness, customer service and last but not least price is also factors where SurfShark scores high.
All in all, SurfShark is an excellent choice for you who are looking for a VPN service and we recommend it strongly!