CyberGhost is one of the best VPN services globally. Today, they are serving more than 36 million users all over the world who want anonymity, secure browsing, and unhindered access to everything on the internet. CyberGhost is taking part in growing a market that has already grown a lot just in the last few years.
In today's world, privacy and security cannot be over-emphasized. Furthermore, the growth of streaming services has led to the clamor for the removal of geo-blocks on streaming services. These and more are some of the benefits of CyberGhost. In this review, we will explain how CyberGhost can help with all of this.
Introduction
CyberGhost VPN was founded in 2004 in Germany and moved to Romania in 2011. That makes CyberGhost an old actor in the VPN field.
Censorship is CyberGhost´s largest enemy and they fight for the human right to access all of the internet. With 98 professional employees, CyberGhost delivers a complete VPN service. From developers to managers, designers, and customer service representatives, CyberGhost works around the clock to deliver.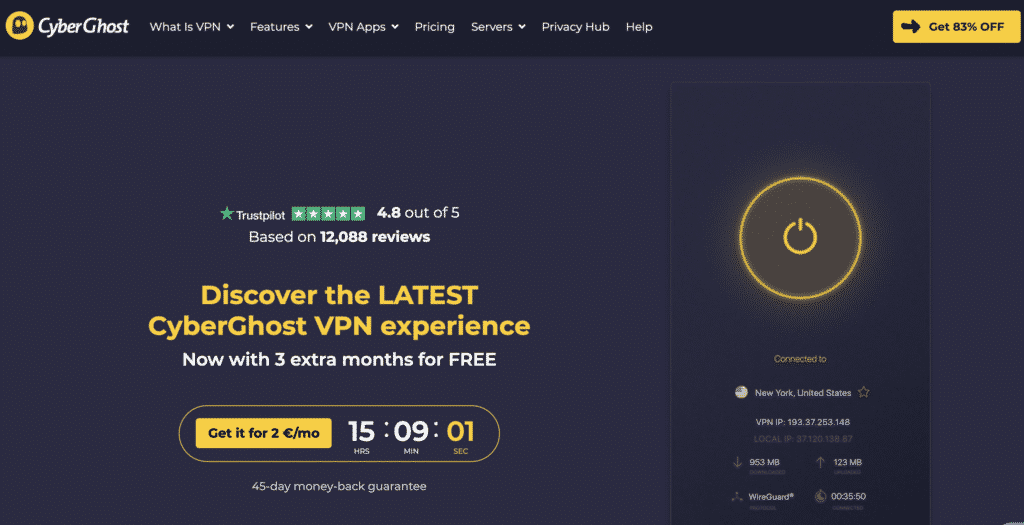 CyberGhost's services certainly deserve a closer inspection, and that is what we will do in this review. We will look closer at CyberGhost´s relations to anonymity, security, number of servers, speed, stability, pricing, user-friendliness, and customer service.
We will also answer whether or not CyberGhost gives their users access to American Netflix and how well they can deliver international TV. All in all, we will share all the important aspects of CyberGhost, so you can decide if this service fills your needs.
Anonymity and security
CyberGhost is based in Romania, a strategic location since the country does not subscribe to any data-retention laws. In addition, the region is not subject to any surveillance alliance such as the 14 eyes network. Thus, CyberGhost will not be required to give up the data of users.
Furthermore, CyberGhost maintains that it stores no aspect of its users' data. This is no mean boast as the provider publishes a quarterly transparency report. The report includes an option where users can get updated on the malware complaints the company has received, key statistics about the company as well as meet the team members.
CyberGhost promises full anonymity using the double-encryption feature where your traffic is routed through two servers before it reaches its goal. In this way, you can browse without worry, which is the goal when using a VPN online.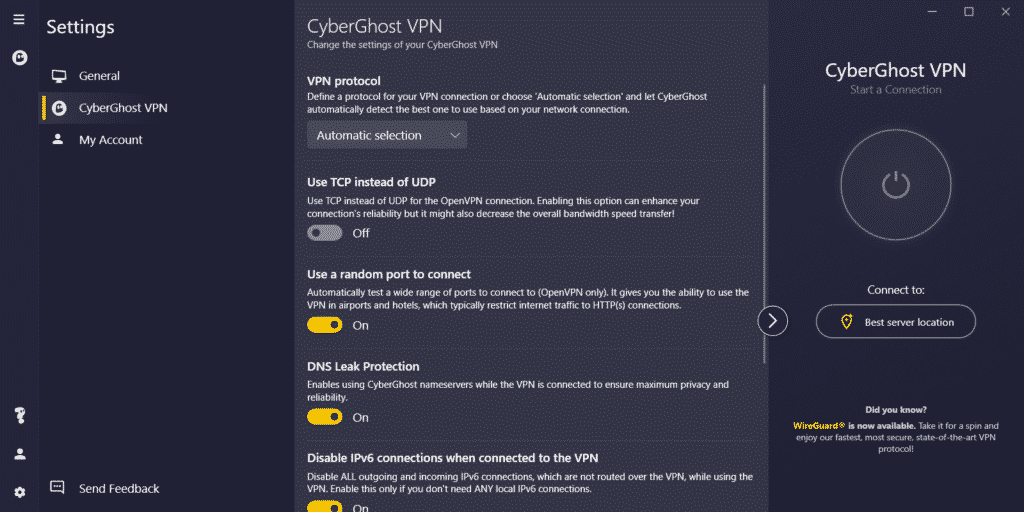 Without encrypting your IP address, everyone can have a go at it, including the government, hackers, etc. Hiding your IP address through a VPN tunnel makes the information you send back secure in a tunnel. Even your Internet Service Provider will be unable to breach this security. CyberGhost is perfect for encrypting your network and data.
CyberGhost
Pros
No logs policy
24/7 live chat
Apps for mobile devices and routers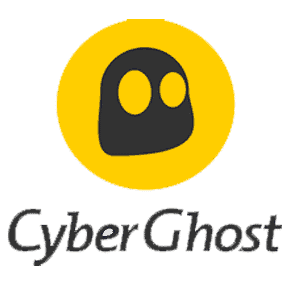 CyberGhost offers their users the AES 256-bit encryption. As you have probably read before, this is the encryption grade that the American army uses. There should therefore be no doubt that CyberGhost's security apparatus keeps you safe.
In addition, users also get DNS and IP-leak protection with CyberGhost. The provider supports some of the best VPN protocols available, such as OpenVPN, IKEv2, and even WireGuard. It also boasts of an automatic kill switch that shuts off users' data in unreliable situations.
The combination of anonymity and security is very important, as this is the foundation behind a VPN. You should use the internet; rest assured that you are not exposed in any manner. This assurance is what CyberGhost makes available to all of its users.
Selection of servers
A large selection of servers is an important criterion when it comes to choosing a VPN. This is because a VPN should not only keep you safe but should be able to get around geo-blocks. A large server count is one way to achieve this.
That is why there is probably good news that CyberGhost is at the top of the game when it comes to a selection of servers. Today the service offers over 6500 servers in 90 different countries spread over all continents.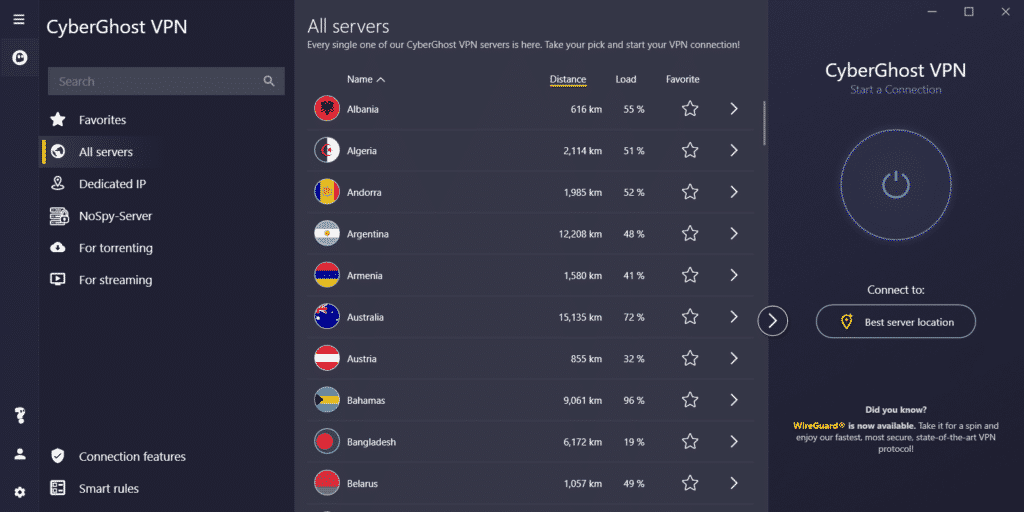 Most VPN services have servers in all continents, but not all can brag of the number CyberGhost offers. With 90 countries, you are guaranteed to find more than just the US, United Kingdom, Germany, and Norway. If you are in search of a certain TV show that is only aired in one country, you can find a server to connect there.
CyberGhost helps you overcome most geo-blocks. With such a large selection of servers, you can open blocked content on YouTube, such as the Champions League final that is aired for free in the UK every year. The provider mentions specifically that it gets around blocks on 35 platforms. These include Netflix, Disney plus, Hulu, Vudu, fox, etc. The fact that it is specific about this shows not just transparency but confidence in its prowess.
In the same vein, CyberGhost is the perfect gaming VPN. Gamers will be glad to learn that this VPN is perfect for use with Xbox, Nintendo, and so on. CyberGhost coverage here ensures that the user is not subject to attacks, malware infiltration, etc.
Speed and stability
If you are going to use a VPN, a lot of factors have to fall into place. You should be untraceable and anonymous, and you need a selection of servers large enough to enable you to connect to any country you want. There are, however, extra factors that provide for a better experience.
Speed and stability are two factors that are essential for a good experience. If you are just browsing, streaming a show in HD, or maybe playing a game that requires quite a lot of data, you need unlimited speed. Especially speed is important because this involves whether or not you will experience lags. However, a VPN naturally reduces your browsing speed when you connect it to your network.
CyberGhost is one of the VPN services that invests a lot into technology so that as little speed as possible is lost when your traffic is routed through an additional server. When choosing a VPN, services such as CyberGhost should be an absolute priority if your aim is to stream or game through VPN.
Stability is also an important factor that cannot be avoided in this review. It is thus important to mention that with CyberGhost, you are always connected to a VPN.
Pricing and trial period
CyberGhost is a favorite for many as they have reasonable and low pricing that makes their service worth it.
CyberGhost splits its subscriptions into 4 different options. They offer 1-month, 1-year, 2-year, and 3-year subscriptions. Since longer subscriptions always have better prices, CyberGhost joins the group of the cheapest on the market with their 3-year subscription.
For 1 month, the price is just over $12.99 a month, but this is just for that one month. If you choose a 1-year subscription, the price drops to $3.99 per month. For 2 years, the price drops further, and it will only cost you $3.49 per month for a subscription.
If you choose to register for a full three years, you get the price down to $2.25 per month. This means that with a 2- or 3-year subscription, CyberGhost will cost you less than $0.1 per day. This is a price that few other services can match.
Furthermore, CyberGhost offers a money-back guarantee. It is standard to give a 30-day money-back guarantee, but CyberGhost offers 45 days. That means you can use the service for free for 45 days and then ask for a refund.
User friendliness and customer service
A reasonably priced quality service with many servers is useful to have. But if it is not user-friendly for all people, beginners to experts, it is of no use. CyberGhost has chosen to make their apps one of the easiest to use on the market, so even those who don´t know the difference between an IP address and a server can benefit from the service.
CyberGhost delivers from the first moment you see it, which is why their website has a very easy setup. It won´t take you long to understand what they offer and how to go about getting a subscription. Even if you are a newbie, you will not be confused about the next steps to follow.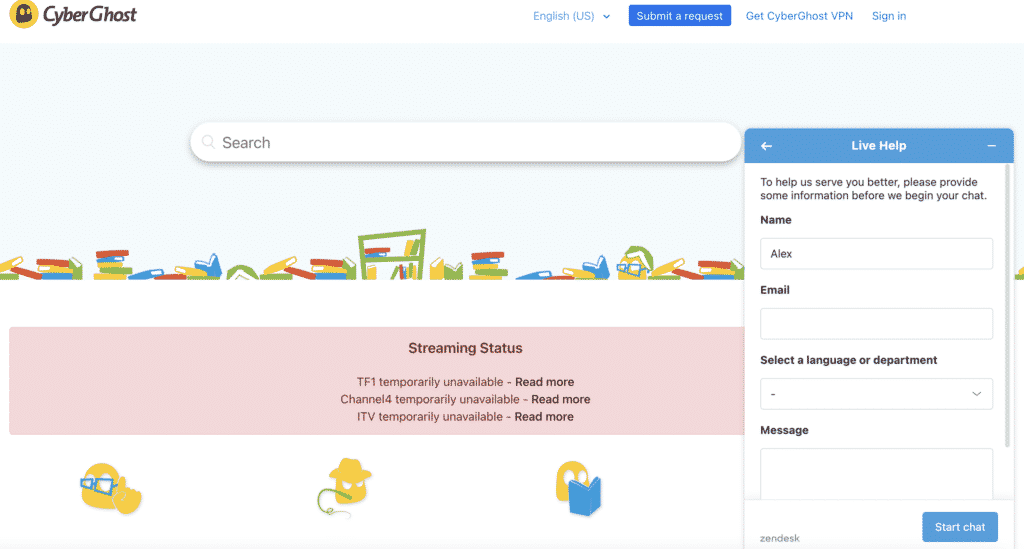 If you need help, CyberGhost has an efficient customer response system. They have a massive database that offers guides on using CyberGhost on all units and their respective operative systems, as there are tiny differences.
You should also note that CyberGhost has a bunch of help articles. Customer Service is also important for CyberGhost and they live up to their reputation by providing help through the 24/7 live chat support in English, German and French, phone, and e-mail. You can get help in English, German, French, and Romanian. As a whole, Customer service is a discipline CyberGhost knows well.
CyberGhost for Netflix
If you look beyond the aspects mentioned above, there are some other reasons why someone would choose one VPN service over another. One of such is to avoid the geo-blockings that Netflix has. This is because this service has blacklisted a lot of IP addresses coming from VPNs.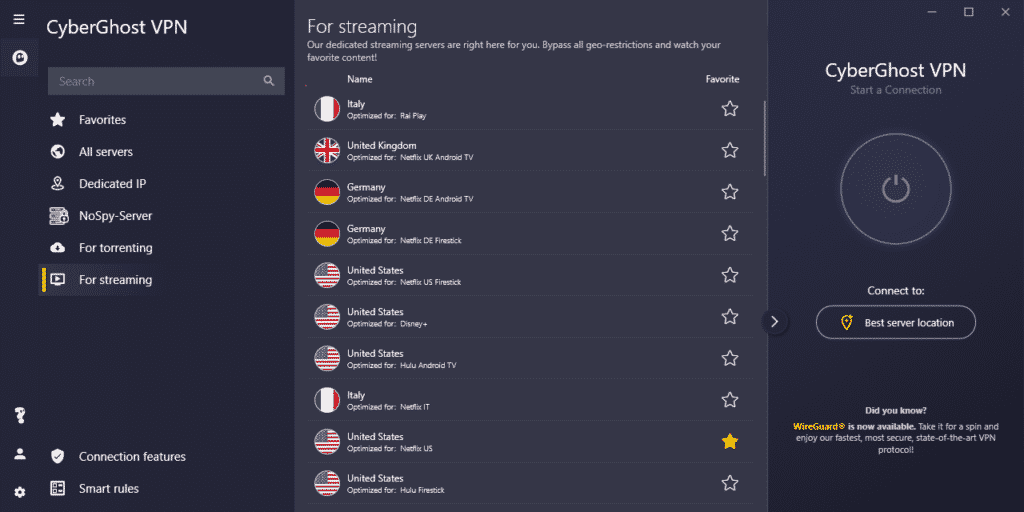 CyberGhost is one of the VPN services that repeatedly get past Netflix's "shield" against IP addresses from VPNs. They really deliver on their promise of giving everyone access to American Netflix, regardless of their location.
This is not only limited to American Netflix, as CyberGhost is known to get past geo-blocking in any country. A good tip is to identify the country that has the movie or show that you want, then you can use CyberGhost´s large selection of servers to connect to this country and get access to the content.
Watch international TV overseas with CyberGhost
Watching TV from our home country is something we desire when we are overseas. As soon as we go on holiday or move abroad, we realize how much we miss it. CyberGhost can help you as they offer good servers in most countries. Streaming services, YouTube videos, and the likes may have geo-blocks. With CyberGhost, you are always certain you can get past the geo-blockings, no matter what it is that is blocked.
Advanced functions
The first advanced function worth mentioning at CyberGhost is that you can get a dedicated IP. This will cost you $4/month on top of your subscription. Not all services offer this, so CyberGhost is quite unique in this aspect.
CyberGhost offers NoSpy servers. This set of servers eliminate mass spying or censorship of any form. They are located in Romania, far away from the reach of the 14 eyes network and other such alliances. In addition, they are managed totally by CyberGhost team members from end-to-end, limiting the risk of exposure. These servers are excellent for high-risk activities such as torrenting,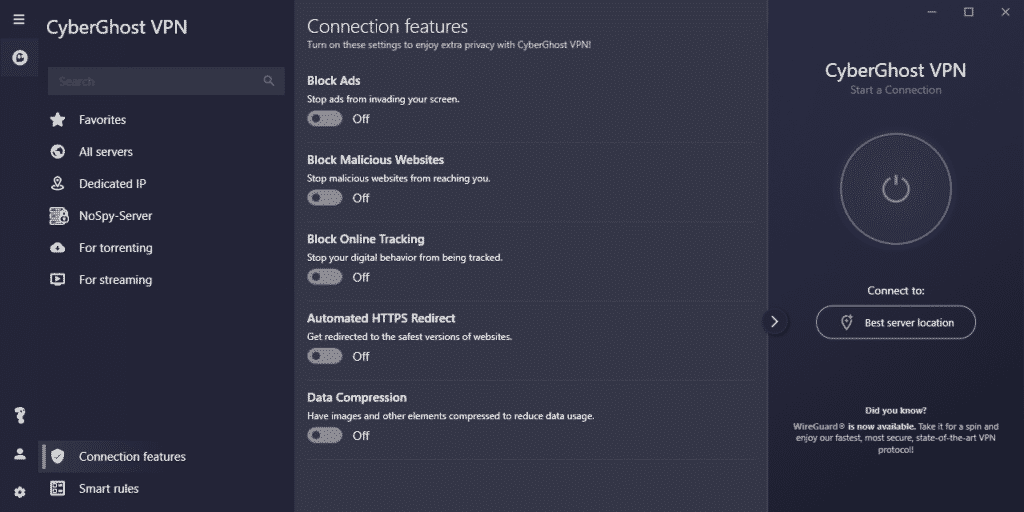 CyberGhost blocks both adware and malware for you. There are many add-ons to Web Browsers that offer this, so the function is not that unique. It is rather the way CyberGhost delivers this service that is unique. CyberGhost eliminates the ads on its own so that this process doesn´t slow your speed down.
Furthermore, CyberGhost offers a function that removes cookies completely. Some cookies may be helpful, such as helping a website remember your passwords or preferred language. However, they can also be really dangerous and provides easy access to cybercriminals. Thus, it is indeed remarkable that CyberGhost provides an easy and seamless way to eliminate the little bugs.
Summary
CyberGhost is a real contender to services such as ExpressVPN and NordVPN. The service that was founded in Romania back in 2011 has over 38 million users worldwide today. Their growth can be traced to their commitment to ensuring the highest standards of privacy.
Their many servers give the users good flexibility. With 6500+ servers in over 90 countries, you can get access to all the content you could want. American Netflix, international TV – you name it!
Based on factors such as anonymity, security features, number of servers, speed, stability, pricing, user-friendliness, and customer service, CyberGhost looks like one of the most solid alternatives in the VPN business today!