The market for VPN services has exploded in recent years. This service, which at an early stage was only meant for businesses wanting to stay safe online, has now become a large market for private individuals. Service after service has entered the market and ProtonVPN is one of them.
ProtonVPN is a VPN service created by the same developers who put the well-known Proton Mail on the map. In fact, ProtonMail is basically a VPN client for emails. The company saw the importance of sending emails safely, especially to journalists carrying sensitive information.
Over time however, Swiss ProtonVPN has grown to become a large-scale VPN program and it is growing at the time of writing as well. Although it is not as big as the largest actors, it is hard to match their high security. The program therefore deserves a closer review.
How secure is ProtonVPN?
Private individuals have really got a head start in the form of online privacy, which is why services like ProtonVPN have flourished so much. In itself though, this service has more than enough security for the vast majority and it actually routes traffic through many more than one server.
Furthermore, ProtonVPN offers P2P technology, up to 10 connections at a time, a Kill Switch that ensures your IP address is not leaked and a host of other technical features. However, none of these functions actually promote the bulk of security around ProtonVPN.
ProtonVPN is located in Switzerland, meaning that they are neither under the jurisdiction of the US, the EU or the so-called «14 eyes», where some countries can get access to your activity. The company does not track your activity and you can also register with a ProtonMail address to stay completely anonymous.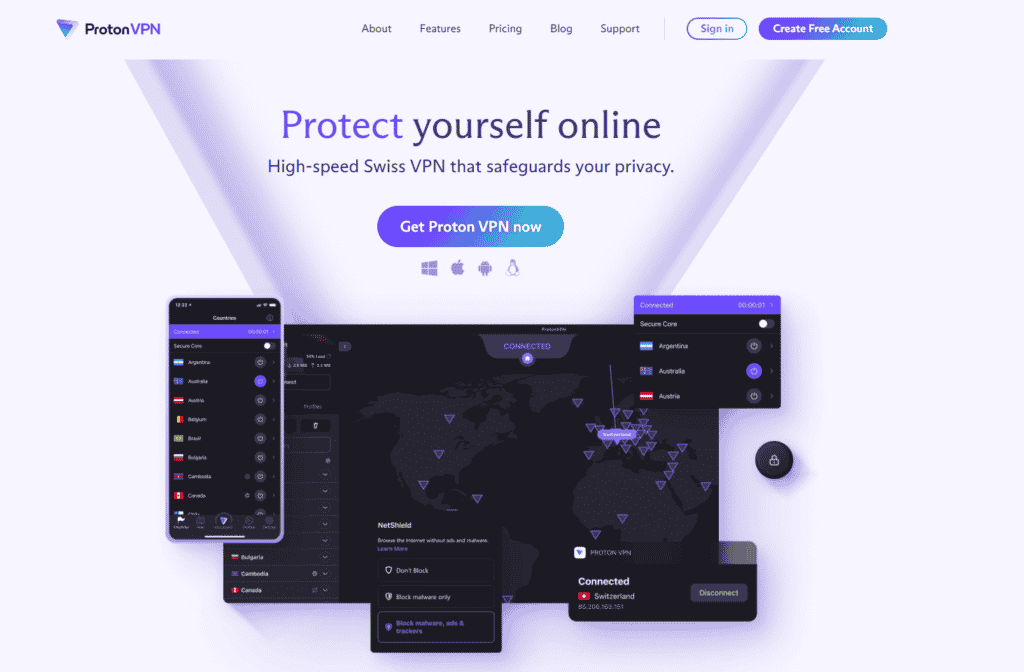 If you choose the free subscription you also stay away from any payment information, but even if you were to choose a paid plan you can pay using Bitcoin. In other words, it is possible to keep yourself completely anonymous and secure with ProtonVPN, which makes this service a favorite of many!
Speed of servers
First and foremost, it is worth mentioning that ProtonVPN offers over 550 servers in over 40 countries. This is well below the best in the industry who offers thousands of servers. But why is the number of servers so important? More servers mean a higher chance of higher speeds.
Any VPN will reduce your network speed. Still, despite high security and smaller servers than the biggest VPN services in the business, ProtonVPN delivers some of the highest speeds you can find. That says something about the quality of the servers offered.
In other words, ProtonVPN gives you no trouble when it comes to browsing on a VPN and if you use VPN for streaming or gaming you don´t have to worry. The program gives you the flexibility to stream up to 4k and play so-called heavy games without any problems.
User friendliness and customer service
ProtonVPN is easy to use on both PC, tablets, phones and gaming consoles. Even if the program is somewhat more technical, even beginners can use it. This is first and foremost about good organization and easy navigation.
After all, if you are going to connect to one of ProtonVPN´s servers, you get there in one click and it loads super quick! You can also see which servers has the best speed and mark your favorites. In addition, you get a useful map that helps you localize the countries you want to connect to.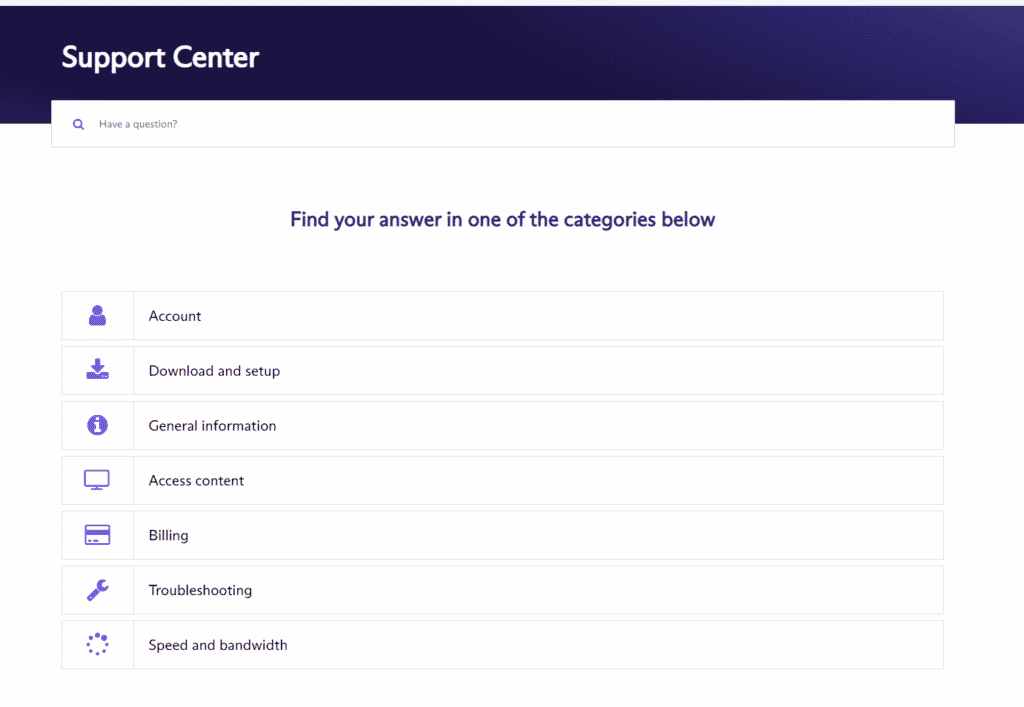 There is hardly any reason to contact customer service at ProtonVPN due to how user friendly they are, but if you have the need they are relatively easy to access via customer support. Usually we prefer live chat, but this option also seems to work pretty well.
Does ProtonVPN work with Netflix?
If you are going to stream, the big question is whether or not the VPN service works with Netflix. In recent years Netflix has started to beat down the use of this tool and many VPN services has struggled offering their users access to foreign content.
ProtonVPN
Pros
Professional support
Modern interface and apps
AES-256 encryption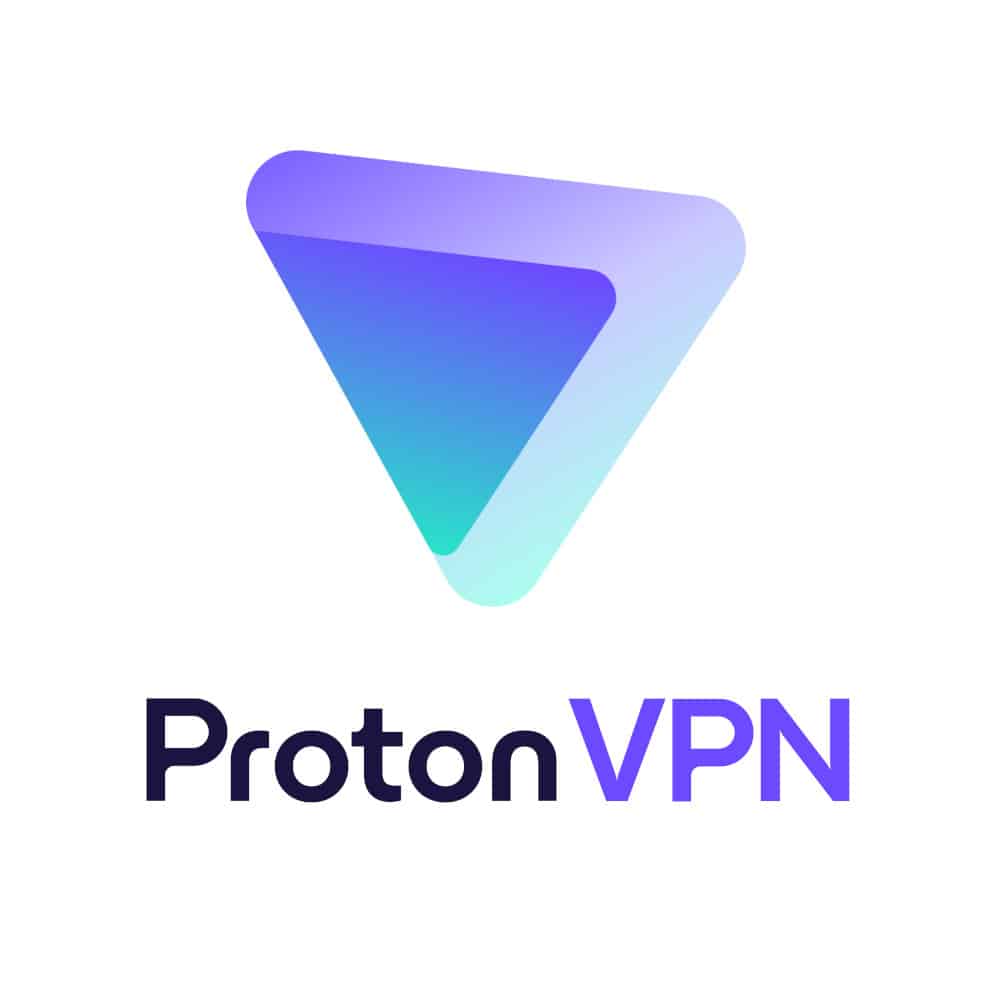 ProtonVPN however, has no problems. Servers in the USA are somewhat slower than in Europe due to free and unlimited bandwidth for users, yet the speed works fine for streaming American Netflix from Norway for example.
Price for the VPN service
ProtonVPN is one of the VPN services that offers a free version. This only allows you to connect one unit at a time and you get three countries, USA, Japan and the Netherlands. The free VPN Version of ProtonVPN is actually one of the better free versions out there. Especially if you want to connect to Japan, USA or the Netherlands.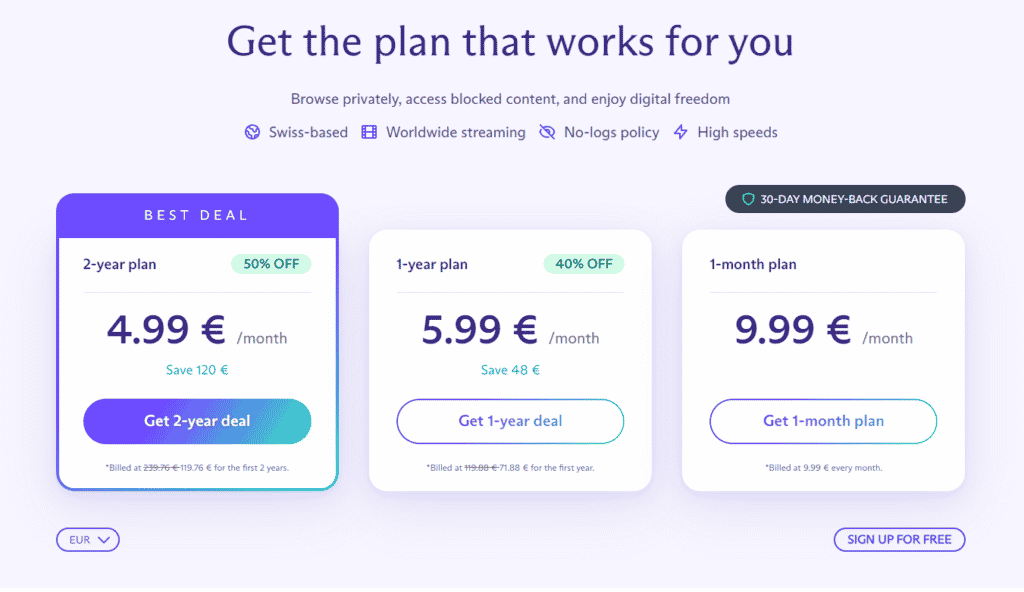 Compared to other free VPN versions the upside of ProtonVPN free version is unlimited in traffic. This is actually a huge upside, since most other free VPN services like Windscribe and Tunnelbear comes with a daily or monthly GB traffic limit. We have to give ProtonVPN a lot of credit for this.
The free version of ProtonVPN is limited to one device, but most of us only use VPN on the computer anyways. The speed is also not the best, but it good enough for most purposes – much better than most other free Versions.
If you go for the paid services, ProtonVPN cost anything from $3-$20 per month, depending on how many functions you want. The $3 package is more than enough for most users. Note that you can save a lot of money on registering for longer periods.
Summary
ProtonVPN has been providing their VPN service since 2014. What was initially a service for encrypted emails has now grown to become a general VPN service spanning the world. The biggest highlight of ProtonVPN must be their security.
Based in Switzerland, ProtonVPN is in many ways shielded from the many problems some VPN services face in terms of privacy and logging. Furthermore, ProtonVPN offers high speeds on its services and last but not least, Netflix works excellent on this service.
All in all, ProtonVPN delivers a quality product that most people can be satisfied with. You can even test out their free version and see for example how the connection to the USA is. If your register on this service with a ProtonMail-address, you remain completely anonymous!
Try ProtonVPN today and experience a VPN service with all of the most advanced features, yet a very user-friendly surface!