NordVPN vs ProtonVPN: Comparison 2023 (Speed, Logs, Safety..)
If you're ever going to surf the web or conduct activities online, many will recommend a Virtual Private Network (VPN). These services allow you to access the internet with optimal security and privacy, while promising speed and access to restricted content.
We've looked into two of the most famous VPN options available. Here is the definitive guide to NordVPN and ProtonVPN.
NordVPN is one of the most famous VPN services in the world. For years, the company has continued to refine its platform and provide customers with the best VPN features that they could want.
ProtonVPN, on the other hand, is an industry newcomer that is making waves. While it's not in the top-tier class yet, this VPN provides several cool features that VPN enthusiasts will enjoy.
NordVPN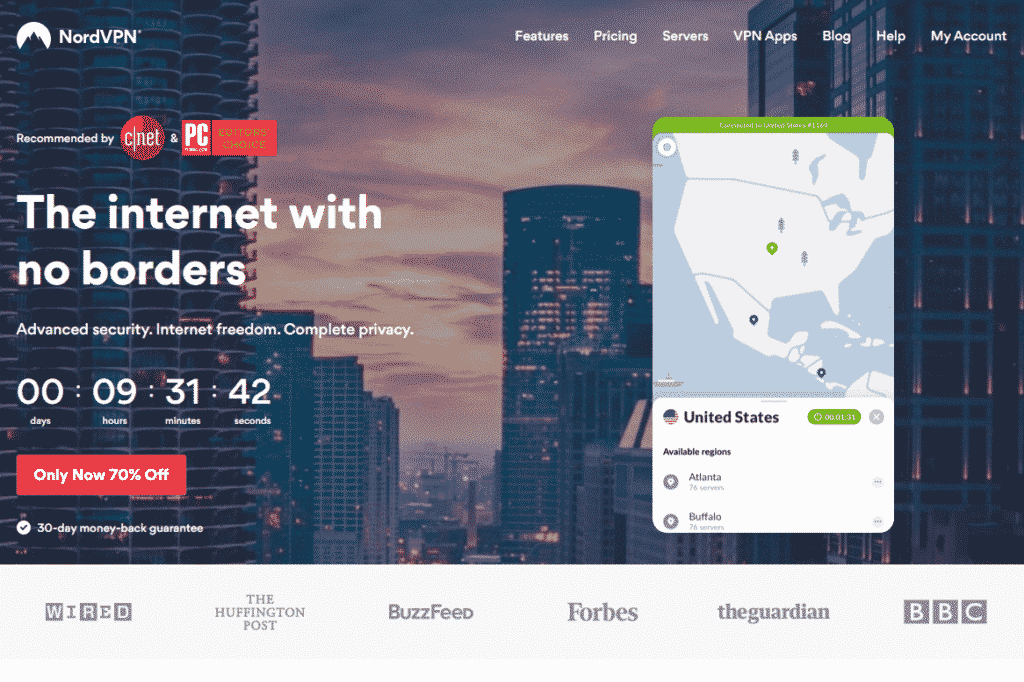 NordVPN is one of the most highly rated VPN services in the world. A Panama-based company runs the service, and it has over 12 million customers worldwide. One of the many things that fans love about the service is that it has continued to evolve and better itself. By doing that, it has managed to stay relevant.
Currently, NordVPN has over 5,400 servers in the world. In terms of server count alone, the VPN is one of the highest amongst the heavyweights. These servers are spread across over 80 locations and 59 countries, including all of the high-traffic areas.
With such server coverage, anyone looking to access highly restricted content will have no troubles whatsoever with NordVPN. You can merely find a server in an appropriate country with optimal speed and get yourself connected.
It has support for all major platforms, including Windows, Mac, iOS, Android, Linux, and Android TV apps. So, no matter what device you use, there's a significant chance that this VPN supports it. You even get tutorial videos on installing it and setting it up based on the device you use.
With optimal support and the type of global access you expect from a world-renowned VPN service, there are genuinely no borders with this VPN.
ProtonVPN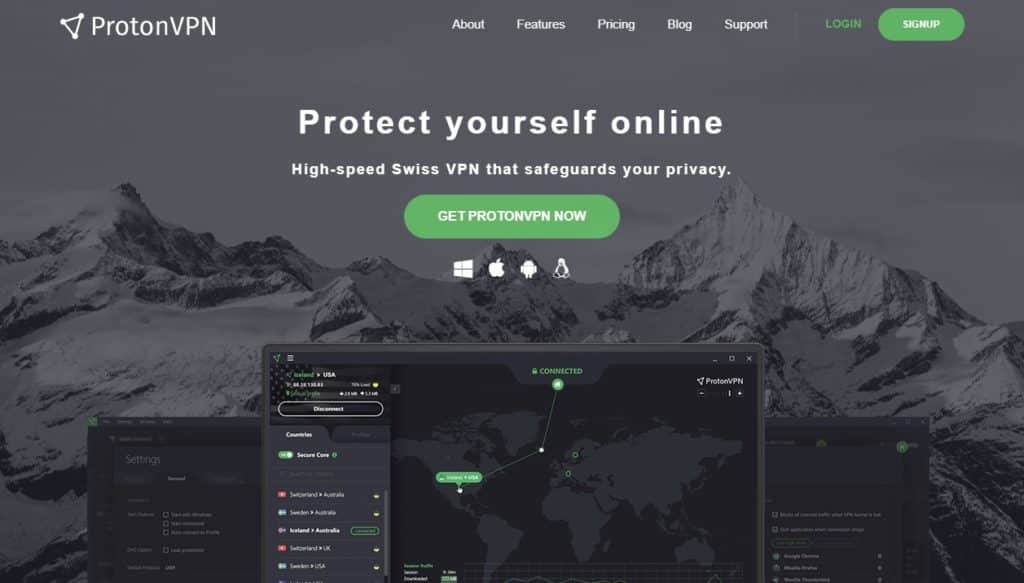 Admittedly, ProtonVPN isn't quite as popular as NordVPN. However, VPNs like these tend to be cheaper than the premium options and still offer some impressive features. That's essentially what ProtonVPN does.
One of this Swiss-based VPN's top features is its server count. The service currently has about 1,048 servers, all of which are scattered across 54 countries. That's not the best on the block, but you could definitely do worse.
In terms of speed, you get a mixed bag with ProtonVPN. The average speed on this network isn't as high as that of NordVPN, but tests have shown that its servers in high-traffic locations are pretty fast. For streaming and downloads, it's recommended that you get yourself one of those high-traffic servers.
ProtonVPN also takes a serious approach to security and privacy. The service has all of the top security features that you get with the big shot VPNs, and it also comes with a strict no-logs policy that protects your data on all fronts.
The VPN service also comes with support for all major platforms. Even better, you get to connect up to ten devices on a single paid account. It isn't easy to see any top VPN service giving you that much leeway.
Now that we have the perfect introduction to the two of them, let's check out how they perform on all benchmarks.
Server Coverage
NordVPN currently has 5,467 servers across 59 countries. When it comes to the best VPNs, only a handful provide more servers in more countries. So, you know that you're getting the top-shelf service with this option.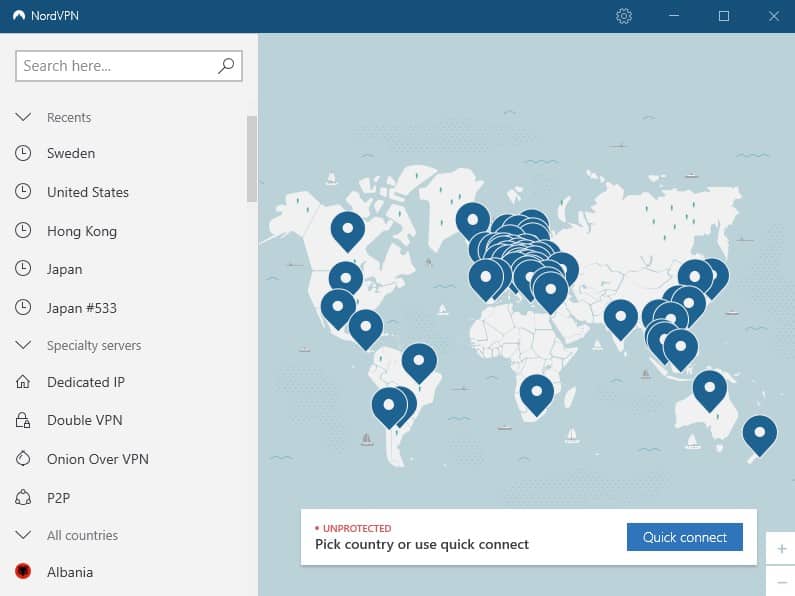 You can also take advantage of the "Recommended server" option that immediately scans your location and shows you the ideal server for you based on where you are. If you want to save time and get on the internet quickly enough, this is a perfect feature.
ProtonVPN has significantly less servers than NordVPN. The service comes with 1,048 servers in 54 countries. While the country count is pretty standard (considering what you get with many other lesser-known VPNs), the server count isn't too good. However, rest assured that you will be able to access all high-traffic locations for sure.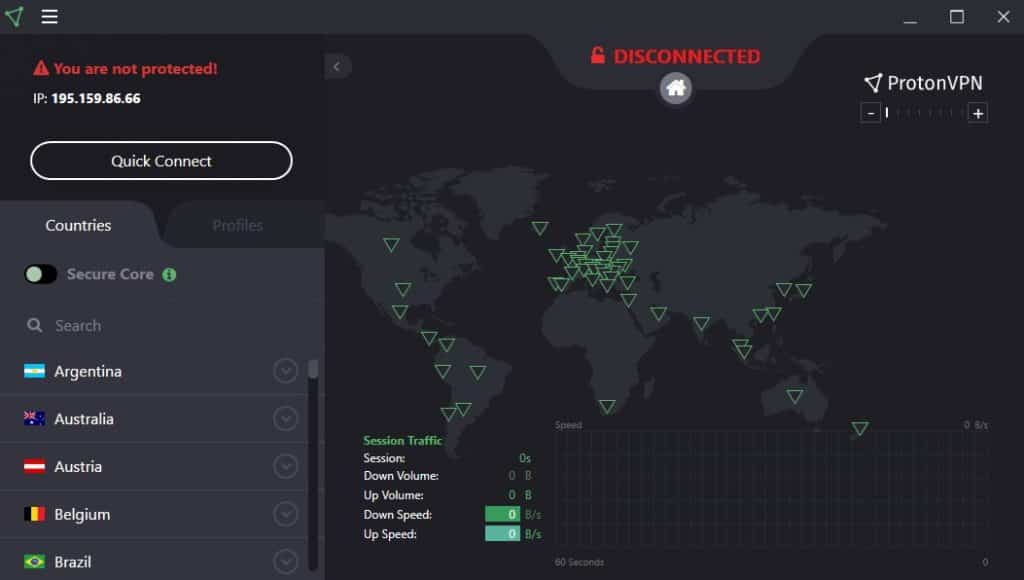 Speed and Performance
NordVPN has had to rebrand its speed settings significantly. For years, customers complained about how slow the VPN service was. So, they decided to re-jigger how it worked, and things are much better now.
Currently, just about every server on NordVPN is optimized for speed and performance. You can see that by the popularity of the platform.
In 2023, NordVPN did even better by its users and launched the NordLynx feature. The feature is proprietary, and helped the service to bolster its speed significantly. It is an extension of WireGuard, a VPN protocol that has shown a lot of promise regarding improving speed on servers. The WireGuard protocol improves speed from what you get on traditional VPN protocols like OpenVPN and IKEv2. So, NordLynx provides this form of speed optimization as well.
All of this has made NordVPN one of the fastest VPN services in the world. The VPN supports anyone who wants to stream or download videos in 4K quality. It also supports live streams in high-definition, and you can connect to it if you want to engage in video conferencing. NordVPN provides optimal speed without sacrificing your security.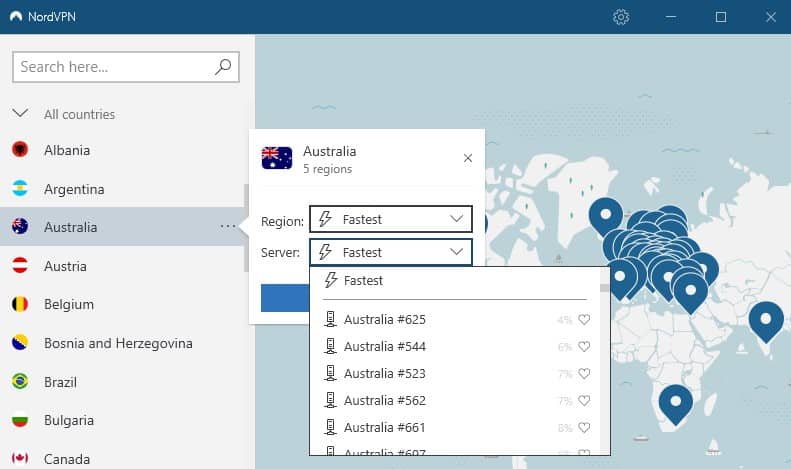 Average download speeds on NordVPN is currently 115Mbps across all servers and locations. This is undoubtedly able to support any of the features that you want to access.
ProtonVPN, however, isn't so great. The average download speed on the VPN service is just 64Mbps, which isn't the best by any standards.
Still, ProtonVPN has some features that you might want to keep an eye on when you're connecting to it. There is the Fast Connection feature that allows you to connect to a nearby server with optimal speed. The feature essentially looks for the VPN with the quickest connection to you and hooks up to it. While it is great, it is also limited in its functionality.
For one, the Fast Connection feature looks almost like ProtonVPN is merely picking servers at random. So, while it can pick a VPN with a quick connection, there is also the probability that it will only pick something with a lackluster speed. So, it all depends on the server that you connect with and how it turns out for you. Fingers crossed, right?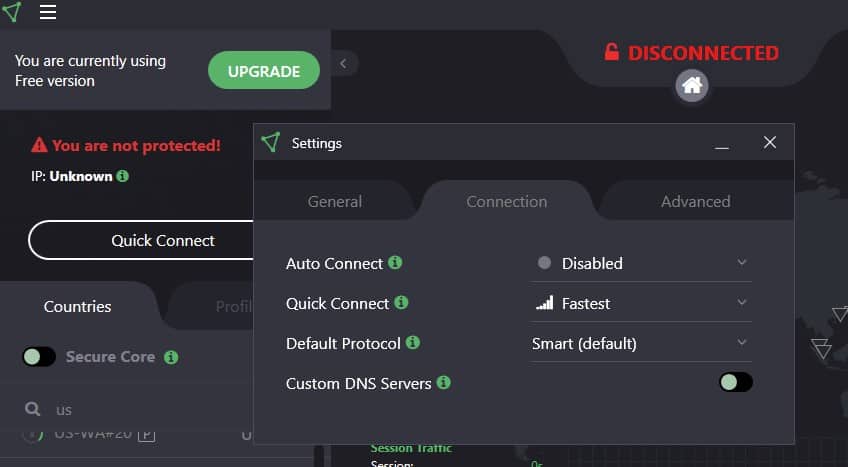 However, you'll be happy to know that ProtonVPN easily helps you select servers based on speed. The VPN service comes with a Server Selection list that shows you how much traffic each server is experiencing. Considering that server traffic is a significant factor to consider when selecting servers based on speed, this can go a long way in bolstering your experience. If you're looking for speed and nothing else, this can help you out in more ways than one.
So, in general, you should know that ProtonVPN doesn't offer you much as far as speed and performance are concerned. It's not as fast as the top competitors — of which NordVPN is one. However, you can rest assured that the online speeds on the VPN's servers are still enough to handle most of your online activity. For things like game streaming and video conferencing, ProtonVPN is still prime — you just need to find the right VPN server.
Streaming and Torrenting
As one of the very best VPN services globally, NordVPN provides a simple and easy Netflix geo-blocking bypass feature. Netflix is one of the world's most restrictive services, and NordVPN's ability to break through its restriction makes it an excellent choice for users.
The VPN comes with a SmartPlay feature that specifically bypasses geoblocks and still keeps you secure. The feature combines VPN technology with DNS leak protection to keep your security in check.
In total, you can find Netflix on just about every NordVPN server. The service also unblocks Netflix libraries in countries like Australia and Japan, which have their exclusive content. If you're abroad, you can connect just about any server and access Netflix content. Keep in mind that a lot of versions will redirect you to the original Netflix U.S. version. Still, access is access.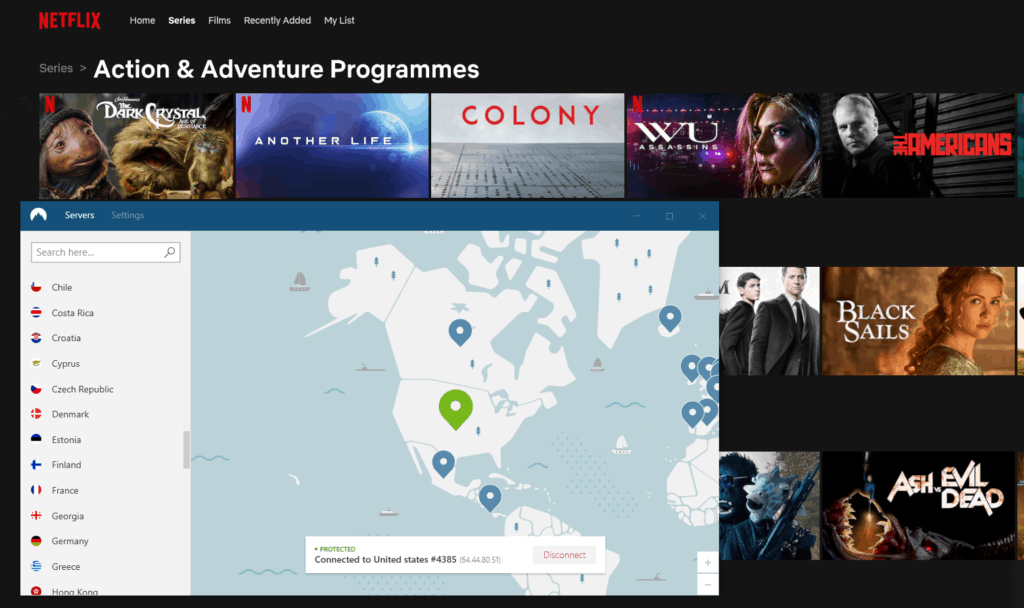 Also remember that not all servers in a country will help you access their content on Netflix. Furthermore, you might not find it easy to get a server optimized for streaming since NordVPN doesn't list them out. However, you can go through NordVPN's customer support and online forum to see several other users' options. If you eventually find a server that works best for Netflix, you can save it by adding it to your "favorites" tab. This way, you can always have it around.
In most U.S. servers, you will find Netflix content available in high-definition quality. For a majority of these servers, it doesn't matter what library you access; the HD quality remains consistent.
All in all, you can rest assured that NordVPN works for Netflix and streaming for sure. The SmartPlay feature is a surefire hit, thanks to its innovative combination of Netflix access and optimal security.
Also, NordVPN helps you access other streaming services. You're pretty ready to go from the BBC iPlayer, ESPN, HBO Go, and Amazon Prime Video. As far as geoblocking goes, the VPN also allows you to unlock social media services — you know, if you're the type of person who loves tweeting and seeing other peoples' Facebook feeds.
Moving on to torrenting, NordVPN is another surefire hit. The VPN is an excellent option for people who want to get on torrenting sites and download content. Its support for peer-to-peer file sharing makes it easier to do this. Unlike streaming, NordVPN has a tab for servers that work the best for torrenting. So, feel free to check for those if you want to save time.
ProtonVPN also allows you to access content on other streaming services easily. The experience on services like BBC iPlayer and Hulu is much better. That is probably because Netflix's geoblocking features are more robust than that of most other services.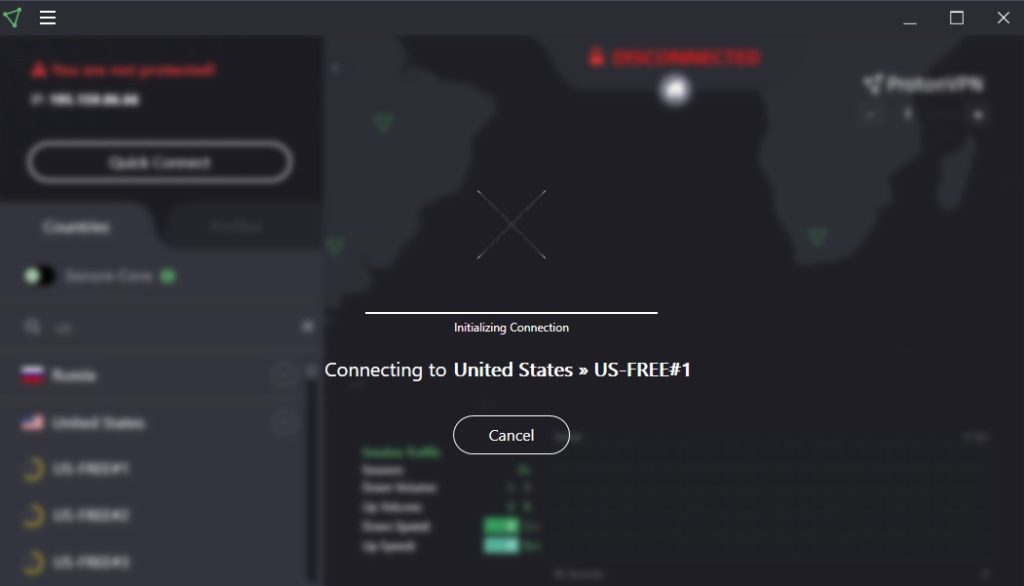 As for torrenting, ProtonVPN is excellent. You can engage in peer-to-peer file sharing as much as you want, and you can seamlessly get content from BitTorrent and other torrenting sites. Like NordVPN, ProtonVPN doesn't keep any logs on your activity. So, nothing will be traced to you.
Security
NordVPN is one of the most secure VPN services in the world currently. It shines in terms of private and secure browsing, thanks to a perfect combination of military-grade encryption, a kill switch, and others.
To kick things off, NordVPN has AES 256-bit encryption. That is currently one of the most secure encryption forms, and even government agencies use it for safety. There's almost an infinite possible number of codes for this encryption level, so rest assured that no unauthorized person will be able to get their hands on your data.
NordVPN combines this security with SHA2-384 authentication, a 2048-bit DH key, and Perfect Forward Secrecy. The authentication is what checks if your data has arrived at the destination or not. It ensures that no hacker has intercepted it and that the data isn't being re-routed to another server without your consent.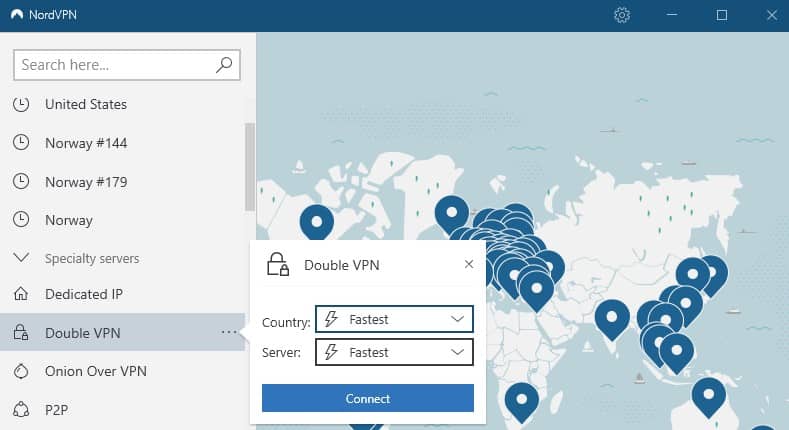 The Perfect Forward Secrecy feature will assign you a new security key whenever you log on to the VPN. So, it's almost like being a new user whenever you connect. With the feature, anyone who compromises your current security won't be able to compromise previous or future sessions. Of course, this also means that there won't be anything to expose you if anyone compromises your connection — not your internet activity, not your data.
NordVPN keeps two security protocol types — OpenVPN UDP/TCP and IKEv2/IPSec. The first is known by many as the most secure security protocol, although that depends on your needs. You can select between some other protocols as well, depending on your device and your security needs. For instance, NordVPN uses the IKEv2/IPSec protocol as the default for macOS and iOS devices. Whichever one you choose, you're getting the top stuff.
Then, NordVPN provides a kill switch. While you might not need the feature, it is pretty essential. With it, your traffic gets blocked if your device suddenly loses connection to the VPN network or a hacker compromises your connection. The feature essentially makes sure that your IP address and DNS requests don't get compromised.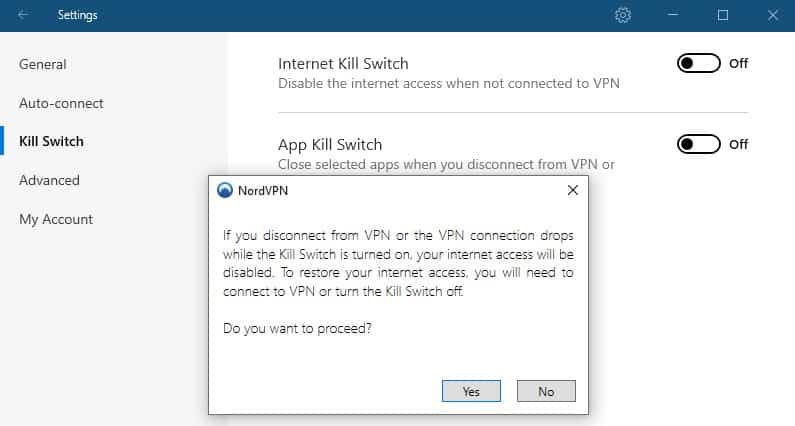 On NordVPN, both mobile and desktop users get a kill switch. Note that while it is always on for iOS devices, it's not on by default for the macOS platform. It is also not on for Android devices.
Another exciting feature is the ability to decide which apps get blocked. Known as the kill switch extension, it is available on all platforms. So, if your connection drops, you will be able to retain internet connection but block any risky apps from connecting until you're back on the network.
Then, you can take advantage of the split tunneling feature. The feature allows you to split your traffic through your regular network and through the VPN's, too. That way, some apps will be under the VPN's coverage while others wouldn't. This may be necessary when you need to carry out an activity with your regular IP address whilst still using that generated by the VPN. For instance, you may want to do a quick transaction using your banking app while streaming restricted content on Netflix. With this feature, you wouldn't have to turn off the VPN entirely.
Note that split tunneling is available on NordVPN's mobile apps, as well as on its extensions for Chrome and Mozilla browsers. The default setting comes on automatically when you log on, so you don't need to do any work.
Moving on, we have ProtonVPN. This VPN is also pretty secure, as it comes with a wide array of features that guarantee your safety. For one, there is a built-in DNS leak protection feature that masks your IP address and keeps you completely safe. Tests have shown that there won't be any DNS leaks as long as you connect to ProtonVPN. So, rest assured that you're safe from hacker interference.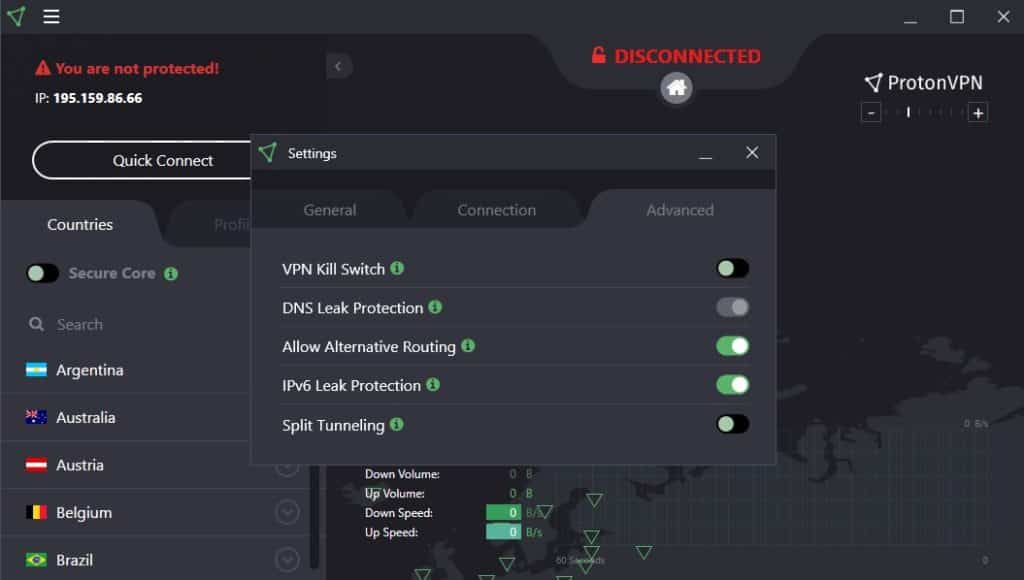 As for encryption, ProtonVPN protects you with AES 256-bit encryption and a 4096-bit RSA key exchange. We already covered what the first feature does. As for the second, it is one of the most secure algorithms available.
Besides these, you can access Perfect Forward Secrecy to protect all your connections. The feature provides you with a new encryption key whenever you connect to the server. So, even if your connection key gets compromised somehow, you will get all your previous data connections secure.
Security protocols on ProtonVPN are essentially the same with NordVPN — OpenVPN and IKEv2/IPsec. Unlike NordVPN, ProtonVPN doesn't have an overly extensive list of security protocols. However, as long as it is the most secure, you hardly need anything else.
As for additional security features, you get Secure Core. This feature on ProtonVPN routes your traffic automatically among different servers that are privacy-friendly. The servers are located in countries like Sweden, Iceland, and Switzerland. By routing this traffic to other locations, you're adding some other layer of protection.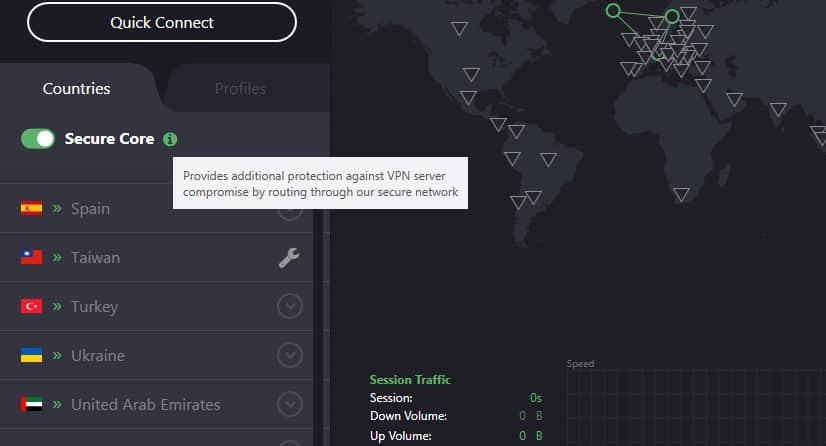 Sadly, ProtonVPN doesn't have an ad blocker as part of its features. That's a bit of an enthusiasm dampener, but you will get on just fine without it.
Anonymity and Privacy Features
NordVPN comes with a no-logs policy, so they don't keep any logs on your activity while connecting to the VPN. The service also comes with CyberSec, a feature that helps you block all ads, malware, and phishing threats. Of course, anyone looking to have optimal privacy will need to have these features too. However, it doesn't entirely hurt to have some secondary layer of protection.
Besides, you get a WiFiSec feature that connects to the VPN whenever you connect to a new WiFi network. If you need privacy while connecting to unsecured networks, you can use the WiFiSec feature to choose if to connect to cellular.
ProtonVPN also offers optimal privacy features. However, the primary one is the service's no-logs policy. With it, you can rest assured that no one will spy into your activities.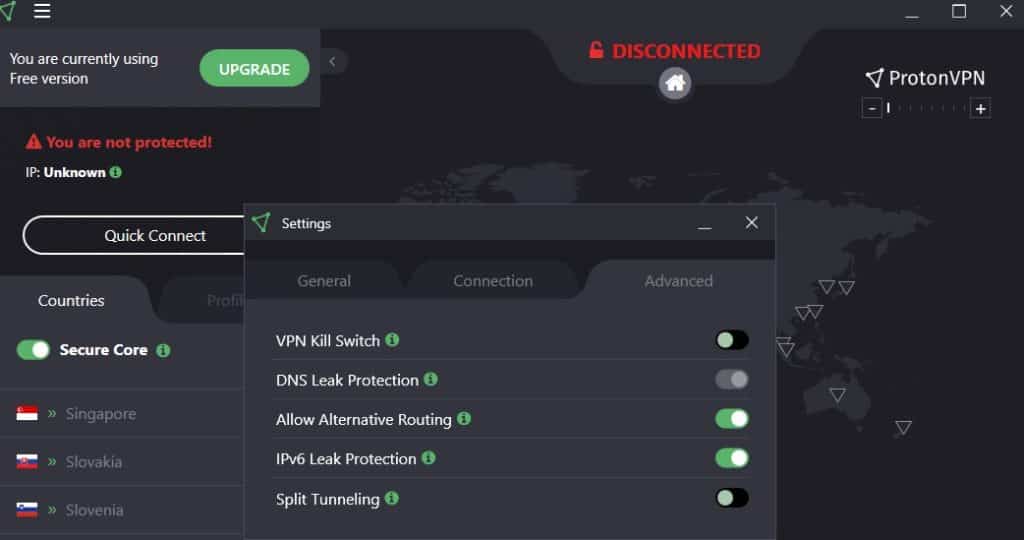 ProtonVPN is based out of Switzerland — a country with privacy-friendly laws. So, apart from the no-logs policy, the service's privacy policy is also straightforward. Its no-logs policy has the backing of Swiss law, which doesn't require the company to retain any information. So, data about your bandwidth, session, connection, and location are safe. Since the service doesn't keep any logs, it's impossible to force it to hand over any information concerning you.
If you want more privacy, check out the Tor over VPN service. The feature directs your internet traffic straight to the privacy-focused Tor network. And you won't need to download the Tor browser to do this.
Sadly, there aren't any other additional privacy features on the service. The no-logs policy is the primary privacy feature available on this VPN, and it will do just fine.
Platforms Supported
NordVPN is currently available on all major devices — iOS, macOS, Windows, Android, and Linux. Note that some differences exist between these platforms, although the overall experience is pretty uniform.
One-click connection is available to help you set the VPN up easily. Once you install the app, you merely need to sign in and enable the ad blocker. Then, click on the server you want to connect, and you're ready to go.
NordVPN also has a Quick Connect feature for easy connections, although you have to search for your server manually. The VPN is available via browser extensions for Google Chrome and Mozilla Firefox. On both extensions, you can get access to all of its servers. There are no restrictions whatsoever.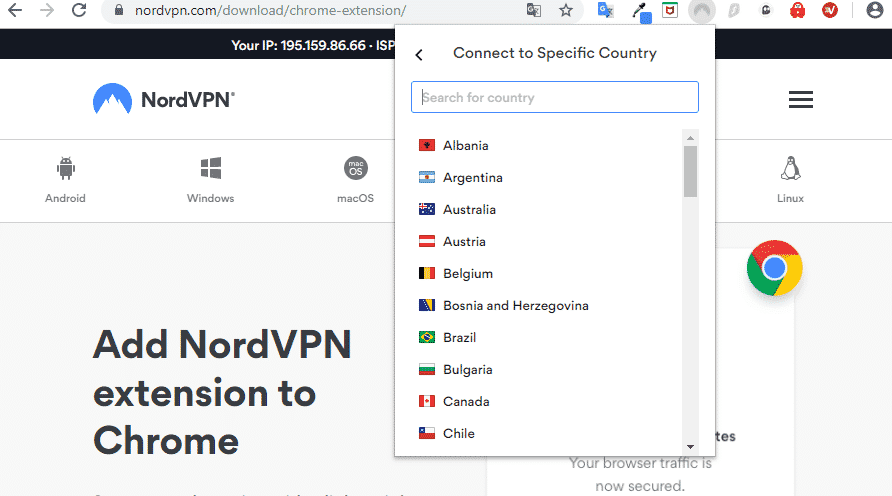 NordVPN allows you to connect to six devices on a single paid account. Note that this includes laptops, tablets, phones, computers, and any other device that supports it directly. However, you can bypass this by installing the VPN on a router. If you do, you get unlimited access to any device connecting directly to the router. Thankfully, NordVPN has router access for you. So, you're covered on pretty much all fronts.
As for ProtonVPN, the service is also available on Windows, Android, macOS, and iOS. The service has open-source apps to make customizations that work for you based on what you like.
You can also access a manual configuration option if your device runs on the Linux operating system.
The VPN also has varying options concerning how many devices you can simultaneously connect to it. If you're running on the free plan, you can only connect one device. The basic plan lets you connect just two devices, while the Plus plan allows five devices. Then, there is the Visionary plan that allows an impressive ten devices.
Plans and Pricing
NordVPN has three pricing tiers. These include:

Yearly Plan: The 1-year plan costs $5.71 per month.
6-Month Plan: Here, you pay $8.93 per month
Monthly Plan: The monthly plan costs you $11.86 per month
All plans come with the same features.
ProtonVPN has a pretty complex pricing structure. However, here are some of the top highlights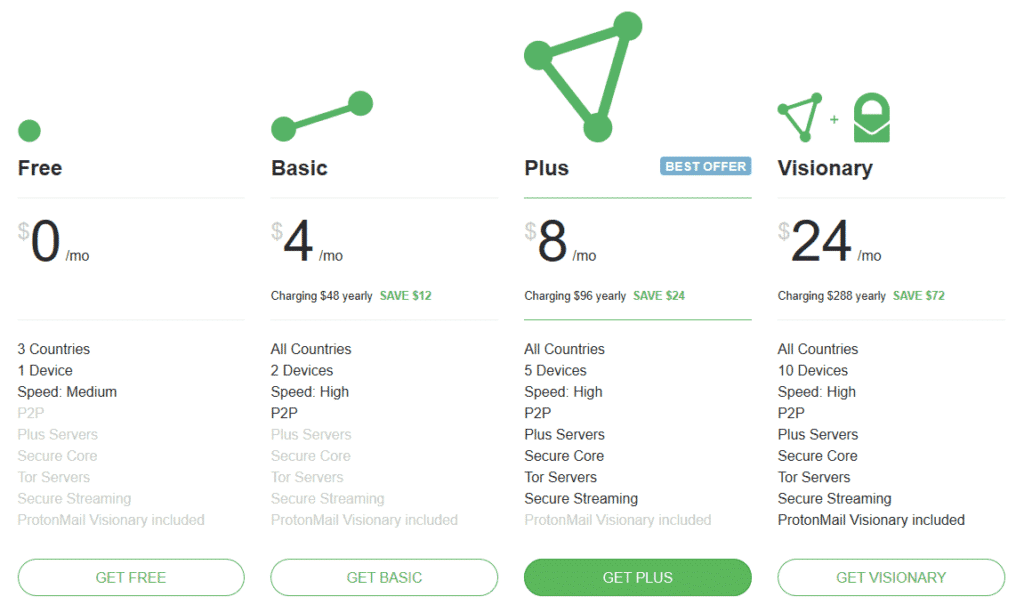 The Free Plan: This costs nothing. However, you only get one device, three countries covered, and medium speed. Note that there is no torrenting support. You also don't get access to blocked content, Tor over VPN, and Secure Core.
The Basic Plan: This plan costs $4.74 per month. It gives you the ability to connect just two devices, although you get servers in 50 countries. There is also support for BitTorrent, although you can't access blocked content or get Tor over VPN.
The Plus Plan: This plan costs $9.48 per month and allows five devices. Servers are available in 50 countries, and you get the full package of features.
The Visionary Plan: The highest on the list, this costs $28.44 monthly. It comes with all other plans' features and the ability to connect ten devices.
Pros and Cons
Here, we will review the pros and cons of each VPN.
NordVPN
Pros
Easy and quick connections
Wide global server network
Optimal privacy settings
Cons
No easy streaming selections
The interface is a bit clunky
ProtonVPN
Pros
No-logs policy
Access to restricted content
Works well for China
Cons
A minimal number of servers
Speed isn't so great
Our Recommendation
There's no doubt that NordVPN is the better option here. The service comes with better features on pretty much all metrics, including speed and bypassing geo-blocking restrictions.
Considering that NordVPN already is one of the best VPN services globally, you can definitely get it all in one package. Although ProtonVPN does have some impressive features, there's no debate that NordVPN beats it.