Best Free VPNs That Work With Netflix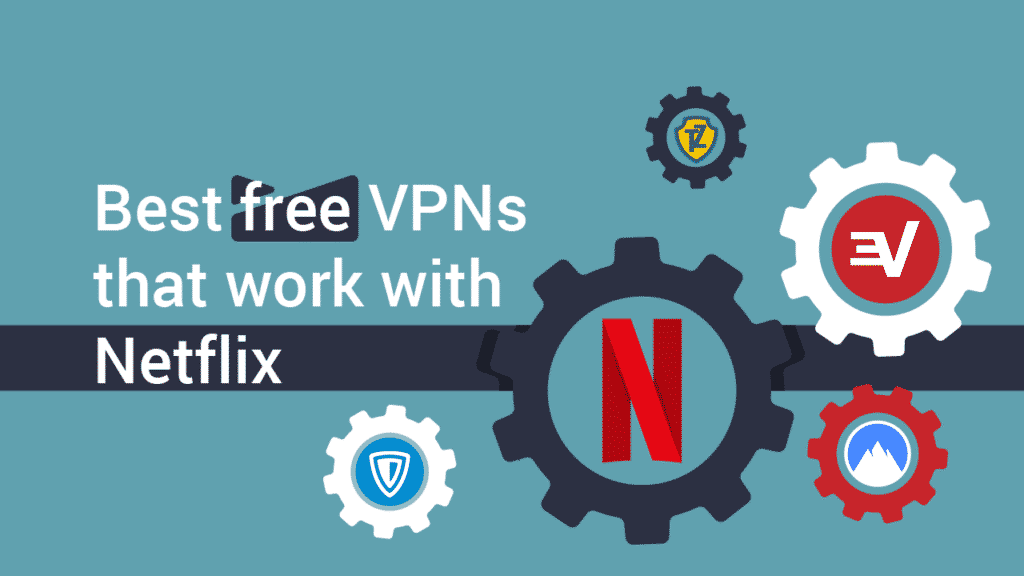 Netflix is recognized as the best streaming service online, due to its great selection. Here, you can watch both classic and new content in the form of TV shows and movies. Netflix even produces its own content, which has really gained great traction over the last few years.
While Netflix is a preferred option as a streaming service in most countries, there is a great disparity in terms of the selection of content. Oftentimes it is cited that U.S. Netflix users gain access to 5 times the content of most European users. This is despite the fact that all users pay nearly an identical rate per month for their subscriptions.
You are not alone if you find this disturbing. However, there is a solution that can provide you with the necessary technology to access all of Netflix's content, regardless of what country you reside in. This solution is using a VPN. A VPN allows you to connect to a server in a different country, removing all geographical restrictions on content.
When you for instance log on to a U.S. server, Netflix will in theory register you as a U.S. resident visiting their site. The same applies if you connect to a UK or German server, where Netflix will believe you are visiting its site from these respective countries. What is more, there are free VPNs excellent for this purpose.
Best Risk-Free VPNs for Netflix
A risk-free offers a free VPN service in principle. You would need to make a prior commitment from the start. However, eventually, you get a full refund. How does this work? You get on a subscription, make some payment for the plan you chose, and then use the service. You would then rescind your subscription and demand a refund. These providers offer a money-back guarantee window. As long as you request the refund within the approved window, you would get it, no questions asked. The great thing with this option is that you get the full range of features the VPN offers, unlike what you'd do if you go with a totally free VPN.
Here are the best risk-free VPNs to consider:
ExpressVPN
NordVPN
Best Completely Free VPNs for Netflix
If you would rather go with a totally free VPN, here is a trusted list to consider.
ProtonVPN
Hotspot Shield
ZenMate VPN
Trust.Zone
Windscribe
What Is a Free VPN?
A VPN service in general is a service that allows you to connect to servers worldwide in order to hide your original IP address. Some individuals do this for anonymity, some for security, and others for removing geographical restrictions such as the Netflix disparity in content selection.
But how does a free VPN differentiate itself from a regular VPN service? If you have been looking for the best free VPNs that work with Netflix for a while, you will know that there are compromises to be made when choosing fully free services. In contrast to paid services, there will be data restrictions, fewer servers, and likely lower connection speeds.
Furthermore, the guarantee to be able to pass the Netflix VPN ban is never really checked off. Some fully free VPN services work with Netflix, but normally only after quite a few tries. Despite this, it is worth mentioning that these services are after all free and also risk-free.
A fully free VPN is a great way to test out the technology behind any provider. If you enjoy it, then you can upgrade. There are also many options out there that are free in theory, such as trials and money-back guarantees. While these are not free forever, they are normally better options than fully free VPN services, since the trials and money-back guarantees normally have no limits.
Utilize the Free Aspect of Paid VPNs
As mentioned earlier, many of our listed VPN services are not technically completely free. However, they do come with options that in theory make them free. Whether that is a free trial or a money-back guarantee, it is recommended to utilize these aspects of the paid VPNs. Fully free VPNs are rarely a good option.
A completely free VPN must come with limits, and usually, these limits deem free VPNs only useful for a few hours at most. Furthermore, few are able to bypass the Netflix VPN ban, meaning the best free VPNs that work with Netflix rarely are fully free VPNs. On top of these two aspects, streaming stability and speeds should also be considered.
In contrast, you can in theory use a paid VPN for free with the free trials and money-back guarantees. These two options will provide you with full access to some of the best providers in the market, whereby you can upgrade if you feel the need to at the end of your free period. After all, jumping from VPN to VPN in order to utilize free deals will get tiring over time.
Netflix VPN Ban
The infamous Netflix VPN ban means you cannot just use any VPN to get access to Netflix in other countries. This ban was put in place to protect content producers and networks. The ban detects certain IP addresses that are suspected to be in connection with a VPN.
Unfortunately, most IP addresses provided by free VPN services are blacklisted, simply because most people test out the free VPN services. As these are "used up" and blacklisted by Netflix, the free VPNs do not have sufficient funds to renew their IP address selections constantly, meaning you will not be able to watch Netflix through these services.
Watch Netflix Abroad Free
Netflix provides a vast library of content. With a VPN, you can watch all of it without additional charge. All you need to do is pay the subscription fee where you live. There are also free VPN options out there, notably free trials and money-back guarantees for some of the best services in the market.
These options are great, as they give you access to the capabilities of some of the best services. That means you get high speeds and great server selections. Most importantly, however, it unblocks Netflix and bypasses the VPN ban, and it is all free of charge!