How to Watch American Netflix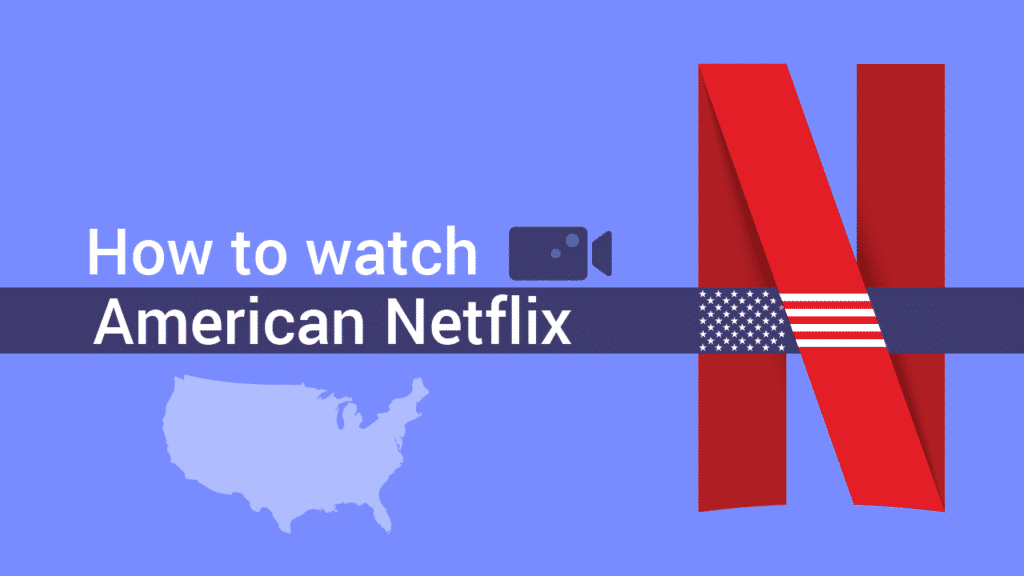 Netflix has been established since 1997. However, most of us only knew and fell in love with this media-service provider when they started streaming back in 2010. Since then, they've only expanded, and now, they're the top over-the-top (OTT) media service in the United States.
Now, Netflix began in the United States, so it does make sense that the most interesting, the most controversial, and the most popular of all the shows are all included in the USA stable. Americans alone make up a massive percentage of Netflix's total subscribers. They're their primary market. But what about the rest of us? What do we do when we want to watch shows or movies like The Watcher, Raising Cain, and Private Practice?
Well, you use a VPN, of course. I mean, you could always use a proxy or some other means, but, by and large, a VPN's your best bet.
How to use a VPN to watch American Netflix
The best VPNs make unblocking Netflix USA hassle-free. Here's how the process goes with a good VPN provider and a user-friendly app.
Open the VPN app.
Look for a USA server to connect to.
Click connect and wait for it to signal that it has done so.
Open Netflix.
Your recommended shows might still be the same, but you can search for and find USA-only titles now.
The best VPNs to help you access American Netflix
There are hundreds of VPN providers around today. However, Netflix is quite formidable when it comes to geo-blocking. Not just any VPN can do it, and it's frustrating to have to choose between many options that might not even achieve your goal. So, we've narrowed down the options a bit for you. We've selected five of the best VPNs to help you stream Netflix USA. Dive in!
ExpressVPN

Features
Number of servers: More than 3,000
Speeds: Unlimited
Server locations: 160 in 94 countries
Maximum devices supported: 5
24 live chat: Yes
30 day money back guarantee: Yes
Pros/Cons
Fastest VPN out there
Strict no logs policy
256-bit AES encryption
ExpressVPN is our favorite VPN for many, many reasons. But since we're here to talk about streaming American Netflix, ExpressVPN has also proven their expertise in this field.
Streaming Netflix USA through a VPN means that your VPN has managed to successfully convince the media-service provider's software that your data connection is coming from the USA. This is replacing your IP address with another one that matches the location of your chosen server. This is called IP address masking and ExpressVPN can help you achieve that.
Express VPN also has features like an amazing encryption technology, a kill switch, and DNS leak protection. There's TrustedServer technology that allows you to browse anything and everything you want because all data left behind after your session that could point to your whereabouts on the web are automatically deleted.
The second is ExpressVPN's split tunneling feature. This feature allows the user to choose which apps they'd like to be run through ExpressVPN and which they want to be run through their normal ISP. ExpressVPN may look like it has a lot of features, but it also has over 3000 servers in 94 countries. This spread contributes, in part, to why ExpressVPN's network is always fast enough to watch 4K.
ExpressVPN is available on all standard OS platforms (Android, macOS, iOS, Windows, Linux), several smart TVs, Chrome and Firefox, and routers. Its plans range between $8 to $13, but there are significant discounts involved, depending on which you choose. You'll also have the chance to take back your money within thirty days, and ExpressVPN will not ask you a single question.
Tip: It can get annoying looking for a good, fast server to connect to. And with some VPNs, not all servers provide streaming services. Some servers are even optimized to unblock specific media streaming services. It's much easier just to ask them for the best servers for Netflix USA. Most top-notch VPN services will respond with a list of viable servers. This method saves you loads of stress and time.
Pros:

Fastest VPN out there;

Strict no logs policy;

256-bit AES encryption;

Lowest price: $6.67
NordVPN

Features
Cryptocurrency accepted? Yes
Simultaneous connections: 6
Dedicated IP-addresses? Yes
Servers: 5342 in 58 countries
Pros/Cons
Lots of pricing options
Netflix support kept up to date
256-bit AES encryption
Speaking of thirty-day guarantees, NordVPN has one, too. After testing this VPN provider, you probably won't even need to know such information, but we did promise to lay it all out there for you guys.
NordVPN is our second favorite VPN and the one with the highest server density. It has 5600+ servers in 59 countries, but most of them are centered in North America. This is great for those who want to watch American Netflix because it gives you lots of options to work with. And more servers means fewer customers attached to one server. An uncrowded server is a fast server, which is probably why it's so easy to watch HD and 4K content on a NordVPN connection.
NordVPN quickly unblocks Netflix USA. It also protects its users' privacy, just as efficiently. Apart from a kill switch, DNS leak protection, and IP masking, NordVPN has some unusual security features. There's DoubleVPN, a function that takes your traffic through two servers to encrypt it twice before delivering it to its destination. And there's Onion over VPN, a feature that allows your data to be taken through Tor servers and encrypted numerous times over. Finally, there's CyberSec, a feature that blocks ads and malicious websites. The web's a lot cleaner when you use NordVPN.
NordVPN has several plans, priced between $3.50 to $12. It has apps for all standard platforms, Android TV, Chrome, Firefox, and OpenVPN routers. And like we said before, there are take-backs available within the first thirty days of subscription.
Pros:

Lots of pricing options;

Netflix support kept up to date;

256-bit AES encryption;

Lowest price: $3.71
Surfshark

Features
Free trial? Yes
Simultaneous connections: unlimited
Ad blocking? Yes
Servers: 1000+ in 61 countries
Pros/Cons
No footprints
Allows torrenting
256-bit AES encryption
Compared to some of the other mammoths on this list, at first glance, SurfShark would only look like a small, young VPN. However, once you look closer, it's glaringly apparent that while this VPN is young, it is not small, and it is not a pushover.
SurfShark is a full-featured, unique VPN, with a lot going on. It uses industry-leading encryption keys, has its own private DNS and leak protection for it, plus a very active kill switch. And these are the regular features. The more unique features are ones like MultiHop, SurfShark's version of the DoubleVPN. The only difference is MultiHop connects servers in different countries. Camouflage Mode is another unique feature that basically erases your presence on the internet. Even your ISP won't be able to tell that you're using a VPN.
Whitelister is SurfShark's name for its split tunneling feature. And finally, CleanWeb takes care of all the irritating ads, malware, and phishing attempts. SurfShark has over 1000 servers in 61+ countries, and while they're not many, they are efficient. SurfShark consistently unblocks not just American Netflix, but a whole lot of other media-services providers, as well. SurfShark's servers are also fast enough to let you watch your unblocked content in HD.
This VPN provider supports all standard OS platforms, smart TVs, Chrome, Firefox, Xbox, PlayStation, and several routers. SurfShark's trump card isn't in its speed or unblocking. It's in its unlimited number of devices connectivity feature. You can connect as many devices as you want to your account – all for a price ranging between $2 and $12. Your money is also protected by a 30-day refund policy in case you find that SurfShark isn't the VPN for you.
Pros:

No footprints;

Allows torrenting;

256-bit AES encryption;

Lowest price: €2.49
UltraVPN

Features
One click connect? Yes
Servers: 100+ superfast servers
Bandwidth cap? No
Platforms: Mac, Windows, iOS, Android
Pros/Cons
Firewall
Apps for all devices
256-bit AES encryption
Not as many servers as others
UltraVPN is the perfect VPN for the person who just wants to connect and start streaming. It's a simple, straightforward VPN, so it's ideal for beginners and for people who want a VPN for a single purpose.
UltraVPN is an extremely young provider, at just under two years old. It has over a hundred servers spread out over 30 plus locations. These servers are concentrated in North America, Europe, and Oceania, which is excellent for Netflix USA watchers. This means it'll be easy to just pick a server in the US and stream Netflix immediately. If you're indecisive about which server to choose, you can always contact customer service through live chat and ask for a list of servers that can stream Netflix. UltraVPN's live chat is pretty responsive; you should get an answer within a couple of minutes at the most.
Each UltraVPN server is optimized for speed and reliability. Having your streaming stop to buffer is annoying, but it's something you won't have to go through with UltraVPN. Reliable encryption technology, a zero-logs policy, and a kill switch all help to secure your traffic's safety while you stream.
UltraVPN has apps to support standard platforms, excluding Linux. They also support Fire TV. They have subscription packages starting from $3.75 to $8. UltraVPN also has a 30-day refund policy, so you can test it out a bit, and see if it's the VPN for you.
Pros:

Firewall;

Apps for all devices;

256-bit AES encryption;

Lowest price: €2.99
CyberGhost

Features
Connected devices at once: 7
Automatic kill switch? Yes
One click connect: Yes
Servers: 5900 worldwide
Pros/Cons
No logs policy
24/7 live chat
Apps for mobile devices and routers
CyberGhost has been operating as a VPN service since before most people knew that their most precious secrets could be taken and leaked onto the web. They have over 15 years of experience in dealing with cyber threats, and it shows.
While other VPNs have servers stationed in many, many countries, very few of them can catch up to CyberGhost's 5700+ servers in 89 countries. Over a thousand servers are located within the USA, which gives you ample choice in selecting a server. Each one of these servers is capable of unblocking American Netflix, and if it isn't, there are over 999 more to check. You can always just save yourself some time and ask customer service for dedicated streaming servers through a live chat session.
CyberGhost protects your data with robust encryption technology, DNS leak protection, and a kill switch. CyberGhost also offers an option for customers that want to go above and beyond in their search for privacy.
The NoSpy servers. These servers were built (physically built) for maximum data security. The CyberGhost team (and only them) physically run these servers. It does cost a bit more than a regular CyberGhost account, though. Where a normal account costs from $3 to $13, a NoSpy account costs $5 per month.
CyberGhost is accessible on all standard platforms, smart TVs, browser extensions, and consoles. You can use one account to manage up to seven simultaneous connections. However, if you buy a plan and you're unsatisfied with the service, CyberGhost has a 45-day money-back guarantee in place.
Pros:

No logs policy;

24/7 live chat;

Apps for mobile devices and routers;

Lowest price: €2
Is it legal to use a VPN in the USA?
Well, strictly speaking, no. There are no laws that condemn the use of a VPN or suggest sentences for anyone found doing so. It is not a crime to use or even own and run a VPN service. However, a VPN can serve as a shield for individuals to do things that aren't legal. And whatever is illegal outside of using a VPN will remain unlawful when you're using one. For example, torrenting copyrighted content remains illegal with or without a VPN.
But, using a VPN to bypass restrictions set by companies such as Netflix, Hulu, HBO, etc., is not illegal. No place in the constitution says it is. But that doesn't mean it's all good. Bypassing geo-restrictions set by a service that you use is a breach of Terms of Use. You know, the fine print that nobody bothers to read. Though it's hard to imagine Netflix taking action against you, they are certainly well within their rights to take a customer who's breached their terms to court.
Free VPNs vs. Paid VPNs for streaming Netflix USA
If anyone tells you that a free VPN can unblock Netflix, they're probably pranking you. Netflix's geo-blocking software is continuously updated to provide better defenses against VPNs. To stay ahead of them, VPNs also have to keep adjusting and updating, and this takes money. Paid VPNs get this money legitimately through their subscribers.
A free VPN that claims to be able to unblock Netflix is either a scam or is selling your information. There are no ifs or buts. Don't fall for it.
In conclusion
Netflix USA is the most extensive library Netflix has. There are titles there that you won't see anywhere else. For people living outside the USA or Americans staying outside their country, it's unfathomable to miss out on this selection. An excellent VPN will make it easy to watch your favorite shows wherever you are. Don't let distance come between you and your favorite characters.