Trust.Zone is an actor within the VPN business that was established in the Seychelles back in 2014. Trusted Solutions LLC is behind the service. The service delivers the VPN protocols OpenVPN and L2TP to users all over the world, whether for security, anonymity, geo-blocking or other needs!
Trust.Zone is simply a very flexible and reliable program, evidenced by their popularity. In this review, we will look at a few aspects considering Trust.Zone as a VPN service and whether this is a service you should consider for your use. We will look at aspects like privacy and security, selection of servers and server amount, speed of the different servers, user friendliness, pricing and similar things.
Selection of servers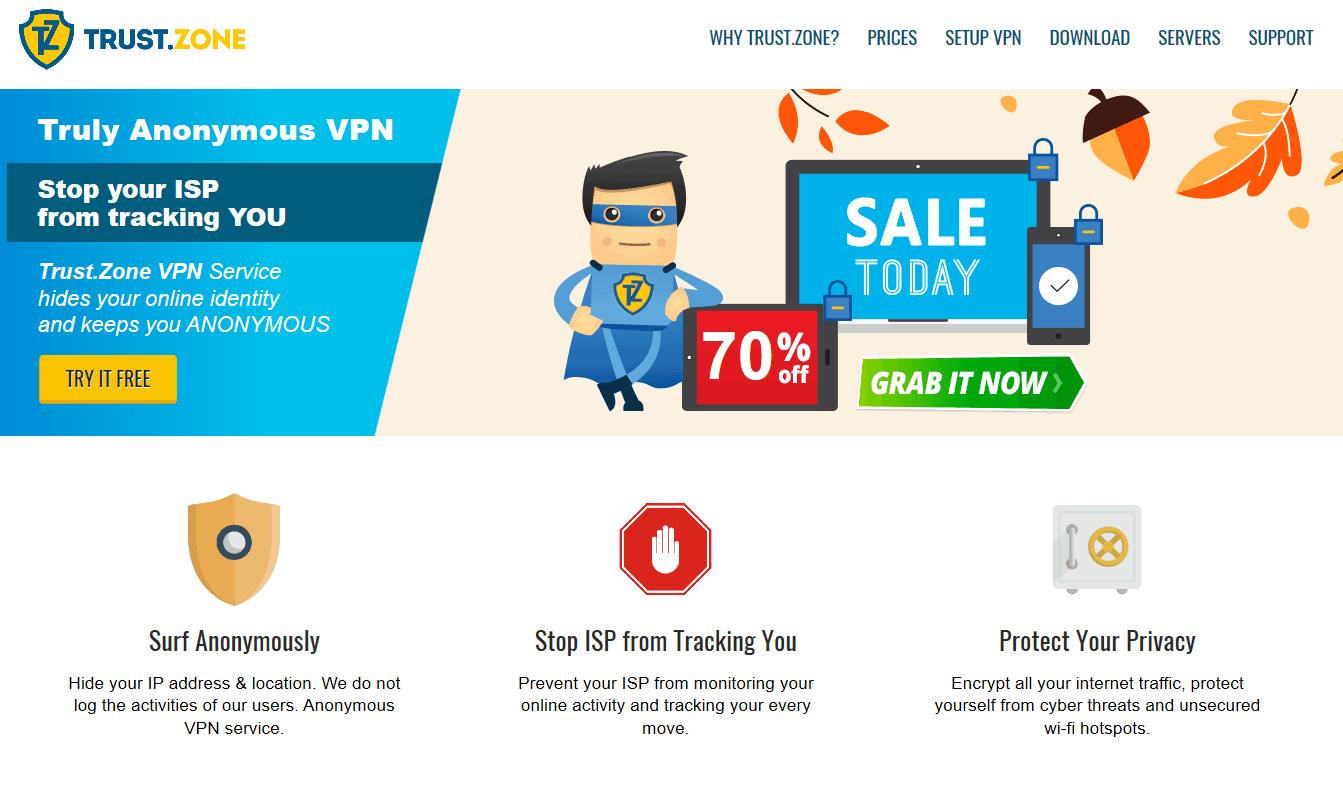 Trust.Zone joins the range of VPN servers that focuses on quality rather than quantity. Today they offer 169 servers across 40 countries. Norway, USA. Germany, UK and Australia are just some of those countries that are especially interesting considering content with streaming services.
However, there are connections in smaller countries as well, both in Europe and Asia. In Africa and South America Trust.Zone has kept their good servers in South Africa and Brazil, but with the growth they have experienced in the last few years, you would not be surprised if they added more countries and continents to the list.
Like most other VPNs Trust.Zone offers most servers in the biggest geos. This means the server selection is best in countries like USA, UK, Australia, Germany and similar countries.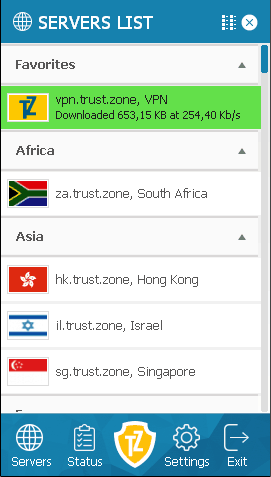 Speed
Speed is definitely a highlight with Trust.Zone's quality servers. There are many VPN services out there with thousands of servers worldwide. The difference between this group of services and Trust.Zone is that the latter will always beat the others on speed.
Any VPN service will result in some loss of speed, but an actor like Trust.Zone does a great job of minimalizing the loss. This results in that using Trust.Zone, you will probably not even notice the loss of speed. In this way you can enjoy browsing without lagging or irritations.
Perhaps especially important is that Trust.Zone lets you stream in HD, play video games and perform other heavy-duty tasks online without trouble. After all, for many people, access to content is the most important and with Trust.Zone you don´t have to compromise as the speed is very high!
Security and privacy
Security and privacy were without doubt one of the reasons that VPN grew in the beginning. It is important to mention that the company behind this service is outside of US and EU jurisdictions. Since Trust.Zone is localized in the Seychelles, they don´t have strict laws for data storage, so you can browse anonymously trough Trust.Zone without tracking.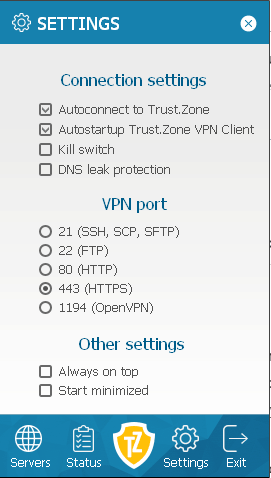 As mentioned in the introduction Trust.Zone has both OpenVPN and L2TP. These are the only two protocols the service offers, but since most people have really gotten the feel for OpenVPN, this one is the most important. Trust.Zone also offers a Kill Switch, that makes sure the internet is always disconnected if the VPN stops working. Thus, you are always kept safe.
Security is further proven by 256-bit encryption, which is the same level of encryption as the US Army. Keeping safe online has never been more important and Trust.Zone makes you feel safe no matter what websites you might visit.
Geoblock removal
There is little doubt that geoblock removal, especially with Netflix, is important. Getting access to US Netflix for example, is gold. Through Trust.Zone you are guaranteed servers and IP-addresses to get through the blockade that Netflix and others have put up.
Trust.Zone
Pros
Military grade encryption
Bitcoin accepted
App for mobile devices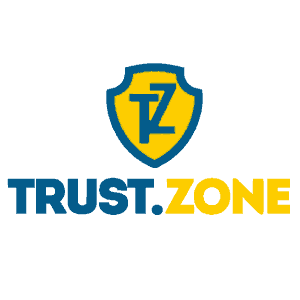 You can also remove geoblock in other countries all over the world. In practice this means that the internet is much more open to you. Even at work or school you can use Trust.Zone to remove blockages to sites such as Facebook and YouTube.
User friendliness
Trust.Zone is available on all major platforms. This includes Windows, Mac, Linux, Android and iOS. Common to all versions, device or operating system, is that the service works almost flawlessly. It is easy to navigate and connect to a server.
When using this VPN service, you can easily go through a registration process and choose the subscription you want. Then you download the program and find the country you want to connect to. In just one click on this server you will be connected to a VPN.
It is also easy to disconnect, set up the Kill Switch function and other basic settings. The more advanced setting is out of sight for beginners, but easy to get through for advanced users.
Pricing
You can try Trust.Zone free and without obligation for 3 days. Furthermore, the service has a 10-day moneyback guarantee that you can use after this for your chosen subscription. 10 days is shorter than other VPN services, but more than enough to see the quality with your own eyes.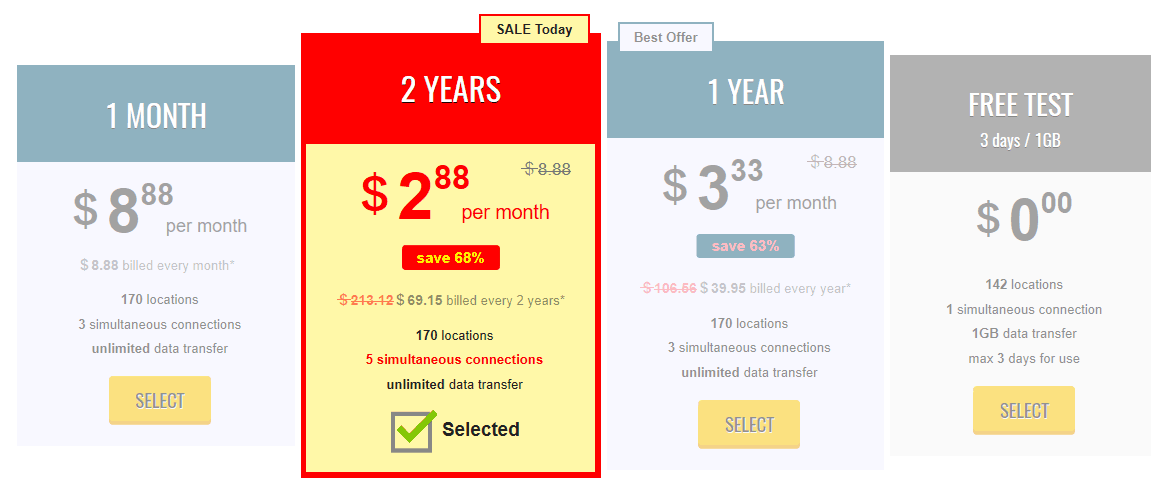 If you choose a paid subscription, it is without doubt best to go for the longer periods. Both 1- and 2-year subscriptions gives you low prices. As with other services, the monthly subscription is a great deal more expensive but possibly an alternative if you just want to use the service for a short period of time. Trust.Zone's monthly plan is actually pretty cheap compared to other VPNs.
The free version of Trust.Zone works very well in our opinion. Here you get access to 142 locations with pretty fast server speeds. If you want to learn more about Trust.Zone before you pay for anything, it could be a good idea to try the free version first to see if you like it. The drawback with the free service is that is only lasts for 3 days.
Summary
Trust.Zone is one of many actors within a growing VPN business. Their great advantage is that they are localized in the Seychelles. Their laws do not require logging, so you will be 100% anonymous with Trust.Zone. You are also secure with a high degree of encryption, as well as functions such as a Kill Switch.
The program is easy to use, and you can easily connect to 169 servers across 40 countries. These are quality servers that lets you watch US Netflix. With a free trial period, money-back guarantee and reasonable pricing, Trust.Zone is a recommended service to try. Don't forget that you could try the VPN service totally free for 3 days before you pay for anything.