How to Hide Your IP Address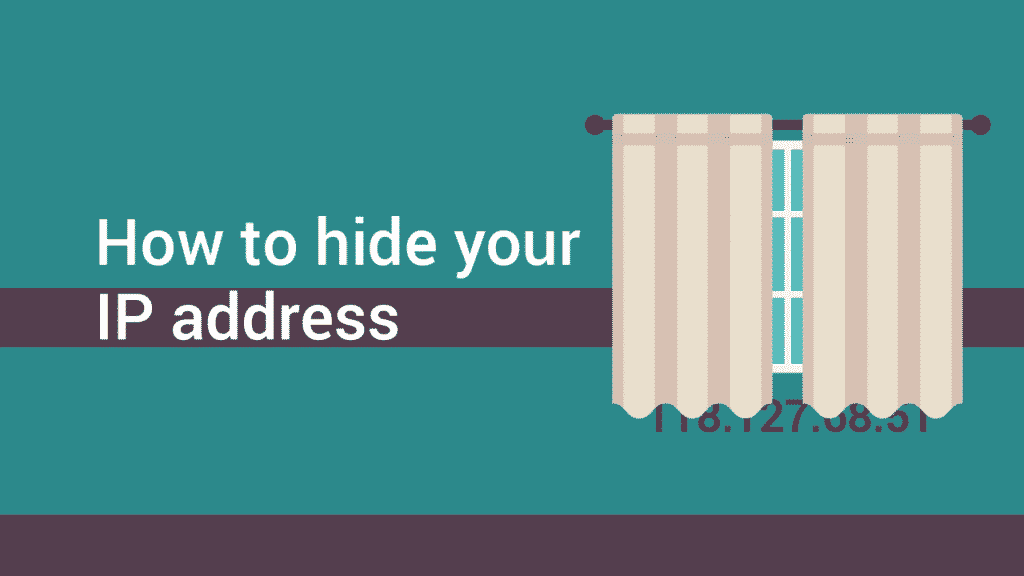 An IP address is basically your house address but for the internet. It's the location of your computer when it's connected to the web. Websites and networks need to know your IP address before allowing access to the internet. It's part of the protocols that enable us to get online. It's like your very own password. And like most passwords, it does tell some things about you.
Your IP address tells websites your location. But this location isn't very accurate, and sometimes, it's off by miles. It's not as if anyone can see your street name with your IP address or your browsing history. The only thing an IP address can tell a person is the city and state the connected computer is in and the name of the Internet Service Provider. But sometimes, even that information is too much.
How to hide your IP address with a VPN
Whenever we enter a webpage, we leave some kind of 'footprint.' And, like any other footprint, a good tracker can definitely glean information from it. This information is often revealing, and your location (city/state) will definitely be extracted. The most secure way to hide your IP address is with a VPN.
Most VPNs don't need you to do anything but:
Sign up and pay for a plan.
Download the app.
Choose a server and connect to it. Immediately you do, you'll be connected to the VPN and assigned an IP address to match that of the server location chosen.
The best VPNs to help you hide your IP address
A VPN isn't just an IP address fabricator. The best VPNs can do all sorts of things. Here are our top five VPNs, picked not only for being fantastic at hiding IP addresses but also for providing the best all-round internet security experience for their subscribers.
ExpressVPN

Features
Number of servers: More than 3,000
Speeds: Unlimited
Server locations: 160 in 94 countries
Maximum devices supported: 5
24 live chat: Yes
30 day money back guarantee: Yes
Pros/Cons
Fastest VPN out there
Strict no logs policy
256-bit AES encryption
ExpressVPN has remained a favorite of ours for a long time. Why? Because this VPN provider is an extremely functional and client-oriented service. But today, we're talking about hiding your IP address, and ExpressVPN definitely doesn't lack in that area. It has over 3000 servers in 94 countries, so there won't ever be a lack of servers to change to. And if there's no lack of new servers to hop on, then there'll be no lack of unique IP addresses to assume either.
These servers are also optimized for speed. Your browsing shouldn't have to slow down because you're using a VPN. Your browsing is also protected by several security measures. There's a kill switch that automatically disconnects you from the internet when the connection to the VPN is broken. A private and encrypted DNS on each server and WebRTC leak protection allow you to safely conduct searches and browse the web without being vulnerable.
To give users complete anonymity on the internet, ExpressVPN uses best-in-class encryption technology to encrypt every single bit of traffic that passes through your device. It also used TrustedServer technology to ensure that none of your data is logged after your session. However, in case you don't want to stop running all processes through your ISP, you can use the split tunneling feature to categorize apps you run through ExpressVPN and your regular ISP.
ExpressVPN also supports torrenting and streaming. It's capable of unblocking loads of geo-restricted content like Netflix, Hulu, HBO, BBC iPlayer, Crunchyroll, etc. ExpressVPN is accessible on all standard platforms (Android, Windows, iOS, macOS, and Linux), routers, browser extensions, smart TVs, and even game consoles. However, ExpressVPN is one of the more expensive VPNs, with prices starting at $8.32 per month. But, there is a "no questions asked" 30-day money-back guarantee in place. It's enough time to decide if ExpressVPN's services are equal to the price.
Pros:

Fastest VPN out there;

Strict no logs policy;

256-bit AES encryption;

Lowest price: $6.67
NordVPN

Features
Cryptocurrency accepted? Yes
Simultaneous connections: 6
Dedicated IP-addresses? Yes
Servers: 5342 in 58 countries
Pros/Cons
Lots of pricing options
Netflix support kept up to date
256-bit AES encryption
NordVPN is our second pick. Most people want to hide their IP address for privacy reasons, and you can't get any more private and secure than with NordVPN. This is another VPN with a large number of servers at over 5600 of them. And with these servers located in 59 countries, you'll probably find any IP address you need within this range.
NordVPN's servers hide your IP address, but while it's doing that, this VPN provider is not taking any chances with your security. NordVPN has a kill switch that reacts to every flicker in the VPN connection, and, unlike other VPNs, this kill switch cannot be turned off. Like it or not, you're protected.
There are also some other unique features NordVPN has acquired in order to provide security and better user experience for its clients. Onion over VPN takes your data through The Onion Router (TOR) to cover it in many layers of encryption. DoubleVPN encrypts your data twice. CyberSec removes any ads or malicious software that might disturb your browsing.
And remember those static IP addresses we mentioned before? You can get one from NordVPN for $70 per year. NordVPN also supports unblocking, streaming, and torrenting and has apps for all standard platforms, routers, Android TV, and browser extensions. NordVPN's excellent customer service is also there to help. You can contact them on live chat and email. For all this, NordVPN's prices range from $3.49 to $12. But, you can always opt-out within thirty days and get a full refund.
Pros:

Lots of pricing options;

Netflix support kept up to date;

256-bit AES encryption;

Lowest price: $3.71
Surfshark

Features
Free trial? Yes
Simultaneous connections: unlimited
Ad blocking? Yes
Servers: 1000+ in 61 countries
Pros/Cons
No footprints
Allows torrenting
256-bit AES encryption
SurfShark is a VPN with unique (and pretty impressive) features. It allows unlimited simultaneous connections. Most VPNs offer a number of simultaneous connections, but the average amount is five connections per account. SurfShark set fire to all of that. With this VPN, you can hide your IP address without having to disconnect any one of your devices.
Compared to many other VPNs, SurfShark is a rather young VPN, but it's proven that being young doesn't mean a thing when it comes to competence. SurfShark has over a thousand servers, cleverly spread out across 61+ countries. All these servers have been optimized for speed, streaming, and security. Anyone of them could host any of your needs.
However, SurfShark sees the need for some extra security for its users. That's why it has MultiHop; it's own version of DoubleVPN. Camouflage Mode ensures that, while your activity will still be invisible to your ISP, they won't be able to tell that you're using a VPN. Private DNS and leak protection and a kill switch keep your data and IP address safe and unseen.
There are also some other features on SurfShark, but these are dedicated to making user experience better. NoBorders Mode lets you watch any content you want when you want it, and CleanWeb makes sure there are no ads, malicious websites, or phishing attempts to spoil your fun.
SurfShark is available on all standard platforms, browser extensions, routers, smart TVs, and game consoles. They're one of the cheaper VPN providers. Their most affordable plan is only $2 a month, and the most expensive is $12 a month. And yes, there's a 30-day money-back guarantee in operation.
Pros:

No footprints;

Allows torrenting;

256-bit AES encryption;

Lowest price: €2.49
CyberGhost

Features
Connected devices at once: 7
Automatic kill switch? Yes
One click connect: Yes
Servers: 5900 worldwide
Pros/Cons
No logs policy
24/7 live chat
Apps for mobile devices and routers
Of all the VPNs on this list, CyberGhost is the most experienced. CyberGhost has been running for over 15 years, and it's still going strong. As a result of its long years in the VPN business, CyberGhost has acquired one of the largest server networks in the industry. CyberGhost has a whopping 5800+ servers in 89 countries. You'll never run out of servers to choose from, which means you'll never run out of new IP addresses.
But that's not all, CyberGhost has got to it, though. CyberGhost protects your data with first-class encryption technology and the most secure protocols available. It also has dedicated streaming servers, which are built to unblock geo-restricted content and provide speeds fast enough to watch your favorite shows in HD or even 4K.
Like NordVPN, you can also buy a dedicated IP from CyberGhost. A dedicated IP may have several advantages (such as preventing you from getting blacklisted), but it does add an extra $5 per month to your VPN bill. CyberGhost's regular plans range from $2.75 to $13.
Another feature of CyberGhost that comes with an extra bill is NoSpy Servers. These servers are run by the CyberGhost team exclusively and are meant for ultimate data protection. They also add $5 to your bill. Whatever plan or feature you buy can be used on seven devices simultaneously. You also have 45 days after you purchase a plan to decide if CyberGhost is the VPN you want or not.
Pros:

No logs policy;

24/7 live chat;

Apps for mobile devices and routers;

Lowest price: €2
UltraVPN

Features
One click connect? Yes
Servers: 100+ superfast servers
Bandwidth cap? No
Platforms: Mac, Windows, iOS, Android
Pros/Cons
Firewall
Apps for all devices
256-bit AES encryption
Not as many servers as others
UltraVPN is a unique VPN provider that strives to be as simplistic as possible. This does not mean they are not serious about protecting their customers' privacy. It means that their apps are the easiest to use of all the others' on this list. They're especially great for beginners who don't know how to use a VPN app yet.
UltraVPN has over a hundred servers in 50 plus countries worldwide. Each one of these servers is optimized for speed and torrenting. UltraVPN utilizes a kill switch, and DNS leak protection to keep your IP address safe. They also use their military-grade encryption technology to protect your data.
UltraVPN supports Fire TV and all standard platforms, except Linux. They have customer service on standby, ready to help you with any problems. They're available through live chat, email, or a ticketing system. UltraVPN's pricing is firmly in the middle range, with it's the cheapest plan at $3.75, and it's most expensive at $8. Don't like the service? You can still get your back within thirty days of your subscription.
Pros:

Firewall;

Apps for all devices;

256-bit AES encryption;

Lowest price: €2.99
Why should you hide your IP address?
You might still be doubting your reasoning for hiding your IP address. Allow us to give you four reasons you should hide your IP address.
Protect yourself from Snoopers
Your IP address can be used to find all sorts of bits about you. Your name will not be part of the information that your IP displays, but an experienced hacker can use the little bit of information to identify you. And once they do, you're vulnerable. They can use the information they've found against you to blackmail you or even go further. They could steal your identity, and you won't know.
Hide your internet activities from your ISP
In lots of countries, including the USA, UK, Italy, Norway, etc., the government has the right to ask ISPs for information on one of their clients. ISPs are privy to a whole lot of information, including your web history. Using a VPN blocks your ISP's view and gives you full privacy.
Browse without leaving footprints
Everywhere you go on the internet; you leave a little piece of information. Websites can use this to profile you. They can even use your IP address to collect information about you from other websites. They use this to tailor ads and engagement according to your searches and actions. If you're using a VPN, it'll be much harder for them to find anything about you.
Use public Wi-Fi without fear
Hackers can easily infiltrate your device through your connection to public Wi-Fi. They can steal your information in the time it takes you to finish your morning bagel. The safest way to bypass them is to use a VPN while using public Wi-Fi. Your IP address won't be the same as the Wi-Fi, so the hacker won't be able to access your device.
Is using a VPN to hide my IP address legal?
In most countries, using a VPN isn't illegal. Laws differ across countries, though, and in some places, like China, Russia, North Korea, Iran, etc., it is heavily frowned upon. You'll have to read up on laws in your country regarding that. However, remember that using a VPN to do illegal things does not make your crimes disappear. You will still be held accountable if, no, when you are caught.
In conclusion
In the hands of someone skilled with computers, IP addresses can be total giveaways of your identity and location. Some of the information we have on our devices or on the web is extremely sensitive. Using a VPN is the surest way of securing that information. Don't take any chances.