VPN Protection – How does a VPN Protect You and Which VPN is the Best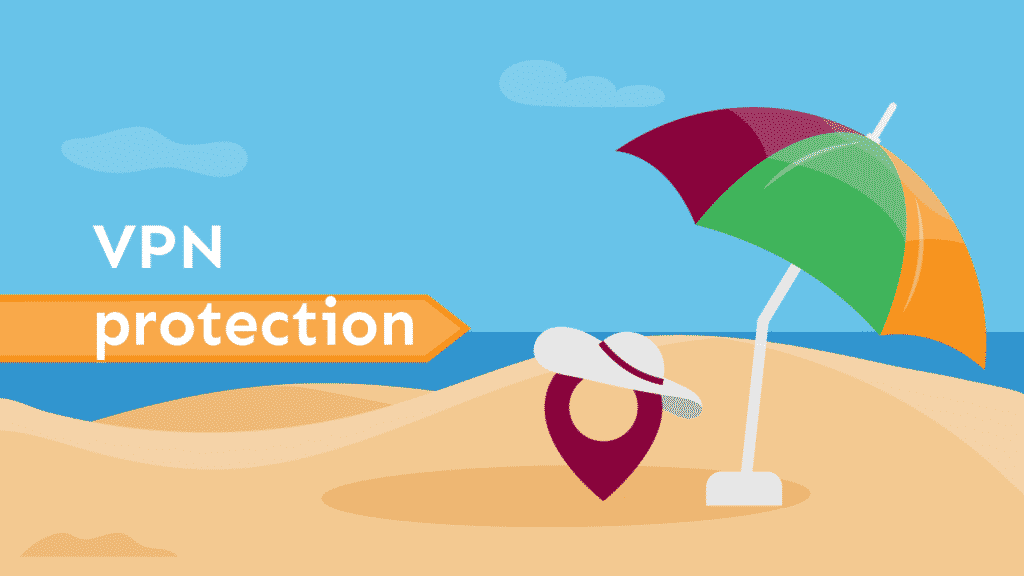 We now know that a lot of things we do on the internet are not as safe as we think they are. Our Internet Service Providers (ISP) could be watching every step we take, and cybercriminals are always on the lookout for vulnerable networks and computers to hack. But you don't need to use the internet with constant fear when a Virtual Private Network (VPN) can protect you.
Stick around to find out how VPNs protect internet users and which of them are the best ones to use.
How does a VPN protect you?
One of the most significant reasons why people use Virtual Private Networks is so that they can browse anonymously, with the conviction that the service will protect them. But how does a VPN protect users, and who are they protecting them from?
When you are not using a VPN, your Wi-Fi or router operator, ISP, or even third parties can see your data if they wish. Therefore, it is not possible to avoid such snoops on the internet without having a secure means like a Virtual Private Network in place.
When connected to a server, the VPN establishes a secure, encrypted tunnel between the service and your device. With this, the server makes requests for you, using its IP address, instead of you having to do it on your own.
For example, if you want to visit a site, say www.facebook.com, and you want to do that privately, then you'll have to connect to one of the servers of a VPN service. When connected, any request you make from your device will be sent through the server instead of your device. Even though your ISP may know that you are using a Virtual Private Network, nobody will be able to read or intercept the data you sent to Facebook. The VPN encrypts the path and the data sent through its servers.
Furthermore, VPNs protect users' details, data, and traffic by requesting for only important information. So, with an active one on your device, you can connect to public WiFis, and log on to any website you want to, with the peace of mind that your data is protected.
What are the best VPNs that'll protect your data?
The best VPNs that offer excellent privacy and data-protection services are:
ExpressVPN

Features
Number of servers: More than 3,000
Speeds: Unlimited
Server locations: 160 in 94 countries
Maximum devices supported: 5
24 live chat: Yes
30 day money back guarantee: Yes
Pros/Cons
Fastest VPN out there
Strict no logs policy
256-bit AES encryption
One of the best VPN services that we'll recommend for users who want to browse the internet freely, knowing that their details and traffic are protected is ExpressVPN. Based in the British Virgin Islands, this service provider has a lot of security measures to ensure that no threat or leak is experienced when using it. It also has a couple of other amazing features, so let's dive right in.
Starting with the numbers, ExpressVPN has over 160 server locations in 94 countries of the world, and the number of servers is well past 3000. This means that users can connect and browse anonymously from virtually any continent they are resident in. In all these servers, the Virtual Private Network offers lightning-fast speeds and unlimited bandwidth to users. You'll also be able to connect to the VPN using your Mac, Windows, iPhone, iPad, Android, and Linux devices. But that's not all; you can also get the Chrome and Firefox extensions so that you can use the VPN right from your browser.
Looking at its privacy and security features, you'll be impressed by the measures this VPN has put in place. It uses the best-in-class AES-256 encryption that no physical attack can get past. Also included in its security features, are split tunneling, a zero-knowledge DNS, and a network kill switch. When all these are active on ExpressVPN, there's no way anyone can intercept or read the data you send through its servers.
To crown it all, ExpressVPN not only provides a 30-day money-back guarantee for its services but also has round the clock live chat support system to help you out if you experience issues with the service.
Pros:

Fastest VPN out there;

Strict no logs policy;

256-bit AES encryption;

Lowest price: $6.67
NordVPN

Features
Cryptocurrency accepted? Yes
Simultaneous connections: 6
Dedicated IP-addresses? Yes
Servers: 5342 in 58 countries
Pros/Cons
Lots of pricing options
Netflix support kept up to date
256-bit AES encryption
Coming in second on this list is NordVPN. This provider has all you need to browse and use the internet securely, no matter where you are. The service provider scores high points in all the aspects we look out for, and so is definitely one we'll recommend to anyone.
NordVPN ensures that all the activities you carry out online stay secure using its cutting-edge technologies. As expected, the provider uses the military-grade AES-256 encryption to keep traffic sent through its servers protected. It also has a Double VPN feature that allows your data to be sent through two different servers before ending up on its target website. The provider operates a strict no-logs policy, has an automatic kill switch, and a DNS leak protection as extra layers of security.
NordVPN has 5370 servers in 59 countries, and this number is growing every day. Each one of them is super-fast and runs on the most recently launched VPN protocols, among them the Wireguard protocol.. This makes streaming content from any location a breeze.
The VPN service has apps available on virtually every device, even PS4 and Xbox but you can decide to get a browser extension if you wish. Unlike some providers on this list, if the server you are connected to is congested, and you have a little cash to spare, you can get a dedicated IP address for yourself. But like many VPNs, there's a 24/7 customer support system in place.
NordVPN offers a 30-day money-back guarantee to users, so you can get it completely risk-free for this period.
Pros:

Lots of pricing options;

Netflix support kept up to date;

256-bit AES encryption;

Lowest price: $3.71
Surfshark

Features
Free trial? Yes
Simultaneous connections: unlimited
Ad blocking? Yes
Servers: 1000+ in 61 countries
Pros/Cons
No footprints
Allows torrenting
256-bit AES encryption
Another excellent service provider that offers amazing protection is Surfshark. It's one of the best VPNs and one that we'll recommend. Here's why it has made this list.
Surfshark has over 1040 servers in 61 countries. This means that you can enjoy the service from anywhere you go to. It is a relatively cheap VPN, but it doesn't compromise on its features.
On its security and privacy features, the Virtual Private Network scores cool points in our books. It has a kill switch that'll disconnect users from the internet until it is safe to browse again. And its CleanWeb feature protects users by disallowing trackers, ads, and malware. SurfShark uses the AES-256 encryption to protect its users from cyberattacks.
When using Surfshark, you can connect to as many devices as you'd like at the same time. And if you love watching movies on Netflix, here's a VPN that you can use to access the site's libraries in several countries. It has a 30-day risk-free trial version that should convince you of how amazing its features are.
Pros:

No footprints;

Allows torrenting;

256-bit AES encryption;

Lowest price: €2.49
UltraVPN

Features
One click connect? Yes
Servers: 100+ superfast servers
Bandwidth cap? No
Platforms: Mac, Windows, iOS, Android
Pros/Cons
Firewall
Apps for all devices
256-bit AES encryption
Not as many servers as others
The fourth Virtual Private Network on our list of the best ones that'll protect your data is UltraVPN. With its impressive features, this VPN is surely one to get if you need a service that'll keep you protected while you browse the internet.
Beginning with its servers, we can see why this service provider has slowly risen up the ranks in recent years. You can use the VPN from several countries, as it has 57 servers in North America, 20 in Europe, 17 in Asia, 9 in Africa, and 20 in South America. With such numbers, you can get any content you want at any time you want it.
UltraVPN uses a rock-solid connection that secures user's connections easily. It operates a no-log policy and uses the military-grade 256-bit encryption to keep your traffic private. The VPN also has a secure firewall that ensures no information from users gets leaked.
By signing up and getting the service, you can protect all your devices with one account. The service provider has several subscription plans, all of which are quite affordable.
Pros:

Firewall;

Apps for all devices;

256-bit AES encryption;

Lowest price: €2.99
CyberGhost

Features
Connected devices at once: 7
Automatic kill switch? Yes
One click connect: Yes
Servers: 5900 worldwide
Pros/Cons
No logs policy
24/7 live chat
Apps for mobile devices and routers
The last VPN on this list is CyberGhost. Here are some of its amazing features.
CyberGhost has more than 5500 servers worldwide, and all of them are very fast. The VPN is capable of unblocking geo-restricted content on any site, and so are very helpful to many users. Its security features are just as top-notch as you'd expect, with a DNS leak protection, automatic kill switch, and anti-tracking features all available in the VPN service. All these are available on a user-friendly and intuitive interface.
CyberGhost has a reliable and responsive customer support system in place to help you with any issue you may face while using it. It also has a trial version, which will expose you to the exciting aspects of the VPN before you decide to get it.
Pros:

No logs policy;

24/7 live chat;

Apps for mobile devices and routers;

Lowest price: €2
Things to consider when getting a VPN
Not all service providers offer the same level of protection to their users. Some have firewalls that are far better than others, and we recommend that you go for those ones. But that is just one of the things to look out for in a VPN. Some others are;
Number of Servers: The best service providers have many servers in even the most remote locations of the world. This factor is essential when getting a VPN because if you go for one with only a handful of servers, you may experience congestion in them often. Having more servers at your disposal allows you to unblock more content easily. However, keep in mind that if you connect to a server in a country, you'll be given that country's IP address, and it'll seem like you are browsing from there.
Security Features: In the best Virtual Private Network we have listed for you above, we have highlighted some of the best security features to look out for. When you want to get one, do not go for a provider that offers anything other than AES-256 encryption. If the VPN has added security features, then that's also a plus.
Bandwidth: It's a frustrating experience to get cut off in between your favorite shows, but this is what you'll experience if you use any VPN that doesn't offer unlimited bandwidth. Do not settle for anything less.
Number of simultaneous connections on one account: Only top service providers allow you to connect more than one device to a single account. Therefore, a VPN that allows you to link at least five devices at a time should be your target. That way, you can use the service on any of your devices.
Protocol run: The protocol refers to the method by which your data is sent through the server to the target website. There are quite a lot of protocols today, such as OpenVPN, IKEv2, IPSec, and many others. Different servers also use different protocols, so you should always have this factor checked. When getting a VPN, ensure you go the one that runs on fast and recently launched protocols. They'll have excellent means of encrypting your data so that no one can read or intercept it on the way.
Speed: Like a domino effect, the speed of a server is linked to the number available. So, VPNs with more servers usually have faster speeds for all of them. If you opt for a service without checking its speed first, you run the risk of getting one that'll make streaming a nightmare, and buffer through all your videos.
Availability of customer service: No one hopes to get technical issues when using a VPN, but the truth is that sometimes, they may be inevitable. Having an empathetic customer service that can help you resolve your issues should play a vital role in determining which one you eventually pick.
In conclusion
There are serious cyber threats on the internet, so you'll need to protect yourself as much as you can. Trusting your ISP to keep you safe is no more a reliable thing to do. But luckily, Virtual Private Networks will do the trick for you.
In this article, we've explained how VPNs protect you and included some of the best ones to get. So, what are you waiting for? Choose any one of them, and start browsing with a clear mind, knowing that you are protected from every threat or attack.