Best Lifetime VPN Services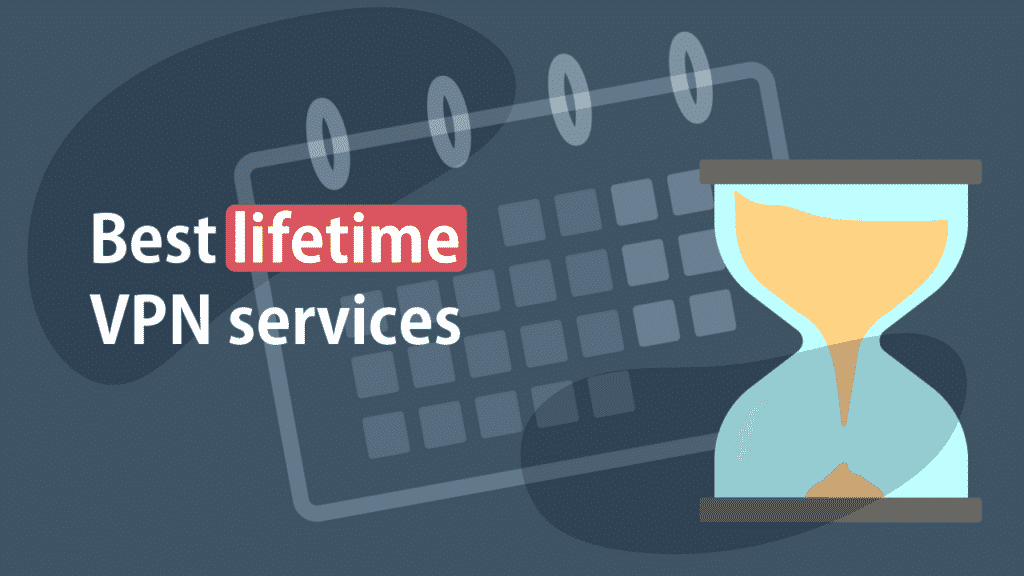 The world we live in today is a highly information-driven one. Corporations, organizations, governments spend millions of dollars to acquire that information. They then go on to use those pieces of information to make critical decisions for their benefit. However, a lot of corporations and even individuals go too far with it. To cut the process short, they acquire your information illegally and use it in ways that could affect you negatively.
This, right here, is where a Virtual Private Network comes into play. Put simply, it is a network that helps you protect your information, and yourself. In addition, it helps to guarantee your freedom on the internet.
With all that a VPN offers, you might feel the temptation to have it as a keepsake. It is not exactly the best idea. However, considering how tempting the offers can be, we really cannot blame you.
What are the best lifetime VPN services?
Before going into which VPNs offer the best lifetime VPN services, it is very important to note one thing. Lifetime, in this context, does not necessarily mean you would pay one time, and then you would never have to pay again. In this context, a lifetime is anything upwards of five years.
We understand if this feels a bit misleading. Usually, when you are told you'll have something throughout your lifetime, what you think is that it is yours until you die. However, in the software industry, a lifetime is five years.
Now, the lifetime option is not a very widely practiced or included feature in most VPNs. Most VPNs only offer about three years maximum.
Below we will show you the VPNs we think give you the best deals on long-term subscriptions, and why we personally would never go for a lifetime subscription. It is important to note that all these VPNs have money-back guarantees. They allow you to test their services for a period of thirty days, completely risk-free.
ExpressVPN

Features
Number of servers: More than 3,000
Speeds: Unlimited
Server locations: 160 in 94 countries
Maximum devices supported: 5
24 live chat: Yes
30 day money back guarantee: Yes
Pros/Cons
Fastest VPN out there
Strict no logs policy
256-bit AES encryption
With over three thousand servers across 94 countries around the world alongside incredible speeds, it is only right that you choose this VPN. It offers $12.95 per month if you are looking to subscribe for just a month. A longer commitment of six months comes at the cost of $9.99 per month. The twelve-month plan, which happens to be the longest, is the most discounted. The price is a mere $8.32.
The downside with ExpressVPN in terms of lifetime services is of course that the longest deal is a one year deal. In this way you can not get it for life. Obviously you can get the one year deal multiple times and it would be pretty much the same thing.
The reason we recommend ExpressVPN is that is simply the best VPN service we have tested. For our sake we would not have a VPN that it not that good only because it had a lifetime deal. It is not too much of a hassle to resubscribe, and the price is not that high in terms of what you get for the value.
Pros:

Fastest VPN out there;

Strict no logs policy;

256-bit AES encryption;

Lowest price: $6.67
PureVPN

Features
24/7 support? Yes
Simultaneous logins: 5
Dedicated IP-addresses? Yes
Servers: over 2000
Pros/Cons
Port forwarding
Servers located all over the world
256-bit AES encryption
PureVPN is one Virtual Private Network that gives you the opportunity to subscribe to a lifetime plan on its platform. Its five-year plan goes as low as $1.32 per month. Its monthly plan, on the other hand, goes for $10.95. We did the math, and that is a whopping 88 percent discount on their services.
Apart from the lifetime plan, this Virtual Private Network might not be the most popular. However, it still packs quite a punch in its own respect. It has over 2000 servers across over 140 different countries in the world. It is P2P enabled, and it has universal unblocking capabilities. It easily helps you to stream content on platforms such as Netflix, Amazon Prime, and Hulu.
It is incredibly fast and clocks incredibly high speeds. It uses split-tunneling to divide your internet connection between your Internet Service Protocol as well as your Virtual Private Network. As though the affordable prices are not enough, it provides you with a 31-day money-back guarantee. This simply means that if you are not satisfied with their services within the first month of subscription, you can request and get a refund.
Pros:

Port forwarding;

Servers located all over the world;

256-bit AES encryption;

Lowest price: $3.33
NordVPN

Features
Cryptocurrency accepted? Yes
Simultaneous connections: 6
Dedicated IP-addresses? Yes
Servers: 5342 in 58 countries
Pros/Cons
Lots of pricing options
Netflix support kept up to date
256-bit AES encryption
This VPN has over 5200 servers across 60 countries in the world. It is swift and allows you to stream your videos/games so well. It has its monthly plan at $11.95. If you are looking or something that would last you a year, it offers that as well at the price of $6.99 per month. The longest of its available durations is the three-year plan, and it currently has an exclusive deal of $3.49
Pros:

Lots of pricing options;

Netflix support kept up to date;

256-bit AES encryption;

Lowest price: $3.71
Surfshark

Features
Free trial? Yes
Simultaneous connections: unlimited
Ad blocking? Yes
Servers: 1000+ in 61 countries
Pros/Cons
No footprints
Allows torrenting
256-bit AES encryption
SurfShark has over one thousand servers dispersed across 61+ countries in the world. If you are looking for a VPN that you can use for an extended period, you might as well go for SurfShark. It offers a very affordable 24-month plan at $1.91 per month.
Pros:

No footprints;

Allows torrenting;

256-bit AES encryption;

Lowest price: €2.49
5. VPN Unlimited
This Virtual Private Network does not state how many years its lifetime services would last for. As such, it is safe to assume that they intend for you to use the Virtual Private network pretty much until you die. Its lifetime service comes in two variations. There is the one that allows you to connect up to five devices at once. Alongside that is the one that allows you to connect up to ten devices at once. The latter is obviously more expensive than the former due to the number of simultaneous connections allowed. The five device variant is capped at $99.99, while the ten device variant costs $149.99.
In addition to using the VPN at such a low cost, it also has unlimited traffic and connection speed. It possesses about 400 servers across over eighty locations in the world. It has a zero-log policy and gives you twenty-four-hour customer service in case you run into any technical troubles.
Many of these features are actually quite enticing when you stop to think about it. Not a lot of Virtual Private Networks would allow you to connect to their system for five years at such a low cost. However, there must be a reason other VPNs are not giving out that same deal. The reason is simple, and it is that lifetime services are not exactly a good idea for both the company and the user.
Why is lifetime VPN subscription not a good idea for you?
A lifetime subscription is not an extremely popular thing in the Internet Privacy Industry. As such, not every VPN, paid or unpaid, offers that option in their subscription menu. However, those who do, offer it at jaw-dropping prices which can go as low as about 39USD. Now, upon first glance, this seems like a swell opportunity. It is so cheap that you can almost literally close your eyes, pay a few bucks and have internet safety forever. However, here is why we think you should not go for lifetime subscriptions:
You are not likely to get the value for your money
First off, paying for lifetime services for as low as the prices seen online is, for lack of a better word, quite ludicrous. It makes little to no business sense because, in the end, the company would not be able to make much profit. If it keeps churning out its services as much as it does with those prices, it might as well be offering its virtual umbrella to people for free. This is so because several people would ditch the regular plans and go ahead and purchase the lifetime plan, which is way cheaper. This would significantly reduce the profit margin of the business. The cost of operation would then become higher than the profit received.

The alternative to losing money like that would be to reduce the amount or quality of services that come with it. The summary of this is that you would not be getting your money's worth. Quite frankly, getting such excellent services at such a low cost is far too good to be true. If something seems too good to be true, the chances are that it indeed is too good to be true.
You don't control all the factors
To best explain this particular point, we would be taking you through a train of thought. It is a hypothetical scenario, but it is still realistic, especially in this age.

The world today is a digital one where we create information virtually every minute of every day. Some people believe that we might have managed to create and store more information in the last couple of years than every other generation combined. Now, imagine that in this digital age we live in, you are a content creator. Your niche/area of specialization is anime, which is essentially Japanese animated movies or shows. Your chosen means of dispersion is YouTube. Every week, you put out reviews of newly released anime. You've been doing it for quite a while, and it is turning out to be really productive for you. Companies are coming to you to advertise to your viewers, you're signing partnerships, and you're paying the bills.

It is no new information that most animes come out on Netflix Japan before anywhere else in the world. Unfortunately, Netflix Japan is geo-restricted. So, to stay on top of things, you make a lifetime subscription to a VPN that can give you access to the streaming service because you're not in Japan.

A few months go by, and the next thing you know, the VPN gets into a lawsuit that forces it to take out all its servers from Japan. You are now unable to watch anime on the streaming service anymore. At this point, your money spent would have been a waste. This is so because the sole purpose of subscription to the hypothetical VPN is no longer possible, and you can't access Netflix Japan on the VPN you subscribed to if their servers are no longer in Japan.

This is just one of the numerous scenarios that can occur. With business and technology, you do not control all the factors. That's why you should reconsider going for a lifetime VPN service.
Technology is never static
There was a time when people thought landlines were the best thing ever to hit the communication industry. However, that idea was quickly swept off by the advent of mobile phones. When that came, people thought it was also one of the best things as well. Again, it was swept out of the waters by smartphones. Day after day, year after year, we develop new technology to better the lives of people all over the world. These pieces of technology offer new solutions to old problems and more effective ways of handling them.

It could be today, and it could be tomorrow, it could be the day after. Regardless of when it could come, there is still the strong possibility that one day, a piece of tech would be released and would make VPNs obsolete. If, or when, that happens, what would happen to your lifetime VPN subscription? The answer is obvious. Your money would be a waste.
The "lifetime" might not necessarily be yours
Companies today go in and out of business at will. They come in with the love of their customers. However, due to factors that can really only be best explained by them, they leave. When you see the lifetime subscription plan, the first thing that pops into your head might be that you would use the VPN service from the moment you subscribe until you die. This, however, might not be the case.

There have been VPNs that came in and out of the Internet Privacy industry without too much noise. Some of them offered lifetime services. Imagine a scenario where you pay for a Virtual Private Network's lifetime services, and it shuts down service. Half the time, when a company has to close service abruptly as such, it does not refund the money it got from its customers. If that happens, just like in the previous point, you would have lost valuable money, however small.
In conclusion
Choosing a lifetime VPN is a bit tricky if you consider all that we have told you in this article. However, in determining which VPN is best for you, be sure to look out for the best deals. That is one thing you definitely ought to remember.