How to Watch Japanese Netflix Outside Japan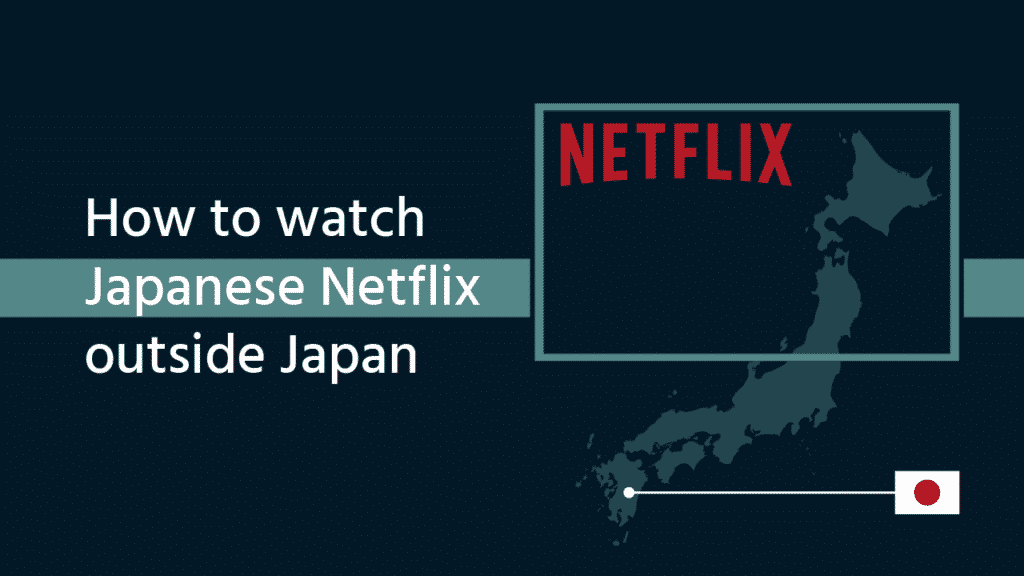 Netflix. Inc is one of the largest media-services providers in the United States, and the world at large. Surely, you know that Netflix has different versions for different countries. Netflix USA is different from Netflix Japan, which is also different from Netflix France. This would mean that some shows exclusively present on one cannot be viewed on another.
Netflix users in Japan especially have access to tons of content that people outside Japan are interested in. If you're one of these people, then you should know that there is an easy solution — use a VPN. Read on to find out more about how to use a VPN to access Netflix's extensive catalog for Japan.
Why can't I watch Japanese Netflix outside Japan?
CEO of Netflix, Reed Hastings, explained that the reason behind differing contents in the Netflix catalog per country is due to territorial licensing. That is, some content are licensed to be broadcast only in specific regions. Over the years, Netflix has purchased the distribution rights to a lot of Japanese video content, especially Animes. However, these distribution rights only cover Japan. Therefore, such content is off-limits to Netflix subscribers outside the country.
How do you circumvent Netflix's geo-restrictions?
You need to know that gaining access to Japanese Netflix outside Japan is not as tricky or technical as it sounds. It's probably the easiest thing on the planet! All you need is a Japanese IP address. But how do you get one?
You change your IP address using a VPN service. VPN is the short form for Virtual Private Network. See it as some machine that makes a hologram of your computer in Japan, and altogether fools the Netflix geo-restriction system. It is germane that you choose VPN services that have active servers located in Japan. You can only access Japanese IP addresses with VPN services that connect to servers in Japan.
Best VPN for Japanese Netflix
Not all VPNs give you access to Japanese Netflix. The best VPN providers that works with Japanese Netflix are listed below:
ExpressVPN

Features
Number of servers: More than 3,000
Speeds: Unlimited
Server locations: 160 in 94 countries
Maximum devices supported: 5
24 live chat: Yes
30 day money back guarantee: Yes
Pros/Cons
Fastest VPN out there
Strict no logs policy
256-bit AES encryption
This is the top-rated VPN of 2019! You can use ExpressVPN to gain express access to Netflix Japan while protecting your devices. It is suitable for all operating systems you can think of: Windows, Mac, Android, iOS, and so much more. You can access all of these on your various devices with a single subscription plan.
Now, why ExpressVPN, and just how does the Express VPN grant you access to Netflix Japan from anywhere in the world?
ExpressVPN has over 3000 servers in 160 VPN server locations in a whopping 94 countries! Do you know that Japan is one of the first countries to introduce high-speed broadband and mobile internet service? Consequently, Japan offers speed-of-light, unmitigated access to the internet. ExpressVPN leverages on this with several servers of unlimited bandwidth distributed across strategic locations in Japan.
As a result, you can easily unlock geo-restricted content on Netflix using ExpressVPN. Not only does it unlock Japanese Netflix content, ExpressVPN also offers fantastic speeds for streaming your favorite TV shows. In addition, ExpressVPN hides your IP address and encrypts your network data. It does not store any traffic logs.
Since proximity to the nearest server is highly important, a smart locator on the app automatically locates the nearest server and connects to it. You don't have to worry about doing any of that manually.
In the unlikely case that you do not feel satisfied with its performance, you can get your money back within a trial period of 30 days. No kidding! When you think they can't get any better, you discover that they have an actual, fully functional, and fantastic customer service!
Pros: Fastest VPN out there; Strict no logs policy; 256-bit AES encryption;
Lowest price: $6.67
NordVPN

Features
Cryptocurrency accepted? Yes
Simultaneous connections: 6
Dedicated IP-addresses? Yes
Servers: 5342 in 58 countries
Pros/Cons
Lots of pricing options
Netflix support kept up to date
256-bit AES encryption
Have you ever been connected via public WiFi, and feared for your life being intruded by some hacker from some nondescript country? NordVPN takes away all these fears, and more. It completely demystifies the complexity of cybersecurity.
A real competitor for ExpressVPN, NordVPN operates a whopping 5000 plus servers in 60 countries. They also run a valid no-logs policy, holding no data whatsoever about user sessions, traffic, or timestamps.
With over 140 servers in Japan, access to Japanese Netflix has never been easier. NordVPN's servers in Japan are optimized for video streaming, anti-DDoS, and double VPN, to name a few. Hence, you can enjoy unhindered access to Japanese Netflix content on your laptops and phones, regardless of where you are in the world.
Unlike other providers that allows a maximum of five connections at once, you can connect as many as six devices to the NordVPN. This is another feather in its cap. They also have a highly efficient customer care service. With a 3-year plan, you save as much as 70%. NordVPN also works on shows like Japanese Dazn and Japanese Hulu.
Pros: Lots of pricing options; Netflix support kept up to date; 256-bit AES encryption;
Lowest price: $3.71
Surfshark

Features
Free trial? Yes
Simultaneous connections: Unlimited
Ad blocking? Yes
Servers: 1000+ in 61 countries
Pros/Cons
No footprints
Allows torrenting
256-bit AES encryption
You know you can trust a VPN service provider when they complete independent security audits with zero security issues found. Operating on a strict no-logs policy, details of your data will never leak to unwanted sources. SurfShark has 1040 plus servers worldwide, with a number of them located in Japan.
How does SurfShark protect you while giving you access to Netflix Japan? It encrypts all the internet traffic sent to and from your device. Hiding your real IP address, it ensures top privacy and security. MultiHop is a feature on SurfShark that allows you to connect via multiple countries, further improving your privacy and security. Anyone or system, in this case, trying to locate the origin of your signal is likely to get lost and confused in the process.
With the absence of block ads and malware, there is smooth, enjoyable video streaming. SurfSharkVPN can work on multiple platforms with just one subscription plan. All servers are Peer-to-peer (P2P) friendly. This means that workloads and tasks are partitioned between peers. With P2P friendly servers, you don't need to do anything to get an optimal server location. You can start streaming Netflix while connected to this VPN. Any rerouting that is required will be done automatically.
With SurfShark, you can get a Japanese IP address, stream anime, and watch all the Japanese Netflix content there is in the world without interruption. SurfShark will remove the ISPs that can cause annoying, characteristic buffers.
Pros: No footprints; Allows torrenting; 256-bit AES encryption;
Lowest Price: €2.09
PrivateVPN

Features
Killswitch Yes
iOS App Yes
Data logging No
Pros/Cons
Servers in 63 countries
30-day money-back guarantee
2048-bit Encryption With AES-256
PrivateVPN is a small VPN provider that nonetheless provides great services. With just 100 servers in 63 locations, PrivateVPN cannot compete with some of the top-tier providers in the industry. However, it has a server in Japan. You can connect to that to unblock Netflix Japan and watch movies/shows without restriction.
Speed is also another important consideration when you use streaming platforms such as Netflix. PrivateVPN ensures that users stream only with the highest speed available. It affords users unlimited bandwidth and speed. Thus, you will experience zero lags as you watch Death Note, Demon Slayer, or Attack on Titan on Netflix Japan. This provider also takes security quite seriously. It uses 2048-bit encryption with AES-256 to tighten the security of its users. A kill switch, malware protection features, and IPv6 protection wrap up the security features in this provider's arsenal.
In its quest to provide only the best services for users, PrivateVPN provides tips for users. For one, it shows users how to get around problems with integrating a VPN with Netflix. It also tells users to download their preferred movie and watch offline to prevent Netflix interference. If all these fail, you can reach out to the provider to have the issues sorted out easily. In addition, PrivateVPN has a responsive customer care system to handle all complaints.
Pros: Servers in 63 countries; 30-day money-back guarantee; 2048-bit Encryption With AES-256;
Lowest price: €2.04
CyberGhost

Features
Connected devices at once: 7
Automatic kill switch? Yes
One click connect: Yes
Servers: 5900 worldwide
Pros/Cons
No logs policy
24/7 live chat
Apps for mobile devices and routers
CyberGhost is also an excellent option to watch Japanese Netflix from outside Japan. Originally Romanian, only earlier this year, it was purchased by a UK company. Questions of concern have since risen, considering whether they will continue to uphold their no-log policy. However, with this policy in place so far, privacy and protection have been at its best. As its name implies, it allows you to surf the web like you were never there.
CyberGhost has over 3000 servers spread across the world, including 32 in Japan. This falls short, relative to some providers we have previously examined in this article. However, it's still more than enough to make streaming the Japanese version of Netflix a breeze. Moreover, the connection is not an issue. CyberGhost offers excellent value at a low cost. Another upside is that it does not require technical configurations like some other providers. It is considerably easy for anyone to set up.
Pros: No logs policy; 24/7 live chat; Apps for mobile devices and routers;
Lowest price: €2
UltraVPN

Features
One click connect? Yes
Servers: 100+ superfast servers
Bandwidth cap? No
Platforms: Mac, Windows, iOS, Android
Pros/Cons
Firewall
Apps for all devices
256-bit AES encryption
Not as many servers as others
No caps, no bandwidths! UltraVPN is one of the youngest VPN service providers around. They have built a reputation of reliability, though, and have soared quickly in the VPN industry.
They have a customer care support system like no other. These include live chats, emails, and even phone calls. You can be sure to get any complaints resolved in the shortest time possible.
This VPN service, like all others reviewed, works on a variety of operating systems. It has a no-logging policy as well as standard data encryption.
UltraVPN has a decent size, with servers in 100+ locations spread across more than 50 countries, Japan included. Another upside is that most of their servers are P2P friendly. You can connect up to three devices at once.
It is easy to use, requiring layman computer skills. Like the server base, its speed is quite decent too. Its servers also can grant you unhindered access to Netflix Japan, and stream your favorite TV shows from wherever you are in the world.
Pros: Firewall; Apps for all devices; 256-bit AES encryption;
Lowest price: €2.99
Is it legal to use VPN to access Japanese Netflix?
Yes! You see, VPNs are like money. Money has no morals of its own. It's just an ordinary paper, isn't it? It is what you use cash for that could either be right or wrong. Bringing this analogy into this context, VPNs are not illegal, not in most countries, at least. You need to realize, however, that whatever is prohibited without the use of a VPN remains unlawful with the use of a VPN. Torrenting copyrighted material, for instance, will ever remain illegal.
Why would VPNs be illegal? When did it become unlawful to care about your privacy and protection? These are all legitimate reasons.
VPNs are illegal in some countries though. Countries like China, Russia, North Korea, and Iraq ban the use of VPNs for any reason whatsoever. North Korea's presence on this list shouldn't be a shock to anyone.
With VPNs, you can easily bypass geo-restrictions, and that's not particularly illegal. This, for instance, is the case with Netflix. And by the way, Netflix has been working to break down these territorial barriers, but have not just come to get the hang of it yet. That's what they claim, at least. Till they do, thank you for helping them!
To be as unambiguous as possible, it is not illegal to use VPNs to watch Netflix outside Japan. How's that?
Do VPNs have disadvantages?
Of course, they do! What's there in the world that doesn't have a disadvantage anyways? Outlined below are two of the few downsides to using a VPN.
Relatively slower internet speed: Most often than not, VPNs noticeably slow down your internet speed. This is only expected since your connection is encrypted, and rerouted, server to server, in different locations in the world. Premium VPNs like the ones we highlighted above will not noticeably slow down your internet speed.
How secure is encryption: Consumers can never thoroughly check the quality of encryption that VPN service providers claim to afford them. What if you're hiding indeed, only behind your finger? You can often never know the strength of encryption until it goes wrong, and you're hacked, or traced, or something. This is all the more reason to go for premium providers, some of which have been highlighted above. These providers have been tried and tested over time, and they have always delivered.
Free VPNs are no VPNs at all!
Who wouldn't love to walk into the mall and cart away with as much as he wants without paying a single cent? That would only exist in your dreams, wouldn't it? As they say, if a thing is too good to be true, it probably is. Free VPNs are a no-no!
Using a free VPN service eliminates the value of trusting them enough to handle your data. If you don't realize how big a deal this is, you don't know what's coming.
Free VPNs push ads unto the sites that you visit. These ads may be Trojan Horses for viruses and malware.
Can I get Japanese Netflix Without a VPN?
Firstly, if you are in Japan, you can access Netflix Japan freely. This is because your IP address will not be flagged by the streaming platform. If you are outside Japan and want to access Japanese Netflix, using a VPN is not your only option. You can use a Smart DNS.
A Smart DNS lets you hide your true IP address and hence, your location. It reroutes your traffic using its servers such that anyone who has access to your traffic will believe it originates from outside Japan.
However, using a VPN is your best bet for accessing Japanese Netflix from outside the country. This is because a VPN also hides your original IP address, just like a DNS Server does. In addition, though, it also encrypts your traffic. Hence, if anyone was snooping on you, they will be unable to break through the layer of traffic. In contrast, when you use a DNS Server, your traffic does not get encrypted. This means that bad actors can infiltrate your network, plant malware, or mine your data.
In addition, you will be able to unblock multiple locations and platforms, access malware and adware blockers, and stay anonymous while using the internet.
Frequently Asked Questions
Will I be able to unblock other jurisdictions aside from Japan?
Absolutely. Apart from Netflix Japan, you will be able to unblock all the other regions that you fancy. The only drawback will be if the VPN provider does not have a server in your preferred location. Besides Netflix even, you will be able to unblock other streaming platforms such as BBC iPlayer, Hulu, Amazon Prime, etc.
Why can't I access Netflix Japan even with my VPN?
Sometimes, even with a VPN, you may experience a proxy error when you try to access Netflix Japan. You can fix this by clearing your cookies, disabling GPS, disabling IPv6, changing your device's time zone, logging out of any Google accounts, and flushing your DNS. If these do not work, you may want to reach out to the VPN provider's customer care personnel to have the issue sorted.
Can a free VPN provider unblock Netflix Japan?
Most likely not. Above, we have explained why it is a bad idea to trust a free VPN to provide access to Netflix Japan.
Can the VPN protect me from the activities of the Japanese authorities?
Yes. Interference from government authorities is a reality a lot of citizens have to grapple with. Sadly, Japan is not exempt when it comes to censoring and monitoring citizens. A VPN provides an extra layer of protection if you need it.
In conclusion
Everyone deserves a good watch. If Netflix Japan has your favorite TV shows, and you're in the United States or France or Egypt, you don't have to sulk or feel bad about yourself. You know what to do. Get yourself one of the VPNs listed above and start streaming!