Is VPN Illegal in China?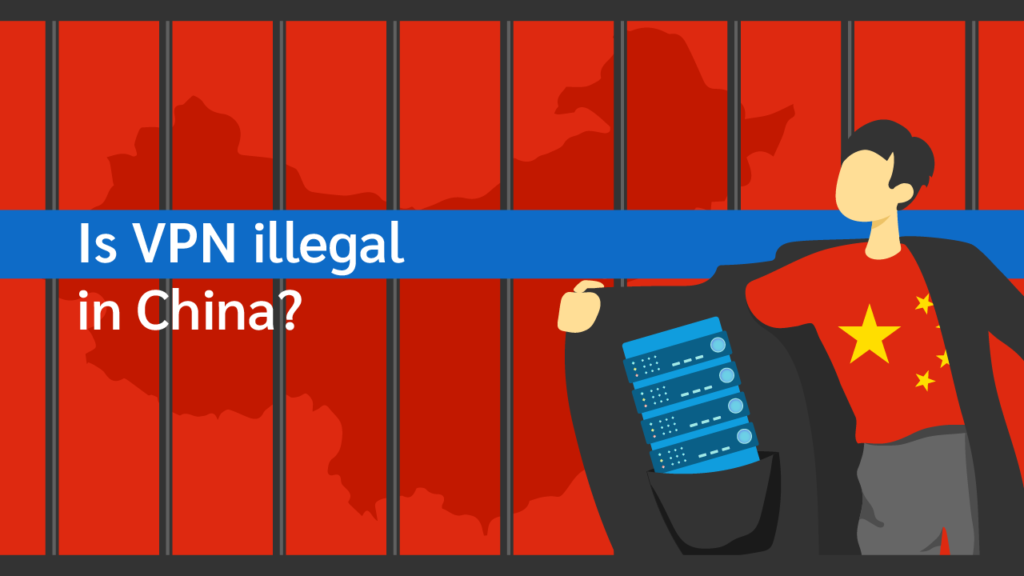 China is a world power for several reasons. It is the most populous country in the world and one of the largest by area. And while the Middle Kingdom is a leading technological country, it isn't entirely the most unregulated. The Great Firewall of China that regulates the use of the internet in the country has remained a challenge for many.
So, to answer the question, China has not laid down a statement clearly stating that VPNs are banned, unlike what is being reported by media outlets. Instead, the Chinese government has described legal VPNs, the ways a VPN is to be used, and by who. At the moment, only unauthorized VPNs that do not comply with the Chinese government's policies are banned. This has made big companies like Apple to pull lots of VPNs from their app store. No one wants to be kicked out of China's lucrative marketplace!
In this article, we will be examining what a VPN is, and the best ones to use in China.
What is a VPN, and why do you need one in China?
Virtual Private Networks (VPNs) are popular around the world. With them, you can access geo-restricted sites and watch movies, play online games, catch up on your favorite channels, or just surf the internet. In countries like China, where a lot of sites are blocked, VPNs can help you avoid the censorship that is placed on internet use. They are the quick fix to the problem of using your social media accounts like Facebook, Instagram and WhatsApp and accessing sites like Gmail and YouTube.
A VPN is a network of devices and servers, in which the IP address of the server is allocated to your device and your traffic is then sent through the server. So, if you connect to a server in another country (say France), it will seem like you are in that country and not China. This means you can access any site that is blocked in China because you are using a French IP address. Isn't that exciting?
If you're planning a trip to China anytime soon, it is advisable that you have the sites of the VPNs added to your browsers or their apps installed on your device before you get to the country.
What are the best VPNs to use in China?
The Chinese government has tried to cripple the use of VPNs in the country, but many people still use it. Here's a list of the best VPNs to use in China.
ExpressVPN

Features
Number of servers: More than 3,000
Speeds: Unlimited
Server locations: 160 in 94 countries
Maximum devices supported: 5
24 live chat: Yes
30 day money back guarantee: Yes
Pros/Cons
Fastest VPN out there
Strict no logs policy
256-bit AES encryption
One of the most popular VPNs to use in China is ExpressVPN. The reason for this is not far-fetched – the VPN circumvents the Great Firewall quite easily. ExpressVPN has 160 server locations in 94 counties over the world, so you can connect to any site that is blocked in China, even if you stay in the country. This provider allows you to use up to five devices at a time, which is pretty impressive. And the service can work on Windows, Android, iOs, Mac, and Linux devices.
On its speed test, ExpressVPN flies high with a built-in test feature to keep you updated on how fast your server is. With it, you don't have to guess if your server is as fast as you would like. You also get unlimited bandwidth to stream and download as much content that was previously not accessible in China. And to add to that, ExpressVPN bypasses throttling and prevents buffering. This is one reliable VPN service.
To protect you from hackers and malware, ExpressVPN uses AES-256 military-grade encryption. You also get the assurance that your data is never backed up, tracked, or monitored while you use the VPN by the kill switch feature. A step-by-step tutorial is also included to help you out on how to browse anonymously from China.
ExpressVPN has a 30-day money-back guarantee and a 24-hour live chat support system to help you with any issue you may have.
Pros:

Fastest VPN out there;

Strict no logs policy;

256-bit AES encryption;

Lowest price: $6.67
NordVPN

Features
Cryptocurrency accepted? Yes
Simultaneous connections: 6
Dedicated IP-addresses? Yes
Servers: 5342 in 58 countries
Pros/Cons
Lots of pricing options
Netflix support kept up to date
256-bit AES encryption
NordVPN is a more recent VPN service, and just as good as any other on this list. When using it to browse or stream contents that are blocked in China, this VPN performs excellently. With 5134 servers in 59 countries, you'll have lots of options to pick from. The service allows up to 6 devices on a single account, and these devices could run on Windows, macOS, Android, iOS, or Linux. NordVPN also has browser extensions to make using the service from China easier.
This VPN operates a strict no-log policy to ensure that your data remains secure while you access those sites that are blocked in China. NordVPN has a DNS leak protection and an automatic kill switch to help you when the connection drops. A new privacy feature in Onion Over VPN also helps to ensure ultimate privacy. And as you would expect, NordVPN runs on military-grade encryption.
On its speed, this VPN is lightning fast, and it supports P2P sharing. But the most outstanding feature of NordVPN is Double VPN, where traffic is passed through two servers. Like in ExpressVPN, there's 24-hour customer support and a 30-day money-back guarantee. NordVPN is one of the most affordable for Chinese users in the market.
Pros:

Lots of pricing options;

Netflix support kept up to date;

256-bit AES encryption;

Lowest price: $3.71
Surfshark

Features
Free trial? Yes
Simultaneous connections: unlimited
Ad blocking? Yes
Servers: 1000+ in 61 countries
Pros/Cons
No footprints
Allows torrenting
256-bit AES encryption
The final VPN on this list of the best to use in China is Surfshark. With its 1040 plus servers in more than 61 countries, you can be assured that you'll have all the options you need to access whatever content that is blocked in China. The pages on this VPN service are user-friendly with categories that reveal all the exciting numbers of Surfshark.
With Surfshark, you'll experience a clean cyberspace with no trackers, adverts, phishing, and malware. The service allows unlimited devices so that you can use all your family's devices. And as you would expect from a VPN that is legal in China, there is a kill switch and strict no-log policy on Surfshark. If you are worried that your internet provider finds out that you are using a VPN, you can use the app in camouflage mode.
Surfshark has 24/7 expert customer support if you have any issues with the service. All its amazing features are available for as low as $1.99 per month.
Pros:

No footprints;

Allows torrenting;

256-bit AES encryption;

Lowest price: €2.49
ProtonVPN

Features
P2P support? Yes
30-day money-back guarantee? Yes
Country of origin? Switzerland
Servers: 600+ in over 40 countries
Simultaneous devices: 5
Pros/Cons
Professional support
Modern interface and apps
AES-256 encryption
The only Swiss-based VPN service on our list is ProtonVPN. It is the perfect combination of privacy, speed, reliability, and versatility — things you expect from a VPN. But best of all, ProtonVPN makes it much easier to stream content and access sites for residents in China.
Its numbers are pretty impressive, with the VPN recording 554 servers in 42 countries of the world. It supports ten devices linked to one account, which is perhaps the best you can get. And if you need to share files within China, the service supports P2P. ProtonVPN has a modern interface and runs on many platforms.
ProtonVPN has one of the most secure protocols in OpenVPN, IKEv2/IPSec. On the flip side, it does not have servers that support L2TP/IPSec or PPTP. However, the frequently updated cipher suites provide the needed privacy that makes browsing easier. The VPN uses the best encryption — AES-256.
You get unlimited bandwidth when using ProtonVPN in China. Many of its servers have 1 Gbps bandwidth, with some hitting the roof with 10Gbps. The price of the VPN is set at a reasonable level for users in China.
Pros:

Professional support;

Modern interface and apps;

AES-256 encryption;

Lowest price: €4
How do I know which VPN to pick?
You can have more than one VPN on your device, but there'll always be one that you prefer to use. The factors to guide you on which should be your preferred choice are;
The number of servers: Here, the more, the better. A VPN that has many servers will make it easier to connect to all the sites that are blocked in China. For example, if you want to watch AbemaTV and reply to a Facebook message, you should use servers in Japan and the USA, respectively. Only a VPN with a wide range of servers can allow this freedom.
Speed and Bandwidth: A few VPNs have servers that have a minimum of 1Gbps. Others even have 10Gbps connections. You should rank such VPN services higher than others.
The number of allowable simultaneous connections: A VPN that does not allow you to connect more than one device to an account should fall below the pecking order of VPNs.
Customer support: The providers we've listed shouldn't give you much trouble, but you must have the help you need. Ensure that the VPN you choose to use in China has 24-hour customer support.
Number of Protocols run on it: More recent protocols perform better than the old ones. So, opt for a VPN that runs on many recent protocols.
Can I use a free VPN in China?
It is no news that China is strict on her internet policies. And with all the VPNs listed above being paid, you might be wondering if you could just use a free VPN instead.
Here are some of the reasons why you should not use a free VPN in China.
Most of them are not legal: VPN providers have to buy a license for their service to work in China, and most free VPNs do not have this license. Such VPNs may work for a while, but then you'll be using them at your own risk. Since paid VPNs do not cost a fortune, it is better to opt for them instead.
Most free VPNs have bandwidth caps and slow speed: In this era, nothing can be more annoying than slow internet connections. Its twin brother in bandwidth caps can drive users nuts, so it's a deal-breaker for a VPN to have both. Sadly, most free VPNs have daily bandwidth caps and slow speed that make browsing a herculean task.
Many free VPNs keep activity logs; One of the most important features a VPN must have is that it should not keep logs of your activity. As you use the service, your data should be wiped from the network. Many free VPNs store user's data and use it to bombard them with unsolicited adverts.
Many free VPNs cannot detect malware: Your security is just as important as your privacy when browsing with a VPN in China. Therefore, it is a red flag for a VPN not to be able to detect malware or the activities of hackers. Any VPN service that falls short of military-grade encryption is not worth the stress it brings along with it.
Most free VPNs do not have a lot of servers: One or two servers can do the trick, but in order to have several options to pick from, we recommend you use a paid VPN.
Illegal ways of using a VPN service
Here are the illegal ways of using a VPN service not only in China but in many other countries of the world.
Using the VPN to hack other computers and networks: VPNs are not created for this purpose, so it is illegal to use them to hack other networks. It is an abuse of the anonymity feature of VPNs.
Using VPNs to buy and sell on the dark web: Even though some VPN services pride themselves in allowing users to buy and sell on the dark web, it is not a legal way of using VPNs.
Cyberstalking and bullying: Because VPNs allow traffic to be sent through a server, many users abuse the anonymity that comes with these VPNs. The Chinese government is firmly against the use of VPNs for this purpose.
In conclusion
China is a technologically-advanced country. However, it doesn't seem to be releasing its firm grip on how residents should use the internet. With its strict policies, many people have turned to the easy solution in the VPNs that we have included in this article.
Four of the best VPNs to use in China have been highlighted, as well as the criteria on how to select one. Use the information contained in this article to continue watching, browsing, and streaming content whether or not they are blocked in China. Happy viewing!