Best VPN for AbemaTV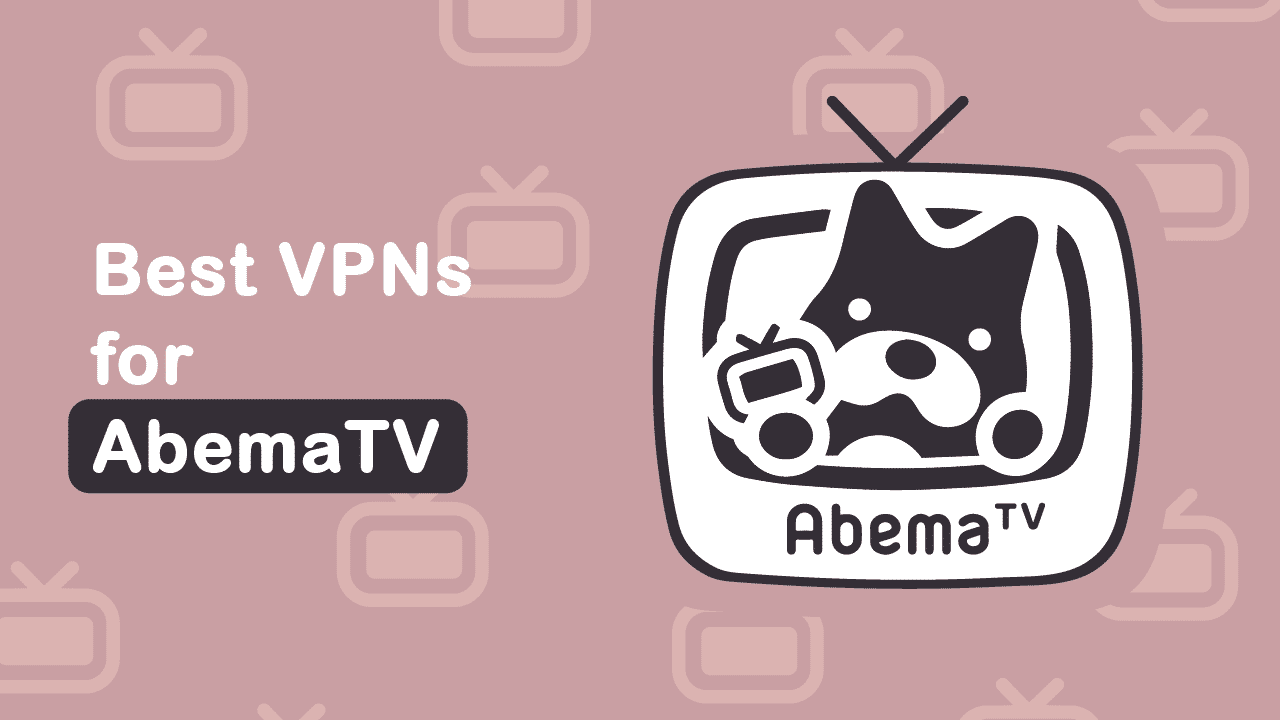 AbemaTV is a Japanese online streaming service that was founded in 2015. The streaming service went live back in 2016 with a wide variety of streaming options. AbemaTV distributes several different channels, including news, sports, various sorts of entertainment, and of course the classical Japanese anime.
The content on AbemaTV is unfortunately limited to only be consumed by people in Japan, as this is the only country where AbemaTV have the appropriate rights to distribute the content. Through a geographical block, AbemaTV can detect that you are not located in Japan, meaning you will not be able to see any of the content.
However, the blockade is rather easy to get past. With a VPN service, you can simply make it look as if you are located within Japan, and thereby access the content on AbemaTV.
Connect To AbemaTV With a VPN
Every time you visit a website, your computer will communicate an IP address to the site. This address tell the website at a minimum what country you are visiting from.
Unfortunately, with geographical restrictions, this could mean that some content is blocked, which is the case of AbemaTV in Japan. All you need to do to access AbemaTV is actually to hide your original IP address and acquire a new Japanese IP address, such that AbemaTV believes you are located in Japan.
That might sound easier said than done, but it is actually far from a difficult feat. With a VPN service, all you need to do is find a Japanese IP address and connect to it. Most often, the process only requires one single click, and there is no need for configuration. After connecting, you can visit AbemaTV, and all content will now be available.
Recommended VPN Services for AbemaTV
While most VPN services offer Japanese IP address, there should be a considerable investment of research on your part anyways. That is because several VPN services struggle to keep their promises. Free VPN services for instance might offer you Japanese servers, but their stability and connection speeds might make the experience very bad for you.
Instead, you will most likely have to pick a paid VPN service. However, not all services here are perfect either, and that is why we have listed some of the absolute best VPN services for AbemaTV. That way, you can easily reduce the research process, and instead hone in on the services that gives you access to a great streaming experience on AbemaTV.
ExpressVPN

Features
Number of servers: More than 3,000
Speeds: Unlimited
Server locations: 160 in 94 countries
Maximum devices supported: 5
24 live chat: Yes
30 day money back guarantee: Yes
Pros/Cons
Fastest VPN out there
Strict no logs policy
256-bit AES encryption
ExpressVPN consistently ranks as one of the best VPN services in the current market. The service has built up a great reputation, and frankly there are not really any weaknesses to point out. Overall, this is an excellent service that can provide you with the ability to stream AbemaTV with stable and fast connections.
As a great plus for those seeking anonymity online, ExpressVPN is located on the British Virgin Island. This is significant because the island is not subject to U.S. or EU jurisdictions concerning logging. That means ExpressVPN is not obligated to log your traffic. Connecting to a Japanese IP address and visiting AbemaTV might not be something you need privacy for, but it is still appreciated.
As mentioned earlier however, gaining the access to the content is not enough. Another important factor is that the connection needs to be reliable and fast. This is especially important when streaming content in HD from AbemaTV. Thankfully, ExpressVPN provides some of the best servers worldwide for VPN use.
These servers are located in over 90 different countries. In total there are currently over 3,000 servers, and the number keeps growing. Japan is of course included, and there are many good servers that you can test out here. Following, you will always have access to the greatest servers available.
It is easy to forget how inherently complicated VPN technology actually is when you use ExpressVPNs program or app. Here, it is enough to know how to browse through lists, read, and click to connect. No experience is really needed, and all you do is click on the Japanese IP address.
ExpressVPN is also a great choice for watching other Japanese TV shows overseas, such as dTV, TVer, GYAO or Japanese Hulu.
Pros:

Fastest VPN out there;

Strict no logs policy;

256-bit AES encryption;

Lowest price: $6.67
NordVPN

Features
Cryptocurrency accepted? Yes
Simultaneous connections: 6
Dedicated IP-addresses? Yes
Servers: 5342 in 58 countries
Pros/Cons
Lots of pricing options
Netflix support kept up to date
256-bit AES encryption
If any VPN service can compete with ExpressVPN, it is certainly NordVPN. This service brings several perks, one of which is working with AbemaTV. The service also provides great privacy, security, and fast servers that make the experience more enjoyable for you when streaming content from services such as AbemaTV.
NordVPN is located in Panama. This is very important for users that value anonymity online. Panama is outside of both the U.S. and EU jurisdictions that by and large ruin the intention of staying anonymous through a VPN, by making VPN services within that zone log data on its users.
Furthermore, NordVPN keeps you safe and secure with double encryption. While these aspects have no direct effect on your AbemaTV streaming experience, they are nice bonuses. It is worth to mention that despite the increased security, through double encryption for instance, NordVPN still provides some of the fastest connections in the VPN industry.
NordVPN can offer over 5,500 servers in over 60 different countries, which means you gain access to the whole Internet, and all geographical restrictions can be surpassed. This of course includes Japanese content including AbemaTV. NordVPN offer several quality servers in Japan.
The user interface within the NordVPN program is one of the easiest to use among all VPN services today. All you need to here is click the country you want to connect to on a map, and NordVPN will provide you with the best IP address automatically. No technical expertise is needed, and you connect with one click.
NordVPN is also a great choice for watching shows like Japanese Netflix and Japanese Amazon Prime.
Pros:

Lots of pricing options;

Netflix support kept up to date;

256-bit AES encryption;

Lowest price: $3.71
Surfshark

Features
Free trial? Yes
Simultaneous connections: unlimited
Ad blocking? Yes
Servers: 1000+ in 61 countries
Pros/Cons
No footprints
Allows torrenting
256-bit AES encryption
Whereas the abovementioned services have been active in the market for quite some time, SurfSharkVPN is a more recent addition. SurfSharkVPN is already known as a service to pass the geographical restrictions and IP address bans from big streaming sites. Therefore, it is perfect if you want access to AbemaTV.
As you connect to most VPN services, you may notice a reduction in Internet speed. This is because your traffic is routed through an extra server. In the case of SurfSharkVPN however, you cannot notice the reduction. They simply have some of the fastest servers around, which lets you enjoy AbemaTV to its fullest extent.
In total, SurfSharkVPN can offer over 500 servers and over 50 countries on their list. While that might not be as many as other VPN services, it is important to also analyze the quality of servers. SurfSharkVPN undoubtedly provide some of the most reliable servers around.
Despite the offering of advanced technology, SurfSharkVPN makes it as easy as humanly possible. After all, all you want is to pretend you are in Japan so you can watch AbemaTV. SurfSharkVPN lets you do this simply by clicking on a Japanese IP address. At the mercy of one click, you will be perceived as a Japanese user within seconds.
It is also worth to mention that SurfSharkVPN market their services at a price point that is significantly lower than many modern VPN services. The longer the subscription, the more of a discount they will give you on the total price as well.
Pros:

No footprints;

Allows torrenting;

256-bit AES encryption;

Lowest price: €2.49
UltraVPN

Features
One click connect? Yes
Servers: 100+ superfast servers
Bandwidth cap? No
Platforms: Mac, Windows, iOS, Android
Pros/Cons
Firewall
Apps for all devices
256-bit AES encryption
Not as many servers as others
UltraVPN is another young VPN service with the appearance of having been around for decades. They are a serious service that has seen immense growth over the past few years. Their focus on high quality, stable, and fast servers have likely contributed to their great popularity.
The service allows you to remain completely anonymous throughout your web surfing. Connecting to AbemaTV through a VPN service is not illegal, nor is the service known to be insecure for users. Yet, it is a great bonus to have reasonable privacy, as well as security when surfing online.
UltraVPN offers a total of 55 countries for high quality connections, where Japan is of course included. As a rather new service, they keep growing their server parks, and in Japan, this has led to a great amount of fast and reliable servers. This reflects UltraVPN`s general relationship to server quality.
In fact, UltraVPN reports a loss of only 10 to 15% in terms of your Internet connection speed. All VPNs are bound to lose some speed, but most lose much more than UltraVPN. By maintaining the good Internet connection with fast servers, UltraVPN makes the experience of streaming AbemaTV much better.
You can download UltraVPN for your computer or phone. Both are easy to use, and they both provide a vast amount of Japanese IP addresses. That way, you can watch AbemaTV whenever you would like. Connecting is easy, without any need to configure settings, and all it takes is one click to connect.
Pros:

Firewall;

Apps for all devices;

256-bit AES encryption;

Lowest price: €2.99
CyberGhost

Features
Connected devices at once: 7
Automatic kill switch? Yes
One click connect: Yes
Servers: 5900 worldwide
Pros/Cons
No logs policy
24/7 live chat
Apps for mobile devices and routers
CyberGhost is an experienced service within the VPN industry. The service keeps pretty much exactly the promise that the name hints to – keeping you a ghost in the cyber world. That means you can actually access AbemaTV on a Japanese IP address without anyone knowing, which is an added bonus.
While watching the content on AbemaTV is completely legal, even from outside of Japan on a manipulated Japanese IP address, it is still good to know that CyberGhost as a VPN keeps your traffic hidden – that is, they actually never even log your traffic to begin with. CyberGhost is located in Romania, and they are therefore outside of the EU and U.S. jurisdictions.
An interesting fact about CyberGhost is that this is one of the oldest VPN services, yet one of the fastest growing ones. CyberGhost added a whopping 150% more servers in 2018, bringing their total up to over 3,000 servers in over 60 countries. Of course Japan is included in this selection, and you can find many quality servers here.
This quality extends to the reliability, stableness, and speed of these servers. When you stream AbemaTV, you deserve an experience free of lagging and interruptions. CyberGhost can give you just that with their high quality server offering, ensuring you a great experience with the Japanese streaming service.
Finally, CyberGhost is very easy to use on both PC and mobile, ensuring you can choose exactly when and where you want to utilize the service. To connect to AbemaTV, simply find a Japanese IP address, connect to it in seconds, and visit AbemaTV again. If you face any issues, CyberGhost offers customer support.
Pros:

No logs policy;

24/7 live chat;

Apps for mobile devices and routers;

Lowest price: €2
How To Find Your VPN for AbemaTV
The best way to land on a VPN for AbemaTV is simply to test out the abovementioned alternatives. After all, these services all have trials or money back guarantees. That means you can try them free of charge, and if they do not fit the bill, simply ask for your money back and try another service.
A great tip is to emphasize server selections and speed. When streaming content on AbemaTV, the speed is the key to an enjoyable experience, so be sure to look out for this with your next VPN service.