How to Watch Japanese Hulu Outside Japan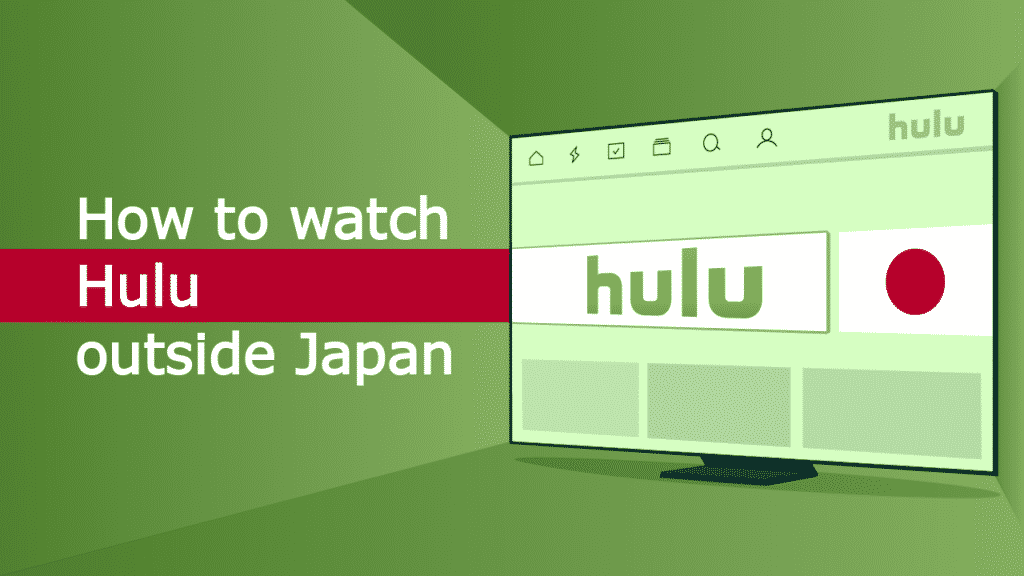 Hulu is one of the most popular video streaming services that gives you access to thousands of movies, series, anime, TV shows, sports channels, and many more. Another great incentive of Hulu is that it allows you to watch the latest episodes of shows the day after they are released.
Like many other streaming services, Hulu is available worldwide, albeit in country-specific versions. Unfortunately, you cannot access the service from outside Japan. Therefore, if you live in any other country, Hulu Japan's doors are closed to you. Fortunately, we've figured out a way in which you can go around the restriction.
In this article, we'll explain how you can watch Hulu Japan even if you do not stay in Japan using a VPN service. However, before we proceed, let's take a look at why Hulu Japan is restricted in locations outside the country.
Why is Hulu Japan blocked outside Japan?
Hulu Japan is only available within Japan because the site only has rights to show the specific content within Japan. Luckily there is an easy solution to the problem. It is possible for lovers of Japanese movies who live in other countries to use a VPN to watch Hulu Japan with zero stress.
Hulu Japan limits their content to users within Japan by checking the IP addresses of the devices visiting their website. So, to have access to all Hulu Japan's content from outside Japan, you only need a valid Japanese IP address.
A VPN creates a digital tunnel through which your device – laptop, tablet, or smartphone can access the Internet. This VPN server can also reroute your connection through a designated server in the country of your choice. As a result, you get the IP address of that country – in this context, Japan, and thus the permission to access all content that was only available in Japan.
How can you get a valid IP address to access Hulu Japan?
You can access Japanese Hulu from outside Japan with any of the best available VPNs online. There are many free VPNs out there. However, you should be wary of how they could be profiting from your use of their service; instead, consider paying for your VPN. Paid VPNs are also more likely to have more server locations and IP addresses in many countries.
So, what are the best VPN service providers to subscribe to in order to access Hulu Japan on your device even if you're miles away from Japan? Dive in!
Best VPNs for accessing Hulu outside Japan
Although there are many VPN services available online in recent years, here is a list of five (5) best providers with tested and trusted services:
ExpressVPN

Features
Number of servers: More than 3,000
Speeds: Unlimited
Server locations: 160 in 94 countries
Maximum devices supported: 5
24 live chat: Yes
30 day money back guarantee: Yes
Pros/Cons
Fastest VPN out there
Strict no logs policy
256-bit AES encryption
ExpressVPN offers a quality VPN service that has been the mainstay of the industry over the years. They have more than 3,000 servers in 94 countries (a lot of servers are located in Japan), with generally excellent speeds that will allow you to stream HD content on Hulu Japan without a problem.
A wide range of platforms is supported, such as Windows, Mac, Linux, Android, and iOS. Also, you can watch Japanese Hulu using ExpressVPN from any of your devices – desktop, laptop, tablet, or smartphone. The MediaStreamer DNS feature on ExpressVPN unblocks Japanese Hulu on devices that don't have native VPN support, i.e., smart TVs, game consoles, and Apple TV.
With ExpressVPN, your security is assured, with their 256-bit AES encryption, DNS/IPv6 leak protection, a kill switch, and split tunneling. Your privacy is also guaranteed with no connection logs or activity logs kept. Another benefit of ExpressVPN is their 24/7 email and live chat support in case you run into problems.
This provider supports up to five devices simultaneously – ensuring that no matter what device you have in hand, you can always access Hulu Japan from anywhere. You only require an internet connection and an ExpressVPN subscription. Speaking of subscription, ExpressVPN has a reassuring 30-day money-back guarantee if you're not satisfied with their service. How about that?
Pros:

Fastest VPN out there;

Strict no logs policy;

256-bit AES encryption;

Lowest price: $6.67
NordVPN

Features
Cryptocurrency accepted? Yes
Simultaneous connections: 6
Dedicated IP-addresses? Yes
Servers: 5342 in 58 countries
Pros/Cons
Lots of pricing options
Netflix support kept up to date
256-bit AES encryption
For accessing Hulu Japan from outside Japan and seamless streaming videos on the website, NordVPN is right up there with the best. This provider offers fast performance, with the streaming speeds barely affected, even when several devices are connected to one account.
Hulu users will be pleased to know that of the over 5000 servers NordVPN has in 60 plus countries worldwide, 65 are in Japan. This VPN service has custom apps for all the major platforms and devices, with tutorials for manual setup. One of the most attractive features of NordVPN is the Smart Play feature. This is the secure proxy that NordVPN uses to bypass the geo-blocks of various media streaming services, including Hulu. It's switched on by default, thus giving you free access to Hulu's Japanese video content without any hassles.
Security-wise, NordVPN is as good as it gets with military-grade encryption. This also includes the option to encrypt your internet traffic not once, but twice – on different available servers with ease. With NordVPN, you also benefit from a DNS leak protection, adverts, and malware blocking, as well as a kill switch. A 'no-logs' policy protects users' online activity, and you can get assistance 24/7 via chat or email.
Pros:

Lots of pricing options;

Netflix support kept up to date;

256-bit AES encryption;

Lowest price: $3.71
HideMyAss

Features
Speeds: 20 Gbps
Money-back guarantee: Yes
Activity logs? No
Locations: 190+ countries
Pros/Cons
Best server database on the market
No-logs and kill switch policy
Multiple device protection
Expensive short term plan
The name of this VPN is sure to catch anyone's attention. The firm has a strong network with a good selection of protocols supported. While they have an extensive and clearly written set of policy documents, the company explicitly allows P2P and torrents.
With thousands of servers in over 190 countries, no VPN is close to HMA. Having over a thousand ways to stay private, they indeed are leaders in the privacy sphere. There's no logging whatsoever, and they use military-grade encryption (256-bit AES).
Furthermore, we like how HMA offers support on a wide range of devices, including game consoles. Their bitcoin support and money-back guarantee are also two of the most exciting things about them. And with an offer of five (5) simultaneous connections, staying connected has never been easier. For their monthly plan, you pay $11.99. Their 12-month plan is cheaper at $6.99 per month billed at once as $83.88. Their 3-year plan costs $4.29 per month billed at once as $154.44.
Pros:

Best server database on the market;

No-logs and kill switch policy;

Multiple device protection;

Lowest price $2.99
ProtonVPN

Features
P2P support? Yes
30-day money-back guarantee? Yes
Country of origin? Switzerland
Servers: 600+ in over 40 countries
Simultaneous devices: 5
Pros/Cons
Professional support
Modern interface and apps
AES-256 encryption
ProtonVPN is a Virtual Private Network that's brought to you by the same firm behind the massively prevalent ProtonMail service. If you're already a fan of the levels of privacy and security provided by ProtonMail, then you'll know what to expect out of ProtonVPN. With affordable monthly plans, a free version that's exceedingly competent, and peerless privacy, ProtonVPN is doing well in the VPN market. Also, ProtonVPN provides security measures and support for both Tor and BitTorrent streaming. The VPN also checks all the right boxes for privacy-minded users to ensure they get the best of the service.
The free version of ProtonVPN, however, does not have as many features as the paid version does. Thus, you will need to upgrade from the free version to the paid version to enjoy unlimited ProtonVPN services. Subscription plans are inexpensive compared to others. With a single subscription, you can secure five devices, and get a 30-day money-back guarantee.
We put that to the test, on a desktop and mobile, to see if ProtonVPN can stand up against the industry's leaders. We checked out basic things like how easy it is to set up and use, tested how well it handles high-speed data transfer, encryption options, additional security features, and more. All of these have made us conclude that ProtonVPN is one of the best Virtual Private Network providers to use to access video content on Hulu Japan from anywhere on the planet.
Pros:

Professional support;

Modern interface and apps;

AES-256 encryption;

Lowest price: €4
Trust.Zone

Features
Complete anonymity? Yes
Unblocking of all websites? Yes
Pricing options: 4
Servers: 164 in 80+ zones
Free trial: Yes
Pros/Cons
Military grade encryption
Bitcoin accepted
App for mobile devices
One of the cheapest VPNs available right now to access Hulu Japan content is Trust.Zone (based in Seychelles). Trust.Zone exemplifies speed and privacy in a VPN. One advantage of Trust.Zone is that you can get an instant three (3) day trial without entering any payment information. Cool, right? Yes, we know! This way, you can test the VPN with Hulu Japan to verify if it works well for you and also provides the service you want.
Trust.Zone offers its subscribers many speedy servers in Japan to stream Japanese Hulu content from anywhere across the globe. The streaming quality is perfect, and there are no hiccups or interruptions.
However, Trust.Zone only offers custom VPN apps for Windows and Android. Using the VPN on other devices' browsers, such as macOS, iOS, or routers, however, is easy. With their configuration wizard, setting up your VPN is a walk in the park. You can use Trust.Zone with third-party (open source) apps or natively with some operating systems and devices.
Trust.Zone also offers dedicated IP addresses, which work great for streaming Hulu Japan outside Japan. Also, support is available via email, and all plans come with a ten-day money-back guarantee.
Pros:

Military grade encryption;

Bitcoin accepted;

App for mobile devices;

Lowest price: €3
Free and paid VPNs: Which is better for accessing Hulu Japan?
There are numerous reasons why you should consider using a VPN, and their ability to bypass geo-blocking on any site is one of them. VPNs encrypt your traffic, giving your browsing (and streaming) a layer of privacy from hackers, snooping ISPs, and the government.
Although some companies now offer a basic VPN service that won't cost you anything at all, their services are not so great. Free VPN services have limitations, and in your case, the restrictions might be not being able to watch Japanese Hulu content outside Japan. However, paid VPN services offer a great deal of unlimited access to Hulu Japan content even when you're thousands of miles away from Japan.
Free products also typically have usage restrictions. Most companies don't want you to soak up all their bandwidth on torrents, so you're only left with small bandwidths to deal with – often for a couple of days. This is unlike in paid VPN services where you can enjoy more bandwidth and fast connection without interruption.
Is it legal to use a VPN?
VPNs are legal in many countries of the world. However, in some places like North Korea and Iraq, they are not. VPNs are not illegal, but they can be misused.
These illegal ways of using VPNs include;
Hacking: VPNs are not meant to be used to hack other computers and networks, but many people use it for this purpose. The anonymity feature in VPNs makes this illegal act possible.
Trading on the dark web: A lot of illegal materials like guns and drugs are sold and bought on the dark web. And with a VPN, these trades become easier because the actions of such people cannot be traced.
Cyberstalking and Cyberbullying: When people are given IP addresses of other countries, many people misuse it. One way of abusing this IP address is in cyberstalking and cyberbullying.
In conclusion
VPNs offer a way to stay connected to your best videos, anime, sports highlights, and many more on Hulu Japan. Don't let the geographical restrictions placed by Hulu prevent you from enjoying your favorite Japan movies without interruptions.
You know what to do – subscribe to one or more of the paid Virtual Private Networks listed above. Happy streaming!