How to Watch Japanese Hulu Outside Japan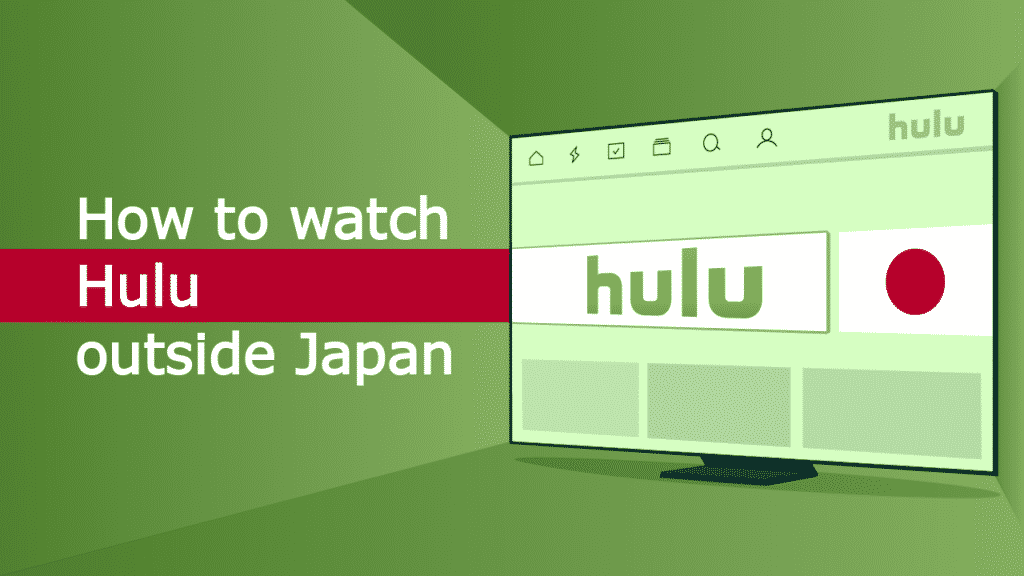 Hulu is one of the most popular video streaming services that gives you access to thousands of movies, series, anime, TV shows, sports channels, and many more. Another great incentive of Hulu is that it allows you to watch the latest episodes of shows the day after they are released.
However, Hulu is only available in the US and Japan. This means that if you're not in either countries, you may not be able to access Hulu's content. Furthermore, if you're specifically interested in Japanese Hulu, you will not be able to watch it unless you're in Japan. Therefore, if you live in any other country, Hulu Japan's doors are closed to you. Fortunately, we've figured out a way in which you can go around the restriction.
In this article, we'll explain how you can watch Hulu Japan even if you do not stay in Japan using a VPN service. However, before we proceed, let's take a look at why Hulu Japan is restricted in locations outside the country.
Why is Hulu Japan blocked outside Japan?
Hulu Japan is only available within Japan because the site only has rights to show the specific content within Japan. Luckily there is an easy solution to the problem. It is possible for lovers of Japanese movies who live in other countries to use a VPN to watch Hulu Japan with zero stress.
Hulu Japan limits their content to users within Japan by checking the IP addresses of the devices visiting their website. So, to have access to all Hulu Japan's content from outside Japan, you only need a valid Japanese IP address.
A VPN creates a digital tunnel through which your device – laptop, tablet, or smartphone can access the Internet. This VPN server can also reroute your connection through a designated server in the country of your choice. As a result, you get the IP address of that country – in this context, Japan, and thus the permission to access all content that was only available in Japan.
How can you get a valid IP address to access Hulu Japan?
You can access Japanese Hulu from outside Japan with any of the best available VPNs online. There are many free Japanese VPNs out there. However, you should be wary of how they could be profiting from your use of their service; instead, consider paying for your VPN. Paid VPNs are also more likely to have more server locations and IP addresses in many countries.
So, what are the best VPN service providers to subscribe to in order to access Hulu Japan on your device even if you're miles away from Japan? Dive in!
Best VPNs for accessing Hulu outside Japan
Although there are many VPN services available online in recent years, here is a list of five (5) best providers with tested and trusted services:
Free and paid VPNs: Which is better for accessing Hulu Japan?
There are numerous reasons why you should consider using a VPN, and their ability to bypass geo-blocking on any site is one of them. VPNs encrypt your traffic, giving your browsing (and streaming) a layer of privacy from hackers, snooping ISPs, and the government.
Although some companies now offer a basic VPN service that won't cost you anything at all, their services are not so great. Free VPN services have limitations, and in your case, the restrictions might be not being able to watch Japanese Hulu content outside Japan. However, paid VPN services offer a great deal of unlimited access to Hulu Japan content even when you're thousands of miles away from Japan.
Free products also typically have usage restrictions. Most companies don't want you to soak up all their bandwidth on torrents, so you're only left with small bandwidths to deal with – often for a couple of days. This is unlike in paid VPN services where you can enjoy more bandwidth and fast connection without interruption.
Is it legal to use a VPN?
VPNs are legal in many countries of the world. However, in some places like North Korea and Iraq, they are not. VPNs are not illegal, but they can be misused.
These illegal ways of using VPNs include;
Hacking: VPNs are not meant to be used to hack other computers and networks, but many people use it for this purpose. The anonymity feature in VPNs makes this illegal act possible.
Trading on the dark web: A lot of illegal materials like guns and drugs are sold and bought on the dark web. And with a VPN, these trades become easier because the actions of such people cannot be traced.
Cyberstalking and Cyberbullying: When people are given IP addresses of other countries, many people misuse it. One way of abusing this IP address is in cyberstalking and cyberbullying.
In conclusion
VPNs offer a way to stay connected to your best videos, anime, sports highlights, and many more on Hulu Japan. Don't let the geographical restrictions placed by Hulu prevent you from enjoying your favorite Japan movies without interruptions.
You know what to do – subscribe to one or more of the paid Virtual Private Networks listed above. Happy streaming!