The significance of Virtual Private Networks (VPNs) is increasingly becoming evident as the internet is growing in content variations. Hide My Ass (HMA) VPN is easily one of the best VPNs available for your use as it grants you stress-free access to geo-restricted content. As foul as it sounds, "Hide My Ass" is simply pun intended as a donkey is an integral part of the brand's logo. So, relax. HMA VPN protects you from government officials, cyber crooks (including hackers), and even website owners.
A couple of standout features make Hide My Ass a success in the VPN market. The speed of HMA's servers is very impressive and it has an easy to use interface. A lot of web users are very particular about speed and in this regard, you can put your faith in HMA. This VPN arguably has the best server distribution around the world.
Most importantly, HMA VPN has some very effective encryption and privacy features that make it top-notch in assuring an impressive security detail. It is also very efficient for streaming and not so expensive in relation to what it offers and the price of other VPNs. HMA comes as a gift box of goodies – speed, quality, unlocked content, with a ribbon of security to seal it.
Does HMA have fast servers?
As important as speed is to an athlete, so is server speed important when it comes to VPNs. Nobody wants to wait tens of seconds after a click to get a response. It is definitely a thing of frustration when you have to wait for streams to buffer. These "waits" cause unnecessary stress and even make your browsing or streaming experience less enjoyable.
The good thing here is, HMA has servers with very reliable speed. HMA's bolt fast servers give you a joyful experience while you browse, game online, or even stream in HD. HMA claims to have servers that run at 20Gbps. With this, it is very difficult to complain.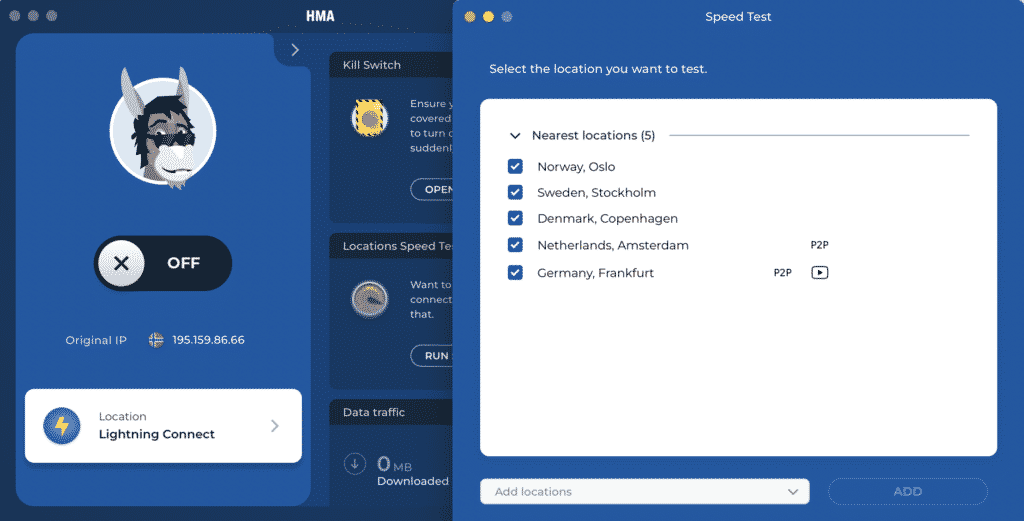 It should be taken into consideration though, that the resultant speed of the server you're connected to is relative to your distance from the server. Long-distance connections seem to be slower than the same location connections. For instance, if you're in Japan and you connect to a UK server, it is only reasonable that your connection won't be as fast as when you connect to a server in Japan – where you are.
Security and Privacy
The whole essence of using a "Virtual Private" Network as the name implies is to have security. So, when a network can't secure your connection, is it really a VPN? Absolutely not. HMA delivers top-notch confidentiality in diverse ways to establish an "air-tight" secure browsing and streaming connections on the internet.
One of the ways by which HMA ensures security is the use of the military-grade AES 256-bit encryption. The 256-bit key is one of the most secure encryption types as it hasn't been cracked yet. Some people might think you really don't need encryption as strong as the military-grade but, it doesn't hurt to use it. You have nothing to lose; rather, you are more convinced of how secure your connection is.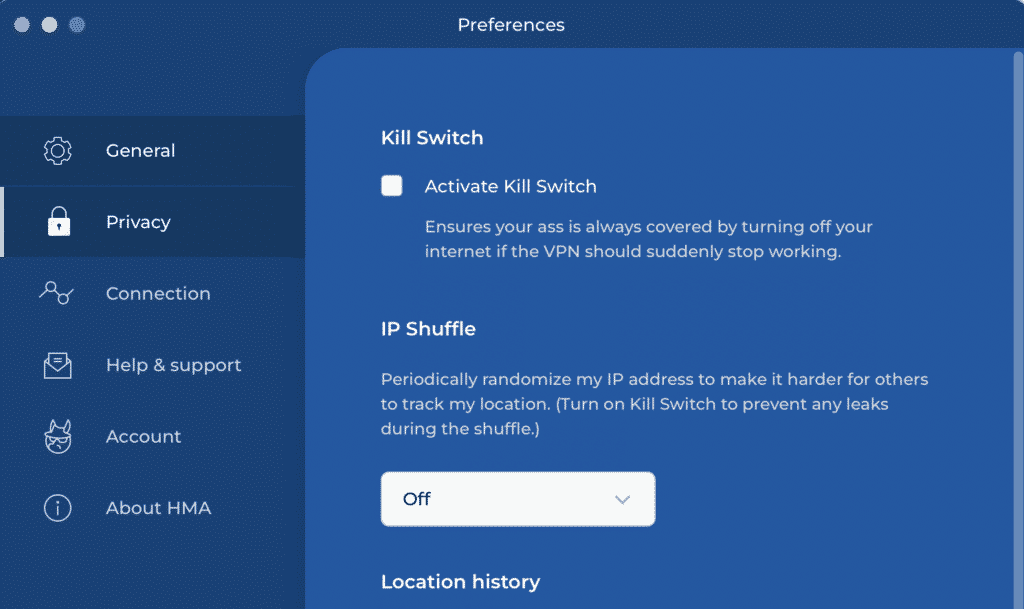 Hide My Ass VPN also comes with a smart kill switch feature. When the VPN server or connection is down, this feature still keeps you safe by disconnecting your device from the internet automatically until the VPN connection is restored. That's another amazing feature that makes the market have so much faith in HMA. It is important to note that by default, this feature is disabled and it is totally up to you to turn it on if you want the kill switch protection.
In addition, Hide My Ass keeps a no-logs policy. That means it doesn't keep records of any of your online activities, your IP address, and the data that is being transferred to and from the web. Now, as it is, if the government approaches HMA seeking records, they'll be bound to give them. The good thing here is, they can't give what they didn't store in the first place, so, you're still technically anonymous. HMA only keeps a record of connection dates and data volume. They do this to monitor and improve their own capacity to serve you better and it is amazing that they delete these records after a couple of days. The combination of these security measures makes HMA a very attractive catch for web users.
Servers in each country
With over 1,000 servers in about 290 locations widely spread across 190+ countries in the world, HMA has one the largest VPN server lists in the world. In turn, it offers a reasonable sort of server range available for selection regardless of your location.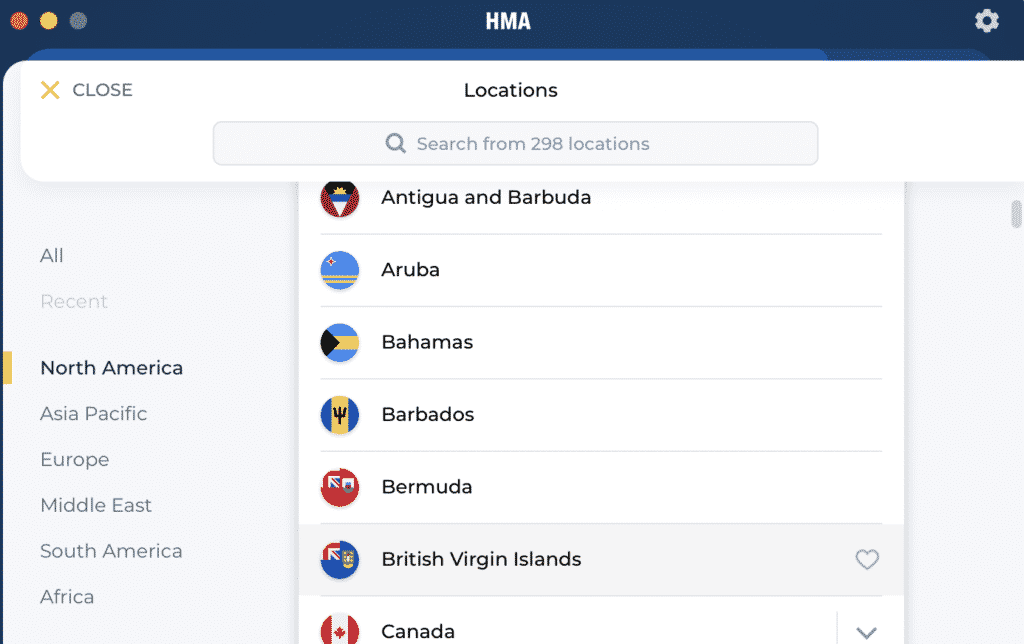 HMA specifically has 2 servers (6 IP addresses) in China and 3 servers (6 IP addresses) in Japan. So, as a Japanese, you can easily access Japan-restricted content while you're on vacation to the UK by connecting to any of the Japanese servers. On the flip side, you can be in Japan and still get smooth access to content restricted to another country (say Germany) simply by connecting to any of the HMA servers available in the country – Germany.
HMA has 5 servers, specifically optimized for streaming pleasures. Connecting to the HMA servers is easy and quite self-directing. The speed of these servers is dependent on:
Your service provider;
Your country's internet stability;
Your distance from the server.
How much does HMA cost?
Picking a plan that suits your preference is quite easy given the range of durations available on HMA's purchase plans. Overall, Hide My Ass' purchase plans are relatively cheap given the efficiency of this VPN. Also, when compared to other VPNs, it is not perfect but actually a very good catch.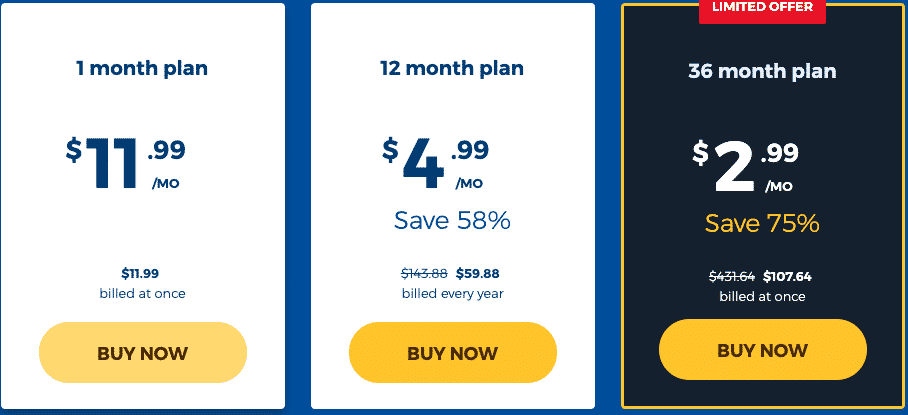 For the 36, 24, and 12-month plans, HMA offers rates of $3.99, $4.99, and $4.99 per month, respectively. This implies that; when you subscribe to a plan with a longer time span, you save more money and get more value over time. All the plans have the same features. The only variations are the time span and as a result the price tags.
Acceptable payment methods include Visa card, Mastercard, American Express, and PayPal. To top it off, Hide My Ass offers an easy to get 30-day money-back guarantee. With this, you can request a refund if you lose interest in their services. Also, one subscription lets you protect up to 5 devices simultaneously; so, more money saved.
Can I use HMA for free?
Most times, freebies aren't always up to standards. These times, you have to pay to enjoy and appreciate the value of services. There is no option to use HMA for free unlimited. There is a limit to how long you can use HMA for free. Like some other VPN services, HMA VPN offers a 7-day free trial. For this, you do not have to pay but you're required to provide your debit card details. After the trial, you will be billed for a 12-month subscription. The billing is done only after the trial, not during the trial. So, you have the chance to cancel anytime during the free trial.
There might be another way to use HMA VPN for free. Even though it is also only for a limited time, you can still walk your way through a free HMA "subscription" by taking advantage of the 30-day money-back guarantee scheme. This way you can simply request a refund after subscribing to a plan through their online retail store or Google Play. Doing this, you've indirectly used the service for free.
Have in mind that you have to pay for the subscription to be able to request a refund. Also, you can only get your money back if you request for a refund within 30 days of payment. So, can you use HMA for free? Relatively, yes!
Ease of Use
It is very convenient to recommend Hide My Ass VPN to friends, family, and colleagues. This is because of how user-friendly the program interface is. The experience of using HMA is very simple and the navigations speak for themselves. It is easy to use. Talking more about a stress-free experience, the option to choose from multiple servers and the servers' speed is a huge plus.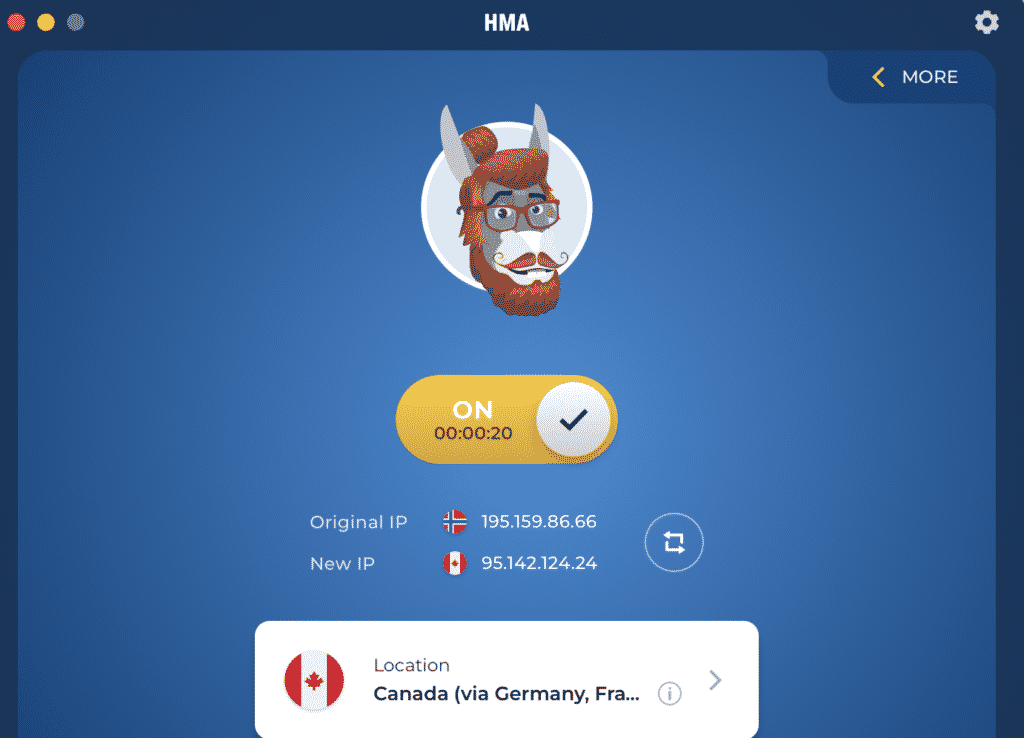 From downloading and installing the HMA application to selecting your preferred server from the list and having a secure connection, Hide My Ass does a pretty pleasing job to the user. It is available for any type of internet-supporting device and it works well with different browsers.
Also, the HMA program doesn't consume much storage space on devices. For instance, the Apk download on Google PlayStore for AndroidOS is just 16Mb. Very little for so much. All these come together to birth the very easy to use Hide My Ass VPN.
HideMyAss
Pros
Best server database on the market
No-logs and kill switch policy
Multiple device protection
Cons
Expensive short term plan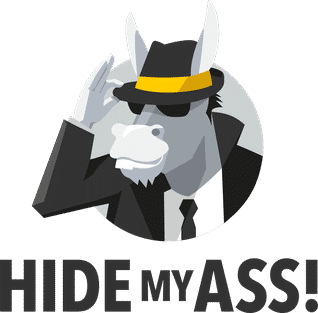 With a wide range of physical and virtual servers well distributed around the world, HMA does a great job of unlocking geo-restricted content. Hide My Ass cones with excellent speed and it uses one of the best encryption features to protect users' identities. This gives it the ability to deliver a reasonably secure connection while you browse the internet.
For short-term subscription plans, HMA is not the best. It doesn't have a 1-month plan. In the long run, the 12 and 24 months plans are more expensive than the 36 months plan. HMA VPN is easy to use and a fairly decent all-rounder. Also, they now have 24/7 customer support.
HMA for iPhone and Android
HMA offers apps for Android, iOS, Windows, macOS, and Linux devices. There is also HMA for Router, Apple TV, Android TV, Chrome, and Firefox. This goes on to emphasize the range of specialty of Hide My Ass VPN. HMA has proven to work effectively on all platforms on which it is available.
iOS and AndroidOS devices are the most used and most mobile devices in the world today. So, it is very important that the HMA program is optimized to suit the interface of these devices. For iPhone and Android, the user interface is simply awesome. The user experience feedback is also on the positive side. This points out the fact that HMA VPN is fully optimized to give users enjoyable navigation and browsing experience.
After subscribing to your preferred plan, download the HMA VPN software to your device, and install it. By simply connecting to a server, you can start browsing freely and securely. Detailed features can be adjusted to suit your personal preferences.
How to Install HMA on Your Phone or PC
In a few steps, we will highlight how to install HMA on your various devices below. Most of these steps are common to all device types but little tweaks make the differences. Overall, the software is usually easy to set up.
iOS and AndroidOS devices
Available for iOS devices running: iOS 12, 11, 10, and 9.
Available for Android devices running: AndroidOS 9, 8, 7, 6, and 5.
Visit hidemyass.com
Select a preferred HMA plan with the 30-day money-back guarantee.
Provide your debit card details and sign up.
Download and install the iOS VPN software to your device from App Store or Google Play as the case may be.
Log into your downloaded HMA VPN app with the details you signed up with.
Select the location whose content you'd like to unlock.
Connect to any server of your choice and browse anonymously.
Windows PC
Available for Windows 10, 8, and 7.
Visit hidemyass.com
On the landing page, click the Windows icon. Then click "DOWNLOAD".
Select a preferred HMA plan with the 30-day money-back guarantee.
Provide your debit card details and sign up.
Download the Windows VPN software to your PC and install it.
Log into your downloaded HMA VPN app with the details you signed up with.
Select the location whose content you'd like to unlock.
Connect to any server of your choice and surf anonymously.
HMA performance in Japan
VPNs are indeed legal in Japan. In Tokyo, the heart city of Japan, Hide My Ass has 3 functional servers with 6 IP addresses. HMA has recently improved a lot of its speed, security, and interface features. This has indirectly improved the status of the VPN service in a lot of countries. But Japanese streaming sites are not quite available to HMA VPN yet. Even though it's not the best VPN service in Japan, it is still reasonably one of the favorites.
Crossing the bridge, for instance, connecting to a server in the United States of America, to access the content in America. That is such a blissful browsing experience. The speed is amazing even when streaming in HD. HMA has 5 servers specifically optimized for streaming and 3 of those servers are located in the U.S.A. Streaming sites available via HMA include Netflix, Amazon Prime Video, BBC iPlayer, and Hulu. So, you can easily be at your home in Tokyo and still stream American content without skips and unnecessary buffering.
How to Watch Netflix with HMA
Not all VPN services have the unblocking clearance to access geo-restricted content. Thankfully, Hide My Ass has the ability to unblock major geo-restricted streaming content including American Netflix. The American Netflix undoubtedly is one of the most sought after Netflix catalogues. This is because it has a vast range of content unlike any other.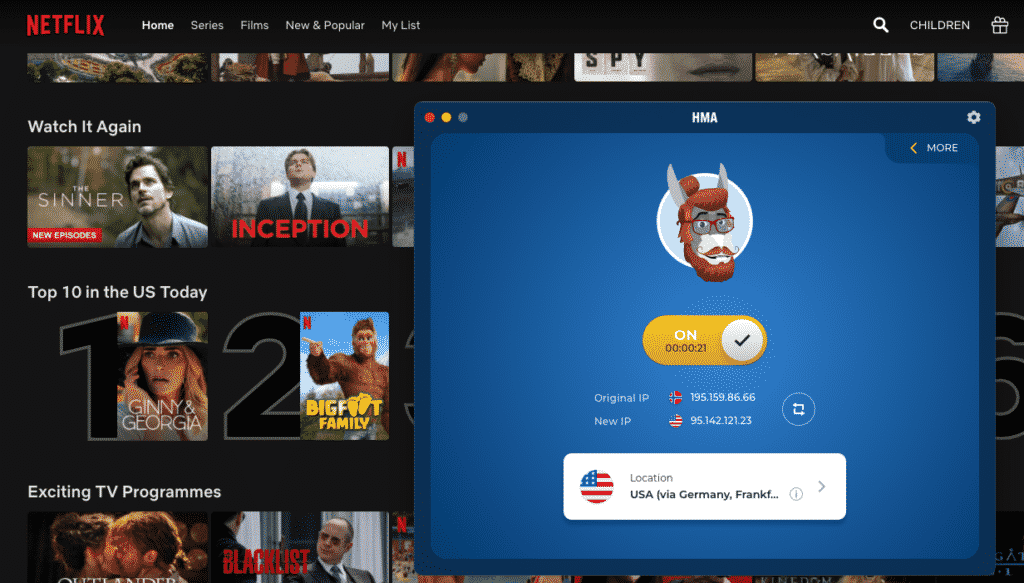 To access Netflix using this VPN, here is what you need to do:
Sign up on the HMA VPN page then download and install the HMA VPN app.
Once installed, enter your login details which you created as you were signing up.
Click on Location Mode in the app and then choose your preferred location.
Look for USA in the search bar and then select a server in that location.
Once you are connected, return to Netflix and access US Netflix without any restrictions.
These steps also work for other major Netflix catalogues. Simply select a server in the available, preferred location and connect.
Unblock Other Major Streaming Sites with HMA
Asides Netflix, HMA VPN can also easily unblock other major streaming sites for music as well as videos and global shows. Connect to UK servers to access BBC iPlayer without any issues, also access the following content — Hulu, HBO GO, Bundesliga, Amazon Prime, English Premier League, etc. — by connecting to the dedicated servers for each one. With HMA VPN your streaming experience just got sweeter.
HMA Special Features
Apart from the 256-bit AES-encryption, no-logs policy and the smart kill switch discussed earlier, Hide My Ass VPN offers a couple of other security features that keep you anonymous all through your browsing time.
A lot of VPNs on the market now either encrypt all apps or none. HMA in this case has a Split Tunneling feature. This feature allows you to choose which of your applications go through the encryption of HMA VPN; while your other apps browse the web normally, with your actual IP address. With this, you can stream geo-restricted videos while placing an order on a local online retail store.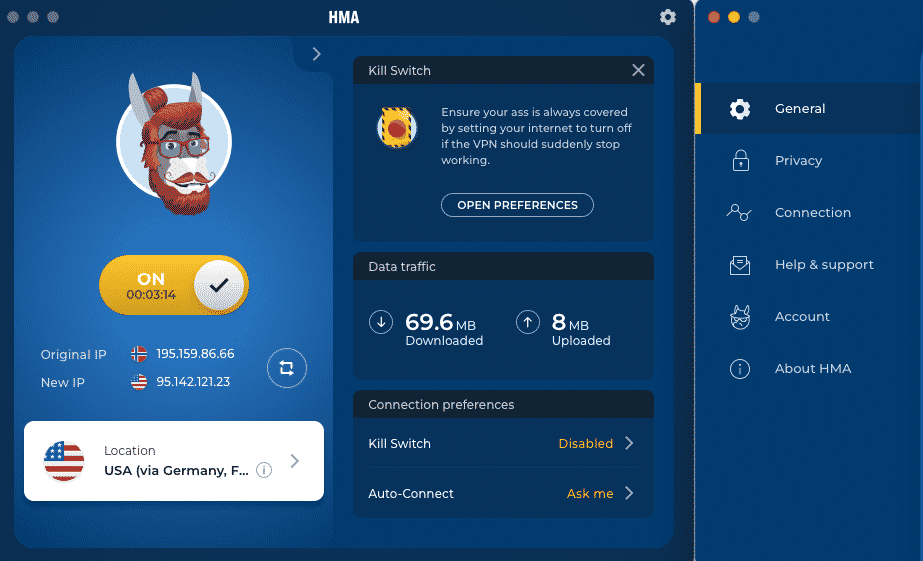 IP shuffle is another amazing feature peculiar to HMA. This randomly changes your IP address at intervals from between every 10 minutes to once a day – depending on the interval you select. Cyber intruders can't pinpoint anything about you with this efficient shuffling.
An extra feature included with the 256-bit AES military-grade encryption is the integration with OpenVPN (on Windows and Android) and the IKEv2/IPsec (on Mac and iOS) for better compatibility to enhance security.
Use HMA for torrenting
When you don't want to rely on a single source to download files, torrenting suffices with Peer-to-Peer (P2P) file transfers. Meanwhile, this P2P technology allows others to see your IP address. It wouldn't be great if they could see your actual IP address because they'd be able to monitor the content you download. We all need some sort of privacy, don't we? Yes, and this is where a VPN steps in.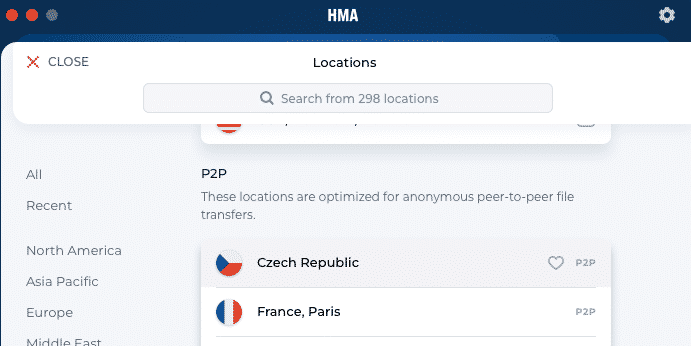 HMA VPN will easily hide your real IP address with the 256-bit encryption so that the others will only see your virtual address. With HMA's special IP Shuffling feature, it'll be impossible for cyber crooks to keep tabs on you. Also, HMA VPN doesn't keep logs. This means, they don't store information that can identify you at all, therefore, no one can get it from them.
As much as HMA effectively masks your IP address, the relative impact on server speed is kept at the barest minimum.
Can You Use HMA for the Chinese Firewall?
It is a very sad tale for Web explorers that live in China. China has successfully blocked out several VPN services. So, you cannot even access the VPN you should use to unblock content outside China. What an irony! As promising as HMA seems to be, its official site has been successfully blocked in China. This means that users trying to access Chinese content from outside China using HMA VPN would likely be unsuccessful.
Some VPNs have however managed to evade this Chinese block regardless of how lock-tight the firewall is, although this is not an easy feat for them. They are the top guns in the VPN industry. They constantly have to strive to ensure their servers get past the watchful eyes of the Chinese government to be able to remain within the Firewall. If you really must get past the Chinese Firewall, HMA VPN will not be able to help you. You may seek refuge in these other VPNs with a larger coverage who have managed to get past the Firewall.
HMA Customer Service
The little details matter the most. Having an appealing web interface is the first way to keep your potential customers interested in your content. From the landing home page of the official Hide My Ass website, you would see that HMA has done this very well. Easy-to-navigate software materials go easy on the customers and they definitely go a long way in improving their experience.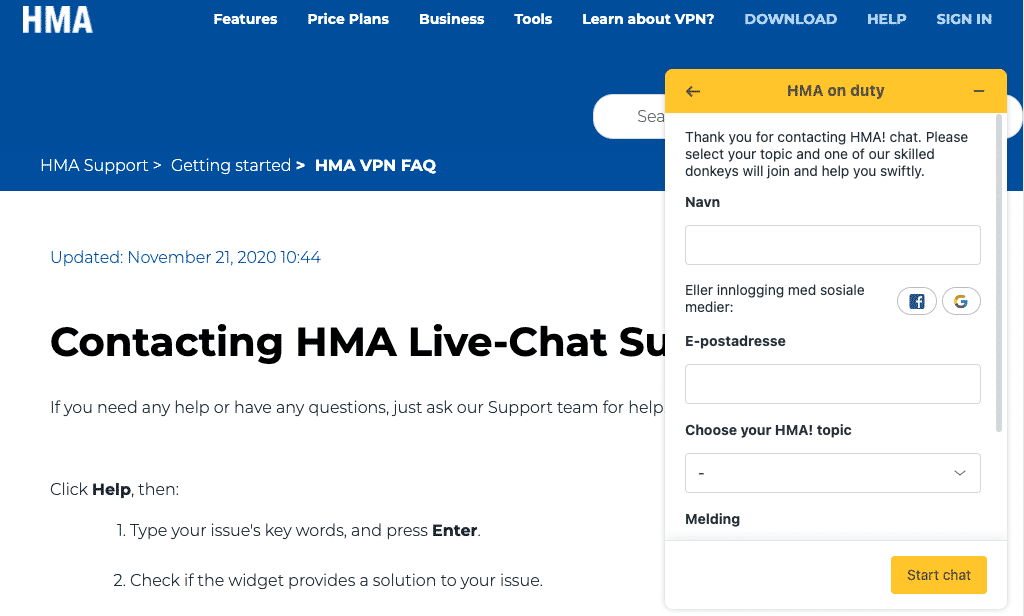 At the bottom part of every page, there are Contact Us and HELP navigations. Clicking on Contact Us opens up a request form where you can input every detail you want to let out. To complement that, their response game is top-notch. The HELP navigation is more like a chatbot. It assists with How-tos and FAQs.
To cap it all, the website has a search bar that helps you navigate keywords easily. Their Customer Support is also available, responsive, and engaging – all aimed at giving you an amazing support experience.
How to get a refund from HMA
HMA has a strict refund policy. They offer a 30-day money-back guarantee on subscriptions. This guarantee terminates purchase through GooglePlay or their online store. As long as the cancellation or refund was filed within 30 days of the purchase date, they will fully refund the payment made for the subscription.
When you make a purchase, HMA will send a confirmation email or an invoice. The email will contain the specific information you'll be required to provide when you request for a refund. As soon as you have all the information needed, click here to file for a refund.
Does HMA give value for your money?
HMA is considered fairly cheap despite having an excellent server speed, great bandwidth, good combinations of security encryption features, and decent unblocking power. It is a great VPN for streaming purposes.
However, people that are strictly into streaming Japanese content might be paying a little too much for what they get. This is because Hide My Ass VPN cannot unblock the most popular Japanese geo-restricted video stream websites. So, it is advisable to pick your VPN service considering the purpose of what you want and what it has to offer.
In general, all other features of HMA pass the test and would be fit enough for every other VPN-related purpose, except unblocking Japanese streaming websites. Therefore, to answer the question 'does HMA give value for your money?', our answer is relatively, yes.
Wrap Up
If you live in Japan or you're visiting, Hide My Ass would be a very smart choice. The only major downside is its inability to unblock geo-restricted Japanese stream sites and evade the Chinese firewall. So, staying in Japan makes such content available to you and takes out the major downside HMA has. You can then have other great HMA features to enjoy.
Not in Japan? Not a problem! You can still enjoy the numerous other features that Hide My Ass offers. With its security and privacy features that are of the highest quality, in addition to its unlimited bandwidth and many other advanced features, we definitely recommend HMA. You shouldn't be wary to try out their services, and even then you can surely pull out of the plan if you're not satisfied. Simply harness their free trial or 30-day money-back guarantee if you have paid for a plan already.