Best VPN For Multiple Devices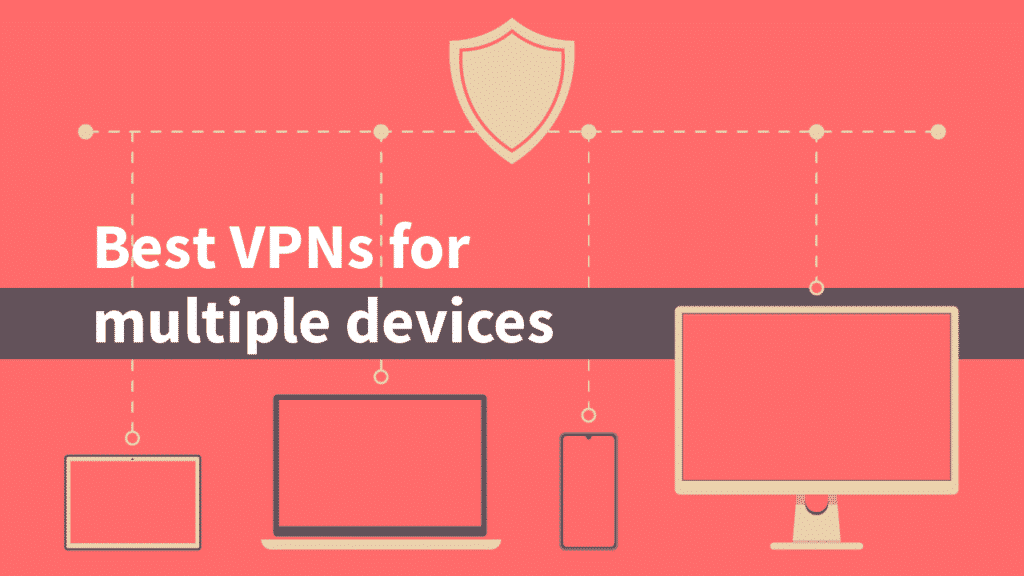 Not everyone may have a whole lot of devices they wish to connect, but some users have as many as 5 – 10 devices that need to be connected to a VPN. As a user with multiple devices, the struggle that comes with connecting your different devices to different VPN accounts is not one that is very palatable. But to stay secure and protected at all times, you need to have your many devices connected to a VPN. 
For instance, in cases where you are on the go and need to use a public Wi-Fi. Having your devices connected keeps you secure on your mobile device even while on a public network.  It also protects snooping sites and trackers from accessing your data through any of your multiple devices.
Knowing this, it becomes a burden then to attempt to subscribe to different VPN services to stay protected on each device. This is why a better and more effective way to stay connected at all times has been proffered. It is now possible to have your multiple devices connected to a single VPN depending on the provider you choose.
The 5 Best VPNs for Multiple devices
For many users, having to go through tons of VPNs on the market trying to find a Multi-device VPNs would be a herculean task. Some may want to try, but with the best intentions, and in a bid to save you some time and energy, a list of some of the very best VPNs for multiple devices has been put together for you below. You can look through these VPNs to see all you need to know about them so that you can decide which one is a good fit for you.
ExpressVPN

Features
Number of servers: More than 3,000
Speeds: Unlimited
Server locations: 160 in 94 countries
Maximum devices supported: 5
24 live chat: Yes
30 day money back guarantee: Yes
Pros/Cons
Fastest VPN out there
Strict no logs policy
256-bit AES encryption
This provider tops the list of VPNs with the best services except in one area: Multi-device connection. This does not however mean that ExpressVPN is in any way lacking. It has a fairly large amount of slots for connection which currently stands at 5 devices. This is not bad, as it is still a higher number than many other VPNs.
It also comes with the assurance of being protected and having a safe connection everywhere you go, because the service comes with apps for all your devices; including Android, iOS, Mac, Windows, Smart TVs, to mention a few. The Windows Client is well-designed, easy to use, and immediately makes you feel comfortable. The Android app is just like the Windows version, but it leaves out some features. In addition, ExpressVPN also works well with a large range of routers so you can set it up on a router and connect as many devices as you want to the router.
ExpressVPN makes up for its fairly limited number of connection slots by providing extremely fast connection speed and one of the largest location coverage on the market. It boasts of over 3000+ servers in 94 countries, which gives its users all over the globe access to swift browsing speed as long as they keep subscribing.
The VPN is also one of the strongest geo-unblockers, known to bypass all restrictions that may be blocking your access to your favourite streaming sites. Its quality security services ensure that you are completely shielded from prying eyes on the internet and hackers. Further enhancing its protective measures, ExpressVPN provides an automatic kill-switch that prevents your data from getting leaked to the wrong hands; it keeps it locked safely inside the VPN.
To keep users anonymous in every area, it provides a cryptocurrency payment option that allows you to pay in Bitcoin. This way you do not need to fill in your card details online.
The network does not come with a free version or free-trial offer, but its subscription plans are quite affordable. If, after payment, you discover that the VPN is not exactly what you are looking for, you can make use of its 'no-questions-asked' refund policy where you get your money back after 30 days of subscription. It also has a great customer service and live chat option that would willingly attend to any of your complaints and challenges.
Pros:

Fastest VPN out there;

Strict no logs policy;

256-bit AES encryption;

Lowest price: $6.67
Surfshark

Features
Free trial? Yes
Simultaneous connections: unlimited
Ad blocking? Yes
Servers: 1000+ in 61 countries
Pros/Cons
No footprints
Allows torrenting
256-bit AES encryption
SurfShark is next on the list as it stands as one of the best VPNs that offer unlimited device connections at $1.99/month on its bi-annual plan. Yes, it is that good. SurfShark allows you connect as many devices as you wish once you become a subscriber to any of its plans. Clearly, this makes it the people's choice once it comes to choosing a VPN with a large number of connections.
Alongside supporting unlimited devices, SurfShark provides mobile apps, as well as apps for your personal computer. This way, everyone can remain connected wherever and whenever. Compatible devices include iOS, Android, Mac, Windows, Linux, Smart TVs, and other online platforms. Of all these apps, the Windows app has a more versatile interface than the others. However, unlike most VPN apps, the Android app is more than basic, it has strategically placed features that make it very impressive.
The provider has a little over 1000 servers situated in 50 countries, and although server locations may not be as widely spread as many other VPNs, it makes up for it by strategically positioning its servers in great locations; giving access to many users around the world. SurfShark also boasts of one of the best unblocking features; the 'NoBorder' global unblocking feature that can unblock many of the strongest restrictions there are. Not only is it suitable for mobile devices and PCs, it also supports a wide-range of routers.
The VPN did not come to play in the protection and privacy arena. It has high-end privacy and protection features, priding itself in its very secure military-level encryption that ensures your data is being protected.
It also comes with ad-blocking features and an auto kill-switch option that keeps data safely inside the VPN's firewall in case of a drop in connection. It runs under a 'no-logs' policy ensuring that no record of your online activity is being stored. For further protection, it allows users pay in cryptocurrencies such as Bitcoin so that no trace of your activities is left on the web.
Another uncommon feature of the VPN is its split-tunneling tool that lets some apps route outside of the VPN channel, thereby allowing you to use applications that you do not want to route through a VPN without having to turn off your VPN. The Virtual Private Network has a brilliant speed which is of great benefit to its users because they as they would not need to wait for content like music and videos to buffer. This makes it a great choice for streaming, downloading and torrenting.
Pros:

No footprints;

Allows torrenting;

256-bit AES encryption;

Lowest price: €2.49
NordVPN

Features
Cryptocurrency accepted? Yes
Simultaneous connections: 6
Dedicated IP-addresses? Yes
Servers: 5342 in 58 countries
Pros/Cons
Lots of pricing options
Netflix support kept up to date
256-bit AES encryption
This is a great VPN provider with great characteristics that make it a favourite of many users. It has a large coverage of over 5,000 servers in 0ver 60 countries around the world. It is well known for its top-notch security, customer service relations as well as its ease of access. However, what makes it appear on this list is that it allows 6 simultaneous connections; a fair number compared to many VPNs on the market.
With its very fast speed, NordVPN allows its users to torrent as well as stream content online. The VPN is also available on an extensive variety of apps just so that you can remain connected whenever and wherever you are. These apps are compatible on a range of devices which include: Android, iOS, Windows, Mac, among others. Although NordVPN's Windows client may have a few issues, it is easy to use and has a great outlook. The Android and iOS apps have a somewhat awkward interface and have some key features missing, but is likeable and fairly easy to use.
The VPN has remained a reliable and highly secure network used for unblocking many restricted streaming sites as well as protecting and shielding your online data. To accomplish this feat, it uses two separate methods, namely Onion-Over VPN and Double VPN to route your traffic and keep it locked-tight in its firewalls. It also works under a 'no logs' policy, giving your data only the best form of protection.
Other security measures it employs are SmartPlay, a No DNS feature and an automatic kill-switch that becomes activated to prevent leakage of your data if there is ever a drop in server connections. In addition, all available apps for your devices have a 'Quick Connect' feature that instantly connects your device to any server that is free and close to you.
For any further help, there is a standby customer support service that is always available to attend to any troubles or challenges that may arise from using the VPN, or, you can make use of the existing knowledge base to search and find the information you need in solving your problem. NordVPN does not come with a free version or free trial period but it has a 30-day money back guarantee that ensures your money is refunded if you do not feel satisfied with the services after you have purchased a plan.
Pros:

Lots of pricing options;

Netflix support kept up to date;

256-bit AES encryption;

Lowest price: $3.71
CyberGhost

Features
Connected devices at once: 7
Automatic kill switch? Yes
One click connect: Yes
Servers: 5900 worldwide
Pros/Cons
No logs policy
24/7 live chat
Apps for mobile devices and routers
CyberGhost is a German and Romanian-based VPN that boasts of over 4,800 servers in over 58 countries. It has a strong protective feature that blocks malicious sites, ads and trackers. It makes our list because it allows for up to 7 connections simultaneously, which is quite a lot, compared to the usual 5 of many VPN providers. Alongside this, CyberGhost also makes available different apps suitable for your various devices. It can be used on Androids, iOS, Windows, Smart TVs and other devices.
However, these devices being connected must be specific devices. For example, if you connect from a phone, or a game console just once, you have used up one of your slots. If you run out of available slots, you can always log out of any device of your choice. The most powerful client of all these devices, is its Windows client. It comes with a clean and lightweight interface that makes it easy to use. The mobile apps, however, are even simpler to use than the desktop versions with their very basic interface, but they still need some improvement as some key features are not displayed for easy access.
Like many VPNs, CyberGhost boasts of a 'no-logs' policy, and even has a privacy policy to back up its claims. It also makes use of the superior 256-bit AES encryption and VPN protocols such as OpenVPN, IKEv2, and PPTP.
The VPN offers a 24-hour free trial if you create an account via Windows, without full access to its services, while creating an account via the Android app will give you a 7-day trial. If eventually you sign up, you get a lengthy 45-day money back guarantee which is more than the 30 days that other VPNs offer.
Pros:

No logs policy;

24/7 live chat;

Apps for mobile devices and routers;

Lowest price: €2
How to Identify a Good Multi-Device VPN
There are certain qualities to lookout for when searching for a quality multi-device VPN. Because this VPN would be used for a vast range of devices, it must be an all-purpose VPN, rightly balanced between performance and security.
First, you need to take note of the number of simultaneous connections that the VPN allows. Although some VPNs claim to have multiple device connection features, they only offer a very limited amount and then charge extra if you need more.
You may also want to lookout for VPNs that have 256-bit encryption, and OpenVPN to ensure you are well protected. If you would be connecting your phone to the VPN, also ensure that these protection services are available for mobile phones.
Another key feature to check for, is a 'no-logs policy'. A lot of VPN providers are known for selling, tracking and keeping logs of your online activities. A good VPN provider must keep no logs to avoid a case where your sensitive data is fiddled with or sold.
Apart from its usual protection features, a user may also want to check if the Multi-device VPN has extra protective measures such as the double encryption, anti-malware and ad blocking features. Many good Multi-device VPNs also have an automatic kill switch that activates itself once the VPN connection drops.
If you are a heavy streamer, then you definitely would want to check for P2P connections and special server streamers. You also may like to check for VPNs that have a very fast speed.
Conclusion
With the above list, you have a better idea of what each of these VPN services have to offer. It is however important not to get carried away with features, but remember the need to always have all devices connected to a VPN to avoid malicious trackers and snooping eyes getting hold of your sensitive data. If you're looking to make the most of your money and get great features and services for the price you are paying, ExpressVPN is your best bet. But, if you place more value on having a larger number of devices connected, then you may take delight in SurfShark's unlimited connection fiesta.