How to Watch U-Next Outside Japan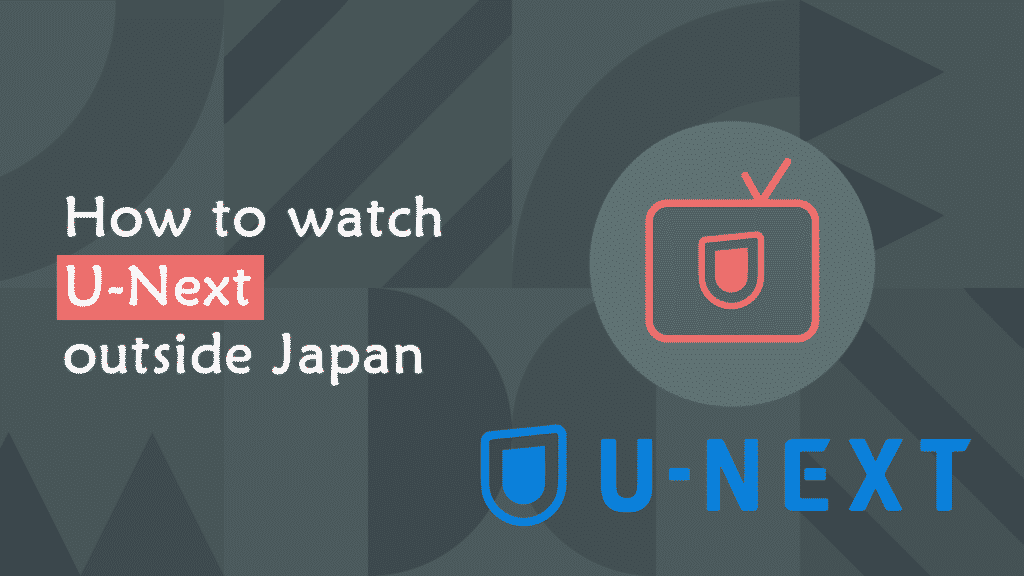 In 2009, the brand name U-Next was launched in Japan. U-Next is a Japanese-based online television platform that provides subscribers with thrilling animes, dramas, documentaries, movies, etc. Sadly, U-Next is geographically blocked to users outside of Japan. However, this shouldn't pose a challenge, as viewers who are not in Japan but wish to enjoy their favorite shows can do so by making use of a Virtual Private Network (VPN).
Since U-Next purchased the rights to send shows in no other country but Japan, having a VPN service provider makes its platform accessible. This can be realized by connecting to a server that the VPN service has in Japan.
This will cloak your real IP address and give your device a Japanese IP address. U-Next systems will then see your device as if it were in Japan and grant you access to all of its content. It would interest you to know that just like that, the problem is solved. This article will direct you on how to watch U-Next outside Japan using the best VPNs easily.
How do VPNs work with U-Next?
It's very easy. Simply put, a VPN service allows you to connect to a server that is in Japan. This gives your device a Japanese IP address. Consequently, you'll be able to access U-Next's exclusive content because their geo-restriction systems will perceive your connection as if it were originating from Japan. The best thing about using a VPN is the online anonymity it affords you. This means that you could be in Mexico, Sweden, USA or Angola, and still catch up on U-Next latest fantastic shows.
As has been mentioned above, VPNs vary and are suitable for unique purposes all around the world. However, below are the advised VPNs to use to keep enjoying television programs on U-Next – even when you're very far away from Japan.
Five recommended VPNs to watch U-Next outside Japan
There are three main types of VPN, but the most common one is the Remote-access VPN. Remote-access VPNs are majorly utilized by individuals and are most suitable for the purpose of this article. The reviewed and advised Remote-access VPNs to use to stream U-Next videos from any location are:
ExpressVPN

Features
Number of servers: More than 3,000
Speeds: Unlimited
Server locations: 160 in 94 countries
Maximum devices supported: 5
24 live chat: Yes
30 day money back guarantee: Yes
Pros/Cons
Fastest VPN out there
Strict no logs policy
256-bit AES encryption
After its launch ten years ago, ExpressVPN is widely known and is currently available across 94 countries, including Japan. Aside from offering lightning fast internet speeds, ExpressVPN provides buyers with military-grade encryption to secure their data. For this reason, it's very effective to hide users' IP addresses from any location in the world. More so, ExpressVPN has more than 3,000 VPN servers worldwide, with a number of those strategically located all around Japan.
U-Next subscribers will be happy to know that ExpressVPN's consistency has been tested over time and has proven to be worth having. It's active on notable platforms – personal computers, router, and smartphones – and operating systems (Linux, Android, iOS, macOS, Microsoft windows). Per ExpressVPN subscription, up to five devices can be connected to the internet at the same time, including Apple TV and PlayStation. Like all notable advanced VPNs, ExpressVPN uses an Advanced Encryption Standard (AES) of 256 bits.
ExpressVPN gives users a distinct sense of privacy; for example, you can't be legally coerced to release your browsers' activities. In the rare case of a server drop, a network lock is activated. This kill switch is set up to conceal users' identity and vulnerability by ensuring there is no IP or data leak. They don't store logs of activity history, IP addresses, and destination – simply because it doesn't exist!
What about their pricing? ExpressVPN has a fair pricing system and a 30-day money-back guarantee. For as low as $8.32 a year subscription, they offer a 35% discount off their $12.95 per month package. Methods of payment can be credit cards (Visa, MasterCard, American Express, Delta), PayPal, Alipay, UnionPay, etc. For buyers who are concerned about anonymity, cryptocurrencies like Bitcoin and Ethereum can also be used to pay.
In summary, ExpressVPN offers users a secure connection, privacy, and speed as high as 100mbps. Topping that off, they sport an excellent and impressive customer service, should you encounter any challenges when using.
Pros:

Fastest VPN out there;

Strict no logs policy;

256-bit AES encryption;

Lowest price: $6.67
NordVPN

Features
Cryptocurrency accepted? Yes
Simultaneous connections: 6
Dedicated IP-addresses? Yes
Servers: 5342 in 58 countries
Pros/Cons
Lots of pricing options
Netflix support kept up to date
256-bit AES encryption
Starting out in 2012, the company has come a long way in a very short time. Seven years later, NordVPN is known to manage more than 5,000 servers based across 60 countries, including Japan. Like ExpressVPN, NordVPN is one of the fastest providers around the internet space. NordVPN has The Huffington Post, Forbes, BBC, W I R E D, amongst others, talking about them.
With NordVPN, you can have unlimited internet access to stream exclusive U-Next video content from anywhere in the world. You will also enjoy privacy and security benefits, as this VPN service keeps no logging information and has an effective kill switch activation. NordVPN is known for its speed, and like other advanced VPNs, has a high encryption standard – 256-bit AES.
NordVPN makes users feel "safe" while browsing the internet and helps U-Next subscribers like you to still enjoy geographically restricted, entertaining shows from anywhere outside Japan. This VPN can also connect up to 6 devices at the same time – personal computers, routers, smartphones, Apple TV and PlayStation. It supports diverse operating systems like Windows, macOS, iOS, Android, Linux, etc.
The pricing of this VPN is relatively affordable at $6.99 for a year-long subscription, enabling you to save 41% of the $11.95 per month rate. They also boast of a 30-day money-back guarantee policy for all users. Payments can be comfortably made in cash and untraceable cryptocurrencies like Bitcoin, Ripple and Ethereum.
Pros:

Lots of pricing options;

Netflix support kept up to date;

256-bit AES encryption;

Lowest price: $3.71
Surfshark

Features
Free trial? Yes
Simultaneous connections: unlimited
Ad blocking? Yes
Servers: 1000+ in 61 countries
Pros/Cons
No footprints
Allows torrenting
256-bit AES encryption
Imagine being a shark in the water world – the chill and superiority; that's exactly how it feels to be a Surfshark user. Available in over 61 countries with 1040 plus servers, Surfshark makes it easy for users to stream endlessly with no adverts or online trackers. Like the other VPNs on this list, Surfshark allows access to geographically blocked sites like U-Next, making it possible for users outside Japan to view their content.
With Surfshark, you can connect an unlimited number of devices simultaneously. The VPN helps bypass firewalls and provides an IP address of users' choice. It's compatible with devices like PCs, smartphones, Apple TV, PlayStation, etc. SurfShark equally possesses a no-logs policy, keeping your private information safe.
Surfshark uses a guaranteed 256-bit Advanced Encryption Standard. Besides, their kill switch activation speaks volumes about their seriousness with security. This will ensure that all your data and information is safe, in case your service drops suddenly.
Surfshark has one of the cheapest rates for VPN subscription. Starting from as low as $1.99 for a consecutive period of 24 months (2 years), to a monthly payment of $11.95. Also, users can decide to subscribe to the $5.99 per year package. Payments can be made easily using credit cards.
Surfshark provides an impressive presence online with 24 hours, seven times a week, support to assist users. Theirs is quite outstanding as the support covers a live chat, through email, and telephone conversations with customers.
Pros:

No footprints;

Allows torrenting;

256-bit AES encryption;

Lowest price: €2.49
UltraVPN

Features
One click connect? Yes
Servers: 100+ superfast servers
Bandwidth cap? No
Platforms: Mac, Windows, iOS, Android
Pros/Cons
Firewall
Apps for all devices
256-bit AES encryption
Not as many servers as others
UltraVPN is another VPN that provides users in any country of the world with unlimited and unrestricted access to U-Next. It has server locations in more than 55 countries worldwide, Japan inclusive. With no configuration, simple setting, and control, UltraVPN is just a click away from the action. As long as the VPN is activated on your devices, you can stream securely and enjoy a fast internet speed.
UltraVPN's secure network helps you gain access to geo-restricted sites by changing your IP address to one of your choice – a Japanese one in this case. They also have a no-logs policy which leaves your activity untraceable, and 256-bit AES. UltraVPN is compatible with Mac OS, Windows, Android, iOS, Fire TV, Linux, etc.
Their pricing rates, $7.99 per month, $3.75 for one year (paid per month) and $5.99 per 6 months, are quite reasonable. All these packages have a 30-day money-back guarantee policy.
Pros:

Firewall;

Apps for all devices;

256-bit AES encryption;

Lowest price: €2.99
CyberGhost

Features
Connected devices at once: 7
Automatic kill switch? Yes
One click connect: Yes
Servers: 5900 worldwide
Pros/Cons
No logs policy
24/7 live chat
Apps for mobile devices and routers
Finally, CyberGhost – founded in 2004 – is a VPN service that puts the 'secure' in Hypertext Transfer Protocol Secure (HTTPS). Boasting of 3,000 servers available in 60 countries worldwide, CyberGhost is renowned for its advanced, unique security features. For instance, aside from blocking adverts and protection from virus, HTTPS is forced when browsing. This helps to prevent users from being tracked online and from sources that aren't known. CyberGhost also runs 256-bit AES like most VPNs in the market.
CyberGhost allows simultaneous connections of up to 7 devices. U-Next subscribers outside Japan will be pleased as it is good for streaming. Concerning their payments, they have a 45-day money return policy. CyberGhost is moderately priced at $12.99 per month, but if you opt for the yearly plan, then it's charged at a rate of $5.25 per month.
Pros:

No logs policy;

24/7 live chat;

Apps for mobile devices and routers;

Lowest price: €2
Why won't U-Next work in any other country but Japan?
For several years, U-Next has been consistently broadcasting diverse genres of popular movies and international TV programs. For instance – cinema movies, karaoke, variety, family, documentaries, animes, foreign dramas, domestic dramas, and even Disney programs. You should know that the main reason U-Next won't work in any other country is that they only have rights purchased to broadcast shows in Japan.
What is a VPN?
A VPN can be described as a tunnel that permits you to surf the internet via another network different from your actual one. All for an affordable monthly charge, a VPN will change your Internet Protocol address to that of the connected server. This will, in turn, grant you access to geographically blocked sites, bypass firewalls, secure your online internet connections, and so much more.
Basically, a VPN lets you access the server of the country it is located, enabling you to visit or stream from geo-restricted sites like U-Next easily.
Pros and cons of using VPNs
Many users tend to worry about the effects – positive and negative – of using Virtual Private Networks (VPNs). They ask questions like, how much does it cost, is it legal, is it unrestricted, is it safe? Etc. Yes, VPNs are secure and legal and fit the purpose of this article. They have a no-logs policy, meaning they have no business with your data or sensitive information.
VPNs are relatively affordable, and their advantages far outweigh their disadvantages. The drawback occurs when you get slow internet connection speed, especially while streaming. Also, configurations may be challenging if you don't follow and pay attention to the server, protocol and encryption guide. This is why it is advisable to choose premium VPNs such as the ones mentioned in this article.
That aside, VPNs guard your privacy, keep you anonymous on the internet and are priced reasonably. Free VPNs won't meet your criteria for security, because your 'secure data' may be sold to other parties without your consent.
Will it affect how frequently I access U-Next?
Using a VPN doesn't affect the frequent access of U-Next outside Japan. You can use it as you like and maintain the local privileges. A VPN is like a ghost – therefore, you're "invisible" once you turn it on. The only reason you'll know it's there is that you now have access to a Japanese Internet Provider address.
U-Next works well on Windows, Android, iOS and macOS operating systems, as well as on Google Chrome, Internet Explorer, Edge, Firefox, and Safari browsers.
In conclusion
Overall, U-Next, to grant all users maximum satisfaction of watching their television programs, allows usage of specific VPNs outside Japan. These VPNs allow you stream U-Next in any location you are. More so, a fantastic feature of this package includes you enjoying your shows on multiple devices (ranging from your television, personal computer, smartphone, etc.). Basically, purchase and download any of the recommended VPNs, then connect to a Japanese server.
The VPNs listed above are the most compatible service providers with U-Next. They literally allow you to never miss any of your loved Japanese TV shows. All for a reasonable monthly charge, all uninterrupted internet activities lead to Japan – don't you just love that?