ProtonVPN vs ExpressVPN (2023): Speed, Streaming, Safety & Logs
Internet users pick interest in various Virtual Private Network (VPN) services based on a couple of features the VPNs possess. The best VPN is relative to each user. The VPN a gamer claims to be the best might not be top of the list for a stream enthusiast. The features VPN users look out for in a VPN service differ according to utility needs and preferences. These features range from server availability and speed to privacy, security, pricing, and device compatibility.
VPNs have a wide variety of capabilities and specializations due to developers' build. These VPN features are sometimes more efficient than their respective counterparts. Developers load pro features into their VPN service based on what they perceive as their target market's priorities. This review discusses ProtonVPN and ExpressVPN in head-to-head details. With this, you will be guided through to consider which of the two best suits your intended use. In the end, there'll be recommendations, but it's ultimately your choice to decide which VPN takes the win for you.
ProtonVPN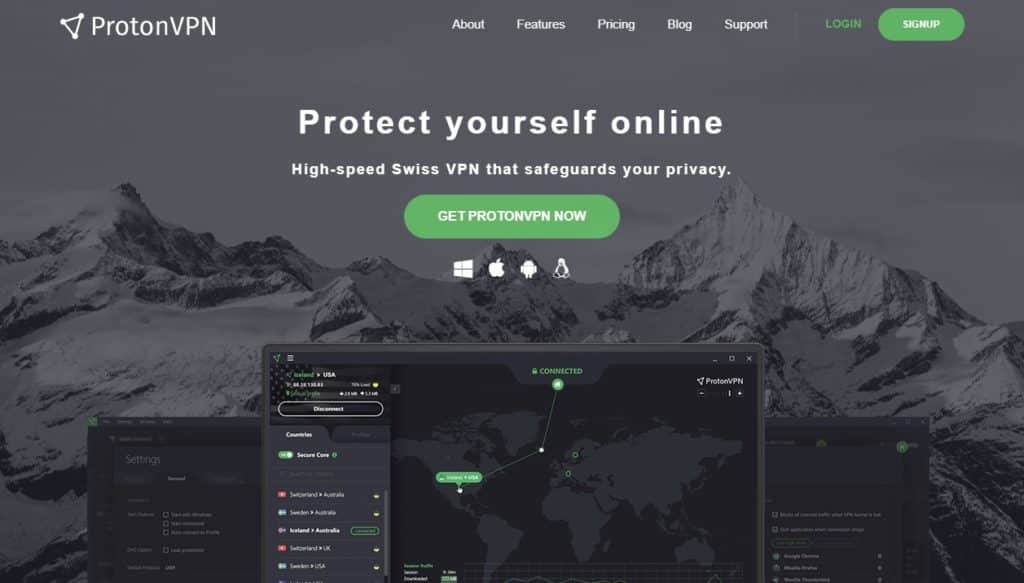 ProtonVPN is a Swiss VPN provider with an excellent server database. This VPN service averages about 20 servers per country— not the best, but still gives you a wide range of server selection options. With its good unblocking ability, you can access various geo-restricted content by connecting to one of the dedicated servers. These servers are not the fastest, but they are of decent speed.
ProtonVPN has a complete set of security features to keep you secure. Some of them are the 256-bit Advanced Encryption Standard (AES), Secure Core, secure protocols, and a kill switch. They go as far as having physical security modifications (which will be discussed further in this review). Being a Swiss VPN, they offer complete transparency, and they are under a legal obligation to keep your privacy and anonymity at its peak. In this regard, they are bound by the law to keep your data safe at all times.
Furthermore, you can safely torrent with ProtonVPN. This VPN service has a free version yet offers unlimited bandwidth of data. It also has software apps for all major operating system platforms and even routers. With just one subscription, you can use ProtonVPN with ten devices at a time.
ExpressVPN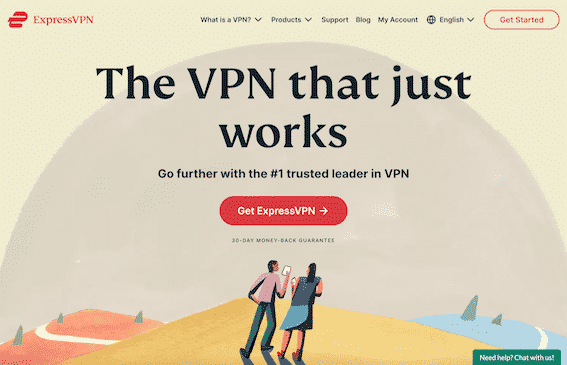 The British Virgin Islands offers ExpressVPN, and it has an excellent server database. On average, ExpressVPN has over 33 servers dedicated to one country. That is pretty much the best, and you can't complain about such numbers. These servers are bolt-fast and are optimized to give you unrestricted access to geo-restricted content in an excellent fashion. You get to stream videos in high quality without buffering.
To make sure users have no worries about having a secure connection, ExpressVPN offers unique security features ranging from military-grade encryption and the Trusted Server technology to a kill switch and data/DNS leak protection. In terms of privacy, this VPN service doesn't keep a record of your online activities and masks your IP address efficiently. Those privacy features are aimed at keeping you anonymous while you surf the internet.
ExpressVPN gives you unlimited bandwidth, and the servers are adequately optimized so that you can engage in peer-to-peer file sharing without being compromised. You also get software for all major platforms and even your browsers and routers. They are all easy to use, and you get your inquiries and complaints attended to swiftly. ExpressVPN allows you to protect a maximum of 5 devices by connecting to just one device's subscription.
Server Coverage
How much a VPN can do for you in terms of cyber-traveling is very important. Taking you from your current location in Asia to a virtual location in America comes with a sense of invisible power.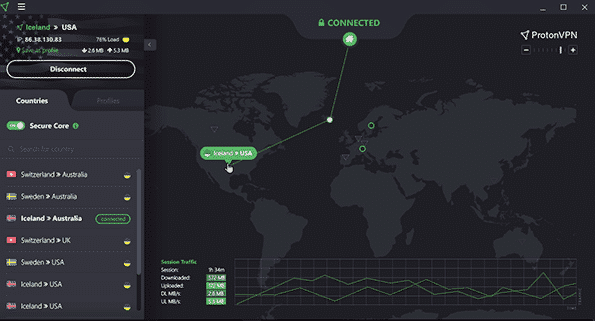 To start with, ProtonVPN has a medium-sized amount of 1,060 servers in 54 countries. Having so many servers is the eventuality of being able to access geo-restricted content in 54 different countries. On the other hand, ExpressVPN comes with a whopping 3,000+ servers in over 90 countries. There's no doubt about which brings better coverage to the table here. With access to such a wide range of servers, you're guaranteed unrestricted access to potential content worldwide.
A win-win is that both VPNs come with unlimited bandwidth. So you can download and upload as much data as you want without any restriction at all. Also, if you're having trouble deciding what server location to go for or you can't find the server you wish to, ExpressVPN has a guide that puts you through and helps you select the best available option.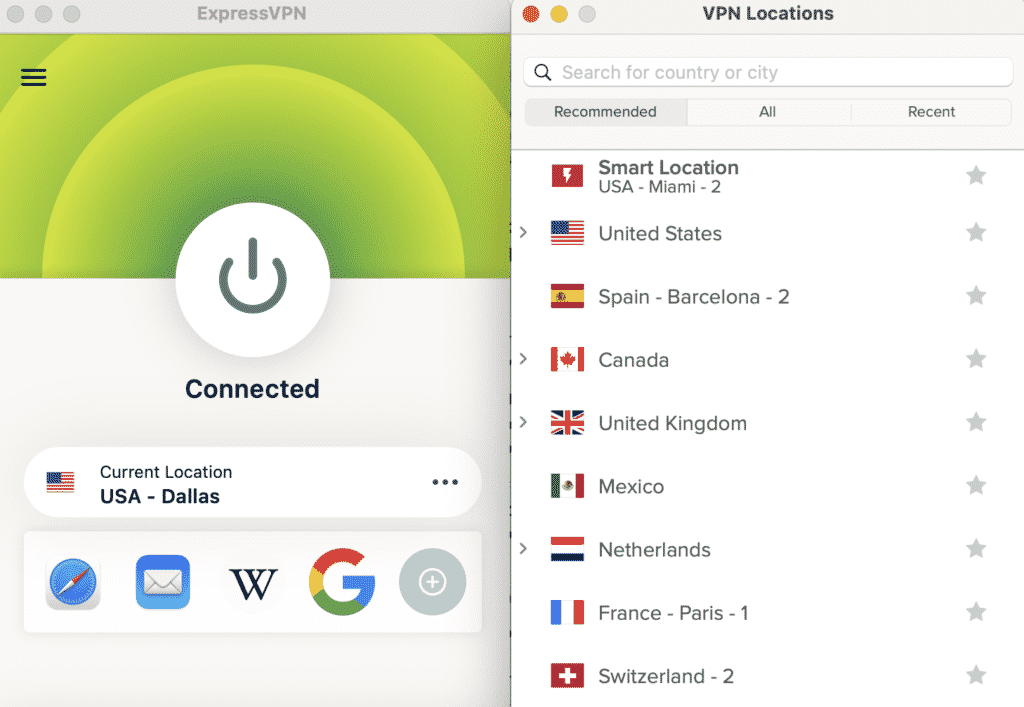 In the case of server coverage, the decision is not so difficult to make as ExpressVPN walks into the room with its head up high.
Speed and Performance
Before deciding to go for any VPN, it is essential to evaluate its server speed because it is essential to enjoying your cyber experience. Especially for users looking to stream content, buffering would do both the VPN service and the user absolutely no good. Unstable servers tend to drop in connection frequently, and the moment you lose connection with your server, your security and privacy are open to invasion. Most VPN services curb this negative by integrating a kill-switch or an always-on feature into their software.
ProtonVPN has servers that are fast enough to give you a very decent connection pace. This VPN has an Always-On feature that automatically re-establishes connection when you lose connection with the VPN server. So the servers are, in turn, very stable.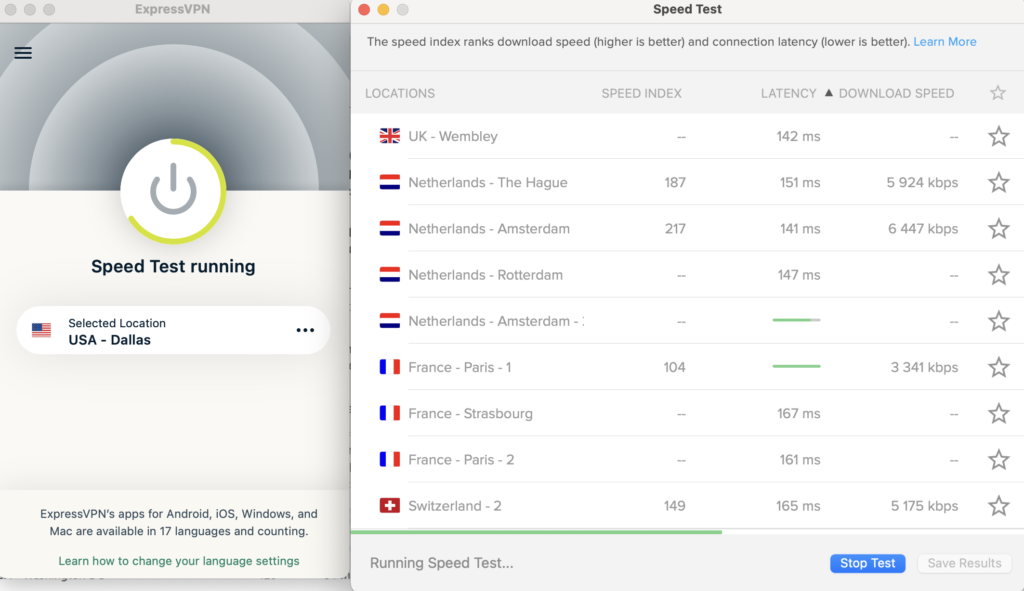 As ExpressVPN comes with 3,000 steady servers, speed isn't compromised in any way. The servers are blazers when it comes to speed. ExpressVPN even has the VPN Speed Test and Smart Location features that help you to check the speed of available servers and show you the best to give you the fastest and most reliable connection at every moment in time. ExpressVPN also has virtual server locations in a bid to make your connection fast and reliable.
Safety and Security Features
You can never get "too much" security. Safety and security features, no matter how excessive, are always welcome because it is one of the fundamental reasons for using a VPN in the first place. ProtonVPN, as well as ExpressVPN, have various effective security measures that ensure you get a secure connection whenever you're on the web.
ProtonVPN has the Secure Core security design that is targeted at protecting your connection from network-based attacks. This feature channels your traffic through multiple servers, making it impossible for the receiving end to track your IP address and alter your connection's security. This VPN service also uses only protocols that have been confirmed to be secure— IKEv2/IPSec and OpenVPN. With this development, you have a good portion of your security doubts cleared.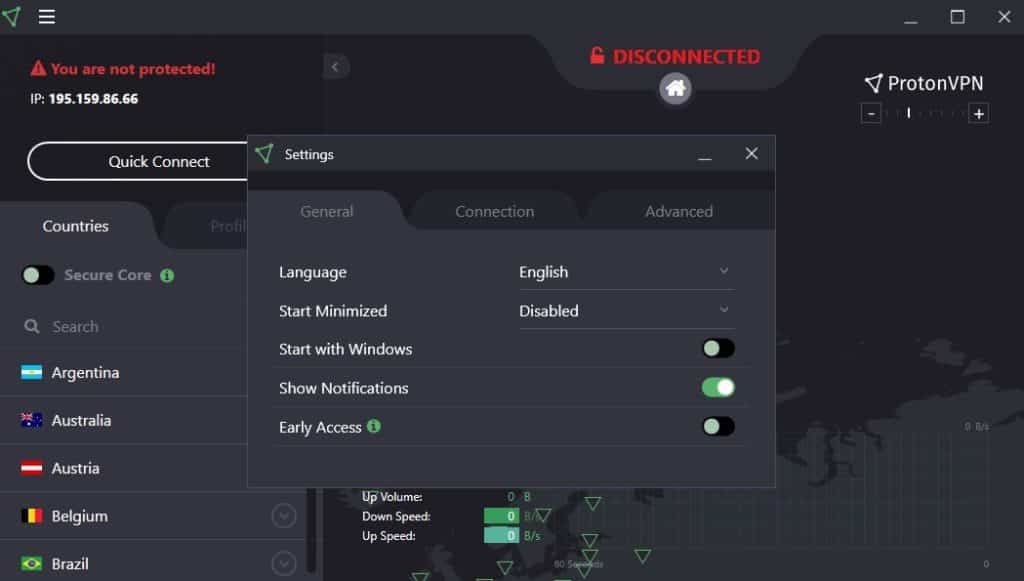 Also, ProtonVPN uses a kill switch to keep your traffic secure at all times. They also protect their servers at the hardware level and go the extra mile of locating their infrastructures underground and in an ex-military base. That's physical security at its peak.
On the flip side, ExpressVPN uses TrustedServer security that makes sure all their servers are up to date without the slightest lag. This technology is peculiar to ExpressVPN, and it runs on the volatile RAM storage, which makes it impossible for the operating system to write to the hard drive. Of course, RAM storage clears all data after a reboot, so information on the server is removed every time it is powered off and on again—giving you another secure edge.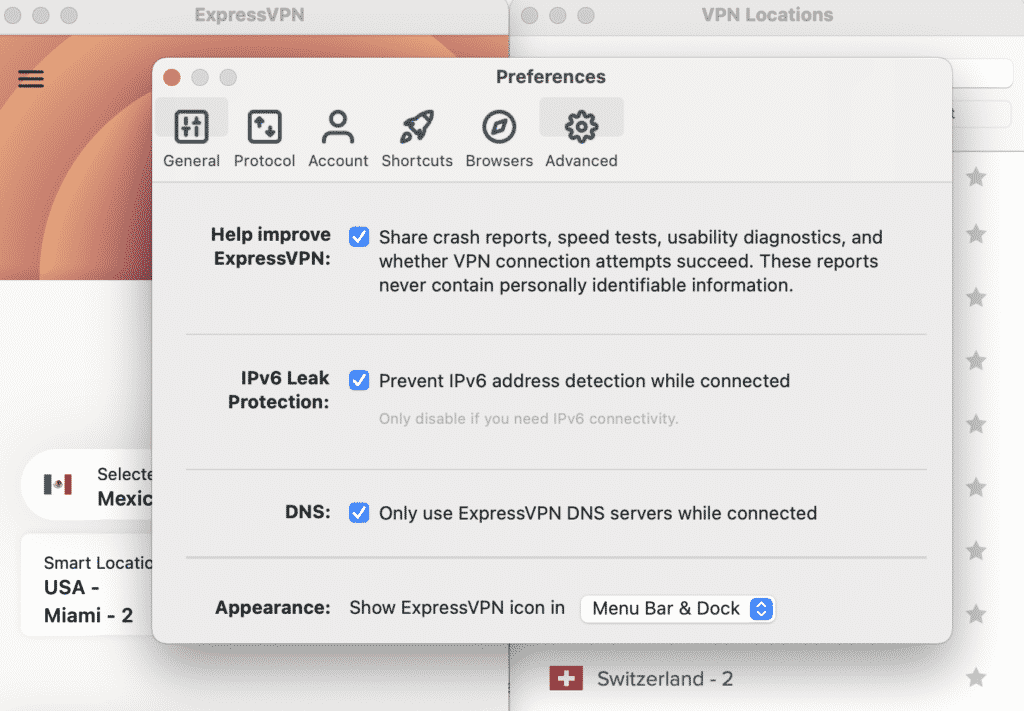 The TrustedServer tech is very consistent and has been audited to approval by a third party agency. Also, ExpressVPN has a Network Lock "kill switch" that blocks all internet traffic if you experience a connection drop by any chance. This blockage prevents data leaks to ensure a secure connection even when the server is down. In addition to that, it also has a private, encrypted Domain Name System (DNS). So ExpressVPN protects your DNS requests automatically.
To wrap it up, both ProtonVPN and ExpressVPN use the AES 256-bit encryption. This encryption has been used in the military and by other agencies of the government. It is regarded as the best encryption detail in today's market and is fully trusted by security experts worldwide.
ProtonVPN and ExpressVPN are locked in a tie on this count, seeing as they both offer similar safety and security features.
Anonymity and Privacy Features
"Virtual" in "Virtual Private Network" is best represented by an anonymous status. To this effect, privacy is of utmost importance to users; when looking to be invisible to cyber crooks and other restrictive services.
The most significant privacy feature of ProtonVPN is that it is a Switzerland-based VPN. Switzerland has been known to have the strongest privacy laws and is outside the EU and US jurisdiction. Under Swiss law, there's no allowance to keep connection logs or perform targeted logging on users. On ProtonVPN, you also get a Secure Core feature that routes your data through multiple servers to mask your actual IP address with virtual addresses.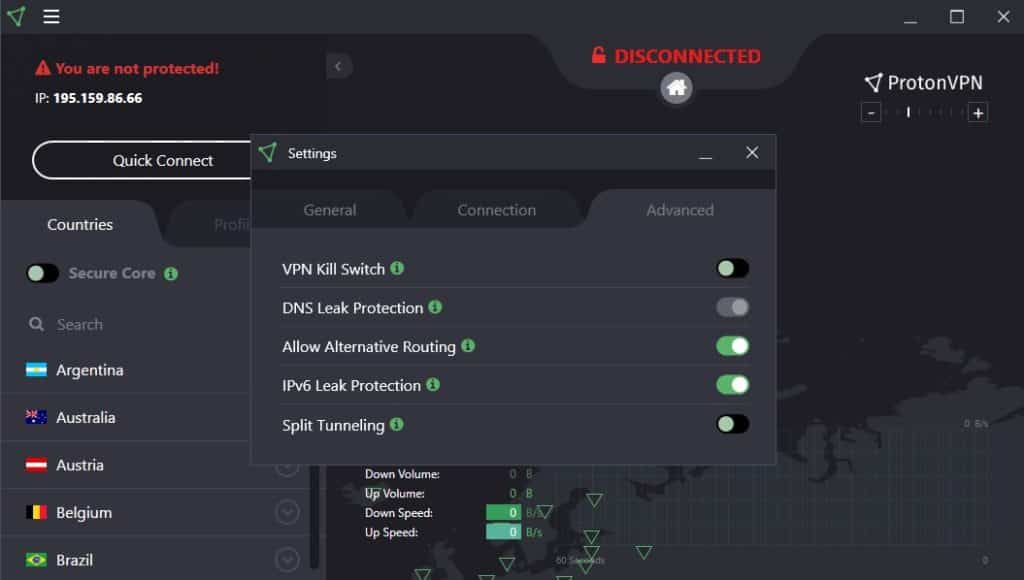 ExpressVPN equally masks your IP address with a virtual address that is shared with thousands of other users. This dynamic makes it impossible for data traffic to be traced back to a single user, protecting every user's identity, data, and overall connection. Using ExpressVPN is one great way to stay anonymous because they never keep logs of your online browsing activity.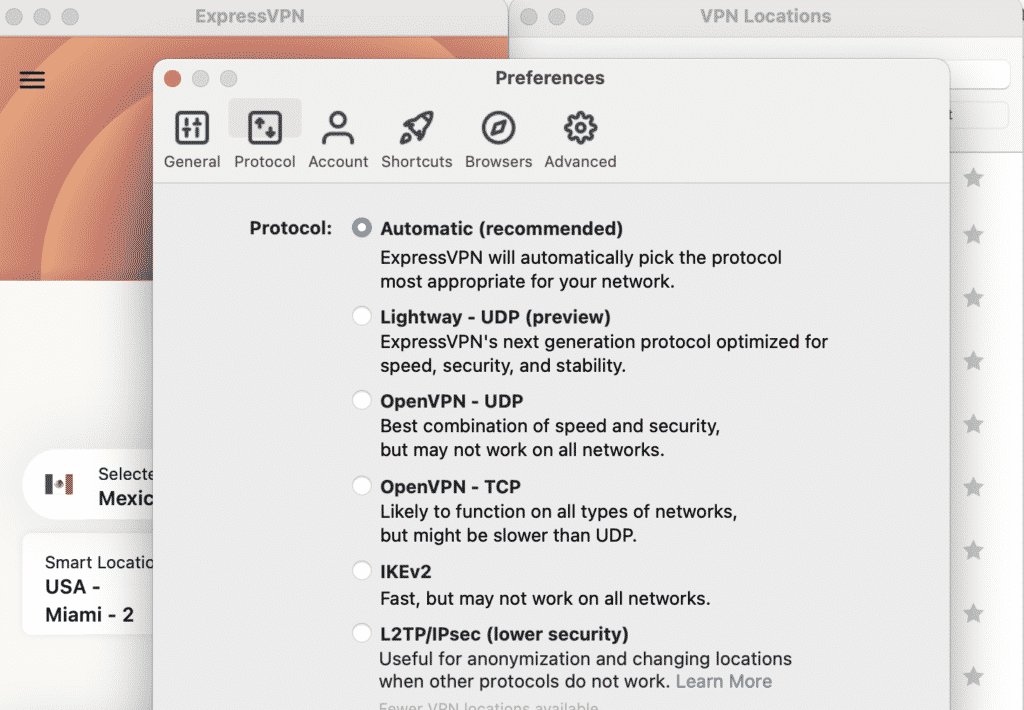 There has been no record of log-breaches to date. This VPN effectively keeps your Internet Service Provider (ISP), government agencies, and hackers away from snooping on your web traffic. Your absolute privacy is such a big deal to ExpressVPN that it offers the payment through the cryptocurrency option; the only information you have to provide for payment is your email. None of your data is collected.
These features help you keep an anonymous and private status all through your browsing period as long as you're connected to the VPN server.
Platforms Supported
It's of no use at all subscribing to a VPN that doesn't have a software for your device. For this reason, it's essential to know what operating systems and routers the VPN supports. Also, VPN users look out for VPN services that can extend their coverage, allowing multiple simultaneous connections. Hence, platforms supported, and the maximum number of simultaneous connections are essential criteria for making a shortlist of choice VPNs.
To start with, ProtonVPN is currently available on 6 major platforms. It has software available for Windows, Mac, Linux, Android, iPhone, and Routers. Also, it allows the connection of up to 10 devices at a time with one single subscription.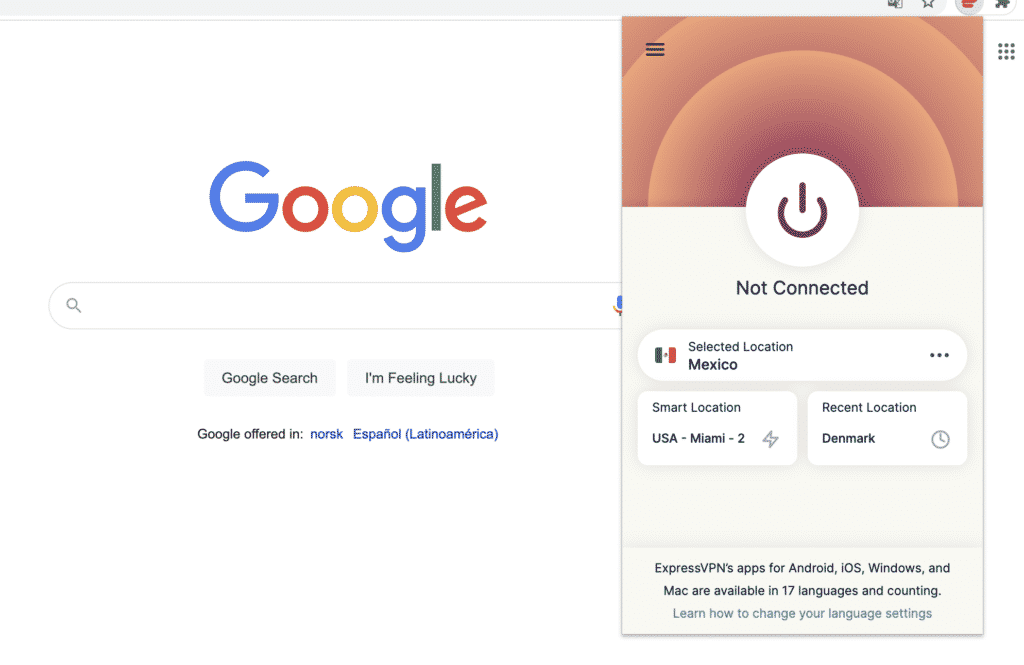 ExpressVPN, on the other hand, is available on close to 10 platforms. Mac, Windows, iPhone, Android, Linux, Routers, Browsers (Chrome and Firefox), Smart TV, and even Game consoles. ExpressVPN allows unlimited device connections on the router app. Meanwhile, you only get a maximum of 5 simultaneous connections on other platforms.
The specifications here clearly put ExpressVPN ahead of ProtonVPN with the number of platforms it supports. However, ProtonVPN doubles the number of connected devices that ExpressVPN allows. This gives it some credibility on this parameter.
Streaming and Torrenting
Usually, the content you have access to is limited to your location. What you could stream while you were in Korea might not be accessible to you when you go on vacation to the Netherlands. On more technical grounds, VPN lifts that embargo and gives you a pass to access as much content as you want. If you're going to watch your favorite show in a country where such content is blocked, all you have to do is connect to a VPN server of a country that allows that content. Connecting to a Korean server while you're in the Netherlands will enable you to stream K-Drama like you're at home in Korea.
ProtonVPN can make geo-restricted streaming content in 54 different countries available to you. That's basically because it has servers in 54 countries that you can connect to. This VPN can unblock streaming services such as Amazon Prime Video, BBC iPlayer, Disney+, ESPN+, HBO, Hulu, and Netflix, among others. The downside with ProtonVPN streaming is that the feature is only supported on their macOS and Windows app. You'll need their top subscription plans to be able to stream on your Android or iPhone.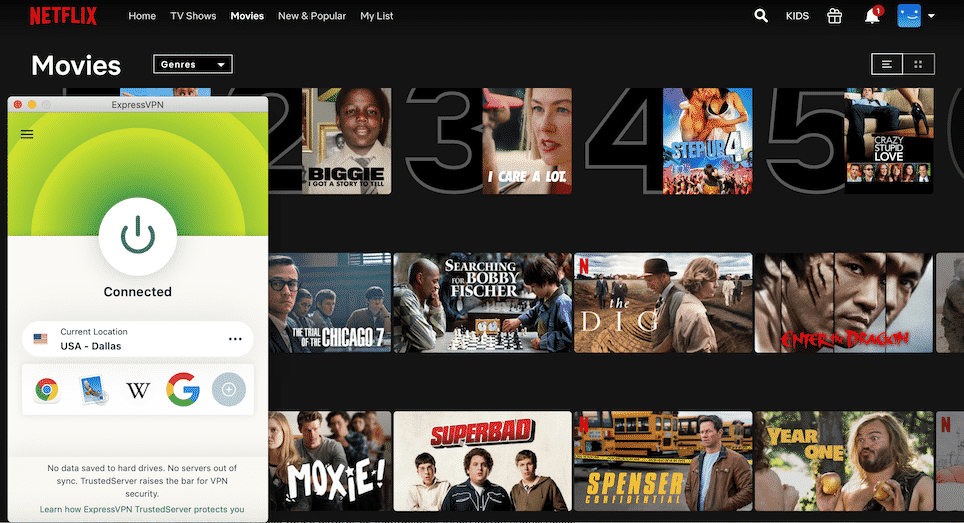 For ExpressVPN, you get the luxury of potential access to geo-restricted content in up to 94 countries. ExpressVPN offers secure access without compromising your speed or privacy. It works well for Netflix, Twitter, Facebook, Instagram, Disney+, Spotify, Google, Wikipedia, BBC iPlayer, Prime Video, YouTube, ESPN, beIN Sports, HBO, Hulu, etc. You get to stream the video content with ultrafast speed and in HD.
When it comes to torrenting, you get to share large files in a peer-to-peer fashion, but you're exposed to the risk of invasion by bugs and cybercriminals. While torrenting, you can literally see the IP address of everyone torrenting, and your ISP can record your online activity and easily track it back to you. To this effect, VPNs have been introduced to keep your tracks clean while you torrent. For you to trust a VPN for torrenting, it is essential to find out if the VPN keeps no log, has top-class security encryption, and supports P2P file sharing. In this case, both ProtonVPN and ExpressVPN are torrent-safe.
Plans and Pricing
Some VPNs are more expensive than others. As much as you may want to be thrifty, the expensive status might also mean they offer more in turn. VPN subscription plans come in variations of plans and price tags for different durations. Getting the one that suits your demand and pocket is important, and that's why the plans and pricing of both VPNs under review are well spelled out as follows.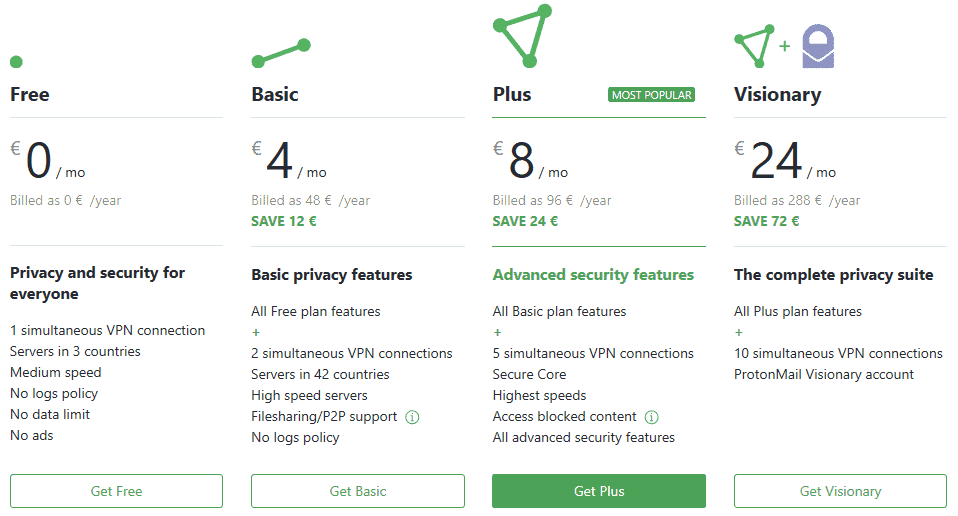 ProtonVPN, in its abundance, has 4 different subscription plans — Free, Basic, Plus, and Visionary. For all pricing plans, you can pay in any of the following currencies— Euro (EUR), US Dollars (USD), and Swiss Franc (CHF). The Free plan requires no payment, but you will only have access to 3 countries on 1 connected device. Even though they still don't keep logs on this plan, you might suffer a bit of medium-ranged speed. You'll not be able to access blocked streaming content, and it doesn't support torrenting.
ProtonVPN charges you €4 per month on the Basic plan, and you get 2 VPN connections to servers in up to 50 countries. You get fast speed and your traffic data private, but you still can access geo-restricted content with this plan. Another upside here is that the Basic plan is optimized for torrenting.
ProtonVPN tags the Plus plan as the "BEST OFFER." They charge you €8 per month, but in this case, you get 5 VPN connections, servers in 50 countries at the highest speed, you can torrent and access geo-blocked content, and they do not keep logs of your traffic data. Finally, it's not a dream on the Visionary plan, but you have to pay €24 per month. And for this, you get all the Plus plan features, but in this case, you also get 10 VPN connections and a free ProtonMail Visionary account. With ProtonVPN, you get a 30-day money-back guarantee on paid plans.

Moving on to ExpressVPN, you have 3 different plans available to you. The first one is a one month plan that bills you $12.95 per month. For 6 months, you pay $9.99, while for the one they tagged as "MOST POPULAR," the 12 months plan, you pay as low as $8.32 every month. All these plans come with the premium features in full, and if you're not satisfied after 30 days, you can request a refund based on their 30-day money-back guarantee scheme. With ExpressVPN, you can pay in Bitcoin and via PayPal.
Apart from the pricing and features available for respective plans, these 2 VPN services set their payment strategies up differently, as we've reviewed. ExpressVPN is slightly more expensive than ProtonVPN and has no free plan. It is, however, very reputable for its commitment to all it claims to offer.
Pros and Cons
In this section, we would examine the advantages and possible disadvantages you may experience as you use either of these VPNs. It's a collation of the major points we have discussed in our review above.
ProtonVPN
Pros
Based in Switzerland: Switzerland, as a country, has been known to have stringent privacy laws. These laws enforce the essence of ProtonVPN, giving you an unknown status online. They are under an obligation not to sell you out to your ISP or other cyber crooks.
Quality security standards: You can't go wrong with military-grade encryption. ProtonVPN offers you this security detail on all their plans, including the Free plan. Also, it uses only protocols that have been confirmed to be secure alongside a kill switch mechanism.
Strict no-log policy: ProtonVPN doesn't keep track of your online traffic. With this policy in place, they do not have records of what you do online, so they can't possibly give out your information to your ISP or government agencies.
Adequate customer support: ProtonVPN may not have the best customer service around, mainly because requests and complaints are restricted to emails, and that formality sometimes puts users off. But they do attend to your complaints and suggestions if you can get around the formality.
Leak-free connection: ProtonVPN is equipped with data-leak protection technology. That means your traffic data is secured so that there's no "hole" through which hackers might steal your data along the line of traffic transfer.
Decent unblocking ability: The paid version of this VPN service can unblock most popular video and music streaming sites that might be restricted in your current location.
Ease of installation and use: Relatively, it's quite easy to install the ProtonVPN software.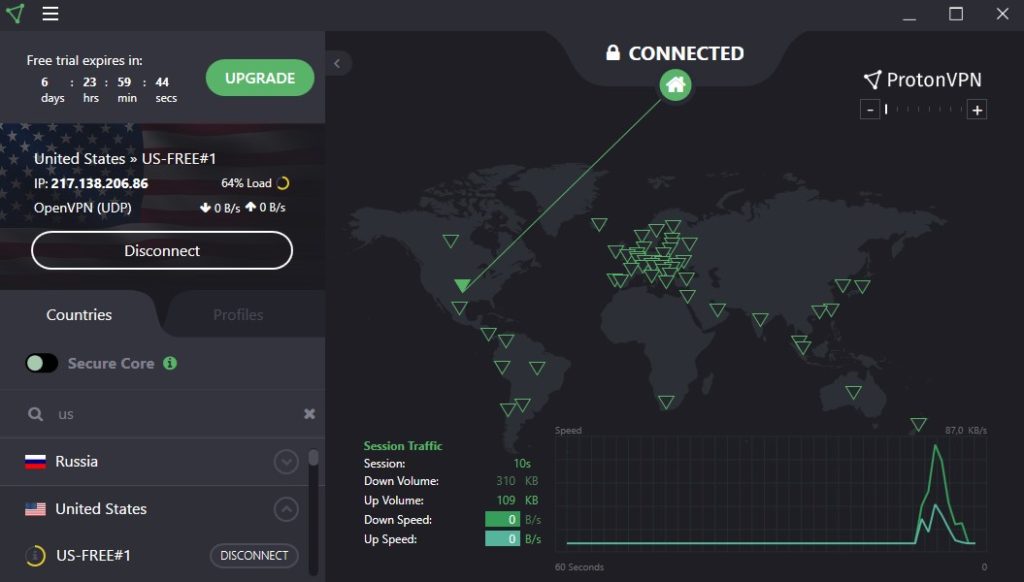 Cons
Averagely fast servers: The servers of this VPN service are definitely not slow, but they're also not the best as you'll find others with much better speed. In this case, ProtonVPN is just okay in terms of speed —still a good catch.
Limited torrenting: Torrenting is limited to the paid plans only. On the Free plan, you do not get torrent-optimized servers. But, hey, it's not a completely bad idea for you to pay for a VPN plan that supports P2P file sharing.
ExpressVPN
Pros
Super-fast servers: ExpressVPN servers are ultra-fast. They are, no doubt, one of the fastest in the VPN market. ExpressVPN also has a speed-test feature that eases you on selecting the fastest servers available to the location you're looking to connect to.
Adequate security detail: ExpressVPN has a Perfect Forward Secrecy detail, and with that, nothing can go wrong with the AES 256-bit encryption. In addition to that, having the kill switch feature alongside the military-grade encryption makes ExpressVPN an ultimately secure VPN.
Zero-logging policy: ExpressVPN assuredly doesn't keep any of your traffic data — especially data that can be used to identify you. This helps to tick your privacy box, so you have no worries about cyber anonymity.
Full-time torrent support: Unlike ProtonVPN, ExpressVPN has their servers fully optimized for torrenting regardless of what plan you subscribe to.
Reliable unblocking ability: ExpressVPN unblocks geo-restricted content effectively, starting from video and music streaming sites to search engines and social media platforms. ExpressVPN has been confirmed to always deliver when giving you access to geo-blocked content.
Responsive customer care service: With 24/7 live chat support and an always-on-screen customer service navigation on their website, ExpressVPN has top-notch customer support.
Easy-to-use interface: As much as this VPN service has sophisticated security and privacy features, the software is relatively easy to navigate through. Even for first-time VPN users, navigating through any ExpressVPN software is not much of a task.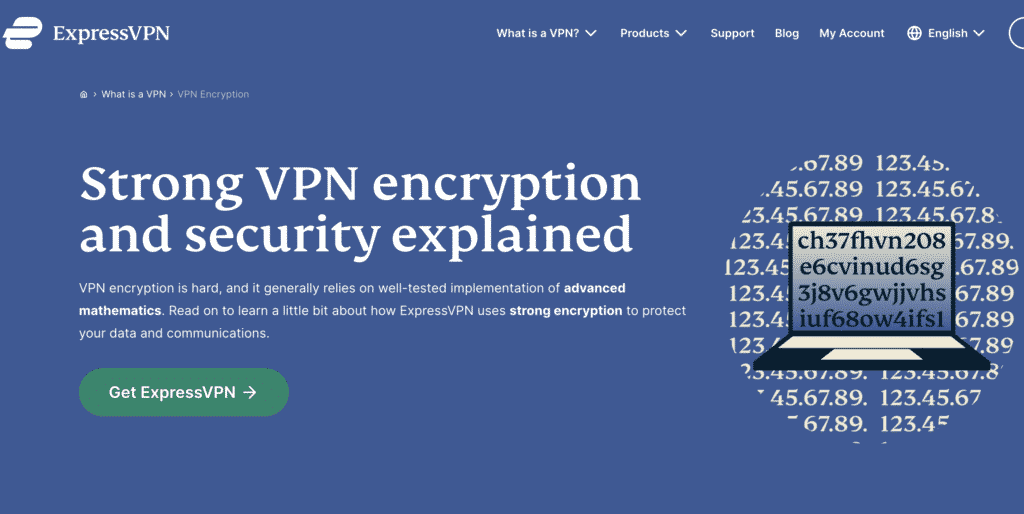 Cons
Relatively costly plans: The major downside to using ExpressVPN is the pricing expense on subscription plans. On the brighter side, it is good to know you're paying for good quality, and you'll get the value of your money in return. But in all sincerity, ExpressVPN is expensive when compared to other decent VPN services out there.
Our Recommendation
With a better server database, better customer support, and a fantastic unblocking ability, it's quite apparent that ExpressVPN is the bigger deal amongst the 2 options. From this review, you will discover that ProtonVPN is the better bet when it comes to simultaneous connections. On the bigger stage, ExpressVPN has a glorious delivery when it comes to speed, unblocking geo-restricted content, and top-tier encryption details. Overall, it's not much of a debate that ExpressVPN is the better provider here, and therefore our recommendation.