How to Watch Tsutaya Outside Japan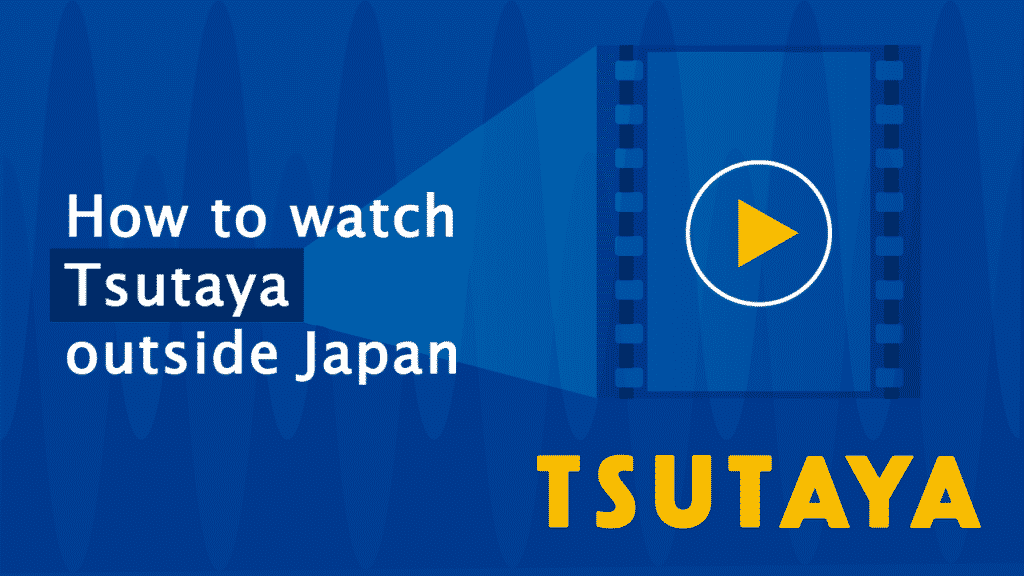 Tsutaya started out as an online delivery rental service offering a broad range of Japanese DVDs and CDs. In June 2013, the producers of Tsutaya TV began to offer video streaming services to subscribers of TSUTAYA DISCAS, their online delivery rental service. Since then, Tsutaya Discas has become the most prominent online source of videos and rental streaming in Japan. Currently, the service is restricted only to people in Japan; however, with a VPN, you can bypass this restriction.
Tsutaya operates a service model that provides video content on-demand, using the old rental model. The Tsutaya TV plan lets you select about 20 titles a month out of 4,000 options. To access this service, you would need to download a Tsutaya app and watch your videos on your gadget.
If you attempt streaming Japan Tsutaya abroad, you will receive a message stating a geo-error: "Tsutaya TV not accessible in your country." This is where a VPN steps in. It helps you to beat Tsutaya's systems and access their video content from anywhere in the world. Keep reading to find out how to use a VPN to watch Tsutaya outside the country.
Why is Tsutaya TV blocked outside Japan?
When it comes to technological advancements, Japan is a country at the forefront. They are also very strict with matters concerning breach or violation of copyright laws of any kind. Several sites purchase rights to broadcast premium Japanese video content; however, they can only display these contents in Japan. One of these sites is Tsutaya. This means that without a Japanese IP address, you would not have access to watch Tsutaya.
How to access Tsutaya TV's videos abroad
You can get access to videos and other media on Tsutaya by using a VPN service. Using a VPN is a process that is quite simple. VPN stands for Virtual Private Network. Just like most technological tools, it comes in free and paid versions.
With a VPN service, you can connect to a secure network via the internet. The VPN allows you to browse the internet using a server's internet connection. Consequently, the IP address of that server is allotted to you temporarily. For example, if you connect to the server a VPN service has in Japan, you get a Japanese IP address.
That way, you will fool Tsutaya's systems to think that you're in Japan. So, you will be allowed to access Tsutaya's video content that cannot be otherwise accessed by users outside Japan. VPNs can also be used to hide your browsing history from outsiders when you're on public Wi-Fi, and more.
Best VPNs to access Tsutaya outside Japan
There are many VPNs on the market to choose from. Selecting which one is best to access Tsutaya TV can become a chore. Below are five of the most effective VPNs that can give you access to Tsutaya TV's site.
ExpressVPN

Features
Number of servers: More than 3,000
Speeds: Unlimited
Server locations: 160 in 94 countries
Maximum devices supported: 5
24 live chat: Yes
30 day money back guarantee: Yes
Pros/Cons
Fastest VPN out there
Strict no logs policy
256-bit AES encryption
This is undoubtedly a leading VPN service in the market, and it has garnered a lot of positive feedback for many reasons. ExpressVPN is offered by ExpressVPN International Ltd, a British Virgin Islands-registered company. It has become more popular over the years due to its outstanding qualities and reliability. This VPN has several advantages that distinguish it from the others.
If you want a VPN that will give you the right privacy and speed to gain access to content on Tsutaya TV, this is one of the most suitable VPN services to use. ExpressVPN runs over 3,000 remote servers in 160 locations and 94 countries across the globe with a reasonable amount situated in Japan. It is these ExpressVPN servers in Japan that will enable you to stream videos on Tsutaya TV. When you connect to any of them, you can be sure of an unlimited bandwidth to view as many videos as you'd like on Tsutaya TV.
In addition to speed and worldwide presence, ExpressVPN is simple to use and can be used to access Tsutaya TV from any electronic device of your choice. This VPN service operates on Windows, iOS, Linux, Android, and Mac devices. It also offers web extensions that are usable with different browsers. Another striking feature this VPN service has is its timely customer service system. If you do not like how the VPN works or if it does not meet your expectations, you can get a refund within a month. How about that?
Pros:

Fastest VPN out there;

Strict no logs policy;

256-bit AES encryption;

Lowest price: $6.67
NordVPN

Features
Cryptocurrency accepted? Yes
Simultaneous connections: 6
Dedicated IP-addresses? Yes
Servers: 5342 in 58 countries
Pros/Cons
Lots of pricing options
Netflix support kept up to date
256-bit AES encryption
NordVPN is the next best VPN to watch Tsutaya outside Japan. It is situated in Panama, and it offers privacy, unlimited bandwidth, and high speed to view as much content on Tsutaya TV as you would like.
One thing that is special about NordVPN is its system of double encryption. That is, all your data is encrypted twice to further reduces the chances of it getting into the wrong hands. Anytime you connect to any of the VPN's servers, you can be sure that your logs will be kept private. You can also choose from two features: Ultra-secure or Ultra-fast. There are 5,000 active NordVPN servers in over 60 countries of the world. Several of these servers are strategically located across Japan.
You can use NordVPN to access Tsutaya TV on virtually all available operating systems – Linux, Windows, Android, macOS, iOS, etc. Besides these, you can connect up to six devices at the same time to one account. Like other VPN services here, you'll get a month's money-back guarantee if the service doesn't please you. But really, it has extensive features and excellent speed which you'll enjoy.
Pros:

Lots of pricing options;

Netflix support kept up to date;

256-bit AES encryption;

Lowest price: $3.71
Surfshark

Features
Free trial? Yes
Simultaneous connections: unlimited
Ad blocking? Yes
Servers: 1000+ in 61 countries
Pros/Cons
No footprints
Allows torrenting
256-bit AES encryption
Another VPN that is useful in watching Japanese content on Tsutaya TV is SurfShark. The service has grown in popularity over the years. So, how does this VPN service make a difference?
Virtually all VPN services experience a decline in speed occasionally. However, this particular VPN is known for top-notch consistency when it comes to high-speed streaming of videos on Tsutaya TV. So, you will hardly experience buffering while watching Tsutaya videos using SurfShark.
It has more than a thousand servers globally (many of which can be found in Japan). This service has a user-friendly interface, which makes it so easy to operate.
Surfshark is a VPN service that offers high quality in return for a relatively lesser price. If you opt for a more extended subscription plan, you'll get discounts. The icing on the cake is their impeccable customer service. They are available 24 hours a day, seven days a week, to resolve all of your issues. You can opt to use either of live chat, telephone conversations, or email to get in touch with their customer service, and you will get a response riki-tik.
Pros:

No footprints;

Allows torrenting;

256-bit AES encryption;

Lowest price: €2.49
UltraVPN

Features
One click connect? Yes
Servers: 100+ superfast servers
Bandwidth cap? No
Platforms: Mac, Windows, iOS, Android
Pros/Cons
Firewall
Apps for all devices
256-bit AES encryption
Not as many servers as others
The fourth on our list of VPNs to gain access to Tsutaya's premium Japanese content is UltraVPN. This service has garnered a lot of positive feedback in several countries due to its stable servers and the overall quality of service.
UltraVPN has servers in over 50 nations in the world, Japan included. You may connect with any UltraVPN server in Japan and watch videos with ease on Tsutaya. The privacy and speed of this VPN service are great features you'll enjoy at its reasonable prices.
You can access it on any iOS, Windows, Mac, Linux, or Android device. It also doesn't require too much configuring or setting up. It follows a simple process, and before you know it, you can start to watch your favorite shows on Tsutaya.
Pros:

Firewall;

Apps for all devices;

256-bit AES encryption;

Lowest price: €2.99
CyberGhost

Features
Connected devices at once: 7
Automatic kill switch? Yes
One click connect: Yes
Servers: 5900 worldwide
Pros/Cons
No logs policy
24/7 live chat
Apps for mobile devices and routers
Another VPN service you can use to access Tsutaya TV is CyberGhost. Now, let us look at what differentiates this VPN from the rest.
The first thing is that this service has more than 5600 servers in over 81 countries. Within Japan alone, you can find about ten that enable access to Tsutaya's content. The service has state-of-the-art security features like protection against DNS leak, standard-grade encryption, a kill switch, etc.
CyberGhost started operations in 2011. Since then, it has supported torrenting, and it is available on Windows, Linux, iOS, macOS, Android, among other operating systems. You can connect up to 7 of your devices simultaneously to one CyberGhost subscription plan. With the unlimited bandwidth and speed of CyberGhost, you will have a great time watching videos on Tsutaya TV. It has an excellent customer care service to assist you in case you have any problems. To crown it all, there's a 45-day money-back guarantee peradventure you're not satisfied with the VPN.
Pros:

No logs policy;

24/7 live chat;

Apps for mobile devices and routers;

Lowest price: €2
How to connect to a VPN
The most common method is to use a VPN application installed on your device. An alternative is to install the extension on your browser, although that might not come with as many functionalities as using the app itself. A VPN creates a secure connection between your device, server, network, or other digital devices. In many cases, you can connect to a VPN by merely registering with the VPN service and installing the app on your device. Most VPN providers provide software for all major operating systems.
How much does a VPN cost?
A quality, safe VPN service will usually cost you between $5 and $12 per month if you pay monthly, or as little as $30-75 per year if you're willing to pay for a couple of years upfront. This means the more months you subscribe for at once, the less you pay! However, the price above is just an estimate; it does not apply to all VPN services. 
How to determine a good VPN
A superb VPN service is secure, but not all VPN services are excellent. To choose a reliable VPN service, you'll want to look for features like:
A strict no-logging policy.
A transparent owner.
AES 256-bit encryption.
DNS leak protection.
An active security team that stays on top of any newly exposed vulnerability.
A kill switch to avoid exposing your IP address by mistake.
Are free VPNs suitable for use?
If you're trying to save money, you have probably tried out a few VPN services, which would not cost you anything. But is that advisable?
With a free VPN, you will have to settle for whatever you get. First of all, most free VPN services lack security. If you're not paying any money for using the service, it probably means, in a way, that you are the product. This was precisely the case with the free VPN service, Hola, in the year 2015. Hola was caught selling the bandwidth of users to a botnet.
You wouldn't want the resources of your computer to be accessed by others. Or, like in Hola, to be sold to a third party. So, investing in a paid VPN service is really the best option. For as low as $3 per month for some VPNs, you can have peace of mind that you're browsing the internet with a secure connection. Read more about free VPNs for Japan in this article.
When is using a VPN illegal?
VPNs are lawful for use in many countries, including Japan, but they can be associated with illegal online activity. Using a VPN is legal, but keep in mind that whatever is unlawful without using a VPN is still unlawful when you're using one (e.g., downloading copyrighted material). Some countries, such as Russia, China, North Korea, and Iraq, ban or restrict VPN usage. This means that the use of a VPN in any of these countries is illegal.
It is not unlawful to access geo-restricted services like Tsutaya using a VPN, even though it breaches their conditions of use. This is another reason to opt for premium VPNs as most of them do not retain your logs, and therefore, would have nothing to share, should the authorities ask for it.
In conclusion
From all the above information, you can agree that accessing Tsutaya TV abroad is very easy. All that is needed is a VPN that suits your needs. Of course, the country you're in has to permit the use of VPNs in the first place. If VPNs are legal in your country, so long as you use the VPN lawfully, you do not need to worry. The VPNs on this list all have amazing features and excellent customer service. To top it off, some have a 30-day money-back guarantee. What more could you ask for?