Do You Need a VPN When You're Using Public Wi-Fi?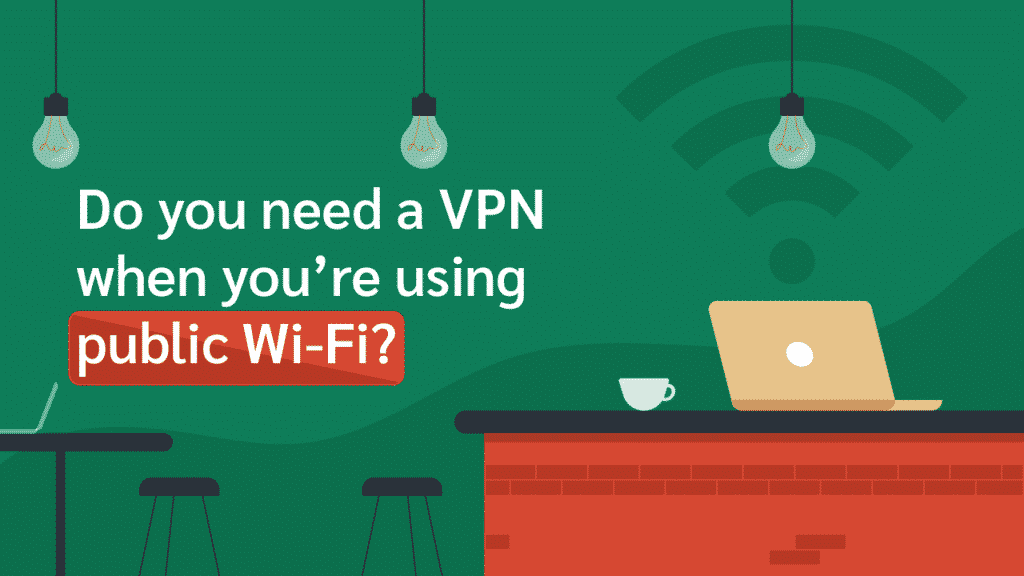 Public wi-fi is everywhere and it's a win-win for everyone. Other than the fact that it's free, you can find it in almost every corner of the city. The only problem is that it's unsecure. But it's inevitable; at some point, you might need to use public wi-fi to do your own stuff. But how do you keep it secure?
It's almost impossible if you think about it. How can you keep a coffee shop's wi-fi safe if it's open to everyone? Well, there actually are ways on how you can keep your connection safe from any type of attack or problem.
What is a public wi-fi?
Based on its term, a public wi-fi is a wireless internet connection that allows everyone to connect to it. Public wi-fi can be found in most places and it's often unsafe.
By unsafe, we mean that the risk of people connected to it is higher than those who have a more private connection. Since it's an open field, anyone has the opportunity to connect to it; even the last people we want to deal with.
Where can we find public wi-fi networks?
As we have mentioned, public wi-fi can be found in almost every corner of the city. To be totally frank, they're not hard to find. In fact, we might even detect one while we're walking, while we're taking the bus, or even while we're taking coffee at our favorite cafés and coffee shops.
On average, there are over 150,000 public wi-fi hotspots in the world. This means that in every business district, you can find a public wi-fi network. But most commonly, public wi-fi hotspots are found in the following locations:
Bars, restaurants, coffee shops, and cafés
Hotels and airports
Shopping centers and malls
Public parks and public locations
Commercial spots
These are the prime locations for cyber-criminals when hunting for prey. Why? Because most of the time, these public networks are open and unsecure.
Why are public wi-fi hotspots unsafe?
When you've encountered a public hotspot, did it ask you for a password? If no, then that network is considered to be unsecure. A wi-fi network is tagged as unsecure if it doesn't require you to input a password to access it.
These networks are most known to be "open" networks and involve connections that are not encrypted. Connecting to these types of connections is like putting one leg in the grave. Hackers and other cyber-criminals consider these hotspots to be easy targets because they're un-encrypted.
The following are the types of risk involved in connecting to an "unsafe" and "unsecure" wi-fi hotspot:
Malware
Hackers
Man-in-the-Middle Attacks
Fake wi-fi hotspots
Malware
An open unsecure network can be used by attackers to inject malware into the device of everyone connected. Malware is a dangerous software because it can provide the attacker access to your device. This includes all files, apps, contacts – they can even eavesdrop on you.
Hackers
Cyber-criminals can force-into the unsecured network to collect confidential information from people who are connected. They can find out your credentials for your social media accounts and financial accounts.
Man-in-the-Middle Attacks
A man-in-the-middle attack is a type of attack that an attacker goes between two networks. The attacker joins the conversation without any of the networks knowing. This attack is mostly the culprit for exploiting real-time communication and transactions and eavesdropping.
Fake wi-fi hotspots
Ever see a public wi-fi open for all? Great, DON'T CONNECT TO IT. There's a big chance that that hotspot is set-up by cyber-criminals to snoop into your device and get information from you.
What information is at risk from connecting to these public wi-fi hotspots?
As we've mentioned above, your information is at risk if you connect to unsecured hotspots. When you're using these networks, here's the information that are possibly at risk of being stolen:
Your full name
Your exact physical location/address
Websites you recently visited/ Websites you regularly visit
Files from your devices
Login credentials such as usernames and passwords
Sensitive information such as credit card numbers
Personal communications like emails, messages, phone calls, chats, etc.
Everywhere you go, there are unsecured public wi-fi hotspots. You might not know it yet, but the one you're using on the way to work might be unsafe. So how can you be safe while using public wi-fi? There are various ways on how you can ensure that your connection is secure. These include:
Turning or enabling your firewall
By turning off "automatic sharing"
By using HTTPS for all websites you visit
Disconnecting when you're not using the wi-fi
By using VPN
I can be safe while being connected to a public wi-fi hotspot using VPN?
All of those tips are to minimize the risks involved. Using VPN, however, you're literally zeroing out the risks. A VPN or a Virtual Private Network is a type of connection that is safe and secure wherever you are. You can think of it like this: a VPN is like a tunnel that links your local IP address (your device) to the network. This means that the only ones meeting are you and the network.
What a VPN does is that it encrypts all of your internet traffic making it more secure and private. Yes, not even ISPs will be able to see the activity you do online. Not even the government can. There are a couple of VPN providers available; there are countless VPN services but of course, the great ones top the list.
Here are some of the best VPNs that can help you be protected even if you're connected to public wi-fi.
ExpressVPN

Features
Number of servers: More than 3,000
Speeds: Unlimited
Server locations: 160 in 94 countries
Maximum devices supported: 5
24 live chat: Yes
30 day money back guarantee: Yes
Pros/Cons
Fastest VPN out there
Strict no logs policy
256-bit AES encryption
ExpressVPN takes pride on being named the top trusted leader in the VPN service. They offer unrestricted access wherever you are in the world. They have over 3,000 different servers scattered around more than 160 locations worldwide.
To make it more exciting, ExpressVPN allows a total of five simultaneous devices under one subscription. What's better is that it could be in any platform. Meaning, you can use it both on your phone and on your laptop at the same time!
The price of $12.95 a month is reasonable. In fact, it's cheap. Think about it, with this price, you will never have to worry about your data being monitored anymore. No one, but you, and the network, will be able to see your online activity.
How can you be secured while using ExpressVPN over public wi-fi?
ExpressVPN has a team of dedicated security engineers who work hand-in-hand to upgrade the military-grade protection they're offering. With ExpressVPN, you don't have to think about being hacked anymore.
Pros:

Fastest VPN out there;

Strict no logs policy;

256-bit AES encryption;

Lowest price: $6.67
NordVPN

Features
Cryptocurrency accepted? Yes
Simultaneous connections: 6
Dedicated IP-addresses? Yes
Servers: 5342 in 58 countries
Pros/Cons
Lots of pricing options
Netflix support kept up to date
256-bit AES encryption
NordVPN is one of the VPN providers featured in Forbes, BBC, and The Huffington Post. This clearly means that security is its priority. You can choose to connect to over 5,000 servers in 59 countries all around the globe. Not just that, they offer state-of-the-art internet speeds, too!
With a 1-month plan priced at $11.95 a month, you won't even think about hackers wherever you are anymore.
NordVPN allows a total of six simultaneous device connections at a time. It's allowed in a vast majority of operating systems such as Windows, MAC, Android, and OSX. They even offer a 30-day money-back guarantee if they fail to deliver their promise!
How can you be secured while using NordVPN over public wi-fi?
NordVPN offers cutting-edge security which will definitely hide who you are and what you're doing. Your online activity will be hidden from both the ISPs and the government. How safer can you be with NordVPN?
Pros:

Lots of pricing options;

Netflix support kept up to date;

256-bit AES encryption;

Lowest price: $3.71
Surfshark

Features
Free trial? Yes
Simultaneous connections: unlimited
Ad blocking? Yes
Servers: 1000+ in 61 countries
Pros/Cons
No footprints
Allows torrenting
256-bit AES encryption
SurfShark VPN brags about them prioritizing you and your family's safety while on the net. Having over 1040 servers in more than 60 countries, SurfShark VPN is the bomb. With them allowing unlimited number of devices under one subscription, you really can feel safe about your family's digital privacy.
SurfShark offers an $11.95 monthly subscription for one-month usage. But they offer a $1.99/month subscription if you agree to purchase a 24-month deal! They also offer a 30-day money-back guarantee if you're not convinced about their services.
Not just that, SurfShark also has different perks such as ad-blocking, malware-scanning, and many more features that will definitely keep you free from privacy risks.
How can you be secured while using SurfShark VPN over public wi-fi?
Apart from its free features, SurfShark's VPN service offers a Kill Switch. This feature will automatically disconnect you from the internet when the VPN connection drops. This way, you're sure that you're not using a generic connection without the surveillance of SurfShark VPN.
Pros:

No footprints;

Allows torrenting;

256-bit AES encryption;

Lowest price: €2.49
ProtonVPN

Features
P2P support? Yes
30-day money-back guarantee? Yes
Country of origin? Switzerland
Servers: 600+ in over 40 countries
Simultaneous devices: 5
Pros/Cons
Professional support
Modern interface and apps
AES-256 encryption
If you have plans on using a Swiss-made VPN provider, then ProtonVPN is the one for you. ProtonVPN offers fast and secure internet connection speeds. ProtonVPN sends your internet traffic via their encrypted VPN tunnel. With this, you can be sure that you're not being monitored by anyone.
ProtonVPN allows a total of ten devices connected to the server simultaneously. Yes, even just in one subscription. They offer hundreds of secure core servers all around the globe plus hundreds of standard ones, too. With this, you can be certain that while you're protected, you're receiving the highest bandwidth allocation possible.
They offer a wide-variety of pricing which starts from $4 a month to a $24/month plan. Though it's kind of pricey, it's definitely worth the security.
How can you be secured while using ProtonVPN over public wi-fi?
As their servers are constantly growing, you can be sure that your security is of their top priority. They utilize high-technological encryptions that would give cyber-criminals a hard-time to catch you. Most of their customers are proud with the fact that ProtonVPN doesn't have DNS leaks. With that, we're sure of its authenticity.
Pros:

Professional support;

Modern interface and apps;

AES-256 encryption;

Lowest price: €4
UltraVPN

Features
One click connect? Yes
Servers: 100+ superfast servers
Bandwidth cap? No
Platforms: Mac, Windows, iOS, Android
Pros/Cons
Firewall
Apps for all devices
256-bit AES encryption
Not as many servers as others
UltraVPN is a network that promotes a fast and unlimited VPN access. Partner that up with the security they provide, it's perfect. They boast of their "uncrackable" encryption" so users can have their peace of mind.
They even have ways on how you can bypass blocks by your ISP and your government. UltraVPN is the literal definition of freedom within the net. Having over hundreds of servers in over 50 countries, you can be anywhere, at any given time.
Offering a 30-day money-back guarantee, they're priced at $7.99 per month. Getting a 1-year plan, however, you get to save $7.50 a month as it's only for $3.75! It's a cheap price for the type of security you're looking for.
How can you be secured while using UltraVPN over public wi-fi?
UltraVPN takes pride on their encryptions as they're uncrackable. They offer no limits but while ensuring that your connection is safe from cyber-criminals. You remain completely anonymous whatever you do on the web.
Needless to say, public wi-fi is a horror for people looking for privacy. As most public wi-fi hotspots are open, it's easy to conclude that it might be eyed by a hacker already. Using VPN, however, you're saving yourself from potential risks that public wi-fi hotspots give.
Pros:

Firewall;

Apps for all devices;

256-bit AES encryption;

Lowest price: €2.99
Am I really safe if I use VPN over public wi-fi?
If you come across a public wi-fi and you have VPN available, don't hesitate to connect to it. Having a VPN is like adding another thick layer of security to your network. A VPN's main function is to keep you and your network secure.
Some VPN providers offer extra security features which can be used for other things. But when it comes to security, using a VPN is the best bet you have. VPNs can be considered as another protective layer from hackers and cyber-criminals.
Now that you're aware that VPNs can actually keep you safe, what's stopping you from connecting to a public wi-fi hotspot? With a VPN, you can do whatever you want, wherever you want without the fear of someone gathering all of your data. Even if you ought to use a public wi-fi hotspot, you're free from any type of risk involved.