How to Listen to Radiko Outside Japan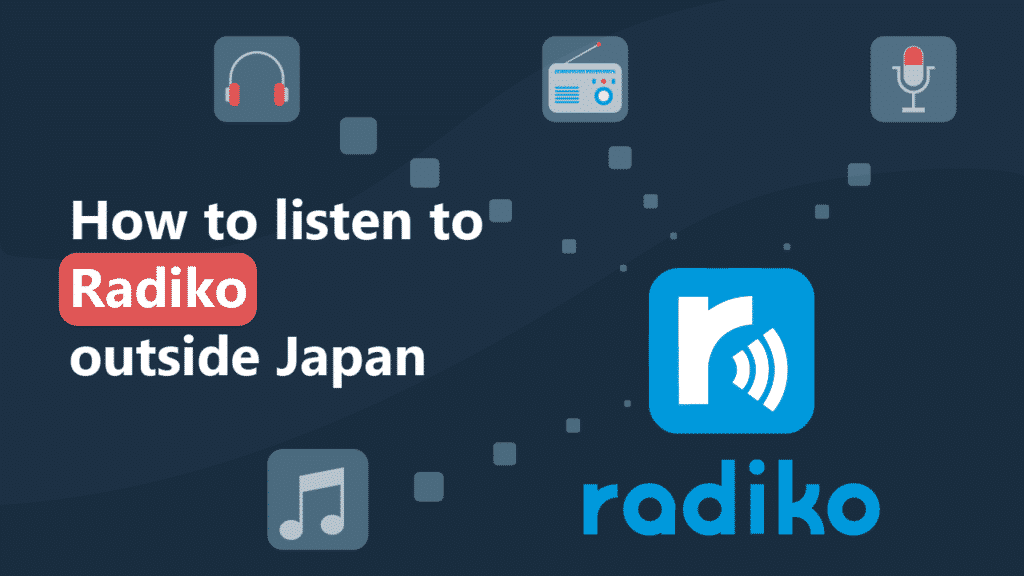 If you've recently learned how to speak Japanese or are a Japanese expatriate, you'll not be able to listen to Japanese radio stations like Radiko. Luckily, we've come up with a solution that you can use to listen to as many Radiko programs, even if you are far away.
Why can't I listen to Radiko outside Japan?
Japan is known to frown at any form of copyright infringement. Therefore, in her bid to prevent the practice, geotagging technology for IP addresses is used to permit only users within the country to listen to Radiko.
Is there a workaround to listening to Radiko outside Japan?
The way out involves using a VPN. VPN means Virtual Private Network and is the easiest way to gain access to all live broadcasts from Radiko, even if you stay outside Japan. A VPN gives you a Japanese IP address so that you can connect to the radio station as if you are in the country. Your traffic is then sent through the Japanese server you connect to.
It is important to note here that only a connection to a Japanese server can give you access to listen to Radiko. Any other server will not make the cut.
The Best VPNs to use to listen to Radiko outside Japan
Here are the top 5 VPNs that will make you enjoy all Radiko's content as if you are in Japan.
ExpressVPN

Features
Number of servers: More than 3,000
Speeds: Unlimited
Server locations: 160 in 94 countries
Maximum devices supported: 5
24 live chat: Yes
30 day money back guarantee: Yes
Pros/Cons
Fastest VPN out there
Strict no logs policy
256-bit AES encryption
This VPN is reputable for many reasons. Little wonder why many people use it to listen to Radiko. ExpressVPN brings in all you can ask for with its speed, privacy, security, and unlimited bandwidth. But what truly makes ExpressVPN special?
Firstly, ExpressVPN has an impressive 160 servers in 94 countries. This number sits on top of what regular VPNs provide, which is why it is a top pick for listening to Radiko. As Japanese servers are the ones you need to listen to Radiko, ExpressVPN helps out by providing a decent amount of them. You'll also get several protocols like PPTP and OpenVPN that make listening to live broadcasts on Radiko a breeze.
Furthermore, with ExpressVPN, you can automatically connect to Radiko and enjoy its content. The VPN service does this by masking your IP address as well as your location from other users. You also get AES-256 encryption, which is military-grade, to ensure privacy when using the VPN service. And to top it off, the VPN provides a crystal-clear broadcast of Radiko's content.
Lastly, on ExpressVPN, you'll have 24-hour chat support to help you with issues that may arise with the VPN's use. ExpressVPN is available on all kinds of operating systems, which includes Windows, Android, iOS, Linux, and Mac. ExpressVPN is a good choice for watching Japanese content overseas in general.
Pros:

Fastest VPN out there;

Strict no logs policy;

256-bit AES encryption;

Lowest price: $6.67
NordVPN

Features
Cryptocurrency accepted? Yes
Simultaneous connections: 6
Dedicated IP-addresses? Yes
Servers: 5342 in 58 countries
Pros/Cons
Lots of pricing options
Netflix support kept up to date
256-bit AES encryption
The second provider on our list is NordVPN. The service was launched not too long ago but has stormed the scenes with its amazing features. When used to listen to Radiko, there are very few VPNs that can match how good this VPN is.
With 51334 serves in 59 countries, NordVPN has one of the highest numbers of servers. But it is only the Japanese ones that matter and NordVPN has an astonishing 82 Japanese servers that you can use to listen to Radiko. If for anything, the options that this number provides is excellent, especially when dealing with a radio station that has a lot of viewers across the globe.
Secondly, NordVPN has top-notch security systems to protect you from data leaks and hackers. You can be assured that your location is secure at all times while you listen to content on this radio station. The icing on the cake is that the VPN is versatile and will allow you to listen to Radiko on your Mac, Android, Windows, and Linux devices. Like many other VPNs on this list, you'll also get unlimited bandwidth to listen to as many programs as you wish on Radiko. Isn't that nice?
Pros:

Lots of pricing options;

Netflix support kept up to date;

256-bit AES encryption;

Lowest price: $3.71
ProtonVPN

Features
P2P support? Yes
30-day money-back guarantee? Yes
Country of origin? Switzerland
Servers: 600+ in over 40 countries
Simultaneous devices: 5
Pros/Cons
Professional support
Modern interface and apps
AES-256 encryption
Connecting to a faraway radio station requires a fast VPN, and ProtonVPN is one of the fastest you'll ever come across. Although new to the game, this VPN service has shown that it is here to stay, and possibly dominate things. With its excellent features, it's easy to see how plausible this goal is.
ProtonVPN has 526 servers in 42 countries. You'll also have a handful of these servers in Japan so that you can easily connect to Radiko whenever you want to listen to a program. With respect to the numbers of its speed test, ProtonVPN's servers all reach a minimum of 1 Gbps of bandwidth, which makes connecting and listening to programs faster. And with one account, you can link as many as ten devices.
Based on its privacy policy, ProtonVPN first passes your traffic through a network to ensure that your identity is concealed. In a nutshell, this is one VPN that you'll really enjoy using to listen to Radiko programs. ProtonVPN will also help you watch shows like AbemaTV or GYAO overseas.
Pros:

Professional support;

Modern interface and apps;

AES-256 encryption;

Lowest price: €4
Trust.Zone

Features
Complete anonymity? Yes
Unblocking of all websites? Yes
Pricing options: 4
Servers: 164 in 80+ zones
Free trial: Yes
Pros/Cons
Military grade encryption
Bitcoin accepted
App for mobile devices
The fourth VPN on our list of the best to use when listening to Radiko, even if you are in another country, is Trust.Zone. It has great speed, secures your data well, and connects quickly to Radiko. But what makes it stand out from others?
Trust.Zone has servers in 87 zones of the world. With the number increasing every day, more options are available to people who need to listen to their favorite programs on Radiko through the VPN service. But its three-day free trial version is by far the most captivating thing about this VPN. On top of that excellent feature is the low price that the VPN goes for, especially if you are paying for a long-period subscription.
Trust.Zone is located in Seychelles, which is not part of the 14 eye countries. Therefore, all your traffic and logs are safe and secure with the use of this VPN.
Pros:

Military grade encryption;

Bitcoin accepted;

App for mobile devices;

Lowest price: €3
HideMyAss

Features
Speeds: 20 Gbps
Money-back guarantee: Yes
Activity logs? No
Locations: 190+ countries
Pros/Cons
Best server database on the market
No-logs and kill switch policy
Multiple device protection
Expensive short term plan
The last VPN is HideMyAss, which all but reveals the major feature of the VPN service. It has a presence in over 190 countries, with a large number of servers to allow you to listen to Radiko. Like other VPNs on this list, HideMyAss packs all the nice features you'll expect from a top-class VPN.
With HideMyAss, you can connect as many as five simultaneous devices to an account. So, if you want to listen to Radiko with friends or family, you'll only need one account to do that. For its privacy features, there is a kill switch to prevent data loss even when the connection drops.
After carrying out several robust tests on it, we've concluded that HideMyAss is pretty fast with an ideal speed that won't give you issues when listening to the radio's programs. Furthermore, here is a 30-day money-back guarantee if you are not satisfied with the VPN's features.
Pros:

Best server database on the market;

No-logs and kill switch policy;

Multiple device protection;

Lowest price $2.99
How do you know which VPN to pick?
Most paid VPNs have similar features that it can be difficult to select one from its competitors. To help you out, here are some criteria you should rank VPNs against.
Server Location: The location of a VPN's servers is perhaps the most important thing to watch out for when selecting a VPN to listen to Radiko. Therefore, ensure that the VPN you choose has a Japanese server that'll give you a Japanese IP address. If you connect to any other server, you'll still not be able to access the radio's programs.
Number of Simultaneous connections: VPNs should be flexible. Therefore, look for the ones that allow simultaneous connections to one account. They will save you money and stress in getting a VPN for each of your devices. Therefore, ensure that the VPN is compatible with a host of operating systems, so you don't get constrained to use it on select devices.
Cost: The best VPNs are paid. However, you don't need to break the bank to get one. Some can go for about $3 per month if you opt for a long period subscription. Just make sure that the amount you pay is equivalent to the VPN's value.
Bandwidth and speed: Slow bandwidths are no good to anyone, and no one likes to wait every three seconds to hear the next thing a presenter has to say. Firstly, make sure that the VPN you wish to use has unlimited bandwidth. Then, ensure that it is fast enough to listen to the radio station live.
●   Geo-restrictions: You are not likely to call in throughout a program on Radiko, so no one should have a clue where your physical location is. An excellent VPN should be able to block such information completely.
Can I use a free VPN instead?
Free VPNs come with migraines that you'll wish you hadn't given them a thought. And the difference between a free and paid VPN can just be $3! Some of the setbacks of free VPNs are;
Many free VPNs are slow: Most of these VPNs test your patience, with extremely slow speeds. Connection to the frequency can take forever, and sometimes, you can miss the show completely. To add to that, many of them have daily bandwidth caps, so you can get caught off right in the middle of an interesting program on Radiko.
Many free VPNs keep track of your logs: VPNs are not meant to keep details of your actions while using it. But in free VPNs, there's no guarantee that your activities are not being monitored, controlled, or tracked.
Many free VPNs do not have servers in Japan: If you want to see the best free VPNs for Japan you can read this article.
When is it illegal to use a VPN?
VPNs are legal to use in many countries of the world. However, it is still banned or restricted in a few others because of how it can be misused. Some of the ways it can be misused include;
Hacking: Due to the anonymity feature in most VPNs, many people use the service to gain unauthorized access to computers and computers. Hacking is one of the reasons why a lot of top government officials, in a bid to strengthen cybersecurity, frown at the use of VPN for such purposes.
Trading and Downloading on the Dark Web: The dark web exists, and even as it has been marked as a prohibited territory, people still use it to buy and sell drugs, weapons, and other illicit materials. Again, this is a negative way in which VPNs have been used.
Illegal-File Sharing: Most documents need the permission of the author or creator to be sent and received. However, some people use VPNs illegally by sharing these files knowing that their IP address and physical location will remain anonymous.
Cyberstalking and Cyberbullying: These are two problems that everyone is trying to kick out of social media. However, with VPNs, people can bully and stalk others from miles away, knowing that they cannot be traced.
In spite of these negative uses of VPNs, many VPNs are devising ways to curb the misuse of their products.
How to use a VPN to Listen to Radiko Programs
First, select a good VPN with a handful of Japanese servers. Then download, install, or add the extension of the VPN to your browser.
Next, in the category of the type of server to connect to, select Japanese, and wait for a few seconds for it to connect. Most VPNs will give you the option to check the server's IP address.
Look for Radiko on your device, and click on its icon to start listening to your favorite programs.
In conclusion
Radiko is an excellent station to listen to the latest Japanese songs, news, and a host of other attention-gripping programs. It can be a really engaging experience if the topics and songs are relatable. But all these are not afforded to people that stay outside the country.
We've gathered for you some of the best VPNs that'll help you listen to programs on Radiko, even if you do not stay within the country. We've also included answers to some of the questions you may have regarding VPNs and their use. If you follow the instructions we have included to the latter, you should not have any problem listening to your favorite shows on Radiko.