How to Play DMM Games Outside Japan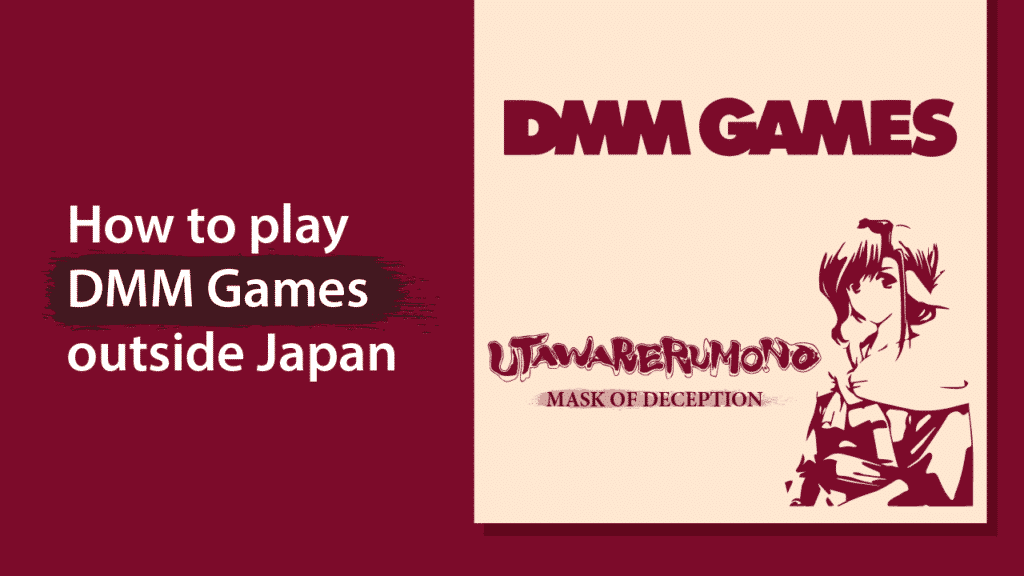 DMM has some of the best gaming graphics and video-on-demand services you can get in Japan. However, if you stay outside Japan, only a few of its contents will be available to you. But on the bright side, we know just how you can access all these games outside Japan — using a VPN, and we'll show you the easy process in this article.
Why are DMM Games limited outside Japan?
Dungeon Striker, Touken Ranbu, and Kancolle are some of the most popular DMM Japan games around the world. However, DMM purchased the rights to make only a few contents accessible outside Japan. So, if you login with an IP address from any other country, you'll be notified of your accessibility limit.
The best thing you can do then is to get a VPN to access DMM Japan and play all the games you want to.
What is a VPN?
VPN is an acronym for Virtual Private Network. Since only a Japanese IP address can give you full access to all DMM's contents and games, you'll need to use a VPN. When using it, traffic from your device is sent through the server you connect to. By doing this, other people on the network view your IP address as that of the server. That means if you are connected to a Japanese server, you'll be given a Japanese IP address.
What are the best VPNs that work with DMM games?
Below, we will explore the best providers that work well with DMM games and ensure you have a smooth experience:
ExpressVPN

Features
Number of servers: More than 3,000
Speeds: Unlimited
Server locations: 160 in 94 countries
Maximum devices supported: 5
24 live chat: Yes
30 day money back guarantee: Yes
Pros/Cons
Fastest VPN out there
Strict no logs policy
256-bit AES encryption
ExpressVPN is one of the leading Virtual Private Networks to play DMM games. With its speed, reliability, and consistency, anyone can understand why it has become a favorite for many people. This service also has several other features that make it stand out from all others, especially when playing DMM games.
Firstly, you can use ExpressVPN to play DMM games, even if you are miles away. This service provider has 160 server locations in 94 countries, and you can play DMM games while you are on the move. Japanese servers are the ones that matter when accessing DMM games, and ExpressVPN has a significant number of them in Japan. The VPN service also allows protocols like OpenVPN (UDP and TCP), IKEv2, PPTP, and L2TO/IPsec and IPsec, and you can play DMM games on a lot of devices.
Secondly, this provider allows you to connect and play DMM games anonymously. It does this by masking your IP address and location from other internet users. To ensure privacy while accessing these games, ExpressVPN provides AES-256 encryption that is the standard for security experts. And if your connection drops in the heat of a game, the VPN service will block all internet traffic until the connection is restored.
Furthermore, you'll have unlimited bandwidth to access as many games as you like. There's also a 24-hour chat support to help you out with any issue you may have. ExpressVPN is available on Mac, iOS, Windows, Linux, and Android operating systems.
Pros:

Fastest VPN out there;

Strict no logs policy;

256-bit AES encryption;

Lowest price: $6.67
NordVPN

Features
Cryptocurrency accepted? Yes
Simultaneous connections: 6
Dedicated IP-addresses? Yes
Servers: 5342 in 58 countries
Pros/Cons
Lots of pricing options
Netflix support kept up to date
256-bit AES encryption
NordVPN is the second on our list, and for the right reasons. It is a relatively new VPN service but has brought the fight to the old boys in the game. When playing DMM Japan games, NordVPN ranks as one of the best Virtual Private Networks to use because of its amazing features.
NordVPN has 5000 plus servers in about 60 countries all over the world. Among these, there are 82 Japanese servers that'll allow you to play DMM games when you are outside Japan. Therefore, getting a Japanese IP address will not be much trouble. You'll also have a state-of-the-art security system to protect your activities from malware, unsolicited adverts, and hackers while you play DMM games. With NordVPN, your IP address and location are secure.
NordVPN is compatible with almost any type of operating system, which gives you many options when playing DMM games. This service provider prides itself on providing lightning speed to make the games easy to play without buffering. And like other VPN services on this list, you can request a refund if you are not satisfied with the features NordVPN has to offer.
Pros:

Lots of pricing options;

Netflix support kept up to date;

256-bit AES encryption;

Lowest price: $3.71
HideMyAss

Features
Speeds: 20 Gbps
Money-back guarantee: Yes
Activity logs? No
Locations: 190+ countries
Pros/Cons
Best server database on the market
No-logs and kill switch policy
Multiple device protection
Expensive short term plan
As far as Virtual Private Networks go, you'll hardly see any that can stand an availability face-off battle with HideMyAss. This provider has servers in over 190 countries, with the number increasing sporadically. But it's not only the number of countries it has servers in that makes it a top pick for most DMM gamers in other countries. HideMyAss has amazing features that will make you enjoy any game you wish to play.
The second astonishing figure is the number of servers HideMyAss has. With over a thousand to its name, you'll have no trouble playing DMM games. This VPN service also allows you to connect as many as five devices at a time to a single account. And to help your gaming experience, there's a smart kill switch to ensure that your data doesn't get leaked, should your connection to a Japanese server drop. HideMyAss provides P2P optimized servers that'll keep the impact on your speed at its minimum while transferring bulk files.
To top it off, HideMyAss is very fast with several speed tests to confirm it. You also get a 30-day money-back guarantee if you are not satisfied with the speed of the VPN.
Pros:

Best server database on the market;

No-logs and kill switch policy;

Multiple device protection;

Lowest price $2.99
ProtonVPN

Features
P2P support? Yes
30-day money-back guarantee? Yes
Country of origin? Switzerland
Servers: 600+ in over 40 countries
Simultaneous devices: 5
Pros/Cons
Professional support
Modern interface and apps
AES-256 encryption
Finding a Virtual Private Network that is as fast as it claims is challenging until you meet ProtonVPN. As a newbie compared to other VPN service providers on this list, ProtonVPN has been impressive so far. It provides the fundamental features of a VPN (security, privacy, and freedom) and many more exciting features.
As part of its privacy policy, traffic is first passed through a secure network to conceal the user's identity. Therefore, when playing a DMM game, you can be assured that no one will get your true IP address. The VPN service also ensures that the traffic from users cannot be decrypted in the future.
On its speed and reliability, ProtonVPN scores high points. All its servers have a minimum of 1 Gbps bandwidth, with some even using as high as 10Gbps connections. You also get unlimited bandwidth to play as many games as you like in up to 10 devices linked to an account.
ProtonVPN has 526 servers in 42 countries, with a decent amount of these servers in Japan.
Pros:

Professional support;

Modern interface and apps;

AES-256 encryption;

Lowest price: €4
Trust.Zone

Features
Complete anonymity? Yes
Unblocking of all websites? Yes
Pricing options: 4
Servers: 164 in 80+ zones
Free trial: Yes
Pros/Cons
Military grade encryption
Bitcoin accepted
App for mobile devices
Another Virtual Private Network that'll make playing DMM games a breeze, even when you're miles away, is Trust.Zone. After being put through several tests, this VPN worked excellently. Although only compatible with Windows and Android devices, the service is available at a competitive price.
One feature that you don't see in many VPN service providers is a free trial version. In this provider's free version, you'll be given three days to try out the features. But the standout marker of Trust.Zone is that it provides complete anonymity when playing DMM games. Located under Seychelles Jurisdiction, Trust.Zone is outside the 14 eye countries, and so are very private with user information.
Trust.Zone has 156 servers in 87 zones in the world, with a handful in Japan. For its price and features, few rival Virtual Private Networks provide a better gaming experience on DMM.
Pros:

Military grade encryption;

Bitcoin accepted;

App for mobile devices;

Lowest price: €3
Which VPN should you pick?
All five Virtual Private Networks above will give you great gaming experience with DMM Japan games. The factors you should look out for when selecting one are;
Server Location: There's no point in getting a VPN that cannot help you play DMM Japan games. Therefore, a provider that doesn't have a Japanese server cannot give you a Japanese IP address to access these games. Ensure that you check the number of Japanese servers before you go on to pick a VPN.
Cost: Virtual Private Networks come at different prices. Make sure the one you choose is worth every cent you pay for it in the end.
Bandwidth and speed: The speed and bandwidth of a VPN matter a lot. On a slow VPN, you'll not enjoy playing DMM games at all because they'll hang all through. Most paid Virtual Private Networks have unlimited bandwidths and light speeds, but just confirm both criteria before you pick one.
The number of simultaneous connections and device accessibility: Top-of-the-line VPNs allow users to connect several devices to one account. This is a great feature if you intend to play DMM Japan games with other people. Therefore, you should rank those VPNs that allow more simultaneous connections higher than others when selecting a Virtual Private Network service.
Geo–restriction: Information on your physical location is not required to play DMM games. Therefore, a good VPN should protect you even if your device accidentally reveals it through the 'location icon.'
Protocol run on the VPN: The number of VPN protocols available has been increasing geometrically. A VPN service that runs on several recent protocols is preferable to one that lags behind.
Are VPNs legal?
In many countries of the world, it is legal to use VPNs to play games, watch movies, or listen to radio stations. However, totalitarian regions are known to frown at the use of Virtual Private Networks. This is because these countries seek to reduce access to news sources and Western services. For example, in North Korea and Iraq, VPNs are illegal.
Nevertheless, even in countries where they are legal, some online activities using VPNs are illegal. These illegal activities include;
Hacking: Many people use the availability of different types of VPNs to gain unauthorized access to networks and computers. This is a wrong use of VPN services, and if one is caught using it, one can be charged with a crime.
Trading and Downloading on the dark web: Regulatory bodies have marked the dark web as a prohibited territory. Hence, using a Virtual Private Network to trade, buy or sell drugs, weapons, and other materials is illegal.
Cyberstalking and Cyberbullying: These are two problems that are prevalent on social media, and with VPNs, their effects become heightened. It is illegal to stalk anyone online.
Will free VPNs work with DMM games?
The best VPNs to use when playing DMM games outside Japan are the paid ones. However, there are also free Virtual Private Networks. Free VPNs are available everywhere but will give you lots of trouble when playing DMM Japan games because;
Most free VPNs are slow: They cannot match any of the speeds of the best paid VPNs to play DMM Japan games. Connecting to the Japanese server alone can take several minutes, which can be frustrating.
Many free VPNs have bandwidth caps: Unlike in paid VPNs, there is a limit to how much data you are allowed to use on free VPNs. This is a major turn off, especially if you are in the middle of a game, and you get logged out.
Many free VPNs keep track of your activities: One of the essential features you'll expect from a Virtual Private Network is privacy. However, many free VPNs keep logs of all your activities while bombarding you with different suggestive adverts gotten from your activities.
How to play DMM Japan games with a VPN
Connect to the Japanese server of the Virtual Private Network. If you skip this step, you'll be using your real IP address, rather than a Japanese one.
Log on to the official website of DMM.
Create an account using your email or a social media account.
Click on the game you want to play. Depending on your preference and the game's setting, you can either download or play it online.
In conclusion
DMM Japan games are almost irresistible to gamers. Their graphics are top-notch, and they have just the right difficulty level to keep you playing. But it can be boring playing the same set of games because you are not in Japan, where the others are accessible.
In this article, we've included how you can play these games from anywhere using Virtual Private Networks. We've also added five of the best VPNs that'll help you play DMM games outside Japan. Following the included instructions, you should have no trouble accessing any of DMM Japan's games again. Happy gaming!