Best VPNs for Android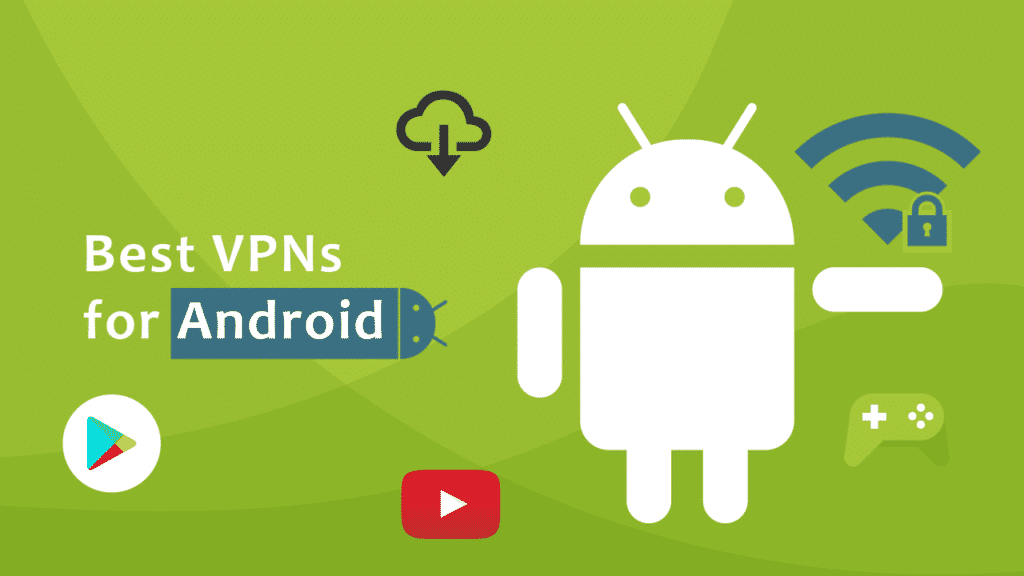 Android is unarguably the most widely used operating system on smartphones around the globe. With well over a billion daily active users, any product that is not Android compatible enters redundancy almost as soon as it is produced.
A mutual relationship describes a situation where the needs of both parties in a connection are equally catered for. This is what exists between VPN service providers and Android operating systems. Operable on Android, these VPNs have a handsome customer base. This translates into a dense, continual stream of income and profit. Equally, however, Android users get as lucky as lucky gets. It's an unapologetic, permanent farewell to geopolitical restrictions.
Say hello to new content, regardless of your location. From your mobile device, with VPNs, you can access Netflix Japan from France, or anywhere in the world that is not Japan! Welcome, with open arms, an unprecedented level of privacy and security. In our world today, those words have sadly become alien. Say no to annoying ads that keep popping up all over your screen. And a whole lot more!
The best VPN service providers for Android users
Insert the relevant search terms on Playstore, and you see a ridiculous amount of results for VPN providers. You're almost confused about which one to use. Not to worry, though, we've done the homework for you. Without further ado, let's dive right into discussing the best VPNs that are compatible with your Android device. Hang on!
ExpressVPN

Features
Number of servers: More than 3,000
Speeds: Unlimited
Server locations: 160 in 94 countries
Maximum devices supported: 5
24 live chat: Yes
30 day money back guarantee: Yes
Pros/Cons
Fastest VPN out there
Strict no logs policy
256-bit AES encryption
In all ramifications, ExpressVPN is the best VPN to use on an Android device, and you're about to see why. They've been around for a while, and they've had enough time to garner an extremely wealthy influence across various locations. Highly flexible, they have constantly witnessed and authored major evolutions in the industry. They lead, and the others follow.
With a repertoire of over 3000 servers in 160 locations in 94 countries, unhindered
access from any area of the world is guaranteed. This also means that users
experience a fast, steady speed. And with lightning speed comes unlimited
bandwidth. ExpressVPN provides unparalleled security and privacy for its users.
The AES 256-bit encryption ensures standard secure connections and a strict
no-logging policy which guarantees ultimate privacy. With ExpressVPN, an
automatic excellent location picker chooses the best server location per time.
And if your connection gets dropped, an automatic kill switch immediately
blocks all information from entering or exiting your device.
Since we're discussing its peculiarities on Android, let's not get too carried away.
ExpressVPN offers a form of simplicity that is lacking in most other VPNs. It
is thus effortless to use and is highly user-friendly. With a broad server base
comes a wide customer base. To this end, there are over 12 languages the app
allows you to select from. Language is no barrier!
Ever-active support service is always present to walk you through whatever problems you may encounter while using the app. Aside from helping with problems, they are available to clarify whatever grey areas may exist concerning matters like subscription plans. How-to-use video guides on their website limit the number of questions a potential user might have. The summary of this is that their customers mean a lot to them.
If you want top-quality from a Virtual Private Network, ExpressVPN is the one to
hitch your ride with. Their more extended subscription plans offer you great
discounts, and on the rare occasion that you are not satisfied with their
services, you can get a refund within a 30-day period.
Pros:

Fastest VPN out there;

Strict no logs policy;

256-bit AES encryption;

Lowest price: $6.67
NordVPN

Features
Cryptocurrency accepted? Yes
Simultaneous connections: 6
Dedicated IP-addresses? Yes
Servers: 5342 in 58 countries
Pros/Cons
Lots of pricing options
Netflix support kept up to date
256-bit AES encryption
By more standards than one, NordVPN is an excellent service provider, and it comes next in line. Of particular interest is that in a bid to ensure extra security, NordVPN uses double VPN technology. This means that internet connection is run through two separate servers, as opposed to just one. This is double data encryption. The strict zero-logs policy ensures that no records of the users' activity are kept, and hence, guarantees privacy.
NordVPN is capable of securing up to 6 devices all at once with a single subscription plan. It also boasts of high and steady speed, because of the number of her 5600+ servers, present in over 60 locations. These servers also have unlimited bandwidths.
The Android app is user-friendly. Worthy of note, also, is that once you connect to a WiFi network, NordVPN is automatically activated. With a 24/7 live-chat customer support, whatever issues you may have are sure to be resolved in the shortest time possible.
Always looking to improve, NordVPN's Android app has added a custom DNS server and also lets you utilize OpenVPN TCP rather than UDP. Not ground-breaking improvements granted, but this may be a nice bonus if you are a more experienced VPN user. NordVPN is also one of the few VPNs that offer WireGuard protocols.
Pros:

Lots of pricing options;

Netflix support kept up to date;

256-bit AES encryption;

Lowest price: $3.71
Surfshark

Features
Free trial? Yes
Simultaneous connections: unlimited
Ad blocking? Yes
Servers: 1000+ in 61 countries
Pros/Cons
No footprints
Allows torrenting
256-bit AES encryption
The glory of SurfShark is in its name. With SurfShark, you get to surf the internet on your Android device, like never before. You know you can trust a VPN service provider when they complete independent security audits with zero security issues found. Operating on a strict no-logs policy, details of your data will never leak to unwanted sources. SurfShark has 1040 plus servers worldwide. You're sure to enjoy fantastic speed.
It encrypts all the internet traffic sent to and from your device. Hiding your real IP address, it ensures top privacy and security. MultiHop is a feature on SurfShark that allows you to connect via multiple countries, further improving your privacy and security. Anyone or system, in this case, trying to locate the origin of your signal is likely to get lost and confused in the process.
The SurfShark app on Android is impressive! It offers features like the kill switch and whitelister. With the kill switch, you can be sure of an ever-secure connection. It is a fail-safe, such that in case your VPN connection drops, you are automatically disconnected from the internet. Whitelister allows you to choose the apps that you want to use the VPN for. This is important since some people are unable to use their banking apps with VPNs.
With the CleanWeb, you can browse the Internet without fear of ads, trackers, or phishing attempts. There's also NoBorders, which is specifically designed to access restricted content. SurfShark has many more exciting features like these.
The cherry on top: with SurfShark, you can connect an unlimited number of devices, all at once, with a single subscription plan! This singles out this VPN from the rest of the competitors.
The subscription on SurfShark is quite cheap and more than worth the price.
Pros:

No footprints;

Allows torrenting;

256-bit AES encryption;

Lowest price: €2.49
HideMyAss

Features
Speeds: 20 Gbps
Money-back guarantee: Yes
Activity logs? No
Locations: 190+ countries
Pros/Cons
Best server database on the market
No-logs and kill switch policy
Multiple device protection
Expensive short term plan
No VPN service provider even comes as close as HideMyAss in terms of location base. When you think HideMyAss couldn't get better, they decide to run on Android devices too!
HideMyAss is very easy to set up on any Android device. All you need to do is register for a subscription plan on the user-friendly website, proceed to download the software on Playstore, login, and start enjoying the service.
With lightning connect, you can automatically choose the fastest server. This makes the use of HideMyAss quick and equally seamless. Like you were on some private island of your own, you could live your online life with zero interference from nosy neighbors.
With each subsequent update of the Android versions comes an almost immediate update of the app to fit the new version. Hence, all the way from Lollipop to Pie, HideMyAss works across the board.
With HMA, you can change your IP address every 10 minutes to once a day, and leave trackers guessing. Running on an OpenVPN protocol, you use the most secure VPN protocol over UDP to attain better speeds.
Enjoy speed like no other, with servers that blaze at a whopping 20Gbps! On the rare occasion of slow internet speeds, the presence of a kill switch allows you to block all traffic to the entire network or specific apps. Split tunneling also makes it possible for you to multitask from different servers all at once. Hence, it is possible that you live-stream from one server, while you download from an entirely different one. HMA also has its own no-log DNS, which prevents DNS leaks and also bars access from malicious sites.
HideMyAss can hide the asses of a maximum number of 5 devices, all at once, with one single subscription.
Relative to the loads of services it provides, HMA's pricing is cheap. And it gets cheaper if you choose to select a plan with a longer commitment. But you don't have to buy anything immediately. HideMyAss gives you a trial period of 7-days to test the waters. After your free trial, you can choose to commit to a plan, or if you're not impressed, you can opt out.
Pros:

Best server database on the market;

No-logs and kill switch policy;

Multiple device protection;

Lowest price $2.99
Benefits of using a VPN
Many users know that VPNs are good for bypassing geo-restrictions. But apart from using a VPN to unblock restricted sites, what else can a VPN be used for? Here are just a few advantages a VPN can give you.
Complete anonymity while browsing
A VPN can provide you with complete privacy while browsing any website. This means no more cookies and no more requests for your email address. You can effectively become a ghost while browsing.
Higher Privacy
A VPN ensures that your traffic is encrypted and is sent through its own DNS servers to make sure it doesn't fall into the wrong hands while you browse.
Increased efficiency
Unlimited bandwidths, high-speed browsing, online privacy, data encryption and unblocking features allow you to work much quicker and at a higher efficiency than ever before.
Change your IP address
Investing in a VPN assures you that your IP address will be changed. As your IP address is an identifier, this ensures more privacy.
Hide your location
By changing your IP address, your location is not so easy to find out. That's because your VPN serves as an indicator of your location. By changing it and rerouting your browsing through its own servers, your VPN hides your location.
Discover better deals online
You can save a lot on hotels and flights with your VPN. This is because most sites charge based on your IP address. Changing your server location to another country's can help you compare prices. When doing this, it's best to take the time to conduct a more expansive search.
Conclusion
Any of the above VPNs will work perfectly with your Android device, both mobile and even Android TV. You can easily stream geo-restricted content or download torrents on the go for a very affordable price.