Best VPNs for Android TV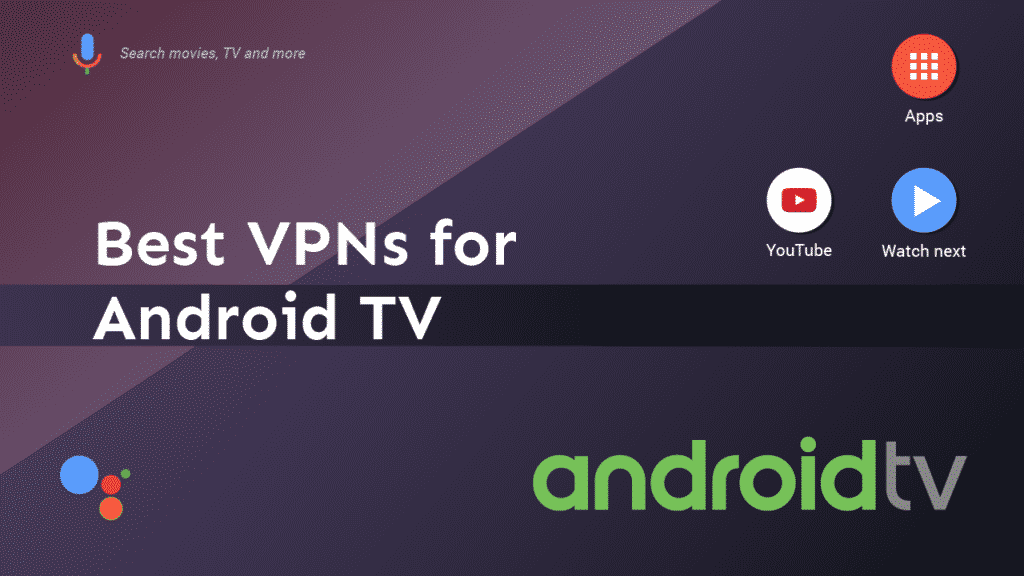 Android TVs are a recent variation of Smart TV. That is, an Android TV is a type of Smart TV but with several points that make all the difference. All Smart TVs use an operating system (OS). The Android OS and its capabilities make up the difference between Android TV and other Smart TVs. Because of the Android OS, it's effortless to update your Android TV, and the regular updates to your TV will guarantee improvements to keep your Android TV current.
Android TVs are also open source. That is, they can download apps and data from an unknown source, which broadens your range of apps even more. However, downloading apps and data straight from the web comes with certain risks. Also in many cases content will be blocked if you are not in the right country,
A VPN helps with these problems. In particular, a VPN allows users that are not in the right location to unblock content by changing your IP address. Also a VPN will keep you safe from surveillance.
5 Best VPNs for Android TV
we've compiled the top 5 VPNs that work best with Android TV:
ExpressVPN

Features
Number of servers: More than 3,000
Speeds: Unlimited
Server locations: 160 in 94 countries
Maximum devices supported: 5
24 live chat: Yes
30 day money back guarantee: Yes
Pros/Cons
Fastest VPN out there
Strict no logs policy
256-bit AES encryption
ExpressVPN has developed a reputation for excellent network speed, fast enough for HD, and even 4K viewing. This VPN boasts of as many as 3000 servers planted in over 160 locations in 90+ countries. These servers ensure lightning speeds when it comes to streaming. This speed, when combined with ExpressVPN's ability to smoothly bypass geo-restrictions placed on such websites such as Netflix, Hulu, HBO, BBC iPlayer, etc. lets Android TV users have a seamless viewing experience.
While you have a good time accessing content and enjoying the unlimited bandwidth ExpressVPN users are allowed, you can be sure that this VPN provider is tirelessly protecting your privacy. ExpressVPN encrypts your traffic by the most reliable means possible and has a zero-logs policy. It will never log your online activities, and to ensure that, the company has begun the use of TrustedServer Technology. This technology allows you to browse and stream using only RAM (volatile memory) and not hard drives. It ensures an entirely clean wipe of data because RAM data requires power to exist. Once you end your session, there will be no trace left of your activities.
ExpressVPN does not stop there when it comes to your privacy. There are other features such as ad blockers and an inbuilt kill switch, which closes your network the moment it detects a break in connection. The split tunneling feature allows you to choose what websites you'd like to pass through ExpressVPN's servers and what sites you'd like to browse with your regular IP address.
ExpressVPN is not only available on Android TV. Dedicated apps have been provided for many other platforms as well – macOS, iOS, Linux, Windows, and some routers. With one login, you can extend the service to up to 5 devices simultaneously. For example, you can have one account and use ExpressVPN's services on your Android TV, your phone, and your laptop. All the ExpressVPN apps have friendly user interfaces and are easy to use, even for beginners. And if you do encounter a problem, you can ask the professionals with 24/7 customer service.
ExpressVPN is running a promo right now. They're offering 3 months extra at the price of a 12-month plan billed at $99.95 ($6.67 per month). Their 6-month plan costs $9.99 per month, charged at $59.95 every 6 months. The monthly plan is $12.95.
ExpressVPN provides a safety net in the form of a 30-day money-back guarantee. If you don't like the service they provide within a month, you'll receive your money back.
Pros:

Fastest VPN out there;

Strict no logs policy;

256-bit AES encryption;

Lowest price: $6.67
NordVPN

Features
Cryptocurrency accepted? Yes
Simultaneous connections: 6
Dedicated IP-addresses? Yes
Servers: 5342 in 58 countries
Pros/Cons
Lots of pricing options
Netflix support kept up to date
256-bit AES encryption
NordVPN has an enormous amount of servers at over 5,200 servers in 60+ countries. The advantage of this broad range is the ability to stream content from countries like the US, Japan, Australia, Canada, China, etc. directly to your Android TV. NordVPN also has servers specially dedicated to optimizing certain functions such as streaming and torrenting.
A feature called SmartPlay allows NordVPN users access to sites with tough geo-restrictions and censorship such as Hulu, Netflix, Crunchyroll, BBC iPlayer, HBO, etc. NordVPN's apps are easily downloadable and easy to use with clear instructions, descriptions, and labeling.
This VPN is full of security features to make your Android TV experience as safe as it can be. A feature called CyberSec stops ads, malicious software of any kind, and phishing attempts. CyberSec can be turned off, but the automatic kill switch NordVPN provides cannot be disabled. Double VPN is another extra protection feature. This feature encrypts your traffic twice through two different servers, making it near impossible for anyone to discover your internet identity.
You can also use the Onion Over VPN feature, which allows your data to be routed through Tor. This process allows your data to go through several layers of encryption, which adds an extra dose of security to your traffic. This Android TV VPN continues to promise security with a strict no-logs policy. Its promise is backed by an independent audit which was held between October 29th and November 8th, 2018.
If you have any questions or complaints about NordVPN's services, excellent professional customer service is readily available to assist you at any time, through live chats or email support.
NordVPN's services give you some real bang for your buck with the best deal coming in at $3.49 per month, billed at $125.64 every 3 years. The 2-year plan is $4.99 per month, with the full charge of $119.76 to be paid every 2 years. A year goes for $6.99 per month, with a total of $83.88 payable every year. The monthly charge is $11.95. All NordVPN's plans come with a 30-day money-back guarantee.
Pros:

Lots of pricing options;

Netflix support kept up to date;

256-bit AES encryption;

Lowest price: $3.71
Surfshark

Features
Free trial? Yes
Simultaneous connections: unlimited
Ad blocking? Yes
Servers: 1000+ in 61 countries
Pros/Cons
No footprints
Allows torrenting
256-bit AES encryption
Relatively young compared to the other VPN providers on this list, Surfshark provides a fantastic service for its Android TV users. For Surfshark to compete in the web security industry as a young VPN provider, it has provided quality and original services to its clients.
Surfshark's NoBorders feature allows Android TV users to surf the net seamlessly. It unblocks websites, unlocks streaming, de-censors content, and enables you to use social media apps anywhere in the world. Even in countries where it is banned, such as North Korea. NoBorders consistently and quickly unblocks geo-restricted sites such as Netflix, Hulu, HBO, etc. Surfshark has 800+ servers in over 50 countries; they are widely spread out on every continent. More than a few of them are optimized for streaming and torrenting at high speeds.
Surfshark is also unrelenting when it comes to securing your privacy. A strict no-logs policy ensures that your activities are not being monitored. A kill switch acts as a safety net if your VPN connection drops. With Camouflage mode, even your internet service provider won't know you're using a VPN. A double VPN feature called MultiHop allows you to route your data through two different servers in two different countries. It encrypts your data twice over and hides your real location more effectively.
Surfshark also understands that there are some apps you'd like to access visibly, that is, without the VPN. Surfshark's split tunneling feature, Whitelister, allows you to choose which data passes through VPN and which goes through regular routes. For example, if YouTube loads slower on your Android TV when using a VPN, you can choose to whitelist it with Surfshark.
The clincher for this VPN is the fact that you can connect an unlimited number of devices on one account. And since this app is available on all major platforms, you can hook up all your devices. The Surfshark Android TV app is easily downloadable on Google Play Store, and once activated, does not allow any ads to interrupt your viewing pleasure.
Surfshark's is currently discounting its 27-month plan for $1.77 per month, charged at $47.76 every 27 months. Its other plans are its 12-month plan at $5.99 per month and billed at $71.88 every year, and its monthly plan at $11.95 per month. A 30-day money-back guarantee is a rule for this provider, as well. Surfshark is one of the few VPNs that lets you pay in cryptocurrency.
Pros:

No footprints;

Allows torrenting;

256-bit AES encryption;

Lowest price: €2.49
UltraVPN

Features
One click connect? Yes
Servers: 100+ superfast servers
Bandwidth cap? No
Platforms: Mac, Windows, iOS, Android
Pros/Cons
Firewall
Apps for all devices
256-bit AES encryption
Not as many servers as others
UltraVPN is a young VPN as well but has some great features in its lineup. UltraVPN currently has over 100 servers in 55+ server locations. This VPN helps users to unblock geo-restricted sites and de-censors content.
Ultra VPN secures your privacy with a zero-logging policy and an OpenVPN protocol. The Android TV app is immaculate, with a smooth, user-friendly interface. UltraVPN unblocks geo-restricted content without a hitch or any reduction in network speed. No throttling or buffering. Just steady, uninterrupted viewing.
This provider is recommended for the VPN beginner. The friendly user interface and uncomplicated features would be perfect for users that are just stepping into the world of VPNs. Android TV users that are beginners with VPNs can get this VPN service and have it up and running in a matter of minutes.
UltraVPN charges start with $7.99 per month for the monthly plan. The 6-month plan costs $5.99 per month and is billed at $35.94 every 6 months. The best deal is the 12-month plan at $3.75 per month, charged at $45 every year. Every one of Ultra VPN's plans has a 30-day money-back guarantee.
Pros:

Firewall;

Apps for all devices;

256-bit AES encryption;

Lowest price: €2.99
CyberGhost

Features
Connected devices at once: 7
Automatic kill switch? Yes
One click connect: Yes
Servers: 5900 worldwide
Pros/Cons
No logs policy
24/7 live chat
Apps for mobile devices and routers
CyberGhost users have been dubbed as "Ghosties" on the VPN's website. Ghosties enjoy the fantastic amount of servers that CyberGhost, the largest on this list, has — around 5600 in 90 countries. A significant percentage of these servers are located in countries that are known to block websites and restrict content such as the United States, the UK, Japan, Australia, Canada, China, etc.
CyberGhost has been steadily unblocking a host of geo-restricted content channels such as Netflix, Hulu, BBC iPlayer, HBO, CBS, Vudu, Comedy Central, and many others. All this content is unblocked automatically as soon as you connect to CyberGhost. All Android TV users have to do is download the app of any geo-restricted content they'd like to see. When you open it, CyberGhost does the unblocking and allows the material to be streamed.
And when streaming, CyberGhost does not disappoint with its network speed. Its speed is high enough to watch 4K content without any hint of buffering or lagging. CyberGhost also has servers optimized for torrenting. Ghosties can connect up to 7 devices simultaneously on a single account. This VPN service is supported on Windows, iOS, macOS, Linux, Firefox, Google Chrome, Firestick, and, of course, Android.
All Ghosties' data are encrypted with 256-AES bit technology to prevent hackers from being able to access your content. Your IP address is always hidden when browsing. CyberGhost has a zero-logs policy and as such, does not store your IP address, your browsing history, or connection times. An automatic kill switch is in place, should your connection suddenly drop.
The CyberGhost Android app is user-friendly, and beginners shouldn't find the process of downloading, installing, and using hard at all. The Android TV app, once connected to a server, unblocks the content of any geo-restricted video streaming app that you might have installed. The process is entirely intuitive and intended to cause as little stress as possible to the user.
If you're willing to commit to CyberGhost, there is a plan for as low as $2.75, charged at $99 every 3 years. Some shorter plans include the monthly service for $12.99 per month and the 12-month plan for $5.99 per month, billed at $71.88 every year. But you don't have to commit straight away. CyberGhost offers a 7-day free trial and a rather generous 45-day money-back guarantee, so new users have a chance to get a feel for its services before committing to it.
Pros:

No logs policy;

24/7 live chat;

Apps for mobile devices and routers;

Lowest price: €2
Why do you need a VPN for your Android TV?
There are a few reasons why you should have a VPN connection on your Android TV. Some of these reasons won't matter to some of us, but most of us can relate to at least 2 of the 4 points explained below.
Streaming
This is probably the most important for Android TV users. When you have a big screen enabled to be able to stream content straight from the web, streaming content becomes a big deal. VPNs allow you to bypass geo-restrictions on websites to watch your favorite shows on apps like Netflix, Hulu, HBO, Crunchyroll, and BBC iPlayer.
Security
Our IP addresses are open to many dangerous attacks while visible, even when using Android TV. An unencrypted IP address leaves your device and information vulnerable to malware, hackers, and prying eyes. Using public Wi-Fi only increases your chances of your data being stolen. Using a VPN keeps your data to yourself no matter what or how you're browsing.
Information freedom
Nowadays, there isn't much freedom of information anymore. Some corporate owners and organizations have started to use their resources to block or censor content from the eyes of the average individual. Some countries do not allow certain types of services or media. Big companies can geographically filter their content. BBC is guilty of this, they sometimes air shows in the UK months before airing it in other places.

A VPN allows you to unblock geo-restricted or geo-filtered content and de-censor censored websites. With a VPN, you have a much wider variety of information.
Anonymity
Anonymity is using your VPN to deliberately obscure facts about yourself and your online presence. Doing this is essential because leaving your digital self open can cause your information to be taken and then used to perpetrate evil. Also, if you're torrenting, for example, without using a VPN to encrypt your data and hide your IP address, you're playing a dangerous game.
If you're caught torrenting, you can secure yourself a nice hefty fine to pay or some jail time. Spending a few dollars a month for a VPN's protection can prevent all that.
In conclusion
Using an Android TV gives you the freedom and versatility to download any app that supports Android TV and stream a large amount of content. Using a premium VPN allows Android TV users even more access but with complete privacy and no consequences or delays. The five VPNs we have detailed above provide security, access, and anonymity all in a single package. As far as we can tell, that is a pretty sweet deal.