5 Best VPNs for Gaming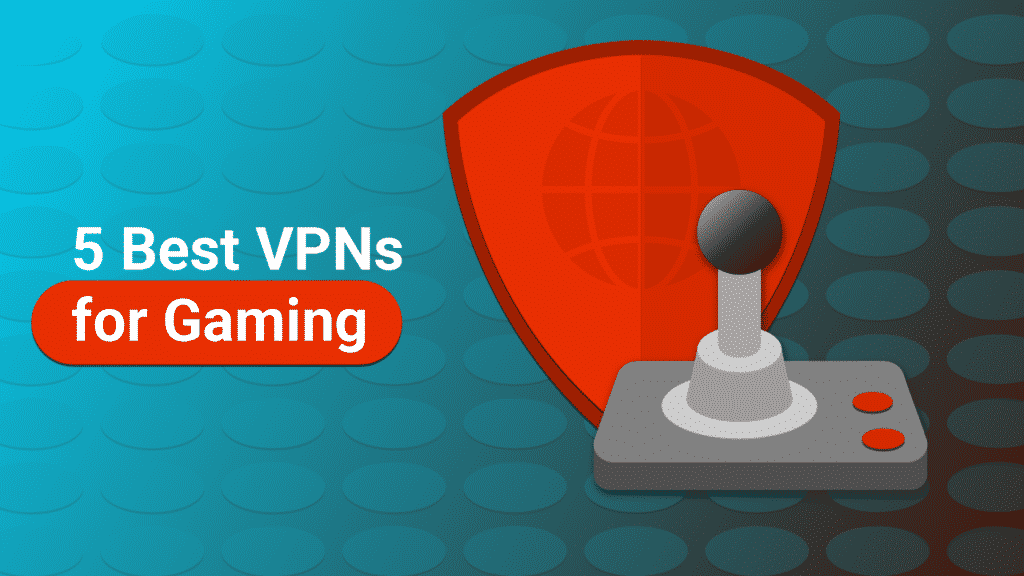 A VPN designs a secure tunnel to protect internet traffic from exposure or unwanted access. It has become more popular and accessible now since there is a continuous increase in cyber threats. In fact, in-game hacking has become more prominent, and gamers have concerns regarding the security of their accounts. Along with censorship issues, these security issues make gamers turn to VPNs for protection and unrestricted access. 
Using a VPN has many advantages. In particular, you want to have access to several game servers that are not locally available. You also want protection from malicious servers or hackers looking to exploit vulnerabilities on game servers. With several VPNs in the market, it is essential to have the best to serve you. It is for this reason this article suggests the best VPNs you can use. 
Recommended VPNs for Gaming
Here are the five best VPNs we recommend for gaming:
ExpressVPN

Features
Number of servers: More than 3,000
Speeds: Unlimited
Server locations: 160 in 94 countries
Maximum devices supported: 5
24 live chat: Yes
30 day money back guarantee: Yes
Pros/Cons
Fastest VPN out there
Strict no logs policy
256-bit AES encryption
There is no surprise ExpressVPN makes it to the top of this list. An impressive server presence, incredible speeds, extensive security, several features, cross-platform compatibility, and excellent support shows why it remains the standard for VPN service providers. 
Based in the British Virgin Islands, a fitting area for VPN service providers, ExpressVPN shows you that your privacy is not something to be taken lightly. The British Virgin Islands is not under the jurisdiction of any joint nations that share intelligence information. A privacy-friendly area is essential, especially for gamers that want to remain anonymous. 
Its No-Log Policy also cements its dedication to your privacy. ExpressVPN does not store connection information about its users. Even if there is a momentary glitch, its TrustedServer technology prevents any data from getting leaked because its servers use only RAM. This prevents any forceful server collection by any government from yielding any result. There is also a cryptocurrency payment opportunity for ultimate privacy.
Tor over VPN is a feature not many VPNs can boast of having, but ExpressVPN has it in its array of security features. It guarantees security with its Lightway VPN protocol, other VPN protocols, leak protection, 256-bit encryption, split tunneling, perfect forward secrecy, and a kill switch. Third-party auditors have also put forward their seal of approval regarding the security of this VPN service provider.
Ninety-four countries host more than 3000 servers. Gamers who want to explore the world will be happy to see they have access to so many servers. It also has incredible speeds to support gaming without interruptions. Playing games of the highest quality is a requirement for some gamers. ExpressVPN ensures it provides the resources to achieve that. There is also P2P sharing for torrenting and multiplayer games. 
Desktop applications for Windows and macOS are available. ExpressVPN also supports Android, iOS, Chrome, Firefox, Linux, Edge, and Routers. It is one of the most expensive VPNs, but it offers a 30-day money-back guarantee. Five simultaneous connections might be the only reason anyone can not like ExpressVPN. Although if you use a router, you can have more than that. 
With 24/7 availability, instruction guides, and FAQs, ExpressVPN shows why it's an industry leader with a great support structure.
Pros:

Fastest VPN out there;

Strict no logs policy;

256-bit AES encryption;

Lowest price: $6.67
NordVPN

Features
Cryptocurrency accepted? Yes
Simultaneous connections: 6
Dedicated IP-addresses? Yes
Servers: 5342 in 58 countries
Pros/Cons
Lots of pricing options
Netflix support kept up to date
256-bit AES encryption
NordVPN is another VPN service provider that is threatening ExpressVPN's position at the top. It also boasts exceptional speed, variable features, strong unblocking powers, a vast network of servers, and other features we will discuss. 
Panama-based NordVPN is another privacy-friendly haven. It is not under the jurisdiction of any of the 5 Eyes, 9 Eyes, and 14 Eyes agreements. Countries under these alliances are under an obligation to share information. NordVPN, being aware of the implications of being in any of these countries, chose Panama as its headquarters. 
It doesn't retain any user information on its servers except those users use to login into their accounts. Its No-Log Policy enforces this. It also has a cryptocurrency option that stops anyone from knowing your billing address, potentially your home address. 
Security is one of NordVPN's most vital points. AES-256 encryption, which is impossible to break given the world's resources, protects all data that passes through the network. Perfect forward secrecy, a kill switch, split tunneling, DNS/IPv6/WebRTC leak prevention, and secure VPN protocols are other features of its security structure. It also has Onion over VPN, Static IP addresses, Obfuscated servers, and Double VPN servers, which provide extra security layers to achieve maximum security. 
NordVPN is one of the VPN service providers that has invited auditors to assess its security. It has done this more than once, proving that security is the most crucial aspect of any VPN. It also provides a CyberSec feature, which is an adblocker, website blocker, and malware detector.
A comprehensive fleet of more than 5500 servers resident in 56 countries gives users the confidence that NordVPN will meet their needs. There are fewer countries compared to ExpressVPN, but it has more servers overall. This reduces the risk of congestion on the servers. Buffer-free gaming is what you'll get because of the speed of the connection. It is reliable and consistent in making sure there are no lags. 
NordVPN has applications for nearly every popular platform and instructions for manual installations. However, you cannot use more than six concurrent connections on a single account. Pricing is costly for monthly usage but cheaper if you commit to a long-term subscription (NordVPN does however not offer lifetime access). With a reliable 30-day money-back policy and 24/7 support, you can bank on this VPN service provider.
Pros:

Lots of pricing options;

Netflix support kept up to date;

256-bit AES encryption;

Lowest price: $3.71
Surfshark

Features
Free trial? Yes
Simultaneous connections: unlimited
Ad blocking? Yes
Servers: 1000+ in 61 countries
Pros/Cons
No footprints
Allows torrenting
256-bit AES encryption
Surfshark is proof you don't have to break the bank to get a VPN with tight security, advanced features, and fantastic performance. The British Virgin Islands host this VPN's headquarters. Since it is not part of any joint surveillance alliance, Surfshark is safe from governments secretly asking for user data to identify a person. It also set up a warrant canary that notifies users of any demand for user information by the government. 
Its No-Log policy maintains a stance on not storing user connection logs. It only keeps your email address, encrypted password, and payment details. Surfshark goes further to involve cryptocurrency in payment options for subscription, showing its users it is bent on keeping them safe. It also has Surfshark Search, an ad-free search engine that maintains privacy by not tracking or recording users' search history. 
Surfshark employs several security features to keep your network connection airtight. Security specialists have attributed several accolades to the popular AES-256 encryption that Surfshark uses to guard your data. A kill switch and leak protection prevent your IP address from unwanted exposure. MultiHop is a way to put another protection layer to discourage any determined bad actor from trying to gain access to your network. 
CleanWeb is a security feature that blocks ads, trackers, and malware. Others include Camouflage Mode, NoBorders Mode, and a Whitelister. There is sufficient information on all these security features on their website. OpenVPN, WireGuard, and IKEv2 are VPN protocols Surfshark implements for security and performance. 
Surfshark has over 3000 servers currently operating in 65 countries. Its server network guarantees gamers a wonderful experience unblocking foreign servers. It might not be as fast as the top two VPNs, but it still is swift enough to be recognized by industry experts. With support for BitTorrent, you can be sure Surfshark encourages torrenting. 
Playstation and Xbox are popular gaming consoles that Surfshark supports, along with popular operating systems you can play games on. You can use as many devices simultaneously on a user account with Surfshark; this is the one feature that draws users to this VPN service provider. Its 24-month plan comes at a shocking $2.49 per month. A 30-day refund policy is in effect the moment you're a first-time subscriber. A 24/7 support team is ready to respond to any complaints or suggestions you might have.
Pros:

No footprints;

Allows torrenting;

256-bit AES encryption;

Lowest price: €2.49
CyberGhost

Features
Connected devices at once: 7
Automatic kill switch? Yes
One click connect: Yes
Servers: 5900 worldwide
Pros/Cons
No logs policy
24/7 live chat
Apps for mobile devices and routers
CyberGhost is yet another eye-catching VPN service provider with dependable features. This Romania-based VPN has no agreement with any government to share user data because it is not under the territory of any of the surveillance-sharing nations. It does not store your data or any data that can identify you except the information you present when opening your account. 
Trust is vital for using VPNs. CyberGhost understands this and publishes a transparency report routinely to share with users information about the VPN service's latest updates. There is also a bitcoin payment opportunity if you're looking to make a statement on the seriousness of your privacy.
WireGuard, OpenVPN, and IKEv2 are the secure protocols CyberGhost provides for use, and you can choose which one you prefer to use. Legendary 256-bit encryption is part of the security structure. Perfect forward secrecy is another feature that is a nightmare for bad actors as encryption keys give in to periodic changes. Others include a kill switch, split tunneling, and leak protection. 
CyberGhost offers application, WiFi, and HTTPS protection by springing up the VPN when you open specified applications or connect to a public WiFi or visit an unsafe website. It also protects you from ads, websites with viruses, and advertising trackers. With its compatibility with Tor, you can easily afford the double protection that comes with using the Onion over VPN process.
Its server presence is something that excites gamers, with more than 6800 servers in 89 countries. That is usually more than enough to access foreign game servers. You can depend on its consistent speed to give you the highest gaming quality you need.
Gamers will be happy to see support for Playstation, Nintendo Wii U, and Xbox. PC and mobile gamers also have access to CyberGhost's Windows, Linux, Android, iOS, and macOS applications. The limit for this VPN is seven simultaneous connections. Its monthly plan is expensive, but there are other economical options for long-term commitments. An outstanding 45-day refund policy is another enticing CyberGhost feature. Its 24/7 support team is always ready to respond almost immediately. It also has dedicated pages to help with any issues you might have.
Pros:

No logs policy;

24/7 live chat;

Apps for mobile devices and routers;

Lowest price: €2
PrivateInternetAccess

Features
IP cloaking? Yes
Access to US domains? Yes
Devices supported: Over 30 (including iOS and Android)
Firewalls? Yes
Servers: 3000+ in over 25 countries
Pros/Cons
Military grade encryption
Firewall
Completely private browsing
Private Internet Access is another VPN gamers love, and it offers several features for a reasonable price. PIA is US-based and is under the jurisdiction of nations with surveillance sharing abilities. What does this mean? PIA will need to obey the laws in the US. It will have no option but to comply if the government decides to ask for its users' data. However, due to its robust No-Log Policy, PIA does not in any way store your internet traffic logs. This is a good thing because even if the government gets its users' data, only the information users provide while creating an account is available. 
Although PIA has a 256-bit encryption option, the default encryption is AES-128, which is not as secure as the former. Fortunately, users can choose their encryption, authentication, and handshake cipher depending on their needs. OpenVPN is the default protocol on most applications, with options for WireGuard on desktop and mobile applications. Only the iOS app uses IPsec as the preferred protocol. It also has Split tunneling, leak prevention, port forwarding, a kill switch, and a MACE feature that blocks ads, trackers, and malware.
PIA has a network of almost 25000 VPN and Proxy servers spread across 77 countries. It has the largest network of servers on this list, and this means more capacity to perform. Performance is one thing gamers look for, and this VPN service provider is up to the task. This VPN fully supports torrenting. However, its speed is not consistent and reliable. Your rate will depend on the location you intend to use. 
All applications are open source, which means anyone can take a look at its source code. PIA supports Playstation, Xbox, macOS, Windows, Android, iOS, Linux, Chrome, Firefox, Opera. It also gives manual installation instructions. PIA grants ten simultaneous connections per account, has a 24/7 support team, and several support resources are available on its website. 
PIA has one of the most economical prices, starting at $2.69 per month for its two-year plan and putting its monthly plan at $9.95. All plans offer a 30-day refund policy.
Pros:

Military grade encryption;

Firewall;

Completely private browsing;

Lowest price: €2.50
What To Consider Before Choosing a VPN for Gaming
Here are some critical things to examine before choosing the VPN service provider you will use for your gaming.
1. Security & Privacy
These two are the most important things to look out for in selecting a VPN application. You have to check the level of encryption, protocols, and security features available for use. AES-256 is the industry standard for encryption, and if the VPN doesn't use it, you should find another VPN. Privacy is also crucial to gamers who do not want to be unmasked. The VPN has to be trustworthy and adhere to a strict privacy policy.
2. Server Performance
Server performance boils down to having a server or servers in the region you want to access games and ensuring those servers are good enough to deliver a seamless experience. More servers usually turn out to be a good thing, but some service providers have fewer servers and guarantee a better experience. It is up to you to find which one best suits your needs. 
There are other things like cross-platform compatibility, support, and refund policy you should look at before choosing a VPN. 
Conclusion
ExpressVPN and NordVPN are ideal choices for top gamers, but if you're not financially buoyant, others like Surfshark, CyberGhost, and PIA deliver exceptional service. Overall, this article has clearly shown you the best VPNs and how to select one that meets your needs.