What Are Obfuscated Servers and Why You Need It? (2023)
In the world today, surfing the internet without some form of protection is almost a foolhardy thing to do. Dangers include hackers looking to steal your information, unscrupulous Internet Service Providers monitoring users, and even repressive governments censoring your online activities.
A VPN (Virtual Private Network) offers you a means to maintain your privacy and security the whole time. There are many options to go with. If you want to choose a provider, you have to pay attention to the features it has. Of course, the provider should have the standard security features such as powerful encryptions, support for the best protocols, etc. However, top-tier ones have additional features such as Onion over VPN, dedicated IP servers, and obfuscated servers.
In this review, we will be discussing obfuscated servers and what they do.
What are Obfuscated Servers?
When you make use of a VPN, your ISP, and indeed anyone who cares, can detect it. This is because VPN IP addresses have a distinct signature. This signature is not immediately visible, but someone using deep packet inspection can detect it.
However, in some cases, you may want your IP address to look like the regular one. Thus, even when you are making use of a VPN, your IP network will look like an everyday HTTPS traffic. No one will be able to tell that you are making use of a VPN. Since your traffic will be unaffected, being under the VPN's coverage, you will still be safe.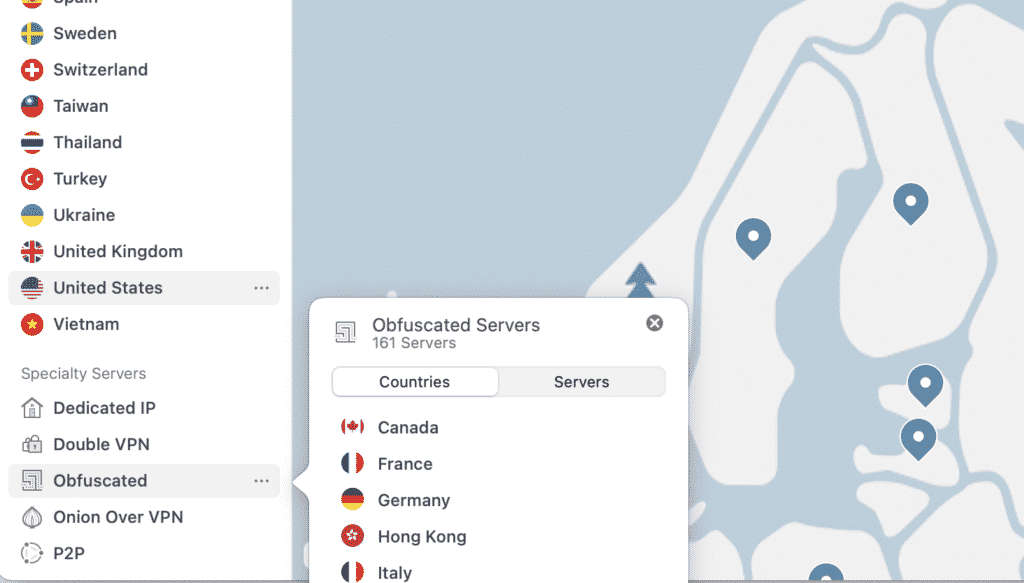 Obfuscated servers make it possible to have regular IP addresses while making use of a VPN. They eliminate all the marker, protocols, and signatures which make the VPN-enabled IP address detectable. In essence, they cloak your IP address.
Some providers refer to obfuscation as being in a "stealth" or "Camouflage" mode. In principle, they work the same way. You are assured of greater security when making use of any obfuscation feature.
Different VPNs with Obfuscated Servers
Below, you will find the best VPNs that provide obfuscated servers:
ExpressVPN

Features
Number of servers: More than 3,000
Speeds: Unlimited
Server locations: 160 in 94 countries
Maximum devices supported: 5
24 live chat: Yes
30 day money back guarantee: Yes
Pros/Cons
Fastest VPN out there
Strict no logs policy
256-bit AES encryption
ExpressVPN is the standard-setter in the VPN industry. Most providers look up to it because of its stellar features. It offers users the ability to stream and download content at top speed. More so, it unblocks most streaming platforms quite easily. Then finally, it has really great security features.
ExpressVPN's security features include the AES 256-bit encryption that is virtually impenetrable. It also allows for split tunneling. Here, you can direct your traffic both through the VPN and your regular internet provider. Furthermore, it comes fitted with a kill switch. This immediately comes on whenever the VPN falters. This way, you do not get to lose your data.
This provider is quite reliable for getting around restrictions from countries like China. It offers obfuscated servers that allow you to surf undetected.
One drawback to this provider is that locating its obfuscated servers is not straightforward. You have to reach out to its customer support first. They will give you a list of countries with Obfuscated servers. Afterward, you can follow the steps discussed below.
How to Enable Obfuscated Servers on ExpressVPN
Get the ExpressVPN app running.
Open the VPN location screen.
Type in one of the countries you must have gotten from any of ExpressVPN's support staff.
Click on the country. It will automatically become your new location.
Turn on the "on" button to connect to any of the new location's obfuscated servers.
Pros: Fastest VPN out there; Strict no logs policy; 256-bit AES encryption;
Lowest price: $6.67
NordVPN

Features
Cryptocurrency accepted? Yes
Simultaneous connections: 6
Dedicated IP-addresses? Yes
Servers: 5342 in 58 countries
Pros/Cons
Lots of pricing options
Netflix support kept up to date
256-bit AES encryption
NordVPN is a top-tier provider that gives ExpressVPN a run for its money. It has more than 5000 servers in 59 countries. In the list, you will find dedicated IP address servers, Onion over VPN servers, double encryption servers, and of course, obfuscated servers. The great thing with this provider is that you will not run out of servers for obfuscation.
NordVPN is a tested and trusted provider to get around even the toughest geo-blocks. Ensure to download and install this VPN before traveling to any location with tough censorship such as China.
How to Enable Obfuscated Servers on NordVPN
Generally, you should be a current subscriber. That means that you are currently on any of NordVPN's subscription plans. Furthermore, the app should already be installed on your device. You can easily download and install the app from NordVPN's website. Thankfully, this provider boasts of apps for virtually every device. To get the obfuscated server option up and running, please follow the steps discussed below.
Windows Devices
Go to "Settings".

Look for "Advanced Settings". You will find it on the left-hand side of the menu.

The Obfuscated server option is listed there. You can toggle the button to either activate or deactivate.
iOS Devices
Look for the "Settings" icon. It is on the right-hand side of the tab. Click on it.

Tap on the "VPN Protocol" option.

There are 4 options you'll find there: IKEv2, OpenVPN (UDP), OpenVPN (TCP), and NordLynx. Select any of the OpenVPN options.

Go back to the main screen.

Tap on the "Specialty Servers" option.

The "Obfuscated Server" option will now be available there. You can click on it to get the ball rolling.
Android
On the main screen, scroll to "Specialty servers".

Click on it. Obfuscated servers will be one of the options there. (You can make use of this process for macOS devices, too.)
Pros: Lots of pricing options; Netflix support kept up to date; 256-bit AES encryption;
Lowest price: $3.71
Surfshark

Features
Free trial? Yes
Simultaneous connections: Unlimited
Ad blocking? Yes
Servers: 1000+ in 61 countries
Pros/Cons
No footprints
Allows torrenting
256-bit AES encryption
Surfshark is a new entrant in the VPN space. So, as expected, it does not pack as many features as the other heavyweights. It boasts of a modest number of servers – just 1700 in 63 countries. However, one great thing about this provider is that it is continuously improving. It competes fairly well generally in terms of speed, security, and even unblocking ability. Remarkably, it is one of the few VPNs that offer obfuscated servers.
Surfshark offers a variant of the obfuscated server known as the 'No Border' feature. It works much in the same way as obfuscated servers. This means that you will also get to surf the internet undetected, even in high-risk countries.
How to Make Use of the No Borders Option on Surfshark
First, download and install the VPN. You can easily get the VPN from Surfshark's website or on any App store.

Get on a Surfshark subscription.

Log into your account using the details you used when signing up.

Go to "Settings".

Click on "Advanced", and scroll down to the No Borders option. Click on that.

Once the No Borders mode is powered on, you are good to go.
Pros: No footprints; Allows torrenting; 256-bit AES encryption;
Lowest Price: €2.09
Why Do You Need an Obfuscated Server?
Some individuals are convinced that making use of a VPN is unnecessary. Thus, going further to use obfuscated servers may seem like overkill. But really, is there any reason for making use of an obfuscated server? Below, you'll find 5 strong reasons why you need to enable obfuscated servers while using your VPN.
1. Bypassing Censorship
Bypassing government censorship is the most significant use obfuscation technology serves. Some countries are not cool with the idea of citizens making use of VPNs. This sort of rigid policy is mostly found in regions with repressive governments.
These governments restrict access to the internet (or some aspects of it), social media sites, streaming platforms, etc. Using the internet in these jurisdictions is usually a bore. Countries with policies like this include China, Russia, Egypt, Turkey, and so on. They make use of tough encryptions to ban these sites and maintain compliance. China is quite notorious when it comes to the restriction of the internet. In fact, its technology for censorship is known as the Great Firewall. The Great Firewall is so tough that it is almost impossible to penetrate.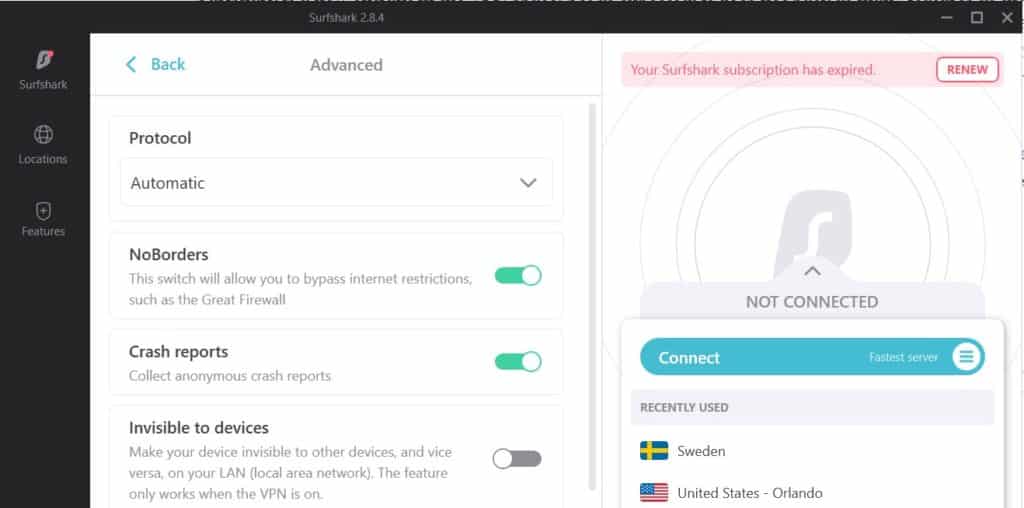 Residents in such locations often make use of VPNs to bypass these censorships. However, the authorities have cottoned on to this. These days, they go the extra mile of detecting and blocking any IP address detected to be making use of VPN protection. The commonest way they do this is by identifying and blocking traffic going to servers belonging to VPN-providers. Many VPN-providers are inoperational in China because of this reason. The ones that have managed to stay only survive through making use of obfuscated servers.
Thus, with an obfuscated server, you can continue to enjoy the internet while in these countries. You can surf the net, access social media sites, use Gmail without being detected. Your IP address will look like any regular one; no one will be none the wiser.
2. Improving Security
Security is one of the most important functions of a VPN. A VPN protects you from hackers and cybercriminals who may want to access your data. Obfuscation takes it a notch higher by giving you another layer of security.
Why would you need another layer of security? Usually, the security features of a VPN should be enough. In fact, providers who make available obfuscated servers are typically top-tier. This means that they most likely have stellar security features already. However, if you work in a high-risk job, you will appreciate this extra layer of protection.
Furthermore, if you routinely come in conflict with the government, for instance, because of protesting human rights violations, obfuscation may well be expedient. For the random Joe, an obfuscated server may not be necessary. It is up to you to decide if you fall into this class.
3. Getting Around Network Blocks
Some schools and organizations ban the use of VPN networks. They install internal mechanisms that detect and obstruct traffic coming from VPNs. Obfuscation hides the fact that you are making use of a VPN. This way, it tricks the detection measures, allowing you unrestricted access.
4. Prevention of ISP Snooping
Your Internet Service Provider (ISP) monitors your traffic. This is the reason you are unable to access some websites. The ISP can throttle your internet speed or block you from making use of any site. A VPN usually helps eliminate this challenge by encrypting your traffic. The ISP will be unable to see the sites you visited or any actions you carried out.
However, some ISPs throttle your speed when they discover that you are making use of a VPN. Also, if you torrent files, some ISPs could slow down your speed. When you make use of obfuscated servers, that will not happen.
5. Streaming Geo-restricted Content
Most online streaming platforms make their content exclusive to certain locations. This is mostly due to the licensing agreements they have. A VPN can get you access to these geo-blocked content. Hence, even though typically you wouldn't be able to access Netflix US from the UK, with a VPN, you can.
However, these content providers are getting smarter. They employ several tactics to block VPNs. Some of them are successful, while some aren't. You can make use of obfuscated servers to eliminate this challenge, too. It would be like having a VPN for your VPN. With this securely in place, you can stream to your heart's content, without any interference whatsoever.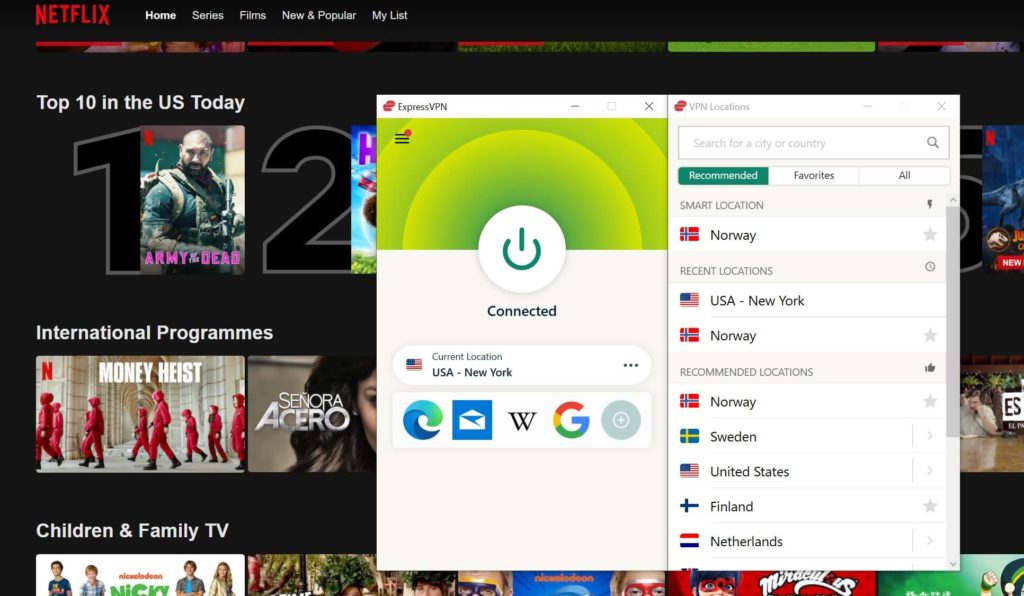 Conclusion
Obfuscated servers camouflage your VPN traffic, saving you a lot of stress, and ensuring tighter security. Granted, you may not need an obfuscated server. Making use of the regular VPN servers may be enough. However, if you ever need one, this guide here shows you the benefits of obfuscated servers and the best providers for them.