How to Watch ZDF Outside Germany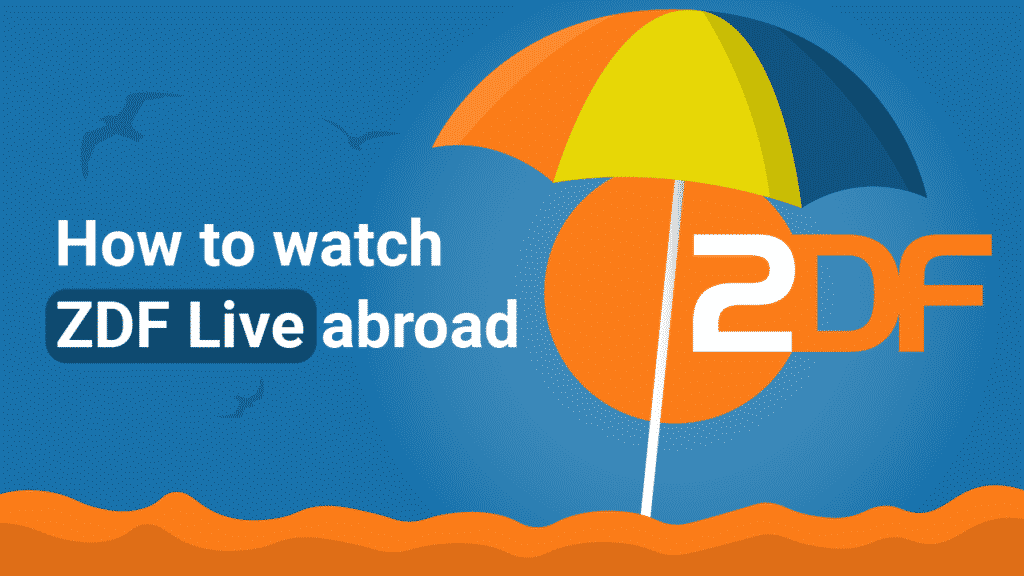 Zweites Deutsches Fernsehen (ZDF) is Germany's national television channel. It has been broadcasting since 1st April 1963 from Mainz Rhineland-Palatinate. ZDF broadcasts both German and international TV channels. It began broadcasting 24 hours a day in October 1996 and has grown since then.
ZDF is also available for live streaming on ZDF Live, allowing viewers to stream live and on-demand content on their devices. Devices compatible with ZDF Live include Android, iOS, Windows, Mac, Linux, Roku, Apple TV, Android TV, etc. You can also watch ZDF on multiple devices.
ZDF Live has an array of good content from local news and entertainment to international sporting events. Its content is in multiple categories like children, culture, entertainment, TV Series, and many more.
Why Is ZDF Live Blocked Outside Germany?
Unfortunately, you can only stream most of the great content on ZDF Live from within Germany. This restriction is because ZDF is licensed to distribute content within Germany. So, if you try to stream ZDF Live without a German IP address, you will receive an error message.
However, there's a way around this geo-restriction; it can be overridden with a VPN (Virtual Private Network). A VPN allows you to browse the internet without geographical restrictions securely. You can hide your real IP address with a VPN, swap it for a German IP address, and stream ZDF Live as if you're in Germany.
The Best VPNs to Use With ZDF Live
To unblock ZDF Live, a VPN must have servers in Germany through which you can reroute your IP address. So, we have listed five VPNs that can unblock ZDF Live for you. They are:
ExpressVPN

Features
Number of servers: More than 3,000
Speeds: Unlimited
Server locations: 160 in 94 countries
Maximum devices supported: 5
24 live chat: Yes
30 day money back guarantee: Yes
Pros/Cons
Fastest VPN out there
Strict no logs policy
256-bit AES encryption
ExpressVPN is the best VPN you can use to unblock and stream ZDF Live. It has 3000+ VPN servers in 160 locations spread across 94 countries. Four of these servers are located in the German cities of Frankfurt and Nuremberg. With these, you can reroute your IP address through any of their German servers and access ZDF Live.
ExpressVPN will help you defeat content restrictions and censorship, delivering access to geo-restricted content. It secures your data with AES 256-bit encryption and provides DNS, IPv6, and WebRTC leak protection.
ExpressVPN offers unlimited bandwidth and ISP throttling bypass, so you can enjoy streaming sessions without encountering buffering. It also has many compatible VPN protocols.
ExpressVPN apps are available for different operating systems such as Windows, Mac, Linux, Android, iOS, and Routers. Other devices include Amazon Fire TV, Amazon Fire Stick, and Kindle Fire tablets. Furthermore, with one subscription on ExpressVPN, you can connect up to 5 of your devices even though this is a little less than what other VPNs offer.
For all these great features, ExpressVPN is unsurprisingly costlier than other VPNs. Subscriptions for one month cost up to $12.95. However, this is backed up by a solid 30-day money-back guarantee.
ExpressVPN also has a Split tunneling feature, which allows you to route some of your device traffic through a VPN while the rest directly accesses the internet. Split tunneling is a great feature if you want to hide only some of your internet traffic.
Pros:

Fastest VPN out there;

Strict no logs policy;

256-bit AES encryption;

Lowest price: $6.67
NordVPN

Features
Cryptocurrency accepted? Yes
Simultaneous connections: 6
Dedicated IP-addresses? Yes
Servers: 5342 in 58 countries
Pros/Cons
Lots of pricing options
Netflix support kept up to date
256-bit AES encryption
NordVPN is another good VPN for unblocking ZDF Live at an affordable price. Out of 5400+ servers in 59+ countries, 259 are located in Germany. The number of its German servers ranks second only to CyberGhost VPN. With this many servers, you can be sure that unblocking German content will be straightforward.
NordVPN is based in Panama, a country known for its data-protection friendly laws. Panama has no data-retention rules, and it's not a member of international surveillance alliances, so you can be sure that NordVPN's "No-Logs" policy is as strict as it says.
For user protection, NordVPN uses AES encryption with 256-bit keys. It also uses IKEv2, OpenVPN, and NordLynx. There are no bandwidth caps so that you can escape buffering with this VPN.
You can use either the NordVPN website or the app. Both are available for Windows, Mac, and Linux computers. They can also be used on Android and iOS devices. However, you will need to set it up for routers manually. Users can connect up to 6 devices simultaneously.
NordVPN has live chat customer service; it also has an excellent user interface.   Furthermore, NordVPN subscription is as low as $5.75/month, with a 30-day money-back guarantee.
There is a slight disadvantage to NordVPN. When you connect, it only specifies the server location and not the specific server you're connected to. However, this is not a significant issue.
Pros:

Lots of pricing options;

Netflix support kept up to date;

256-bit AES encryption;

Lowest price: $3.71
CyberGhost

Features
Connected devices at once: 7
Automatic kill switch? Yes
One click connect: Yes
Servers: 5900 worldwide
Pros/Cons
No logs policy
24/7 live chat
Apps for mobile devices and routers
CyberGhost is another excellent VPN. To access ZDF Live, it will first hide your real IP address, then swap it with a German IP address from any of their 690 servers in Germany. With such a strong German presence, it is the perfect VPN for accessing geo-restricted German content.
CyberGhost ditched its German roots for a headquarters in Bucharest, Romania. This relocation was to escape the effects of Germany's membership of many international surveillance alliances, and to exploit friendly Romanian data-protection laws.
CyberGhost uses military-grade AES 256-bit encryption to ease your privacy fears, making it impossible for snoopers to track you online. They also have a strict No-logs policy, which is backed up by DNS-leak protection and an Internet Kill Switch.
CyberGhost has unlimited bandwidth offering you the best streaming experience. This feature is boosted with an ISP throttling bypass. It also allows torrenting and P2P file sharing, which are legal in Germany. CyberGhost unblocks the German versions of other streaming services like Netflix, Youtube, ARD, 7TV, and many other streaming services.
All CyberGhost VPN apps have German versions, and their 24/7 customer service is available in German. With a CyberGhost app, you can stream ZDF live on most devices and operating systems. Devices compatible with CyberGhost apps include Windows, macOS, iOS, Linux, Android, Android TV, Amazon Fire TV, and routers. Also, with one subscription, you can stream on 7 devices simultaneously.
CyberGhost has a 24-hour free trial. After which your first 18-month subscription will cost only $2.75/month. This subscription plan also comes with a 45-day money-back guarantee.
Pros:

No logs policy;

24/7 live chat;

Apps for mobile devices and routers;

Lowest price: €2
HideMyAss

Features
Speeds: 20 Gbps
Money-back guarantee: Yes
Activity logs? No
Locations: 190+ countries
Pros/Cons
Best server database on the market
No-logs and kill switch policy
Multiple device protection
Expensive short term plan
HideMyAss can also securely access and unblock German content. It was founded in 2005 in the United Kingdom and later became a subsidiary of Avast in 2016.
HMA has 3000+ IP addresses from 1100+ VPN servers in more than 290 locations across over 190  countries globally. Twenty-four of these servers are located in German cities like Frankfurt and Berlin, so you can connect to these servers and swap your IP address to unblock ZDF Live.
HMA has a 30-day free trial with a money-back guarantee. This money-back guarantee can be trusted because there are user reviews online on subscription refunds. HMA currently has a renewable 36-month subscription plan at $2.99/month for subscriptions and $107.64 for three years, effectively making it the cheapest VPN on this list. Their multiple payment options guarantee that payment will be easy.
For security, HMA uses AES 256-bit encryption to protect user connections. It also uses OpenVPN, IPsec/IKEv2 protocols. It has a No-logs policy. So, your user data is not stored, ensuring that you can't be tracked.
HMA allows five simultaneous connections on a single subscription. The compatible devices include Windows, Mac, iOS, Android, Linux, and routers. With a bandwidth speed of 20Gbps, you can be sure that your streaming won't be interrupted.
Pros:

Best server database on the market;

No-logs and kill switch policy;

Multiple device protection;

Lowest price: $2.99
IPVanish

Features
One click connect? Yes
Bandwidth cap? No
Servers: 100+ superfast servers
Platforms: Mac, Windows, Linux, Chrome OS, iOS, Android, Routers
Pros/Cons
Firewall
Apps for all devices
40,000+ shared IPs, 1,300+ VPN servers in 75+ locations
Not the cheapest out there
You can unblock ZDF Live with IPVanish. This VPN has 40,000+ shared IPs and 1,500+ servers in 75+ locations around the world. 57 of these servers are located in Germany alone.
IPVanish is based in the US. Their location could be a problem because the US authorities are notorious for data privacy breaches. This is why IPVanish operates a strict "No-Logs" policy. Since there are no user logs, the government can't seize or intercept them. Security on IPVanish is further strengthened with the industry-standard AES 256-bit encryption; and VPN protocols such as SOCKS5 web proxy, IKEv2, OpenVPN, and L2TP/IPsec.
IPVanish has apps for Windows, Mac, iOS, Android devices, and routers. Their apps are free to download, easy to use, and have uncomplicated installation procedures. IPVanish allows ten simultaneous connections on one subscription plan. It's subscription plans are as low as $3.25/month for 1-year subscriptions and $5.00/month for single month subscriptions. There is also a 30-day money-back guarantee.
Furthermore, IPVanish has 24/7 customer support through phone, email, and live chat. It allows you to connect to unprotected and public networks, including Wifi. It also prevents Deep Packet Inspections by ISPs, which can slow down your download and browsing speed.
To top it up, IPVanish comes with a 250GB SugarSync cloud storage, which provides data backup for your devices, with remote data wiping capabilities. This cloud storage can protect your data in cases of device theft or loss.
Pros:

Firewall;

Apps for all devices;

40,000+ shared IPs, 1,300+ VPN servers in 75+ locations;

Lowest price: $2.62
Are VPNs Legal?
Many people refrain from using VPNs because of the air of mystery around them as they claim to protect their data from even their ISPs. Possibly because it sounds almost too good to believe. The question of legality comes up because many people would not want to be caught on the wrong side of the law.
The truth is that VPNs are legal in most countries, including Germany. So, you shouldn't be afraid of using a VPN. The problem creeps up when you use a VPN to perpetrate an illegal activity such as purchasing banned items on the dark web or cyberstalking. This is when it becomes unlawful.
In some strict countries like Turkey, China, Russia, and the UAE, using a VPN is legal; but the government regulates its use. However, using a VPN is illegal in North Korea, Iraq, and Belarus.
What to Look Out For When Choosing a VPN
Not knowing what features to consider when choosing a VPN may lead you to make a poor or unsafe VPN choice. The essential elements to consider when choosing a VPN are discussed below:
The Number of Simultaneous Connections: Many people use multiple devices, even if they're only smartphones and laptops. It would help if you chose a VPN that guarantees simultaneous connections on all your streaming devices.
Bandwidth: Speed is essential because VPNs need to process every data part, adding to the delays your ISP may cause—this function is that you must choose a VPN that can process data at the highest speed possible.
Number of Servers: You should also consider the number of servers a VPN has in the country you want to access its content. The more servers a VPN has, the better for you. For ZDF Live, check the number of servers the VPN has in Germany.
Money-Back Guarantee: If you haven't used a particular VPN before, then you are most likely unsure of the quality of its services. So, you should check if the VPN has a risk-free trial option so that you don't exchange your money for piss-poor services.
Security and Privacy Features: The whole point of using a VPN is to protect your device from outside threats such as hackers and snoops. It would help if you chose a VPN that guarantees secure connections and strict No-logs policy.
Price: All the VPNs listed here offer secure and fast connections. So, you don't have to use the costliest. It would be best if you chose a VPN that gives you the best services at cheap rates. Using a free VPN is a tempting offer, which you should mostly ignore. The reason is apparent. See comparison of VPN prices her.
Many free VPNs sell your data to third parties to make up their operational costs. Many people love free VPNs, so there are always many connections to a limited number of servers. This many connections will inevitably slow your connection and wreck your streaming experience. Free VPNs also have unsecured connections without guarantees. So, it is advisable to use a paid VPN to guarantee your online security.
Conclusion
ZDF is too prominent a German channel that you can't afford to miss any of its great content simply because you're abroad. You should be able to stream ZDF Live from all over the world without restrictions. If you use any of the VPNs listed above, you will securely stream ZDF Live regardless of your location.