How to Change Your IP Address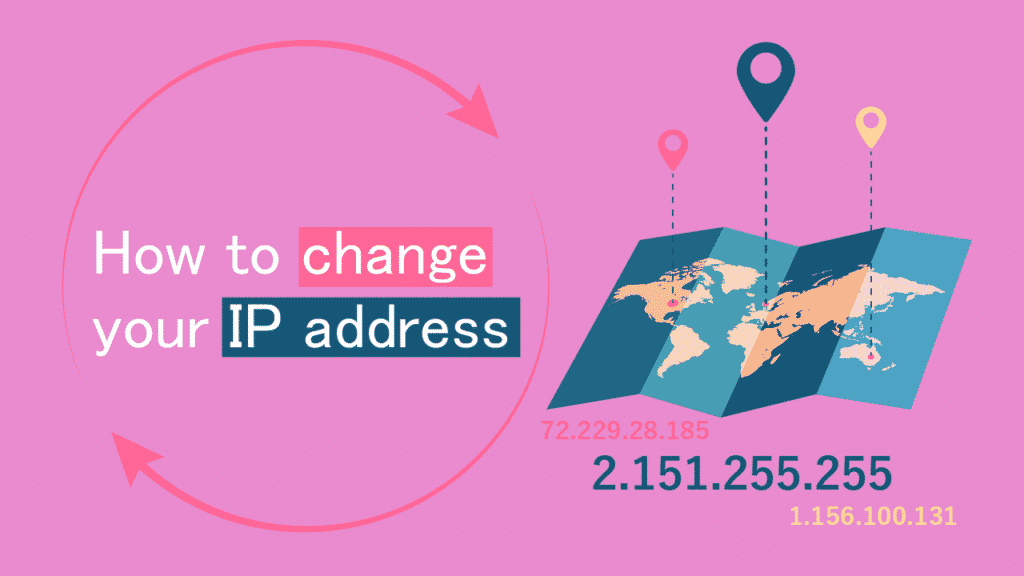 Over the years, the internet has evolved with astounding speed. Except for a few, we merely go online, surf the web for whatever reason, and then come back to the real world to deal with its challenges. Unfortunately, many people don't fully understand the challenges of using the internet.
It might shock you to know that one of the most disconcerting things about going online is that your privacy is not guaranteed. With your IP address, virtually anyone can see what you're up to. A skilled enough person can access your most visited websites, your duration on them, and even your location, among others.
It's not safe having your business out in public like that. As such, you need to have a way to change your IP address and afford yourself a decent amount of privacy.
How exactly can you change your IP address?
Internet Service Providers, among others, are some of the biggest infringers on your privacy. Fortunately, you don't have to be a slave to their nosiness. With a Virtual Private Network, you can easily change your IP address and keep your business to yourself.
A Virtual Private Network (VPN) is a system that routes your internet connection through its special servers located in various countries across the world and assigns you a new IP address. Additionally, a VPN encrypts your data such that no one, not even the government, can easily see what you've been up to online.
What are the best VPNs for changing your IP address?
To save you from the trouble of endless research looking for the perfect VPN to change your IP address, we've compiled a list of the top five service providers. They are:
ExpressVPN

Features
Number of servers: More than 3,000
Speeds: Unlimited
Server locations: 160 in 94 countries
Maximum devices supported: 5
24 live chat: Yes
30 day money back guarantee: Yes
Pros/Cons
Fastest VPN out there
Strict no logs policy
256-bit AES encryption
With just about eleven years of experience, this VPN has been able to set itself apart. So much so that very few other VPNs can rival it in terms of speed, efficiency, level of privacy, and general quality of service.
First of all, it has more than three thousand servers within its network. All these servers can be found in ninety-four countries across the globe for now.
On all those servers combined, there are thousands of IP addresses that can be assigned to you. As soon as you connect to one of them, your IP address changes, and you don't have to worry about someone sniffing out your location.
To further protect you online, this VPN uses an Advanced Encryption System with 256-bit keys. It is such an excellent choice that banks, corporate organizations, the military, and even the government use it to protect their data online.
ExpressVPN goes a step further in protecting you by replacing those physical servers with their virtual counterparts. This is particularly good for you. If the government of the country you are connected to decides to start clamping on internet freedom, they'll most likely start out by restricting Virtual Private Networks. With a virtual server instead of a physical one, they are much less likely to be able to get access to your information.
ExpressVPN really does seem like a great option to help you change your IP address and keep you as safe as possible online. Still, it does not end there. As soon as you subscribe to their network, you get to enjoy all these services on five different devices. Furthermore, using ExpressVPN is risk-free because if you are not satisfied within the first thirty days of subscribing to any of their plans, you can opt-out and get your money back.
Pros:

Fastest VPN out there;

Strict no logs policy;

256-bit AES encryption;

Lowest price: $6.67
NordVPN

Features
Cryptocurrency accepted? Yes
Simultaneous connections: 6
Dedicated IP-addresses? Yes
Servers: 5342 in 58 countries
Pros/Cons
Lots of pricing options
Netflix support kept up to date
256-bit AES encryption
Coming in at a close second on our list is NordVPN. In 2012, a group of friends came together for a similar reason as to why you're reading this article. The result was a virtual private network that has grown and become a force to be reckoned with in the internet privacy industry.
NordVPN has over 5600 servers in about 59 different countries in the world today. This leaves you with several server options to choose from to change your IP address.
One of the more interesting things about this VPN is its dedicated servers. Today, internet banking has become more popular. Normally, for your protection, VPNs assign you a different IP whenever you log in. However, what happens when your bank keeps seeing you logging in as a different person every six hours? They'll consider it suspicious, and they might lock you out.
NordVPN offers a solution to that by assigning its users one IP address that only they can use. So, while your bank, for example, doesn't know exactly where you are, they can't lock you out for appearing to be in too many places at once, either.
It might seem like a bad idea to have just one IP address to cover for your original. However, NordVPN has another special feature up their sleeve called Double VPN. It tunnels your connection twice. That way, tracking you and your activities becomes an arduous task for anyone who tries.
One more admirable quality that NordVPN has, which should not go without a mention, is its money-back guarantee. Generally, it does not charge exorbitantly for its services. Despite that, it still allows you to test the services for thirty days. During that period, if you feel you can have better, you can request a refund and you'd get one.
Pros:

Lots of pricing options;

Netflix support kept up to date;

256-bit AES encryption;

Lowest price: $3.71
Surfshark

Features
Free trial? Yes
Simultaneous connections: unlimited
Ad blocking? Yes
Servers: 1000+ in 61 countries
Pros/Cons
No footprints
Allows torrenting
256-bit AES encryption
While it is comparatively younger than the first two we previously mentioned, it still has a solid spot here on our list. Apart from being able to change and hide your IP address, it also provides excellent internet protection services that far exceed several other VPNs in the internet privacy industry.
With over one thousand and forty servers in the world today, SurfShark is in an excellent position to help you satisfy your needs. Its servers are homes to myriads of IP addresses that give off locations in more than sixty-one countries in the world.
You can hardly go wrong with this Virtual Private Network. It gives you a shot at quality internet freedom with its 256-bit keys Advanced Encryption System. In addition to that, it also provides you with a couple of cool features.
One that is particularly useful is the Whitelister feature. This feature allows you to choose which apps you want to tunnel through their servers. That way, you can leave out the apps that don't really need a different IP. A great use for this, again, would be your banking app.
Besides having some of the best prices in the market, they also give you the freedom to try them out for thirty days. You will literally be taking no risks as you can get a full refund if you are unsatisfied within that period. What more could you possibly ask for?
Pros:

No footprints;

Allows torrenting;

256-bit AES encryption;

Lowest price: €2.49
UltraVPN

Features
One click connect? Yes
Servers: 100+ superfast servers
Bandwidth cap? No
Platforms: Mac, Windows, iOS, Android
Pros/Cons
Firewall
Apps for all devices
256-bit AES encryption
Not as many servers as others
This is another Virtual Private Network that holds the keys to solving your Internet Protocol address issue. With servers dispersed across the seven continents of the world, there is almost no shortage of the number of places you can appear to be surfing from. It truly does help you give snoopers a run for their money.
UltraVPN has no less than a thousand servers across the world with numerous IP addresses they can assign to you. In addition to this, their strict zero-logs policy protects you even more. They ensure that they do not keep track of your data. You might not understand the importance of this. At least, not until you find out that there are actually some VPN brands that sell out clients' data to advert agencies. Not to worry, though. None of the brands on our list do so.
As soon as you subscribe to their services, you will have the opportunity to change the IP address on up to five different devices. You don't have to sacrifice one for the other. You can be fully covered if you want to. To top it all off, there is also a money-back guarantee that spans a period of thirty days. During that time, you don't have to worry that you'll get cheated if their services don't come up to par. You can easily ask for a refund upon dissatisfaction.
Pros:

Firewall;

Apps for all devices;

256-bit AES encryption;

Lowest price: €2.99
CyberGhost

Features
Connected devices at once: 7
Automatic kill switch? Yes
One click connect: Yes
Servers: 5900 worldwide
Pros/Cons
No logs policy
24/7 live chat
Apps for mobile devices and routers
Coming in at number five on our list is a VPN with more than just potential. With several thousand users across the globe and upwards of nine thousand reviews on its website alone, this VPN has a pretty wide appeal among various people in the world. This should come as no surprise, considering that it has had fifteen years to improve its quality of service. Now, it can guarantee your online safety as long as you are connected to its network.
Regardless of how you choose to look at it, 5700+ servers around the world are quite a number for any single VPN to sport. However, it is not unbelievable simply because CyberGhost has this number. On all these servers combined, there are several thousand IP addresses that can be assigned to you to mask the one you initially had. This gives you a lot of options if you are looking to keep your online business to yourself.
They also provide you with the standard 256-bit keys AES that encrypts your data as much as digitally possible. They are a premium service, but they are willing to grant you twenty-four hours to test out their features. As soon as you're sure and you subscribe, you can change the IP addresses of seven of your devices with that one subscription. CyberGhost is really a Virtual Private Network to work with if you need that extra security.
Pros:

No logs policy;

24/7 live chat;

Apps for mobile devices and routers;

Lowest price: €2
Would a free VPN work as well as a paid VPN?
Throughout this article, we've listed only Virtual Private Networks that require you to pay before you can fully access their services long term. The reason behind that is that free VPNs don't quite have what it takes to rival their paid counterparts. We think it's safe to say that the same situation pervades virtually every other industry.
A company that has a solid means of making revenue, like getting subscribers on its platform, will be more likely to provide excellent services. This is so because apart from its profit, it can invest some extra income into improving itself and how well it serves its customers.
Some free VPNs can try to do what a paid one does. However, almost none come close to the ones we've mentioned on our list. If you consider the prices a bit too steep, remember that virtually all of them allow you to test out their services risk-free for thirty days. During that time, you can decide if you'll be getting the value for your money.
Do VPNs really adhere to their zero-logs policy?
Most virtual private networks promise you heaven and earth in this regard. However, not all of them stay true to their word. Some even go as far as selling out your data and online habits to advert agencies. If you are very concerned about your privacy, this could be very worrisome for you.
One of the few things you can do to protect yourself beforehand is to ensure you choose a good and credible Virtual Private Network. All five networks on our list have a reputation for going to great lengths to protect their users.
Additionally, do your background research. Find out if the VPN's home country has data retention laws. Look at its terms and conditions and keep an eye out for any shady clauses. With these little efforts, you can save yourself from losing money and privacy online.
In conclusion
With the increasing rate of cyber fraud as well as the occasional need to defend yourself online, there's no doubt that you occasionally need to change your IP address. A Virtual Private Network is a great way to do so. While there are several hundred to pick from, we've narrowed down your choices to five reliable ones. Pick up your phone, check them out, and begin your journey to internet freedom!