How to Watch Swiss Television Abroad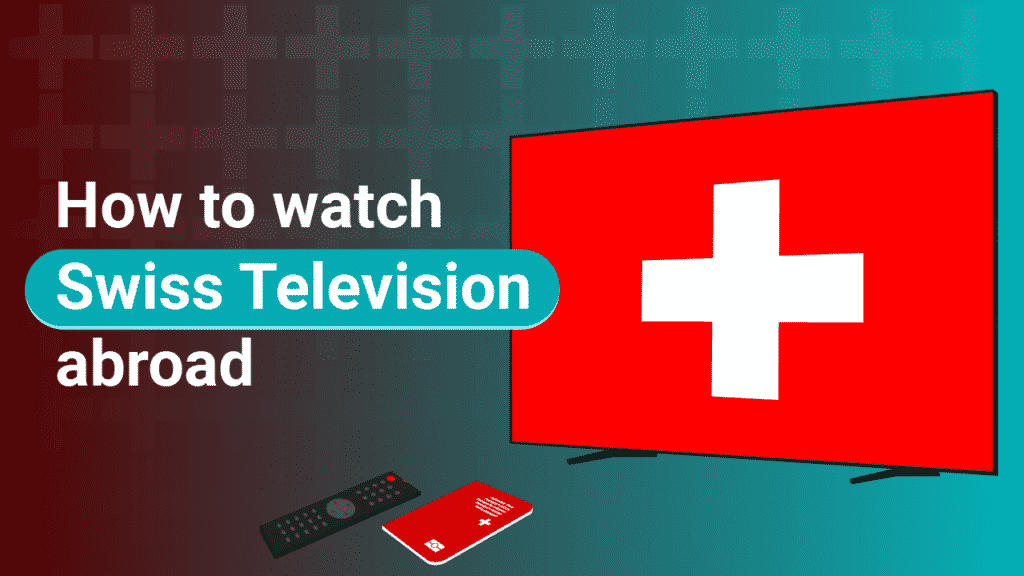 Most TV and movie streaming channels tend to operate behind closed doors, except for services like Hulu and Netflix. So, this means that people outside of Switzerland won't get local channels like RSI and RTS.
If you leave the country and try to stream on most of these channels, you either get an error message, or the server bounces you back. For most of these guys, exclusivity can be a bit of a trap. Sadly, it also means that Swiss residents who leave the country, whether on business or for a holiday, won't be able to access their favorite shows.
Thankfully, Virtual Private Networks (VPNs) help to solve this problem.
Why Can't I Access Swiss Television Abroad?
We already covered the challenge of TV and movie streaming services. For some, exclusivity makes them stand out. For others, they might not have enough servers outside of the country to host their content.
Whichever it is, restrictions to access based on location can be a real pain in the neck. Thankfully, we have a list of some of the best VPNs available to help you with this.
ExpressVPN

Features
Number of servers: More than 3,000
Speeds: Unlimited
Server locations: 160 in 94 countries
Maximum devices supported: 5
24 live chat: Yes
30 day money back guarantee: Yes
Pros/Cons
Fastest VPN out there
Strict no logs policy
256-bit AES encryption
To kick things off, ExpressVPN comes with over 3,000 servers that are spread across 94 countries. The VPN doesn't have the highest server count in the world, but it is one of the tops when it comes to server coverage. ExpressVPN has a few servers in Switzerland, and they all function great, according to tests. So, access to TV services will be a breeze.
The VPN is also a top option when it comes to breaking restrictions and geo-blocking protocols. Tests have shown that ExpressVPN does well with Netflix and other streaming services. Since these services are some of the most restricted, there's no way it won't do well with Swiss TV content. If you have any local restricted channels or you want to find streaming content, ExpressVPN is an excellent option for you.
While you watch TV, rest assured that ExpressVPN keeps you perfectly secure. The VPN comes with the AES 256-bit encryption and the accompanying 4096-bit RSA key, as well as an SHA-512 HMAC authentication protocol. You get protection from IP and DNS leaks, and there is a quick kill switch option that protects you whenever your device loses its connection to the VPN server.
ExpressVPN won't collect your logs, according to the service's website. So, feel free to access TV and stream content as you please. The VPN also comes with Perfect Forward Secrecy — a security feature that changes your security key regularly. With this feature, any hacker who does the impossible task of breaking your encryption won't still access past sessions' data.
ExpressVPN is available on Windows, macOS, iOS, Android, and Linux. You also get support for Chrome, Firefox, routers, and platforms like the Amazon Kindle. A single account allows access for a maximum of five devices.
Pros:

Fastest VPN out there;

Strict no logs policy;

256-bit AES encryption;

Lowest price: $6.67
NordVPN

Features
Cryptocurrency accepted? Yes
Simultaneous connections: 6
Dedicated IP-addresses? Yes
Servers: 5342 in 58 countries
Pros/Cons
Lots of pricing options
Netflix support kept up to date
256-bit AES encryption
NordVPN is currently one of the only few VPN services that can challenge ExpressVPN. In this service, you have a VPN that provides all of the premium features you could think of and is pretty easy to use.
NordVPN even beats ExpressVPN in the server count category. The service currently has over 5,400 servers worldwide — quite a lot. While the VPN is only available in 59 countries, you can rest assured that Switzerland is one of them. You can access several servers in Switzerland, and tests have shown that they are high-speed. You won't experience any lags with this one.
Even better, NordVPN has a suggestion tool that recommends servers for you based on your location. While you don't need to follow the suggestions, they can come in handy from time to time.
Protection is also at the highest levels with NordVPN. AES 256-bit encryption is always available to protect your data, and the VPN keeps you safe from IP and DNS leaks. NordVPN comes with the ubiquitous OpenVPN policy, which many hail as being one of the best in the industry right now. As expected from a top VPN service, a kill switch is available for you to enjoy protection if your device goes off the network.
Moving on, rest assured that NordVPN has optimal restriction bypass features. It works seamlessly for services like Netflix and Hulu, so the VPN will break any geo-location restrictions that platforms owners place on their content. The service doesn't keep any logs on your activity as well.
NordVPN is available on Android, iOS, macOS, Windows, and Linux. Extensions are also available for Chrome and Firefox, and routers' support means you can connect gaming consoles and more. With a paid account, you can use NordVPN on six devices.
Pros:

Lots of pricing options;

Netflix support kept up to date;

256-bit AES encryption;

Lowest price: $3.71
Surfshark

Features
Free trial? Yes
Simultaneous connections: unlimited
Ad blocking? Yes
Servers: 1000+ in 61 countries
Pros/Cons
No footprints
Allows torrenting
256-bit AES encryption
Moving on, we have another excellent service in Surfshark. This VPN provides many goodies for its users, although one of its most attractive benefits is that it gives its services almost free of charge.
With Surfshark, you get over 1,700 servers in 63 countries. The server count isn't so much, but those are enough fast servers in Switzerland for you to connect to and enjoy whatever content you want to access.
On Surfshark, you also get optimal geo-restriction bypass features. Tests have shown that the VPN is very useful at getting you in and out of places you shouldn't typically have access to. These include Netflix, BBC iPlayer, Hulu, and much more. So, Swiss TV is no match for this bad boy.
Surfshark has an excellent internet connection, as we pointed out earlier. You also enjoy access to torrenting services and file-sharing on peer-to-peer platforms.
While you do all this, Surfshark protects you pretty well. Military-grade encryption is available on the platform, and it provides one of the best protection against DNS and IPv6 leaks. The VPN also adds the impressive MultiHop Mode, which helps route your traffic across two networks before hitting your destination.
The MultiHop Mode can reduce your speed a bit, but it's hardly noticeable. The VPN stores some data about you, but none can be used to identify you.
The VPN is available on macOS, Windows, Android, iOS, and more. Browser extensions are available for Chrome and Firefox, and you can connect as many devices as you like on a paid account.
Pros:

No footprints;

Allows torrenting;

256-bit AES encryption;

Lowest price: €2.49
ProtonVPN

Features
P2P support? Yes
30-day money-back guarantee? Yes
Country of origin? Switzerland
Servers: 600+ in over 40 countries
Simultaneous devices: 5
Pros/Cons
Professional support
Modern interface and apps
AES-256 encryption
ProtonVPN is one of those underdogs that pack a pretty good punch. For people who want to access Swiss TV content easily, this is a top option as well.
On ProtonVN, you can access 1,048 servers across54 countries. While it's not the highest, you can take solace in the fact that its Swiss servers are pretty fast. They're not the fastest on our list, but they're more than enough for you to watch TV from abroad and be fine. As long as Swiss servers are great, you don't have much of a problem.
ProtonVPN is also pretty good at bypassing restrictions. The VPN is a sure lock for services like Netflix and Hulu, so don't worry about accessing Swiss TV content. There is also support for peer-to-peer torrenting and file-sharing sites, and ProtonVPN's strict no-logs policy means that no one will be accessing your data anyways.
Moving on to security; ProtonVPN has military-grade encryption at the ready. This way, they provide top-shelf encryption. You also get a built-in DNS leak protection system, a kill switch, and the Perfect Forward Secrecy feature that changes your security keys whenever you connect to the VPN. With that, all your past sessions' data are as safe as they can be.
The ProtonVPN service is available on Windows, Android, macOS, and iOS. Browser extensions are available for Chrome, Firefox, Safari, Opera, and even Microsoft Edge.
Pros:

Professional support;

Modern interface and apps;

AES-256 encryption;

Lowest price: €4
CyberGhost

Features
Connected devices at once: 7
Automatic kill switch? Yes
One click connect: Yes
Servers: 5900 worldwide
Pros/Cons
No logs policy
24/7 live chat
Apps for mobile devices and routers
Like Surfshark, CyberGhost is another VPN service that has become famous for providing its services at a lower price than others. So, what do you get with this VPN?
First, CyberGhost has one of the highest server counts available, with more than 6,400 ready to go.  The servers are spread across over 90 countries, and you get over 100 in Switzerland alone.
Note that CyberGhost also has a "Best Server Location" feature that recommends the best server for you as well. It works like the server recommendation feature on NordVPN, so its choice isn't compulsory for you.
The server count comes with more-than-average speed and easy access to geo-blocked content. For services like Netflix and Hulu, CyberGhost did more than sufficient. So, there's hardly anything it won't be able to crack as far as Swiss TV is concerned.
If you want to torrent from outside the country, CyberGhost is an excellent bet for you, too. It supports all of the top torrent sites and even peer-to-peer file sharing.
Security-wise, CyberGhost doesn't slack. AES 256-bit encryption is available, as well as three security protocols —  OpenVPN TCP/UDP, IKEv2, and L2TP/IPSec. The VPN includes an interesting random port connection feature to OpenVPN. This feature helps you to access unsecured sites without fear of hackers easily.
CyberGhost doesn't collect logs as well. The VPN is available on macOS, Linux, iOS, Windows, Android, Firefox, and Chrome, and you can connect seven devices on a paid account.
Pros:

No logs policy;

24/7 live chat;

Apps for mobile devices and routers;

Lowest price: €2
Are Free VPNs a Good Idea for Streaming Swiss TV?
When it comes to VPN services, you can have either paid services or free ones. Usually, the free ones lure you with the promise of being able to access the internet and enjoy safety without having to pay a dime. However, most of the time, you'll find that this is too good to be true.
For one, you'll find that most free VPNs have only a few servers. So, if a free VPN has a user base in the thousands, the likelihood that you'll get optimal speed is little to none. Since you want to watch TV from abroad, you'll find that your content will keep buffering, and you'll hardly be able to access the best in video quality. Over time, you'll get frustrated.
Another problem with free VPN services is that some of them aren't as private as they seem. VPNs charge money because, among other things, they need to maintain their servers and operations. When a VPN service claims to be free, you want to read the fine print. Most of these free services take customer data and sell them to make money. 
So, while they claim to be secure, they could be taking your information without your content and making money off it.
There's also no guarantee that you'll get a Swiss server from a free VPN service. Before you pick one, check to see if they have Swiss servers on their package.
Some paid VPN service providers also offer free trials. Like the free ones, you want to check to see if they provide Swiss servers on their free trial package.
Or, you could just get a paid VPN and rest assured of the best service instead. Compare prices of paid VPNs here.
What to Consider When Choosing the Best VPN for Swiss Television
If you're a newbie to the VPN industry, you want to make sure that you choose the right service. To ensure that you don't make the wrong choice, try to give the following some consideration:
Server Coverage: The right VPN gives you access to a wide array of servers in Switzerland
Speed: You need optimal speed to stream your content without buffering or any breaks
Unblocking Ability: Since you're streaming content from outside the country, you need a VPN that can block geo-location restrictions. There's no point in having a great VPN if it won't be able to access your channels.
Security: As you stream, you want a VPN that also keeps you safe. Hackers are always on the prowl, and you need to ascertain your safety at all points.
Compatibility: If you want to access content on multiple devices, you need to ensure that your VPN is compatible with them all.
At the end of the day, these factors will help you make the right choice. Streaming content online from outside Switzerland is pretty easy, as long as you have access to the correct type of VPN.  Any of the options above will help you for sure. 
Conclusion
Switzerland is a great country with some fantastic TV channels. However, many of them also tend to have restrictions for their content, barring people from foreign lands to watch them. With any of the VPNs listed above, you should be able to access these channels easily. Happy streaming!