Does NordVPN work with Amazon Prime Video?
Ever felt constrained because you could only access some content or services on Amazon Prime Video? Perhaps you want to unblock the site when in any country. In both cases, you'll find a Virtual Private Network (VPN) very useful. We've tested quite a number of them to see if they unblock Prime Video abroad.
In this piece, we'll answer your question of whether NordVPN works with Amazon Prime Video, and in the process, tackle some other things on VPNs you may need answers to.
Unblocking Prime Video abroad?
To answer the question simply, NordVPN can unblock Amazon Prime Video abroad. For Amazon Prime US, you can connect to any NordVPN server in any country except those in the United Kingdom, as long as you are using a desktop or laptop. On the other hand, you can connect to any UK NordVPN server to access Amazon Video UK.
The mobile versions of NordVPN allow you to connect to only one server in Germany and two in France to access each country's version of Prime Video, respectively. For the US version of Prime Video from your mobile device, you'll have five different servers to connect to.
It is difficult to bypass the geo-blocking of streaming websites without using a VPN. NordVPN has put in effort to allow users the freedom they desire when watching content on Amazon Prime Video. NordVPN is working to expand and include the regions that are not currently supported.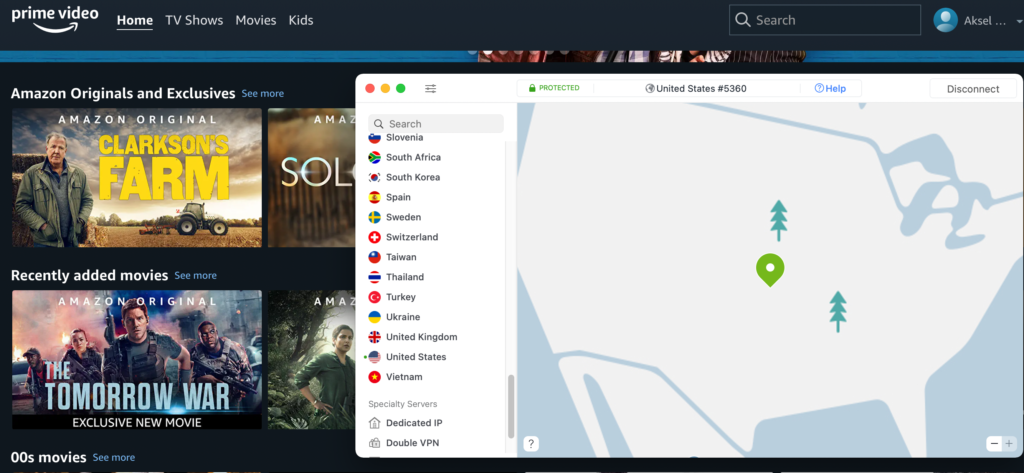 Why do you need a VPN for Amazon Prime Video?
Restricted access is the major reason why VPNs are used every day. Using geo blocks, platforms get your location from your IP address and restrict you to content that is available only in that location. Therefore, if you use a VPN, you'll be tricking anyone on the network to think you are in a different location by using the IP address of the server. This will unlock several libraries on Amazon Prime.
Nevertheless, proxy servers can provide you with an IP address that will trick Amazon's systems into thinking you are in a different place. But one thing they cannot do is protect you against the collection of your data in the process. A VPN will not only give you a new IP address to keep you anonymous but also encrypt your traffic.
How to use NordVPN to unblock Amazon Prime Video
Unblocking Prime Video abroad is easy and straightforward. Just follow the process below to access the specific version of Prime Video you desire:
First, sign in to your NordVPN account. If you do not have one already, then click on 'Sign Up' on the official NordVPN website.
Download and install the desktop app for your operating system. If you are using the VPN service on your phone, you can either set it up manually or download the app from mobile stores. Setting up the VPN manually allows you to add configuration options, even though it may take much of your time.
Decide on the library you want to access, keeping in mind NordVPN's supported regions and countries.
Connect to a server in the desired location. For the mobile version, Amazon Prime US can be accessed from servers 4623, 4625, 4626, 4665, and 4667. Use servers 395 to 398 to access Amazon Prime France and server 677 for Amazon Prime Germany.
Head over to the Amazon Prime website, and start enjoying Amazon Prime content for the location you have chosen.
If after following these steps to the latter, you still experience issues, then try these subsequent steps.
For Personal Computers running on Windows, macOS, Linux, and Android devices:
Clear the browser's cache or restart the app.
Set 103.86.96.100 and 103.86.99.100 on your device. They are NordVPN Domain Name System (DNS) addresses.
Finally, restart your device.
You should be able to access Amazon Prime Video after doing this.
NordVPN Features and Benefits
With so many VPNs springing up daily, you're probably wondering why you should use NordVPN instead of any other VPN in unblocking Amazon Prime. A quick look at the VPN's features will make it clearer why it is the preferred choice for Amazon Prime.
NordVPN is one of the biggest VPN networks in the market today, with 5234 servers in 59 countries. In many of these servers, you can optimize file-sharing using P2P and other technologies. But that's just the beginning. NordVPN has amazing unblocking capabilities you can use for almost any restricted site, including BBC iPlayer, Netflix, and Hulu. Furthermore, you can connect to servers in select cities, making it easier to bypass any regional restrictions of a country.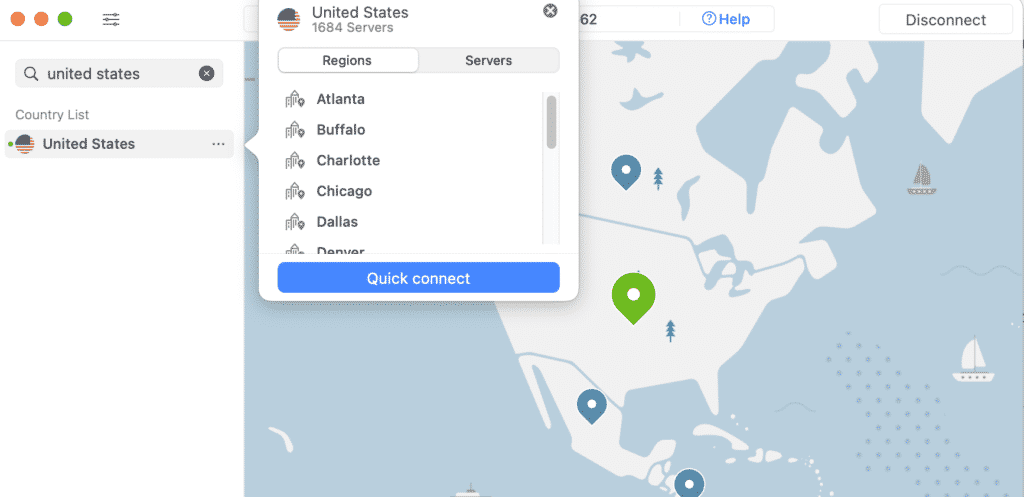 On its security features, the VPN is up there with the best. It uses a 256-bit AES encryption that is impossible to break through. It also has an automatic kill switch that detects whenever your connection drops and cuts you off at that moment of vulnerability. Still on its security measures, NordVPN has DoubleVPN, a technology in which traffic is sent through not one, but two servers. This makes it impossible to trace your traffic. You'll never have to worry about annoying ads, as well as malicious websites whenever the CyberSec feature is turned on NordVPN.
NordVPN operates on a strict no-logs policy that ensures no user information is leaked while they use the VPN to access content on Amazon Prime. It is ideal for streaming content with its lightning speeds. The VPN service is compatible with several devices and it also has browser extensions.
All these make NordVPN a general-purpose VPN and perfect for unblocking Amazon Prime easily.
Will a Free VPN work with Amazon Prime?
Free VPNs seem like the easy way out to unblocking geo-restricted content abroad. However, this is not always the case. In looking for a VPN to use to access Amazon Prime's content, the safety of your data is essential. Sadly, free VPNs cannot assure this.
Some other downsides to using free VPNs with Amazon Prime are;
1. They do not have enough servers: There's a catch to every free service, and in this case, it is that the number of servers in free VPNs are not enough when compared to that of their paid counterparts. Having many servers at your disposal makes it easy to switch. And if you don't have this option, the congestion of one server can constrain you from watching your favorite content on Amazon Prime.

In cases where the number of servers is decent enough, the problem switches to that of the wrong location. Servers in countries or regions that do not have a version of Amazon Prime are of no use to you.
2. Many free VPNs keep user logs: Users expect VPNs to keep them anonymous and have a strict no-log policy. Sadly, this is not the case with free VPNs. There is no guarantee that your online activities and data are not stored, or worse, sold. An easy way to know if a VPN keeps records of your log is to watch out for adverts. If the adverts you see on these free VPNs are related to your previous searches, then the VPN service does not operate on a no-log policy.

Another way is to search for cookies in your browser. If you see quite a number that you do not recognise, then the free VPN you are using has been collecting data from you. Avoid such VPNs like the plague.
3. Many free VPNs have limited bandwidth and slow speeds: The faster the internet connection, the better. Little wonder why top-notch VPNs like NordVPN are attracting more users daily because of their high-speed servers. In many free VPNs, you'll be given a certain amount of data for the month or per day, after which you cannot use the VPN to access any content. This defeats the restrictions that VPNs are to break.

Due to the congestion of the small number of servers that free VPNs have, you'll not have an enjoyable time streaming content on Amazon Prime.
4. Many free VPNs don't have the best security measures in place: Paid VPNs offer nothing but the best when it comes to their security features. By the best, we mean AES-256 encryption with Onion over VPN, DNS protection, or an Automatic Kill switch. You'll hardly see any free VPN that can provide these without having a clause attached to it. Using any substandard feature can make your device vulnerable to viruses, malware, and even malicious activities from hackers.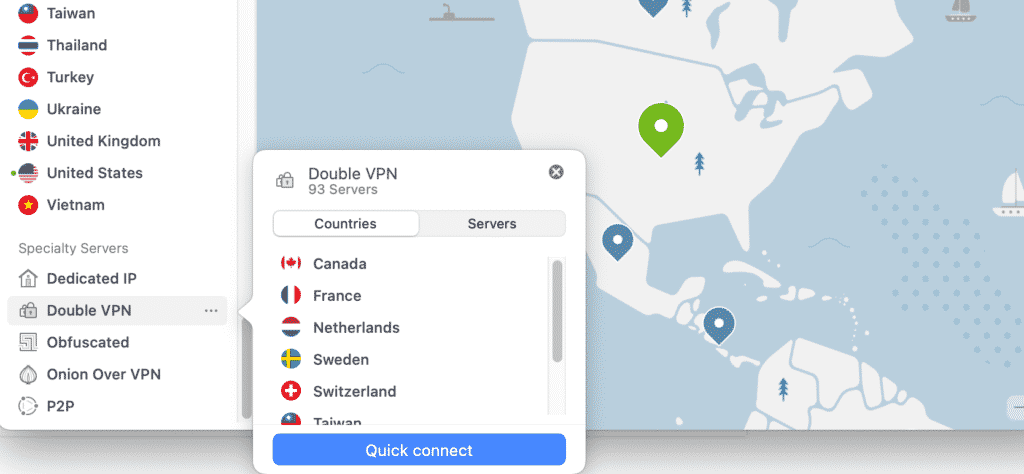 5. Most free VPNs will bug you with ads: A good VPN should work better than when you use a browser to connect to the internet. By that, we mean that you shouldn't see adverts on every click of the page. This is the opposite in free VPNs. You'll be bombarded with adverts at every corner you turn to, which makes it almost impossible to do all you want to.

Since paid VPNs like NordVPN do not cost a fortune, we strongly recommend you go for them instead of the free ones. For a long-term subscription, you can pay as little as $3 for a month!
FAQs on using NordVPN with Amazon Prime
Some questions and answers regarding NordVPN with Amazon Prime:
Does changing my Amazon location unblock foreign content?
Answer: You may be lucky, and it will work a couple of times for you. But we are confident that this is not the way you want to go. Amazon has invested quite some time and money in ensuring that the site is foolproof. So, if you change your location every time you want to access content in a different location, you'll be asked for a location verification before you are granted access.
Furthermore, after changing your location the first time, you will have to contact customer support to have it changed again. If you keep on doing this every time you want to access content on Amazon Prime, it'll become obvious why you are doing that, and you can even have your account blocked.
Do I need a new Amazon account when starting out with a NordVPN?
Answer: No, you do not need a new account. You can still use your existing account. NordVPN works in blocking four versions of Amazon Prime. Ensure you are connected to a NordVPN server that'll help you unblock the version you need. Even if you do, there's a customer support service you can contact that works round the clock.
Is it safe to use NordVPN?
Answer: It is safe to use NordVPN. With the service, you can even use a public Wi-Fi hotspot, without having to worry about hackers getting your private information. Just ensure that all the NordVPN features that can be turned off, like CyberSec, are switched on while you use the VPN.
Is it legal to use a VPN like NordVPN?
Answer: In the four versions of Amazon Prime where NordVPN can unblock Amazon Prime content, it is legal to use NordVPN. However, there are a couple of illegal ways the VPN can be used.
Hacking other networks and computers: Using a VPN like NordVPN to hack other computers or networks is not legal in any country. This is an abuse of the anonymity feature that comes with the service.
Cyberbullying and cyberstalking: In many countries, cyberbullying and cyberstalking are offenses punishable by law. To avoid getting on the wrong side of the law, we strongly advise that you do not use VPNs for cyberbullying or cyberstalking.
Trading on the Dark Web: Buying and selling drugs, arms, and ammunition, and other prohibited substances from illegal traders are on the rise, and the dark web has enabled this practice. VPNs should not be used for this purpose.
Summary
If you are looking for an amazing and reliable VPN with lots of cool features to access Amazon Prime Video, then consider NordVPN. They do a good job of eliminating geo-blocks in different versions of Amazon Prime Video at an affordable fee.
You may also like to read our full NordVPN review where we rate features and performance, alternatively take a look at all of our VPN provider reviews and for anything else check out our NordVPN FAQ.
Related Articles: