Best VPN for WebOS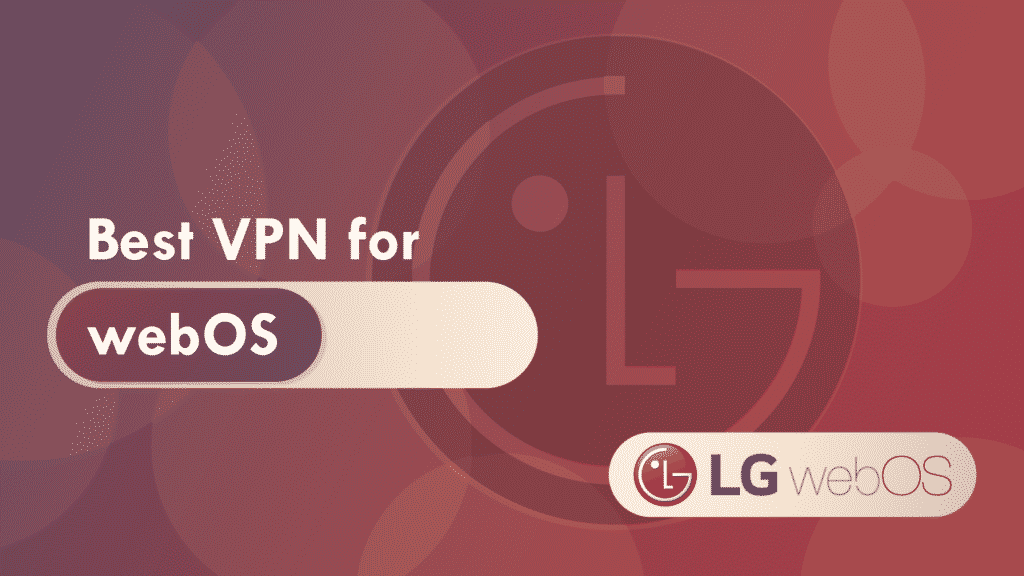 WebOS, also known as LG WebOS, is a Linux operating system for smart devices like Smart TVs, and has also been used as a mobile operating system. An example of a Smart TV that makes use of this OS is the LG TV.  Many users worldwide would like to make use of a VPN on their WebOS devices for different purposes. For example, gaining access to streaming apps found on these devices may depend on what location an individual is in. Some regions and countries are geo-blocked and the only way one can get access to these sites, is through a VPN.
Other users use VPNs to protect their Smart TVs from hackers, and trackers and add an extra layer of security to prevent unwanted eyes such as cybercriminals or the government from gaining access to their online information. With the many VPN services in the market, there comes the task of selecting one that would be suitable enough to cover all of these features, and still be cost effective. Below is a list of tested and trusted VPNs, good enough for your WebOS devices.
ExpressVPN

Features
Number of servers: More than 3,000
Speeds: Unlimited
Server locations: 160 in 94 countries
Maximum devices supported: 5
24 live chat: Yes
30 day money back guarantee: Yes
Pros/Cons
Fastest VPN out there
Strict no logs policy
256-bit AES encryption
ExpressVPN is the king of VPN providers on the market. It is unarguably the fastest, most sophisticated, most impressive, and most famous of them all. Whatever purpose you need to use a VPN for, you can rest assured that this premium VPN would have a solution for you. It offers high-end security measures, unparalleled unblocking capabilities, and neck-breaking speed.
In a grand attempt to give users adequate security, ExpressVPN makes use of the most secure encryption feature: the 256-bit AES encryption. You do not need to bother about your data being exposed or getting into the wrong hands. The 256-bit AES encryption is a combination of AES 256-bit cypher, 4096-bit RSA key, and SHA-512 HMAC authentication. What this means is that it will be almost impossible for hackers to decrypt your data.
The provider uses the SHA-512 HMAC authentication for highly secure data transfer, like P2P file sharing. It also makes use of specific security protocols like OpenVPN UDP, PPTP, and L2TP/IPsec, which are known for their reliable connection and security. It even has a backup OpenVPN TCP that is used when the UDP is unavailable. ExpressVPN has a feature called the Network Lock. This feature is a kill-switch that blocks your traffic and keeps it locked in when your connection drops so that it is not exposed to cybercriminals. It is an automatic lock that doesn't require manual activation.
ExpressVPN also offers DNS leak protection, is compatible with Tor Onion network that further secures your data and, ultimately, keeps you anonymous. With 3,000+ servers in 90+ locations, your WebOS can connect to geo-blocked sites all around the world. No matter where the server is, it doesn't deter the fast speed of ExpressVPN, whether you are browsing, streaming, torrenting, or downloading. With the service, you can easily evade the restrictions that have been put up by certain country laws and get access to all of your favourite sites since it unblocks content globally.
For all-round protection on all devices, ExpressVPN allows 5 simultaneous connections on one account. It has apps compatible with different devices such as Windows, iOS, Mac, Android, and lots more.
The network, however, is a completely paid service with no free version or trial period. It only offers users a guaranteed 30-day money-back refund policy that is hassle-free. All you need to do is contact the very efficient team of customer support representatives that are always online via live chat on the site. This team of dedicated and knowledgeable reps will help you with the money-back process if you have any need to discontinue your subscription plan.
Pros:

Fastest VPN out there;

Strict no logs policy;

256-bit AES encryption;

Lowest price: $6.67
NordVPN

Features
Cryptocurrency accepted? Yes
Simultaneous connections: 6
Dedicated IP-addresses? Yes
Servers: 5342 in 58 countries
Pros/Cons
Lots of pricing options
Netflix support kept up to date
256-bit AES encryption
NordVPN is a renowned name in the VPN industry. Its services are so good that it was rated as one of the best VPNs in the year 2019. Just like ExpressVPN, it is laden with quality features and services that give it its reserved seat at the top. Through many test runs and from reviews that users have given the service, NordVPN truly lives up to its reputation.
The service has over 5,100 servers in 61 countries, and being a Panama based company, it is out of the surveillance of the Fourteen-Eyes policy of the US. NordVPN is very keen on offering its users a secure and private online experience and uses the following features to ensure maximum protection.
NordVPN comes with a highly secure 256-bit encryption, with several quality VPN protocols that are known for their strong security: OpenVPN and IKEv2/IPSec. Furthermore, NordVPN keeps your data safe by keeping no user logs when you browse on your WebOS device. It further cements this claim with a detailed 'no-logs' policy that keeps them true to their word.
We all know how frustrating pop-up ads can be while surfing the web; with an ad-blocking and extra malware protection, it takes only one click to keep the ads away for good, even YouTube ads can be safely evaded with NordVPN. An extra layer of security comes in the form of its DoubleVPN server that gives you double encryption protection.
This protective feature works by passing your data through two servers. It also comes with an essential Kill-Switch feature that impressively keeps your data sealed tight if your connection ever drops. Other security features available to users include a DNS leak protection, Auto-connect feature, Onion Over VPN, Multi-device connections, and many others.
When it comes to streaming and torrenting on your WebOS, NordVPN is a great choice. The network can unblock even the toughest geo-restrictions on streaming sites. It can unblock Netflix, Hulu, BBC, Amazon Prime Video, and other popular sites. It bypasses restrictions effortlessly, making it a good fit for your streaming needs. Also, for torrenting, NordVPN helps you locate the best P2P server within the app as well as on your browser. It even provides SOCKS5 proxies to help you to set up your torrent client quickly. NordVPN has a lightning speed connection that makes it enjoyable to browse, stream, download, and torrent on your WebOS device.
If you have a couple of other devices that are not WebOS based but also need protection and privacy, NordVPN allows you to connect a maximum of 6 devices at the same time on their VPN. It is compatible with a range of apps, so most of your devices can connect to it. The service is not free, it also does not have a trial period, but it does have a 30-day money-back guarantee. This guarantee allows you to subscribe free to give the app a test run, and you can get your money after 30 days after subscription. It also has an ever-ready customer service team that will gladly assist in getting back your refund or any other challenge you may have.
Pros:

Lots of pricing options;

Netflix support kept up to date;

256-bit AES encryption;

Lowest price: $3.71
Surfshark

Features
Free trial? Yes
Simultaneous connections: unlimited
Ad blocking? Yes
Servers: 1000+ in 61 countries
Pros/Cons
No footprints
Allows torrenting
256-bit AES encryption
SurfShark is a somewhat notable VPN provider with adequate coverage as well. It is a fast-growing VPN with 1000+ servers in about 61 countries. Surfshark is a reliable VPN that is trying hard enough to gain fast recognition like the big names in the industry. It is a general-purpose VPN and is an excellent choice for your WebOS device if you're looking for a cheap but reliable service.
The Virtual Private Network is excellent for streaming and gaining access to the toughest geo-restrictions that it may come across. It is excellent for streaming on sites like Netflix, Amazon Video, and BBC iPlayer. It has unlimited bandwidth, unlimited device connections, and one of the most impressive speeds recorded on speed tests. Its connection speeds are consistent, fast, and almost as good as some of the top names in comparison.
For torrenting on WebOS devices, SurfShark is an ideal choice. It is compatible with torrent software such as BitTorrent and uTorrent and also brilliant for streaming via streaming players such as VLC and Popcorn Time. In terms of security, there are no DNS leaks nor recorded user-logs; the service keeps your data with optimum protection. Its security protocols, automatic kill-switch, and advanced security features have helped to maintain its security standards.
This VPN is also paid, it has no free version or trial, but its 30-day money-back guarantee remains on all subscriptions. It is compatible with many devices, especially Windows, Mac, and Android, and iOS.
Pros:

No footprints;

Allows torrenting;

256-bit AES encryption;

Lowest price: €2.49
UltraVPN

Features
One click connect? Yes
Servers: 100+ superfast servers
Bandwidth cap? No
Platforms: Mac, Windows, iOS, Android
Pros/Cons
Firewall
Apps for all devices
256-bit AES encryption
Not as many servers as others
According to UltraVPN, you can use their services to 'Unlock the whole web.' Although there are a few VPN services that top this one, the VPN still delivers true to its claims. It has 1000+ servers in 58 countries and can unblock streaming sites such as Netflix, Hulu, and HBO GO. Therefore, if you're looking for a VPN that only offers you the necessities, then UltraVPN would be suitable for your WebOS.
UltraVPN has the advantage of speed in its corner when you're dealing with streaming and download. The VPN, luckily, has quite a fast and reliable speed in buffering and loading videos, sites, and more. It is perfect for fast browsing as well as high definition streaming. It also claims to be good enough for torrenting. As for privacy and security, UltraVPN has the necessary features that are just enough to keep your devices and online activities secure.
The provider keeps no user-logs; none of your data is recorded by the company. It has an auto kill-switch, and 256-bit encryption to keep you covered. Luckily, UltraVPN has a 7-day free trial version for you to do a test-run and get a feel of which services you would be using when you decide to subscribe. Also, it allows 3 simultaneous connections on an account, with apps available for major devices. It has a 30-day money-back guarantee on all subscriptions, and a functional customer service to help with any of your challenges.
Pros:

Firewall;

Apps for all devices;

256-bit AES encryption;

Lowest price: €2.99
CyberGhost

Features
Connected devices at once: 7
Automatic kill switch? Yes
One click connect: Yes
Servers: 5900 worldwide
Pros/Cons
No logs policy
24/7 live chat
Apps for mobile devices and routers
Just because CyberGhost comes in last place on this list does mean the quality of its services and features is lesser. Even though the site doesn't stand shoulder to shoulder with ExpressVPN, it is among the best fits for your WebOS device. It refers to its services as a 'truly complete VPN solution,' well, almost. Without a doubt, CyberGhost has a good number of features working for it, but there are still some shortcomings that make it not as quality as ExpressVPN or NordVPN, but good enough.
It has about 6000 servers in a total of 90 countries and counting. Simply great for those that like to stream and torrent via their WebOS devices. It also boasts of 256-bit encryption, which tells you that your data is secure. Its 'no-logs' policy is genuine, and its ad-blocking features also work wonders as you surf the web.
Unrestricted access to geo-blocked streaming sites is guaranteed on any of the subscription plans of the network. Impressively, during streaming, the connection speed does not waive or reduce. This is good for heavy streamers and downloaders. You can stream unrestrictedly on Netflix, Hulu, HBO GO, and BBC iPlayer.
To cap it all, asides its 24-hour free trial period, the provider gives its users a generous 45-day money-back guarantee if you wish to unsubscribe from the service. It allows 7 simultaneous device connections, and its apps are compatible with the majority of devices.
Pros:

No logs policy;

24/7 live chat;

Apps for mobile devices and routers;

Lowest price: €2
Are WebOS devices really compatible with VPNs?
Not all WebOS devices can have a VPN directly installed on them, or set up a VPN connection on them. This is simply because VPNs are usually designed for devices such as Android, iOS, Linux, Windows and Mac, etc. To get full benefits of a VPN on your WebOS device, you would need to set up the VPN connection on a router. If you do not have a physical router, you can set up a virtual router using your PC. Once this is done, you can be sure that your WebOS device will have all the protection a VPN guarantees, and besides that, you'll be able to bypass geo-restrictions at will.
In Conclusion
Quality VPNs that offer great service are assets to anyone who craves anonymity, safety and unrestricted access to blocked sites. The above listed VPNs check all these boxes and still offer a whole lot more features. They have been tested, tried, and proven; it is now left for you to make a choice based on your own preferences and needs. It is however important to note that to access all these services that have been outlined above on your WebOS,  you need a quality and compatible router.