Best Free Trial VPN with No Credit Card
You already know that the best type of VPNs are paid ones. In a good number of these VPNs, you'll have trials that allow you to see what exactly you'll be buying. These trial versions usually come with a catch that often requires you to make an upfront payment before you begin using it. To many, this is a major turn-off.
Luckily, we have a solution to this. In this article, we'll walk you through the best VPN free trial no credit card offers available. These would be VPNs that offer free trials, but also require no credit cards upon sign up, allowing you to get everything you need without divulging any payment information.
What then do you need to sign up for a trial VPN with no credit card? All you'll need to sign up for these trial versions is an email address and a password. No payment details are required, and you'll also not be debited when the trial ends.
Here's the list of the best free VPN no credit card options:
Free Vs Paid VPNs
Now, let's have a look at the differences between free and paid VPNs.
1. Free VPNs have fewer servers than paid VPNs: An underlying difference between these two types of VPNs is in their number of servers. In free VPNs, you'll only have a handful of servers to use, and these may not be the ones you need to unblock content in a particular country. The number of servers in a free VPN sits in the hundreds, but in paid VPNs, the story is different.
Paid VPNs have servers in almost every continent of the world, and they usually surpass the one-thousand mark. This allows users to access geo-restricted content from any country.
2. Free VPNs usually don't have customer support platforms: If something goes wrong while you use a VPN, you should have someone to help you out. Free VPNs usually don't have such platforms in place, and this should tell you how uncommitted they are to providing the best services for VPNs users. It's an even more significant issue if you are trying out a VPN for the first time, and you can't seem to understand its functions. The lack of investments in free VPNs makes it challenging to provide the quality support that customers need.
On the other hand, paid VPNs have all the support you need to use a VPN easily. Most customer support representatives work all day long, and paid VPNs usually provide a live chat or email support service.
3. Free VPNs usually have bandwidth issues while Paid VPNs do not: It's bad enough that you'll only have limited bandwidth to use on a free VPN, but there's more heartbreaking news. Even with the little that is being provided to users, many free VPNs steal bandwidth from their users and sell to the highest bidder. This is another way they make a profit.
With paid VPNs, you'll experience no such issue. Paid VPNs are trustworthy, and when they state that you'll be getting unlimited bandwidth, you can take their word for it. There's also no need to worry about stolen bandwidth because a gauge to track your data usage is usually provided.
Tunnelbear is an example of a good free VPN but with a 500MB data cap a month.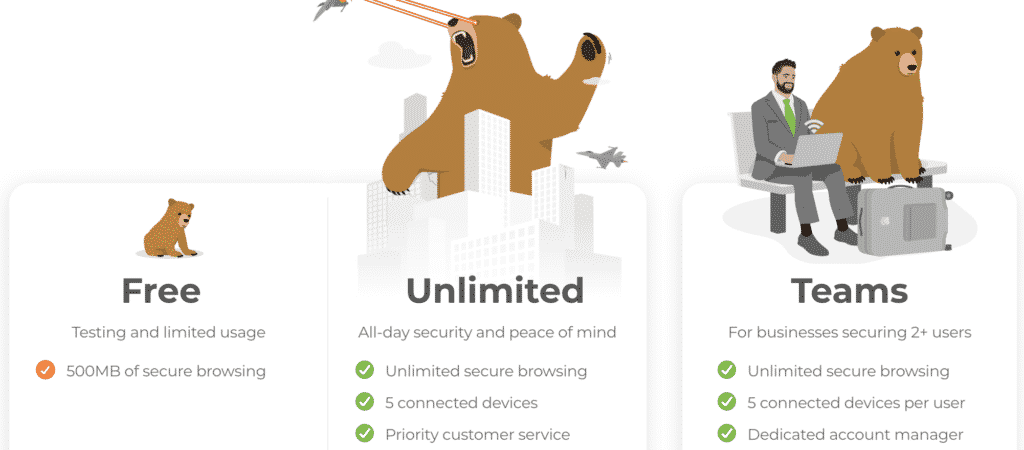 4. Free VPNs use substandard encryption, unlike paid VPNs: Users' privacy is a crucial issue to look into when getting a VPN. Unfortunately, most free VPNs do not take it very seriously, which can lead to the exposure of users' data and traffic to third parties. Most free VPNs cannot provide AES-256, which is the best-in-class encryption.
However, you'll hardly see a paid VPN that does not use this encryption.
5. Free VPNs usually have blacklisted IP addresses whereas paid VPNs do not: Another difference between the two types of VPNs is that trusted resources blacklist the IP addresses of many free ones. Even if you can hurdle through other disadvantages of free VPNs, there's no way past this one because it is not up to you or the VPN.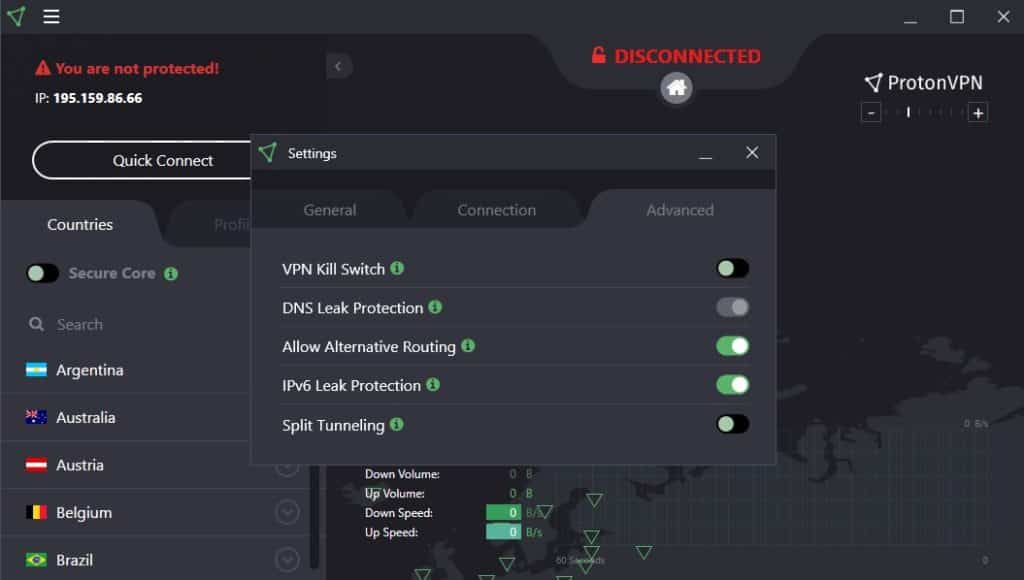 For a trusted resource to block an IP address, it usually implies that it has been used to perform malicious activities so many times. Sadly, this just reduces the IP addresses available to free VPN users because new ones are usually not provided.
Unlike this situation with free VPNs, you'll hardly hear that a paid VPN's IP address is blocked or blacklisted. Even if, for any reason, this happens, you can always get a new one easily.
6. Free VPNs have limited features available for users, unlike paid VPNs: You'll be lucky to find a VPN that doesn't have a good number of the disadvantages listed above. And if you do, here's another one. Free VPNs are not sophisticated enough. The essentials of a VPN may be included, but users expect more.
In paid VPNs, there are lots of extra features to turn on. Some offer tutorials, write articles on their blogs, and many others churn out more exciting updates for users.
ProtonVPN is a good example of a free VPN that works okay, but has many extra features turned off in the free version.
7. Many free VPNs do not require a fee, while paid VPNs only cost a little: Free VPNs score a point because their services are usually completely free. But paid VPNs do not cost a fortune either. You can get a long-term subscription for as little as $3. When you look at the features that such paid VPNs provide, you'll agree that it is nothing close to a rip-off to get them at this price.
Why should you not go for a completely free VPN?
Free VPNs may do more harm than good in that some of them come with unwanted ads. They could also make your device susceptible to attacks. What's worse? They may not have apps for all your devices.
Free VPNs are slow: They have a small number of servers and so are easily congested. When this happens, too many users will be connected to a server, which is the reason for its slow speed.
Most free VPNs keep logs of users' activities: One of the greatest dangers of using a completely free VPN is that most of them keep users' details and traffic. Some even go as far as selling such to third parties.
Can You Avoid Using a Credit Card Altogether?
Not really. The services that allow you to sign up without requesting your credit card details are free providers. Unfortunately, free providers are not famous for stellar services. If you want to have a wonderful experience, then you should consider using a paid service. You get excellent security features, reliable unblocking capabilities, and good streaming abilities.
You can stick out a limb and sign up for premium services. You would have to input your credit card details to enjoy the benefits. However, the good news is that most of them offer a money-back guarantee window. Within this period, you are at liberty to request a refund, no questions asked. Thus, for 30 days (or 45 days in the case of CyberGhost), you will enjoy flawless services potentially for free. On the whole, it is a bargain worth going for.
Frequently Asked Questions About Best Free Trial VPN with no Credit Card
Why do I need to use a free trial?
In most cases, you may just want to check out the VPN service before making a commitment by subscribing. You could be a novice, learning about VPNs for the first time. Hence, you will need a trial phase that will cost you nothing. This is where a free trial comes in handy.
Similarly, free VPN services are useful if you are looking to try out the VPN service for only a short while. If you are making a short trip and need a VPN to stay safe, a free trial VPN works best.
What should I consider when choosing a free trial VPN?
There are a number of factors to consider when choosing a free trial VPN. The first is the length of the VPN service. The longer the trial period is, the better. You may also want to consider the number of servers the VPN service has. A VPN's server count will affect a lot about the VPN, including its speed, unblocking prowess, and so much more.
How can I use a free trial VPN?
The steps to using a free trial VPN are no different from installing a regular VPN service. Hence, first, decide on the VPN you want to settle for. The list above should be helpful in that regard. Next, download and install the selected provider's app compatible with your device. Then set up an account and sign in. Most of the providers will need you to have a valid email address. Make sure that is available, too.
Which is the best free trial VPN service?
As you can tell, we are not entirely pleased to recommend free trial VPNs. It is more advisable to use services like ExpressVPN that offer a reliable money-back guarantee window. However, if you must use a free trial VPN, then we recommend ProtonVPN. It gives you the longest period of all the providers on this list and also has superb security features to boot.
Final Words
It's a wise decision to try out a VPN before going ahead to buy any one of its plans. Most VPNs require you to input your credit card details from the on-set, but some of them offer a money-back guarantee if you're not satisfied with their service. However, there are some that invite you to try out their service without having to input your card details at all.
We've helped you pick the five best free trial VPNs with no credit card requirements. So, what are you waiting for? Choose one of these and start enjoying the benefits of a Virtual Private Network.
Related Articles: