Best VPN Free Trials with No Credit Card Necessary
You already know that the best type of VPNs are paid ones, but that shouldn't stop you from getting a VPN free trial. These trial versions usually come with a catch that often requires you to make an upfront payment before you begin using it. To many, this is a major turn-off.
Luckily, we have a solution to this. In this article, we'll walk you through the best VPN free trials with no credit card necessary. These would be VPNs that offer free trials, but also require no credit cards upon sign up, allowing you to get everything you need without divulging any payment information.
What then do you need to sign up for a trial VPN with no credit card? All you'll need to sign up for these trial versions is an email address and a password. No payment details are required, and you'll also not be debited when the trial ends.
Here's the list of the best free VPN no credit card options:
ExpressVPN

Features
Number of servers: More than 3,000
Speeds: Unlimited
Server locations: 160 in 94 countries
Maximum devices supported: 5
24 live chat: Yes
30 day money back guarantee: Yes
Pros/Cons
Fastest VPN out there
Strict no logs policy
256-bit AES encryption
ExpressVPN has a lot of good things going for it at the moment. Although it requires your card details, we consider it the best free trial VPN, so we decided to tell you about it first. To be clear, you'll actually be paying the initial fee when using ExpressVPN but can get a refund through its 30-day money-back guarantee. This is just like what you'll find in other trial versions, except that ExpressVPN is a better VPN.
Apart from its generous and unconditional money-back guarantee, ExpressVPN has some excellent features that other VPNs do not have. Firstly, and one of its most significant advantages is that it has a large number of servers. With well over 3000 of them in 94 countries, browsing or surfing the internet is much easier with ExpressVPN.
Another feature that made us include ExpressVPN on this list is the VPN's blazing speed. Upload speeds of its servers abroad can get up to 45 Mbps, while the download speed floats between 100Mbps to 200Mbps.
Furthermore, ExpressVPN has one of the most secure systems in the industry. It not only uses the best VPN encryption in AES-256 but also has additional features to ensure that no data is lost during the process. A few of these include a DNS leak-protection and automatic kill-switch to prevent data loss, even when the connection drops.
Lastly, ExpressVPN is compatible with a wide range of devices and routers. Not only does it work on Windows, Android, Mac, iOS, and Linux operating systems, it also has extensions on Firefox and Chrome if you rather use the VPN from your browser. It's the perfect trial package you can get. Read our full ExpressVPN review here.
Pros: Fastest VPN out there; Strict no logs policy; 256-bit AES encryption;
Lowest price: $6.67
NordVPN

Features
Cryptocurrency accepted? Yes
Simultaneous connections: 6
Dedicated IP-addresses? Yes
Servers: 5342 in 58 countries
Pros/Cons
Lots of pricing options
Netflix support kept up to date
256-bit AES encryption
While ExpressVPN tops our list of VPNs, NordVPN is one that follows closely behind. Established in 2005, NordVPN calls Panama its home due to it being outside the US and EU territories. This is to avoid mandated traffic logging for VPNs allowed it to keep your data anonymous.
NordVPN has over 5,000 servers in hundreds of countries, so there shouldn't be any issues in accessing the kind of content that you're looking for, and if you're interested in things like gaming, streaming, or anything else aside from downloading, NordVPN has a reputation for being one of the best.
This VPN, like many others, benefits from having 256-bit AES encryption, so you know things are safe and secure, and they have a load of subscription options to suit most pockets. NordVPN is priced quite well within the market, and setting up on many devices is easy. TechShielder has a number of articles around NordVPN and setting up devices, such as setting up NordVPN on a Samsung Smart TV which will guide you in a step-by-step guide to success.
To find out more about NordVPN and what makes it tick, check out our full review for NordVPN on our review page where you can find server information, encryption details, pricing structure and much more.
Pros: Lots of pricing options; Netflix support kept up to date; 256-bit AES encryption;
Lowest price: $3.71
Surfshark

Features
Free trial? Yes
Simultaneous connections: Unlimited
Ad blocking? Yes
Servers: 1000+ in 61 countries
Pros/Cons
No footprints
Allows torrenting
256-bit AES encryption
People often talk about Surfshark being a "newcomer" to the world of VPNs but the truth is that Surfshark just can't be considered that anymore. They entered the market in 2018 and while that may seem more recent than others, there's a wealth of experience there now. The product and the team behind it have risen rapidly through the ranks of the VPN world and it is now a trusted name among leading VPN providers.
You'd usually find Surfshark around the world of gaming as many Twitch and YouTube personalities love to promote Surfshark, and the reason is usually given that they have plenty of support for multiple devices. If you want to get a VPN subscription that supports just about every device, multiple times, with a single subscription, Surfshark is probably one VPN that you should look at.
In addition to that, Surfshark puts a lot of positive stats out into the VPN world such as their 1000+ server count in over 61 countries. They have have a 30-day money-back guarantee, and with that comes their 256-bit AES encryption, their zero-log policy, and ultra-fast speed for gaming. TechShielder has a number of guides available for people to check out, including how to setup and use Surfshark on Apple TV, just to name one, where users can find out how to install this VPN across multiple devices.
To find out more on pricing structure and dive a little deeper into the world of Surfshark, check out our Surfshark review page.
Pros: No footprints; Allows torrenting; 256-bit AES encryption;
Lowest Price: €2.09
PrivateVPN

Features
Killswitch Yes
iOS App Yes
Data logging No
Pros/Cons
Servers in 63 countries
30-day money-back guarantee
2048-bit Encryption With AES-256
The last VPN we recommend is PrivateVPN. This provider is mid-tier but nonetheless has amazing features that will see to all your VPN needs. More importantly, it offers a 7-day free trial window. You will not have to pay for a plan to be eligible for the free trial. What you need is just a valid email address you can use to set up an account.
The service allows you to use all of its features even in the free trial phase. Hence, you can connect to any of PrivateVPN's servers in 63 countries. The servers are well-regarded because of how speedy they are. They are also able to unblock restricted content with relative ease.
PrivateVPN is equipped with excellent security features. It uses 2048-bit encryption with AES 256. The provider maintains a reliable no-log policy that keeps you protected as you use the internet. PrivateVPN's headquarters is in Sweden. This is not a wonderful location as the Swedish government is part of the 14-eye network. However, PrivateVPN assures users that they have nothing to fear while using its service. It does not compromise or share users' data with third parties.
After the 7-day free trial window elapses, you can decide to pay for a subscription plan. This provider has one of the cheapest offers in the industry. It backs this up with a reliable 30-day money-back guarantee window. Within this period, you will be able to use the service and request a refund if unsatisfied. This is another way to extend your free trial use. Read our PrivateVPN review here.
Pros: Servers in 63 countries; 30-day money-back guarantee; 2048-bit Encryption With AES-256;
Lowest price: €2.04
CyberGhost

Features
Connected devices at once: 7
Automatic kill switch? Yes
One click connect: Yes
Servers: 5900 worldwide
Pros/Cons
No logs policy
24/7 live chat
Apps for mobile devices and routers
The last VPN on this list is CyberGhost. It is a paid VPN but has a trial version for users who want to test the VPN before going on to buy it. The provider is the only premium service that offers an assured free trial different from its money-back guarantee offer. The free trial phase lasts just for 24 hours. However, that is enough time to accomplish all you need with a free VPN service.
The trial version of CyberGhost provides access to more than 6000 servers that are capable of unblocking almost every geo-restricted website. These servers are also pretty fast. Hence, whether you are surfing the internet, downloading, or uploading content, CyberGhost has you covered.
The VPN provides security features that ensure no data breaches while using it. Some of these features include DNS leak protection, anti-tracking, anti-malware, and an automatic kill switch. It also uses the industry-standard AES 256-bit encryption standard to secure its servers.
CyberGhost is a tested and trusted no-log VPN. Thus, it does not retain your online details and will similarly not share the same with third parties. In addition, the provider has its headquarters in the British Virgin Islands. This location is outside the jurisdiction of the 14-eye network. Thus, you can be sure the provider will not be compelled to give up your data.
If you are new to VPNs, CyberGhost's interface will help you get a hold of all you need to learn quickly, with detailed explanations of each setting and feature. In addition, CyberGhost's customer support is available round the clock in case you need assistance with an issue. Read our CyberGhost review here.
Pros: No logs policy; 24/7 live chat; Apps for mobile devices and routers;
Lowest price: €2
Free Trial VPNs vs VPNs with Money-Back Period
Don't be confused between what a free trial is versus what a money-back guarantee period is. Some VPNs will give you a free trial for a short period meaning you can try their VPN risk-free for a short time span without any hassles but may experience a slower service than usual. Other VPNs may offer you their full product, but require you to put in all your credit card information, but give you the option of grabbing a refund in a window period as a money-back guarantee within 30 days. These are not the same thing.
To differentiate between the two, we've come up with an easy-to-use table:
| | | | | | | | | |
| --- | --- | --- | --- | --- | --- | --- | --- | --- |
| | Free Trial | Options | Duration | Limitations | 30-day Money-Back Guarantee | Lowest Price | Payment Info Needed | Ease of Cancelling |
| ExpressVPN | ❌ | 7-day Free trial on mobile | N/A | None | ✅ | $6.67 | 💳 | 10/10 |
| NordVPN | ❌ | 7-day Free trial on mobile | N/A | None | ✅ | $3.71 | 💳 | 10/10 |
| Surfshark | ❌ | 7-day Free trial on mobile | N/A | None | ✅ | €2.09 | 💳 | 10/10 |
| PrivateVPN | ✅ | N/A | 7-day Free trial | 10 connections | ✅ | €2.04 | None | 8/10 |
| CyberGhost | ✅ | N/A | 24-hour on PC/Mac, 3-day on Mobile | None | ✅ | €2.00 | None | 7/10 |
Can You Avoid Using a Credit Card Altogether?
These days, you usually can. Not all of the top VPNs will require credit cards. Some are able to take ewallets, debit cards, crypto payments, and many other forms of payment too. Some services that allow you to sign up without requesting your credit card details are free providers. Unfortunately, free providers are not famous for stellar services. If you want to have a wonderful experience, then you should consider using a paid service. You get excellent security features, reliable unblocking capabilities, and good streaming abilities.
What you can do is sign up to a reputable service like ExpressVPN, NordVPN, or Surfshark using your credit card and try it out for 30 days. These services have a 30-day money-back guarantee. There's no limit to these, and you're able to push these services to the max. You would have to input your credit card details to enjoy these benefits though. Within this period, you are at liberty to request a refund, no questions asked. Thus, for 30 days (or 45 days in the case of CyberGhost), you will enjoy flawless services potentially for free. On the whole, it is a bargain worth going for.
Free Vs Paid VPNs
Now, let's have a look at the differences between free and paid VPNs.
1. Free VPNs have fewer servers than paid VPNs: An underlying difference between these two types of VPNs is in their number of servers. In free VPNs, you'll only have a handful of servers to use, and these may not be the ones you need to unblock content in a particular country. The number of servers in a free VPN sits in the hundreds, but in paid VPNs, the story is different.
Paid VPNs have servers in almost every continent of the world, and they usually surpass the one-thousand mark. This allows users to access geo-restricted content from any country.
2. Free VPNs usually don't have customer support platforms: If something goes wrong while you use a VPN, you should have someone to help you out. Free VPNs usually don't have such platforms in place, which shouldn't really come as a surprise. It's an even more significant issue if you are trying out a VPN for the first time, and you can't seem to understand its functions. The lack of investments in free VPNs makes it challenging to provide the quality support that customers need.
On the other hand, paid VPNs have all the support you need to use a VPN easily. Most customer support representatives work all day long, and paid VPNs usually provide a live chat or email support service.
3. Free VPNs usually have bandwidth issues while paid VPNs do not: It's bad enough that you'll only have limited bandwidth to use on a free VPN, but there's more heartbreaking news. Even with the little that is being provided to users, many free VPNs steal bandwidth from their users and sell to the highest bidder. This is another way they make a profit.
With paid VPNs, you'll experience no such issue. Paid VPNs are trustworthy, and when they state that you'll be getting unlimited bandwidth, you can take their word for it. There's also no need to worry about stolen bandwidth because a gauge to track your data usage is usually provided.
Tunnelbear is an example of a good free VPN but with a 500MB data cap a month.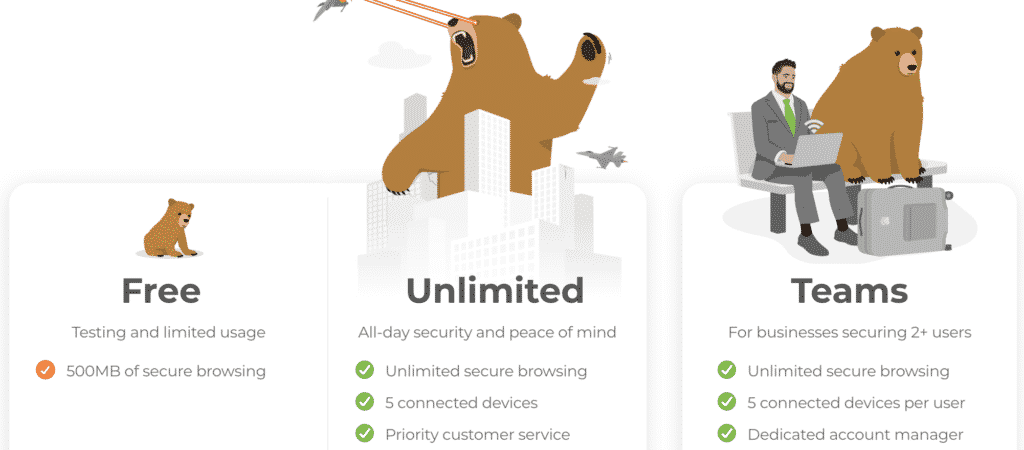 4. Free VPNs use substandard encryption, unlike paid VPNs: Users' privacy is a crucial issue to look into when getting a VPN. Unfortunately, most free VPNs do not take it very seriously, which can lead to the exposure of users' data and traffic to third parties. Most free VPNs cannot provide AES-256, which is the best-in-class encryption.
However, you'll hardly see a paid VPN that does not use this encryption.
5. Free VPNs usually have blacklisted IP addresses whereas paid VPNs do not: Another difference between the two types of VPNs is that trusted resources blacklist the IP addresses of many free ones. Even if you can hurdle through other disadvantages of free VPNs, there's no way past this one because it is not up to you or the VPN.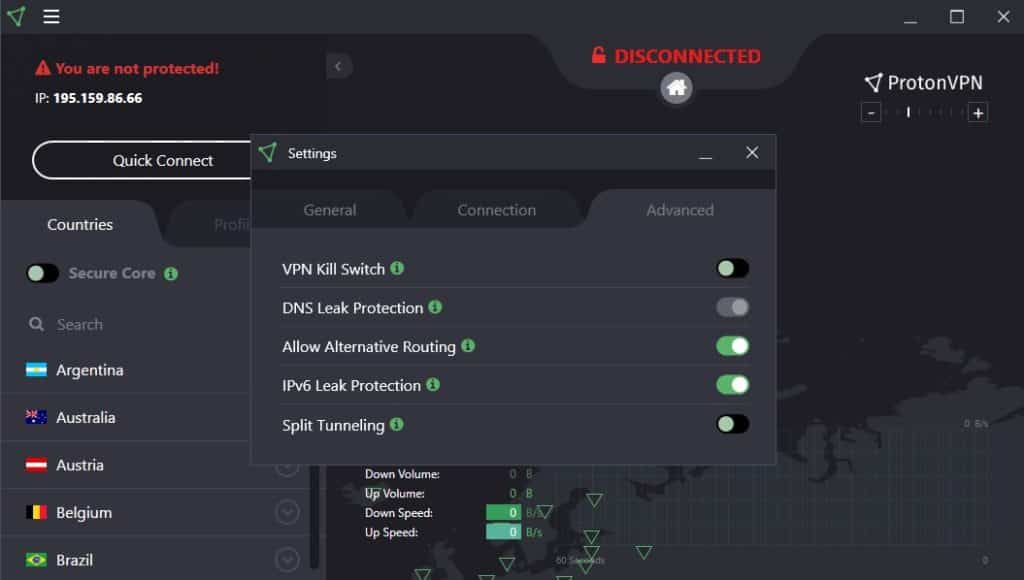 For a trusted resource to block an IP address, it usually implies that it has been used to perform malicious activities so many times. Sadly, this just reduces the IP addresses available to free VPN users because new ones are usually not provided.
Unlike this situation with free VPNs, you'll hardly hear that a paid VPN's IP address is blocked or blacklisted. Even if, for any reason, this happens, you can always get a new one easily.
6. Free VPNs have limited features available for users, unlike paid VPNs: You'll be lucky to find a VPN that doesn't have a good number of the disadvantages listed above. And if you do, here's another one. Free VPNs are not sophisticated enough. The essentials of a VPN may be included, but users expect more.
In paid VPNs, there are lots of extra features to turn on. Some offer tutorials, write articles on their blogs, and many others churn out more exciting updates for users.
ProtonVPN is a fine example of a free VPN that works with limitations, but has many extra features turned off in the free version.
7. Many free VPNs do not require a fee, while paid VPNs only cost a little: Free VPNs score a point because their services are usually completely free. But paid VPNs do not cost a fortune either. You can get a long-term subscription for as little as $3. When you look at the features that such paid VPNs provide, you'll agree that it is nothing close to a rip-off to get them at this price.
Why should you not go for a completely free VPN?
Free VPNs may do more harm than good in that some of them come with unwanted ads. They could also make your device susceptible to attacks. What's worse? They may not have apps for all your devices.
Free VPNs are slow: They have a small number of servers and so are easily congested. When this happens, too many users will be connected to a server, which is the reason for its slow speed.
Most free VPNs keep logs of users' activities: One of the greatest dangers of using a completely free VPN is that most of them keep users' details and traffic. Some even go as far as selling such to third parties.
Final Words
It's a wise decision to try out a VPN before going ahead to buy any one of its plans. Most VPNs require you to input your credit card details from the on-set, but some of them offer a money-back guarantee if you're not satisfied with their service. However, there are some that invite you to try out their service without having to input your card details at all.
We've helped you pick the five best free trial VPNs with no credit card requirements. So, what are you waiting for? Choose one of these and start enjoying the benefits of a Virtual Private Network.
Frequently Asked Questions About Best Free Trial VPN with no Credit Card
Why do I need to use a free trial?
In most cases, you may just want to check out the VPN service before making a commitment by subscribing. You could be a novice, learning about VPNs for the first time. Hence, you will need a trial phase that will cost you nothing. This is where a free trial comes in handy.
Similarly, free VPN services are useful if you are looking to try out the VPN service for only a short while. If you are making a short trip and need a VPN to stay safe, a free trial VPN works best.
What should I consider when choosing a free trial VPN?
There are a number of factors to consider when choosing a free trial VPN. The first is the length of the VPN service. The longer the trial period is, the better. You may also want to consider the number of servers the VPN service has. A VPN's server count will affect a lot about the VPN, including its speed, unblocking prowess, and so much more.
How can I use a free trial VPN?
The steps to using a free trial VPN are no different from installing a regular VPN service. Hence, first, decide on the VPN you want to settle for. The list above should be helpful in that regard. Next, download and install the selected provider's app compatible with your device. Then set up an account and sign in. Most of the providers will need you to have a valid email address. Make sure that is available, too.
Which is the best free trial VPN service?
As you can tell, we are not entirely pleased to recommend free trial VPNs. It is more advisable to use services like ExpressVPN that offer a reliable money-back guarantee window. However, if you must use a free trial VPN, then we recommend ProtonVPN. It gives you the longest period of all the providers on this list and also has superb security features to boot.
Related Articles: