Best VPNs with 7-Day Trial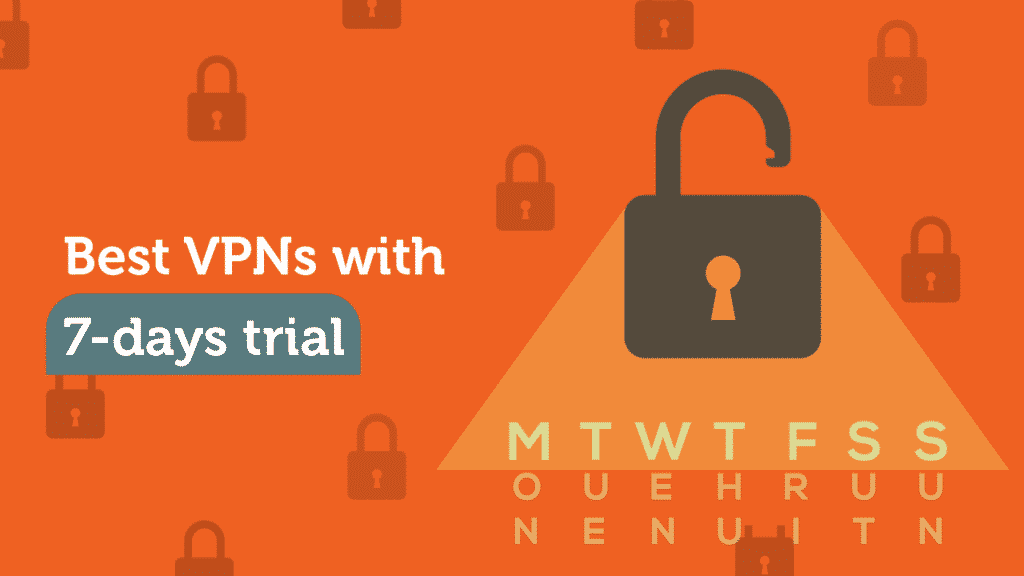 VPNs are becoming increasingly popular in many countries. It's a safe means of surfing the internet, playing games, and watching movies that many people have embraced with open arms. Apart from their use as a tool to connect to the internet anonymously, VPNs help to unblock geo-restricted content.
With so many VPN services and providers out there, it can be tasking to pick one. What many people look out for is if there's a way to test the various types available, so they know what to go for.
In this piece, we'll take you through the best VPN with 7-day trial and how you should set up and use them.
Here's our list of the best VPNs with a 7-day trial:
ExpressVPN

Features
Number of servers: More than 3,000
Speeds: Unlimited
Server locations: 160 in 94 countries
Maximum devices supported: 5
24 live chat: Yes
30 day money back guarantee: Yes
Pros/Cons
Fastest VPN out there
Strict no logs policy
256-bit AES encryption
You must have heard of ExpressVPN if you are an oldie in the industry. This VPN has everything you need, which is one of the reasons why it has made this list. The other reason is because it does not provide a 7-day trial but an amazing 30-day money-back guarantee. This means you'll have to pay the initial fee, but you can request for a refund.
Moving over to ExpressVPN's features will show you just why it is one of the best VPNs with a risk-free trial to use. The VPN has AES-256 encryption that ensures your data and traffic are kept secure all through the time you use the VPN to browse. And as if that doesn't seal the deal, ExpressVPN also has added security measures like VPN split tunneling, network lock kill switch, and zero-knowledge DNS protection to keep you from malware, viruses, and hackers.
On its speed and performance, ExpressVPN scores cool points in our books. As expected, the VPN service has unlimited bandwidth and is compatible with every device. With over 3000 servers in 94 countries, there's no way you won't enjoy using this VPN from anywhere in the world.
To finish it up, the VPN service has one of the best customer support services you'll ever encounter. Not only are the representatives friendly, but they also show empathy and work to ensure your issue is resolved. This is all you need to put your trust in their 30-day money-back guarantee.
Pros:

Fastest VPN out there;

Strict no logs policy;

256-bit AES encryption;

Lowest price: $6.67
NordVPN

Features
Cryptocurrency accepted? Yes
Simultaneous connections: 6
Dedicated IP-addresses? Yes
Servers: 5342 in 58 countries
Pros/Cons
Lots of pricing options
Netflix support kept up to date
256-bit AES encryption
NordVPN is very similar to ExpressVPN because they both have a 30-day money-back guarantee, and it comes in second on this list of the best VPN with 7-day trial. NordVPN's system is as secure as it gets with the military-grade AES-256 encryption that works more securely when used hand-in-hand with CyberSec and Double VPN.
The trial version of NordVPN offers the same services you'll get in a paid subscription. Therefore, cool features like DNS leak protection, automatic kill switch, and Onion Over VPN will be available to you. The VPN also has a decent number of servers, with 5360 of them in 59 countries.
A look at its speed and bandwidth features make the VPN even more attractive. NordVPN allows users to stream content, with its blazing speed. Peer-to-peer networking (P2P) also works well with the VPN when downloading and uploading content.
In a nutshell, NordVPN has all you'll hope for in a VPN, and with a 30-day trial period provided after you make an initial refundable payment.
Pros:

Lots of pricing options;

Netflix support kept up to date;

256-bit AES encryption;

Lowest price: $3.71
HideMyAss

Features
Speeds: 20 Gbps
Money-back guarantee: Yes
Activity logs? No
Locations: 190+ countries
Pros/Cons
Best server database on the market
No-logs and kill switch policy
Multiple device protection
Expensive short term plan
Having such a controversial name is sure to bring attention to the VPN. However, that is not why it has made this list. HMA is one of the best VPNs with a 7-day trial.
Once logged on to the official site of the VPN, you are greeted with the option of either getting a premium-priced subscription or the trial version. On HMA's trial version, you'll get 7 days, after which you'll be billed every month of the year. When you opt for this VPN's 7-day trial, you'll be required to enter your payment information. If, after trying it, you decide that it's not best for you, then you can cancel your subscription and you will not be billed. Just make sure you do that before the 7 days elapse.
HMA's trial version offer is solid, and definitely one we'll recommend.
Pros:

Best server database on the market;

No-logs and kill switch policy;

Multiple device protection;

Lowest price $2.99
ProtonVPN

Features
P2P support? Yes
30-day money-back guarantee? Yes
Country of origin? Switzerland
Servers: 600+ in over 40 countries
Simultaneous devices: 5
Pros/Cons
Professional support
Modern interface and apps
AES-256 encryption
As one of the most popular free VPNs, ProtonVPN definitely has quite a lot to offer in its premium plans. The VPN allows users to try out its services for 7 days to convince them about how good it is.
One of the fascinating things about ProtonVPN is that it has a security core that routes traffic through two servers, which is the extra layer of protection we need. This should give you the peace of mind you need to browse without restrictions.
To get ProtonVPN's trial version, head out to the VPN's official website and signup for a free account. On selecting a free ProtonVPN plan, you'll automatically be given 7 days to try out its Plus plan. Your account is downgraded to a Free plan the moment the trial ends.
Pros:

Professional support;

Modern interface and apps;

AES-256 encryption;

Lowest price: €4
5. VPNhub
A newcomer to the VPN world that makes our list of the best VPN with a 7-day trial is VPNhub. The VPN works pretty well and is filled with lots of amazing security, privacy, and speed-related features. VPNhub has quite a lot of subscription plans to select from, but only its monthly plan offers a 7-day free trial.
In this trial period, you'll have no restrictions and all the features you'll want in any VPN.
6. Avast VPN
You have probably heard of Avast before. The antivirus software now has a VPN, and we consider it one of the best ones with a 7-day trial. The VPN itself allows access to any content while using a secure connection and DNS leak protection measures. You can download the app from its official page.
Avast VPN is a decent one to use in unblocking restricted content and browsing the internet, and its trial version is useful, especially if you are not sure what to expect.
FAQs about VPNs with 7-day trials
Why does a VPN need my payment details?
Many VPNs will ask for your payment information so that they can identify you and prevent the misuse of your account in the future. When compared to using an email address, providing your payment details is more secure. However, before you go on to give such details away, ensure that the VPN is trustworthy.
Any VPN that requests for your payment details will either charge you after the trial ends or before it begins, after which you can get a refund.
What happens when the trial version ends?
What happens after the trial time frame elapses varies among VPNs. However, the following two cases are the most common among them;
The VPN deactivates: This occurs in VPNs that do not require you to sign up or enter your email address. You won't be able to use the VPN or restart the trial version.
You'll be charged: The second option is that you'll be charged for the further use of the VPN. If you don't want to get billed, then don't forget to unsubscribe from the trial version before it ends.
What to test in a 7-day run?
We've discussed the best VPN with 7-day trials. Do not forget that it is a trial, so you should have a couple of things you should be testing FOR in the VPN. Some of these include;
Speed and Throttling: You will definitely not like a VPN that throttles your speed, especially if your plan is to use it to watch videos or play games. Therefore, we advise you to do a speed test on how fast uploading, downloading, and streaming speeds are. This should help you make a choice whether to stick with the VPN or not.
Data leaks: Depending on the type of VPN you'll be using, data leaks can be a one-time thing or a recurring problem. Ensuring that your data doesn't leak due to any technical problems is essential, so don't forget to turn the DNS leak protection (if your VPN has one) on.
Useful features: If you've been using VPNs for quite some time, then you'll definitely know those features that make using a VPN much easier. Make sure you look for these features before sticking with the VPN.
Customer support: You could face technical problems when using a VPN. During those periods, who do you run to? Don't forget to check whether your VPN provider has a chat or email customer support platform.
Is it safe to use a free trial VPNs?
Free trials are always for the full premium-priced services that VPNs provide. That means you'll get the same security and privacy features if you were paying a fee.
Free trials are specifically designed to allow potential customers to try the service out so that the necessary actions are taken. It is safe to use a free trial VPN.
Will free trials for VPNs keep logs of your activities?
Whether you use a premium-priced VPN service or a trial version, the no-logging policy remains the same. The VPN providers included in this list of the best VPNs with 7-day trials are known to operate a no-log policy, which seeks to minimize non-invasive logs. You can trust these VPNs to keep no logs of your data or traffic while you use them.
Is it illegal to use a VPN?
VPNs are not illegal to use. However, in a few countries like the United Arab Emirates and China, there are restrictions on the activities that can be performed with VPNs. It is worth checking the conditions of use of VPNs in your country of residence before going ahead to use them.
With that said, VPNs should never be used for any of the following activities:
Cyberbullying and Cyberstalking: This is an abuse of the privacy and anonymity features that VPNs have. Therefore, you should never use a VPN to stalk or bully another person on the internet.
Hacking computers and networks: Again, many people abuse the privacy features that have been set in place by a VPN to hack other computers. It is a punishable offense in most countries, and VPNs should not be used in this manner.
Trading on the dark web: The dark web is a marked area where countries have agreed to stay off. However, many people have started using VPNs to buy and sell weapons on this part of the internet.
How to set up a VPN for use
Firstly, select a VPN that you intend to use. We recommend you use a VPN with a 7-day trial so that you can test the features the VPN promises to provide.
While ensuring that you are connected to the internet, create or log in to your account with the VPN provider. You will be required to input either your email and password or payment credentials. If you are signing up for the service with an email, a notification will be sent for confirmation.
Once signed in, go to the free trial page of the VPN provider. Apart from ProtonVPN, whose trial is initially joint with a free account, all other VPNs on our list have separate trial pages.
Follow the instructions on the page, and within a few minutes, you should be ready to use the trial version of your VPN.
Can you be tracked when using a VPN?
The encryption that most VPNs provide stops Internet Service Providers from tracking your browsing habits or history. As long as the encryption stays in place, your VPN cannot be tracked.
In summary
We'll recommend you try out a VPN before buying the service to know if the features it claims to provide is what you need. During this trial period, you can also carry out some performance tests that'll convince you the more that it is the right VPN for you.
We've included six of the best VPNs with 7-day trials. They are all good in their way, but our top pick goes to ExpressVPN. It's the best one on the list, and its 30-day money-back guarantee is completely risk-free.