ExpressVPN vs CyberGhost 2023: Full Guide (Speed, Logs, Etc.)
ExpressVPN and CyberGhost are two of the most popular VPN service providers. Over the years, they've made names for themselves due to their impressive line-up of features and benefits for users.
If you're a beginner and you want to get a VPN, there's a high chance that most of the sources you've found in your research will recommend — or, at least mention — these two.
The VPNs are also quite similar in their service offerings. As expected, there are some differences that could go a long way in helping you to make a choice between them.
We've outlined some of their features below, thus helping you make an informed choice.
ExpressVPN: Short Summary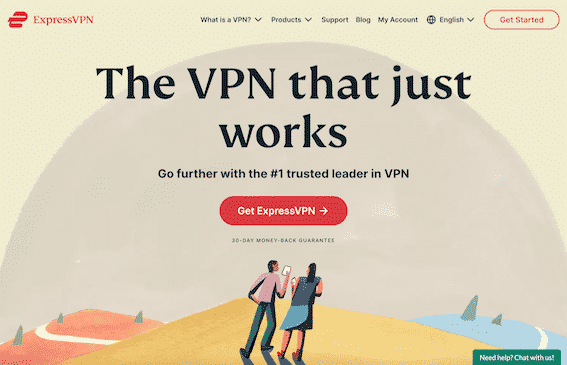 If you ask any experienced VPN user today, they'll most likely confess that ExpressVPN is the best in the world. This VPN comes with every feature you need to ensure a seamless online browsing experience, and the best part is that its price isn't too steep. It's not the cheapest VPN service out there, but anyone who reads its full features will agree that they're worth the price.
On ExpressVPN, you have a reliable server count of over 3,000. The service regularly adds to this, meaning that it will soon cross the current country coverage – which currently stands at 94. With a healthy mix of high-traffic locations, access to restricted services will be a breeze.
You can also bank on ExpressVPN to clear any pesky platform restrictions. The firewalls of services like Netflix and BBC iPlayer are no match for ExpressVPN. Since they're the most restrictive services, you can pretty much sum up that this VPN breaks every firewall.
As for security, you get the top-shelf stuff as well. ExpressVPN makes use of the AES 256-bit encryption and throws in support for highly-rated security features and an impressive Perfect Forward Secrecy feature.
ExpressVPN is available on all top device platforms and allows six devices to connect to one paid account.
CyberGhost: Short Summary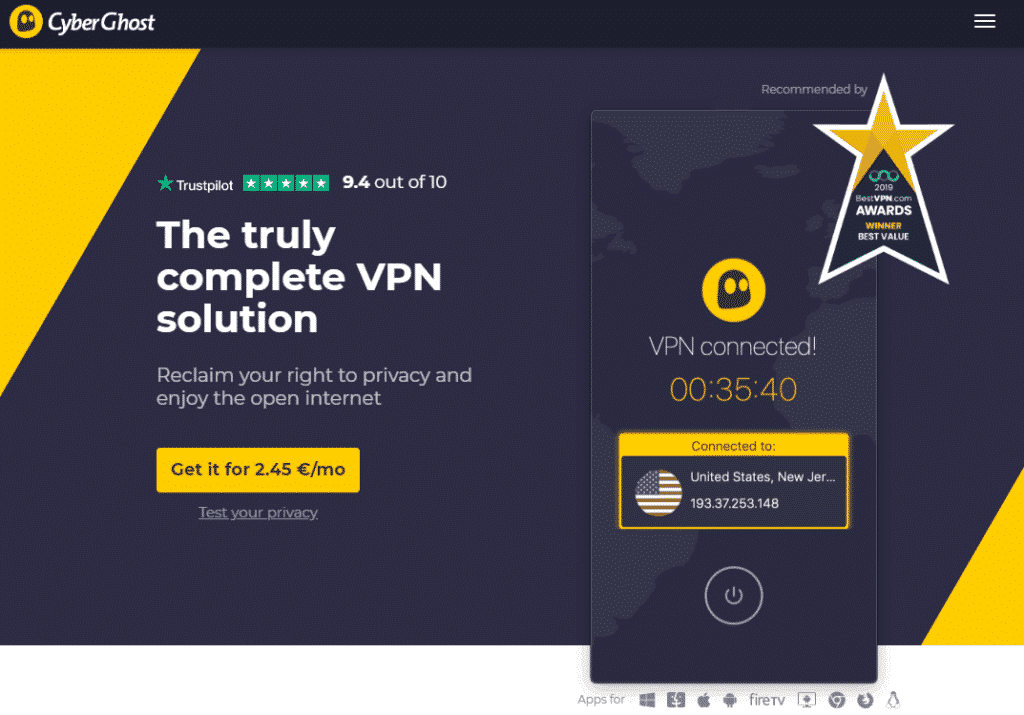 CyberGhost isn't as popular as ExpressVPN. It's more of a mid-range option as far as VPN services go, but it offers many premium options.
One of the most fascinating things about CyberGhost is that it's pretty cheap. The price on this isn't as high as what you'd pay for a lot of other VPNs.
Still, CyberGhost is a great option any day. It has over 6,000 VPN servers across over 70 countries, making it the best choice as far as server count goes. Not even ExpressVPN beats it. Other impressive features include top speed, especially on the high-traffic servers. Like ExpressVPN, CyberGhost easily breaks through any restrictions on services like Netflix and Hulu. So, there's pretty much no service that it can't get across.
CyberGhost also ensures optimal security as you stream or do anything else online. It combines military-grade encryption with features like data leak protection and a kill switch. There's also a random port forwarding feature and a strict no-logs policy that ensures that no one but you control what happens to your data.
As you expect, CyberGhost is available on all major platforms. With a single account, you can connect up to seven devices.
So, without further ado, here's the comparison between ExpressVPN and CyberGhost.
ExpressVPN vs CyberGhost: Server Coverage
ExpressVPN currently operates over 3,000 servers across 94 countries. These include high-traffic locations like the United States and Canada and some other not-so-popular options like Taiwan and South Africa.
By default, ExpressVPN comes with a smart location feature. This allows the app to choose a server immediately you connect. However, while most VPNs have their automatic server tools based on your distance to a server, ExpressVPN works slightly differently. Instead, it ranks all locations based on distance, latency, and speed.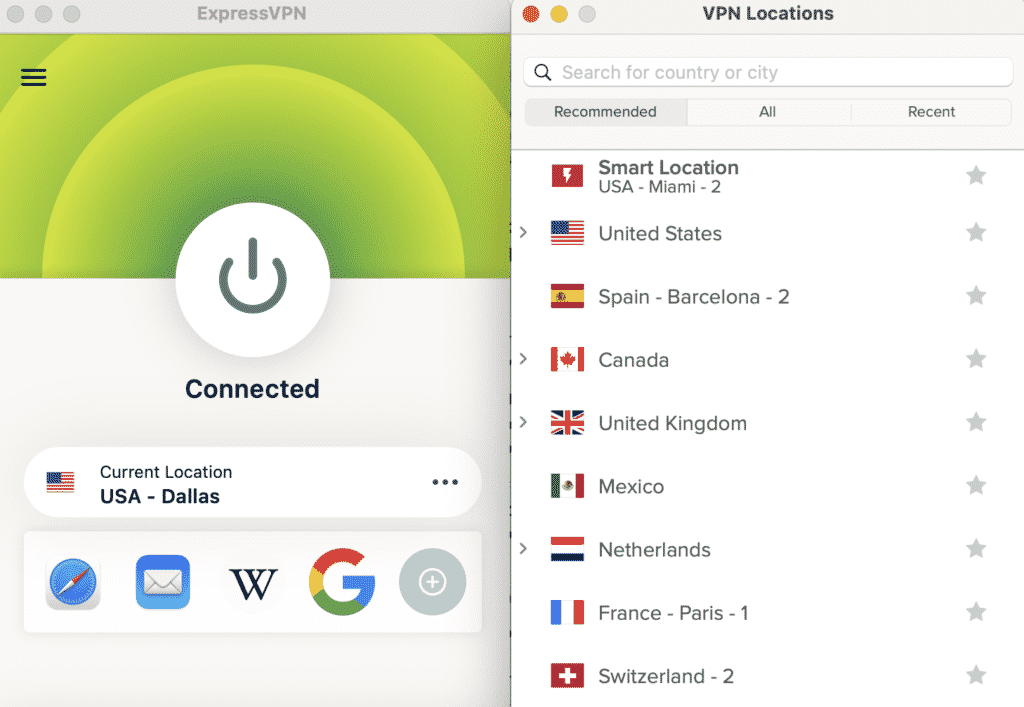 The smart location feature comes by default on all ExpressVPN apps. You will see a lightning bolt icon on the app — that's it.
As a bonus, ExpressVPN works well for China. The great Chinese Firewall is one of the world's most restrictive internet features, but ExpressVPN has no issues getting through it.
CyberGhost beats out ExpressVPN in terms of server count. It has over 6,100 servers worldwide, making it one of the most populous VPNs in the world. Its coverage count is a tad lower at 90, but it's still sizable. CyberGhost also provides features for you to find the right servers for you.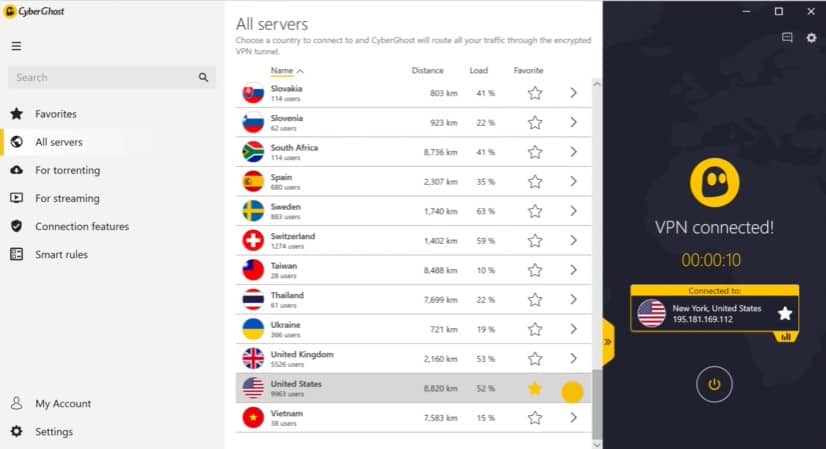 Speed and Performance Differences
ExpressVPN is a top VPN for several reasons, and speed is one of them. When you connect to most of its servers, you will be able to watch high-quality videos, stream games, and perform other data-heavy tasks.
The average speed on ExpressVPN across all servers is about 58 Mbps. The VPN also comes with the OpenVPN protocol as the default for all connections, although you can connect over TCP or UDP. There are also PPTP and L2TP options.
ExpressVPN performs pretty well when it comes to gaming online too. You'll hardly notice any lag or pings as you stream games, although it is recommended that you choose a server location that is close to you or the game servers.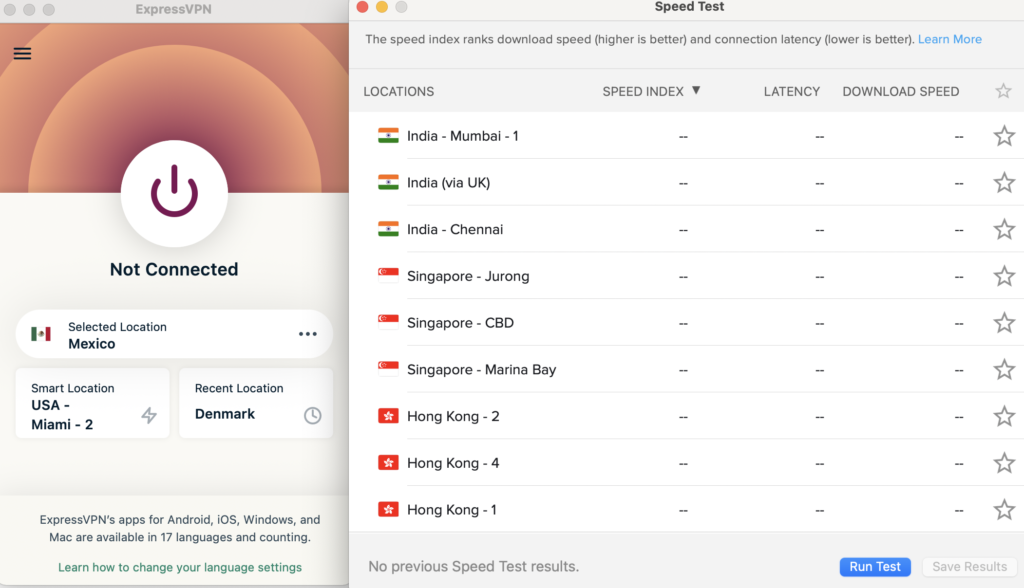 The ExpressVPN desktop app comes with an in-built speed tester that measures download speeds at all locations. If you're trying to find a server with the lowest lag possible, this will be very useful.
The company also recently announced the incorporation of the Lightway VPN protocol. This can boost speeds considerably. Lightway was designed to compete with the ubiquitous WireGuard protocol, which, in itself, has shown progress over traditional protocols like IKEv2 and OpenVPN. Apart from quicker speeds, Lightway also promises seamless switching between mobile and WiFi networks and optimal security.
CyberGhost is quite fast, although its average speed of 55 Mbps doesn't quite compete with ExpressVPN's. Of course, that number isn't bad at all. The VPN comes with enough bandwidth for the average user, although there might be some reduction in speed if you're running on over 100 Mbps.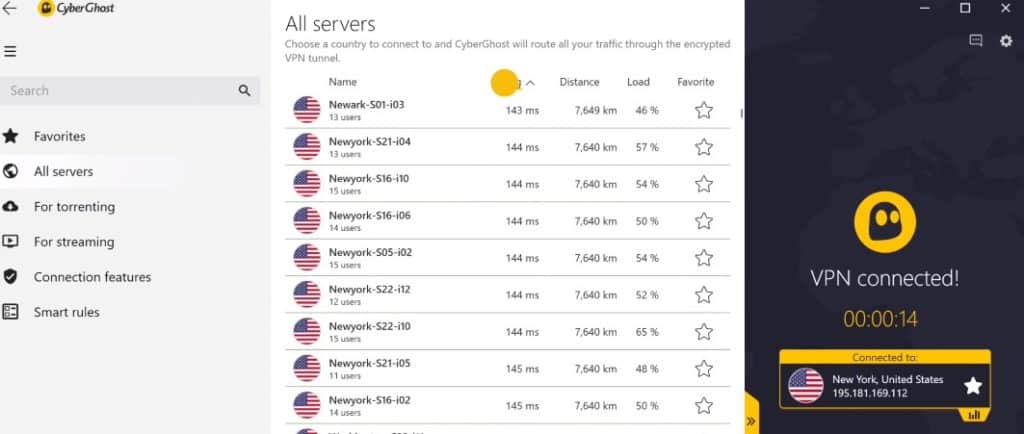 CyberGhost has different available protocols. These include ILEv2, which improves connections by connecting to the fastest servers. OpenVPN is also available.
All in all, CyberGhost allows you to play high-bandwidth games easily and stream videos at HD and 4K quality. Note that the best way to optimize connection will be to choose a server close to you.
Safety and Security Features
A lot of VPNs make bold claims about their security and privacy settings. ExpressVPN has toed this line as well. However, instead of just making empty claims, these guys have the performance to back stuff up.
As for your security, ExpressVPN employs an uncrackable encryption method for all your connections. This way, you can rest assured that no one will be able to decipher the content of your connection.
ExpressVPN's encryption includes 4096-bit DHE-RSA keys, 256-bit AES channel strong encryption, and SHA512 hash authentication. The service adds Perfect Forward Secrecy, which will ensure that even if you get compromised, previous internet sessions will still be protected.
The VPN also operates its private DNS servers. A kill switch is available on the VPN, and it protects you from any unexpected network disconnections.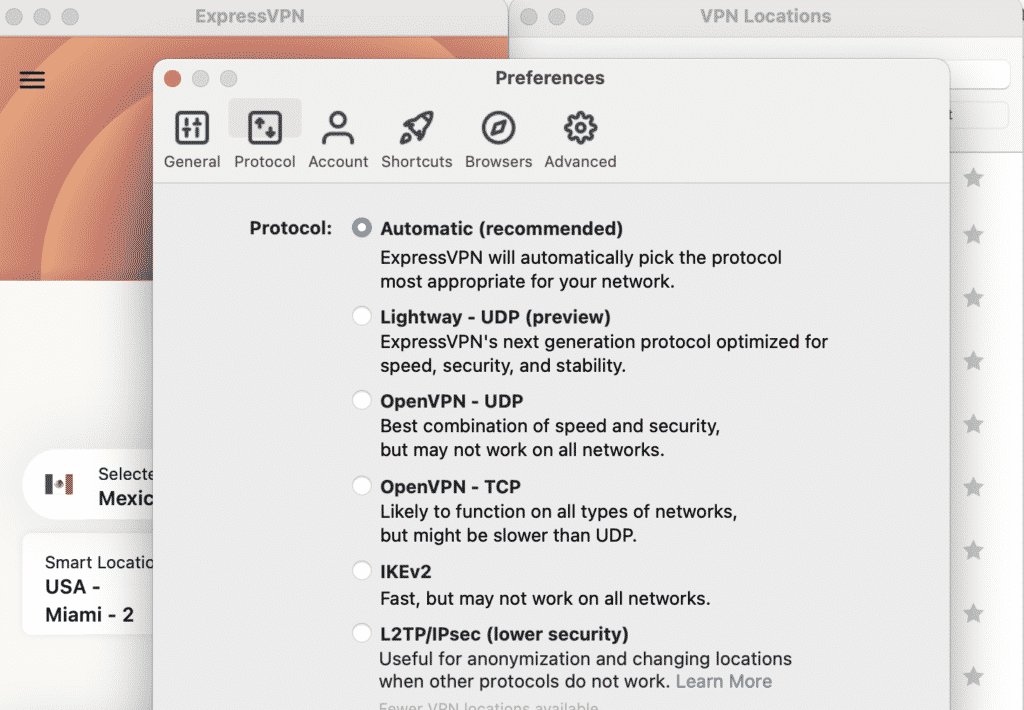 In 2020, ExpressVPN introduced a new server-side privacy tool. This tool, known as TrustedServer, allows the VPN server software to run on the server's RAM — not your hard disk. Since the RAM needs power for data storage, the server will get wiped whenever you reboot. So, it ensures that all server networks won't ever retain any sensitive user data.
ExpressVPN also gets server audits from PwC, one of the top auditing firms in the world. If you're also privacy-conscious, the VPN provides the option of anonymously signing up for its service and paying with cryptocurrencies.
CyberGhost has also made a lot of claims concerning its security. Like ExpressVPN, it has done a lot to back up those claims too.
For CyberGhost, you have optimal encryption mechanisms. These include 256-bit AES encryption, 2,048-bit RSA keys, and SHA256 authentication. There's also Perfect Forward Secrecy that protects your encryption keys and your browsing sessions.
Like ExpressVP, CyberGhost uses its private DNS servers. So, prevention against WebRTC, IPv6, and DNS leaks is present. CyberGhost even disables IPv6 when you connect to the server.
The VPN also allows you to enjoy protection from any unfamiliar WiFi connection. A kill switch is available whenever you unexpectedly disconnect from the server, and the tool will come in handy when you travel.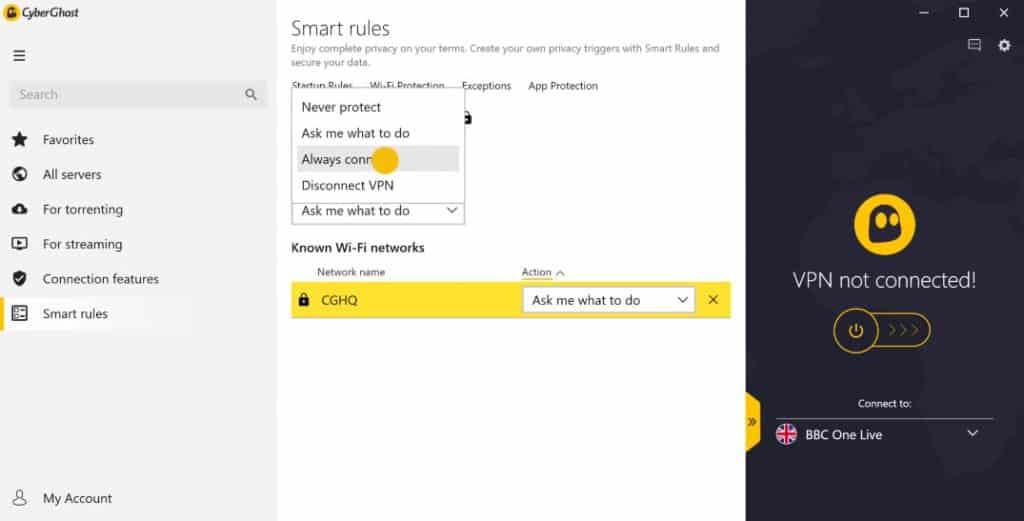 Moving on, CyberGhost has an "Exceptions" feature that allows you to specify the websites that will not run through the VPN even while you connect. If you find that there are some sites you don't want to go through the VPN, this is a great tool. It also works if you have email servers that CyberGhost's spam-prevention protocol blocks.
CyberGhost improves security on other means too. It allows you to block any suspected malicious websites, take off ads on webpages, and evade all online tracking protocols. However, note that some of these features won't work when a website uses the HTTPS security protocol.
For mobile device users, data compression is also pretty useful. CyberGhost's in-built automated HTTPS redirection tool will send you to the secure version of a website if one is available.
Anonymity and Privacy Features
ExpressVPN isn't based in the United States. Being based in the British Virgin Islands, it is not under the mandate of any data retention precepts. So, it won't log any of your traffic. ExpressVPN won't record your IP address or that of the server network that you connect to. All it collects is the date that you connected (not even the exact time), the location you connected to, and the amount of data you transfer in a day. Nothing can be traced back to you.
Leak-proof technology is available on ExpressVPN too. You won't encounter any WebRTC, IPv6, or DNS leaks when you connect. Even when there is an unexpected disruption to your connection, the leakproof technology holds firm.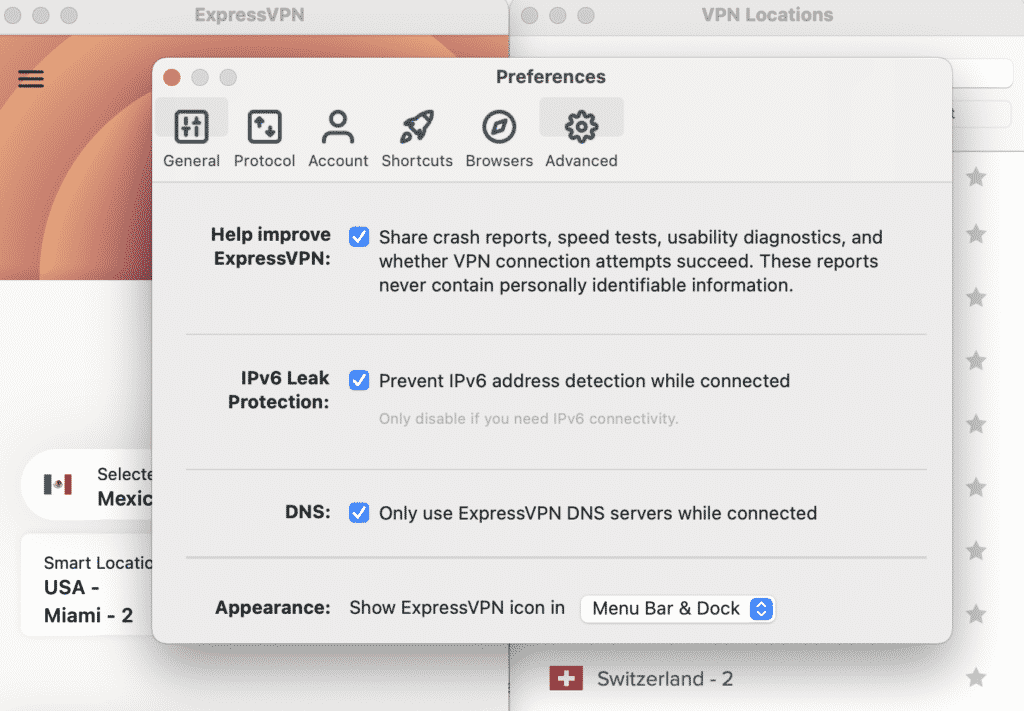 Like many other VPN services, ExpressVPN will assign you a shared IP address. The service doesn't provide any dedicated IP addresses, so you share a server's IP address with the other connected users when you're on it.
Since it is based in Romania, CyberGhost is also not under any mandate to keep your logging data. For those who seek optimal privacy, this is more than good news. It means that the service only keeps your data if you tell it to.
While CyberGhost keeps some details about your connection, no one can use them to track back to you. Web targets, behavior, and more aren't recorded at all.
As a further privacy measure, CyberGhost gives you an anonymous ID when you register. While the website will take some information about you before you register, none of the data is related to your use of the VPN service and how you surf the web.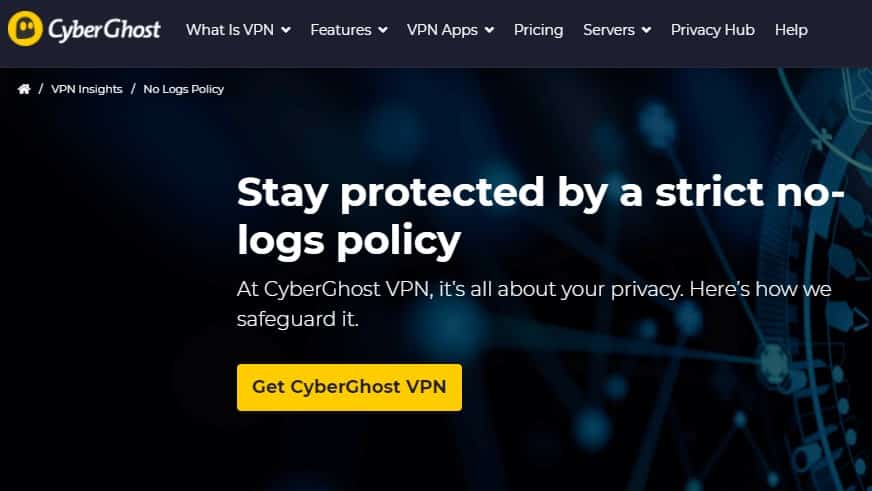 CyberGhost's apps might collect some data, such as connection attempts. According to the company, these are purely for analytics purposes. However, it doesn't collect things like connection timestamps, IP, user ID, and specific server.
Shared IP addresses are the order of the day with CyberGhost. So, you share a server's IP address with other connectors. It improves anonymity a great deal, as hackers won't be able to trace activity and information back to a single user.
Platforms Supported
ExpressVPN makes apps for quite a lot of platforms. The VPN supports Windows, iOS, Android, macOS, Linux, Amazon Fire TV, and Android TV. The service allows you to connect up to five devices at once. Most VPNs will enable you to connect at least five, so it's not a bad call for ExpressVPN at all.
The VPN has a reasonably consistent app design across all platforms. So, if you know how to use one, there's no reason why you shouldn't be able to use another.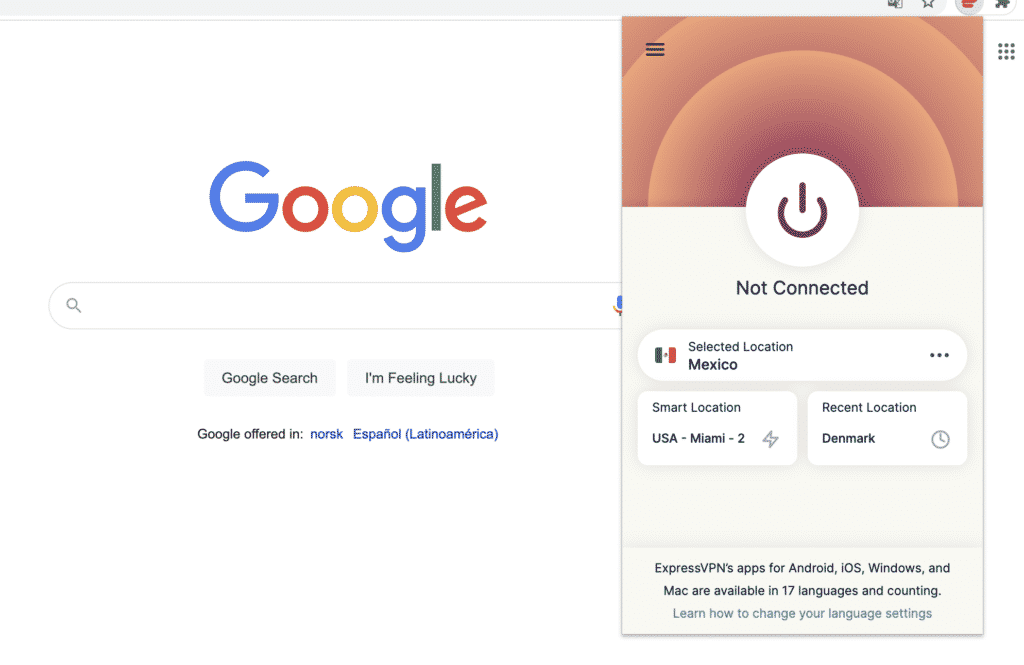 Note that ExpressVPN will give you a code on your account dashboard when you register. When you install the VPN, you will have to verify your device with the code. It is a bit of an additional hassle to set up your new device, but it also means that you won't have to type your username and password consistently when it comes to setting up a new device.
Once you're all set up, it's open season, and you're ready.
Desktop browser extensions for ExpressVPN are available for Safari, Mozilla Firefox, and Google Chrome. However, unlike a lot of browser extensions, the plug-ins on ExpressVPN are not standalone proxies. They control the main VPN app, which you will also need to install on your device. For Chromebook users, this will be a great tool.
The ExpressVPN extensions also come with some additional bonuses. These include protection against WebRTC leaks and geo-location spoofing for HTML5. So, the extensions are pretty worth installing.
With the geo-location spoofing feature, ExpressVPN can hide your location, doing more than just masking your IP address. The HTML5 geo-location API ideally allows websites to determine your location. It uses WiFi and mobile signals, GPS, and other location hardware to determine your location. However, the ExpressVPN browser extensions will spoof the location that the API retrieves to a semi-random point close to the VPN server that you are connected to.
Every ExpressVPN subscription also comes with a MediaStreamer smart DNS proxy service. Many services don't support VPN apps, but they allow you to change your DNS servers. When it comes to devices like the PlayStation 4, Apple TV, and Xbox One, you will be able to use the Media Streamer to check internet settings and replace the default DNS server IP addresses.
With the MediaStreamer available, you can unblock different types of location-locked data content from abroad. These include streaming services like Netflix and others. However, note that MediaStreamer doesn't offer you the same security and privacy level as the regular VPN.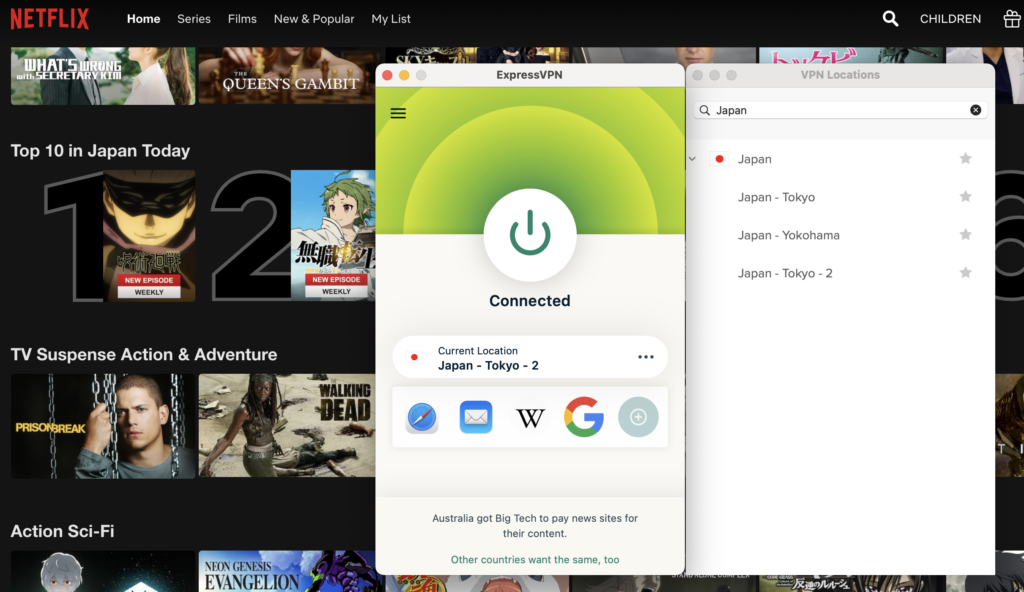 Also, note that any device you connect to the MediaStreamer will also count against the five devices connected to the VPN.
Then, if you have a Chromecast or a Roku that doesn't support VPN apps or change DNS servers, you can connect to the VPN through a WiFi router. If your router firmware has support for it, then you can manually have a VPN setup.
However, ExpressVPN has an even better option — the router firmware. The ExpressVPN router firmware is free, and it replaces the existing firmware of a router. It comes with all of the ExpressVPN servers pre-configured and several other features that will allow you to control the devices that will use the VPN.
You can buy a router that has the ExpressVPN firmware on it or you can simply install it. If you want to do the latter, make sure that you check if the router is VPN-compatible and that you're safe.
Note that a router will only count as one device, no matter how many other devices you use to connect to the VPN through it.
Then, we have CyberGhost. The VPN has versions for the top operating systems, including iOS, macOS, Windows, Android, Linux, and the Amazon Fire TV. You get access to browser extensions for Mozilla Firefox and Google Chrome too.
CyberGhost allows you to connect up to seven devices at once. That's more than ExpressVPN, and the truth is that only a few VPNs have as much coverage as it does. When you need a friend or an acquaintance to connect to the VPN with you, you'll find that it's pretty useful.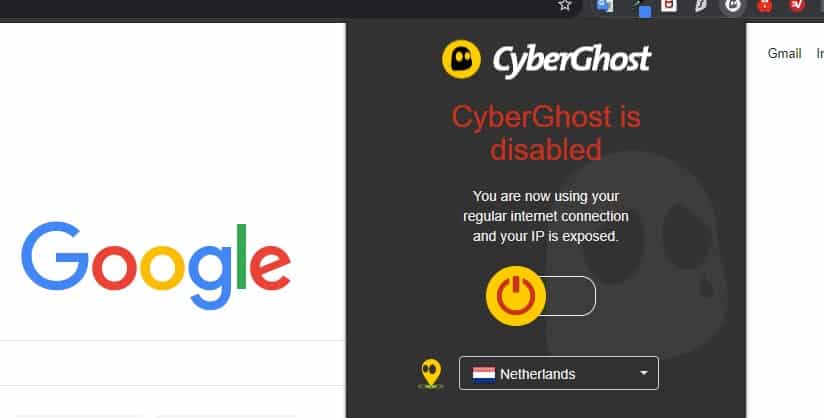 Unlike ExpressVPN, however, CyberGhost does have some issues. For one, the app doesn't seem to have the solitary, seamless user experience across all platforms. So, if you have mastered how to get your way around one platform, you might still need to consider how the other works.
Users have also complained about some performance lags. For instance, the app could get stuck for a few seconds when switching between servers. While this isn't so much of a problem in the larger scheme of things, it isn't the type of perfect user-experience that many people look for these days.
Again, while the drawbacks are pretty minor, you can't assume that they're not there.
Streaming and Torrenting
ExpressVPN works with Netflix. That's pretty much the most significant indicator of its streaming prowess. ExpresVPN has worked for Netflix since the streaming service even started blocking VPN users.
Note, however, that not every server location allows Netflix access. You can always check out ExpressVPN's customer support and live chat feature for some help or go to an online forum if you need more information.
With Netflix, all countries have their library of content and shows. ExpressVPN allows you to see content from Japan, Canada, France, the U.K., the United States, and more.
Support is also available for sites like Hulu, BBC iPlayer, YouTube, SkyTV, and so on. Just remember that you might have to speak with a customer care representative to find out the servers that support these services.
ExpressVPN allows torrenting as well. Unlike other VPN service providers, this one doesn't push you to torrent on a specific server. Just pick a quick server close to your location, and you're ready.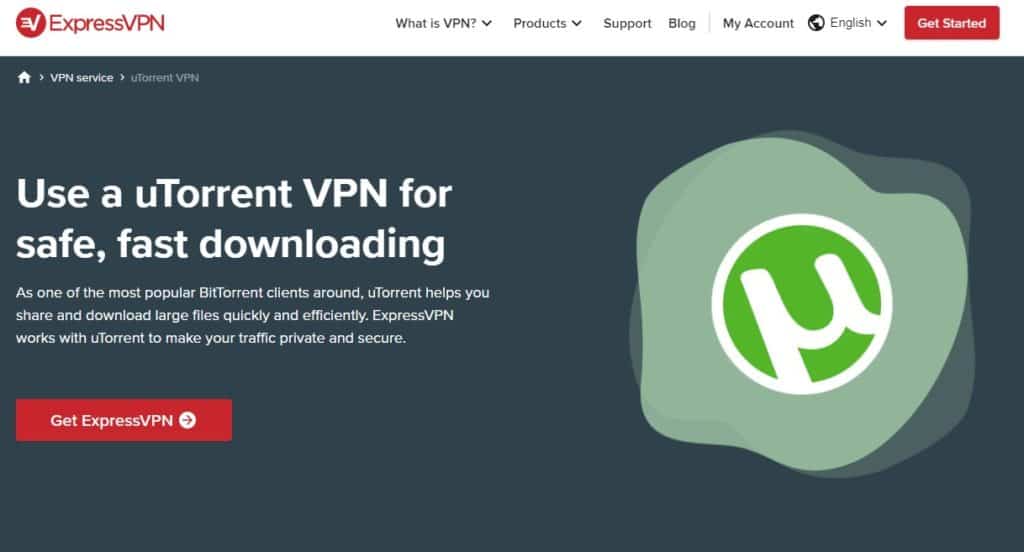 Peer-to-peer file sharing is allowed on ExpressVPN as well, and thanks to a kill switch, you can cut data flow when you disconnect from the VPN. The kill switch ensures that your peer-to-peer traffic is always encrypted. The VPN also comes with a network lock feature for the desktop apps.
Moving on to CyberGhost, we have seamless streaming access here as well. It allows you to access Netflix and other top, highly restricted streaming services. Like ExpressVPN, you will be able to access libraries in Germany and France. Since they have different catalogs for you, this is pretty impeccable.
CyberGhost doesn't work like other VPNs that allow you to find some server locations to connect with. Instead, it gives you a list of locations based on how you would like to use it. When you pick a streaming option, CyberGhost delivers you the top servers that allow streaming easily.
You have no idea how convenient that approach is. You won't have to check through server locations and go through any trial by error. CyberGhost gets rid of all that hassle for you. Note as well that the recommended servers on CyberGhost allow you to stream in High-Definition quality.
As for torrenting, CyberGhost is also a top player. It allows for unlimited torrenting, and some specialized servers allow for peer-to-peer file sharing and downloads. Again, there is a section on the app that lets you find the right servers for torrenting. You don't have to do any of the manual work. How cool is that?
Thanks to the app protection on CyberGhost, you can add your torrent client and only use it when you're connected to the VPN. So, whenever you connect to the torrent manager, CyberGhost protects you. Kill switches are also available, so feel free to avail yourself of their benefits however you please.
ExpressVPN vs CyberGhost: Plans and Pricing
ExpressVPN has three pricing tiers — the one-month plan costs $12.95 per month, a six-month plan for $9.99 per month, and a yearly plan for $8.32 per month. That's not too expensive, considering what you're getting. There is also a money-back guarantee that lasts for your first 30 days of service.

CyberGhost has a slightly cheaper plan, however. The one-month plan runs for $12.99, while the six-month plan runs for $7.99 per month. There are also 12 and 18-month plans that cost $5.25 and $3.50 per month, respectively.

Read a comparison of different VPN price plans in this article.
Pros and Cons
Here, we will outline the pros and cons of each provider succinctly.
ExpressVPN
Pros
Uniform user experience across all platforms
Advanced security on primary apps and servers
Access to highly restrictive regions (including and especially China)
Cons
No labels for optimal streaming servers
A bit more expensive


CyberGhost
Pros
Cheaper than most VPNs
Easily unblock Netflix and streaming services
Helps in finding the best torrenting servers
Cons
Less server coverage than ExpressVPN
No apps available for routers
Our Recommendation
Frankly, there's no wrong choice here. Both VPNs are premium services in their own right. However, if we were to select, it would be ExpressVPN. Top server coverage, a seamless user experience, and support for most platforms are just too hard to beat.