Do I Need a VPN at Home?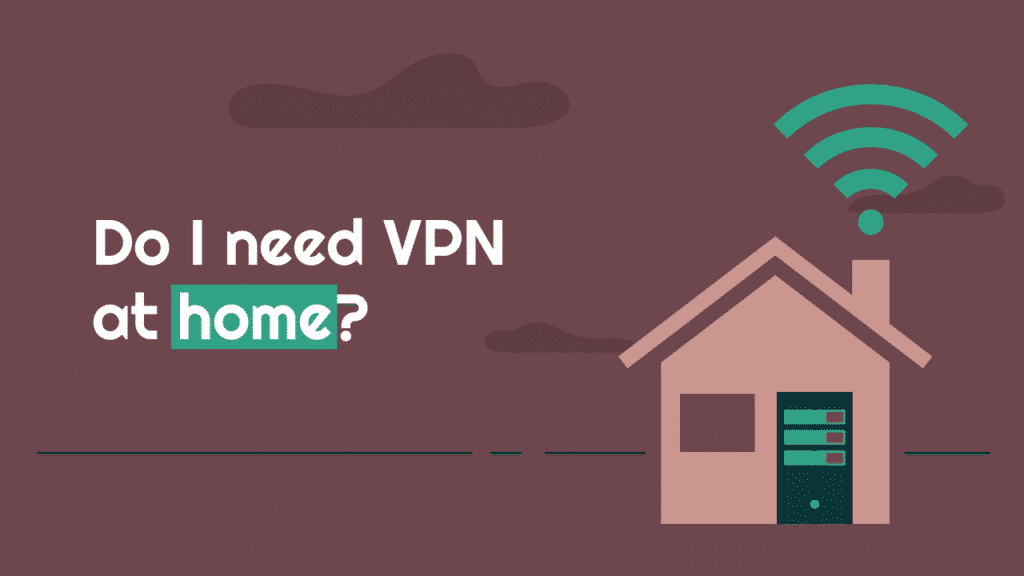 The short answer to the above question is "yes." Why? Well, we'll get into that in just a bit.
When most people think of using a VPN, they think of safety while browsing on public networks. And yeah, VPNs do stop anyone from using man-in-the-middle attacks while you use Wi-Fi. But there are also many more varied reasons to use a VPN, especially within your home.
Some people have Wi-Fi in their homes, and some don't, but we're all vulnerable to man-in-the-middle attacks. Our computers, phones, tablets, etc. can be tricked by an open Wi-Fi with a familiar name. A public "Starbucks Wi-Fi" can trick your device into connecting, because you've connected to a Starbucks Wi-Fi before. Or if they want to do the most, they can configure their access point to change their SSID and match it to the one devices ask for.
Most of what the information these attackers collect are pretty everyday stuff, but there can be little pieces of gold buried in there for them such as your banking details, login information, private chats, etc. It's because of the insecurity of public Wi-Fi that many internet users buy VPNs. But a VPN is also quite useful in your home.
Why do I need a VPN at home?
Your ISP is allowed to see every bit of information that passes through your servers. And right now, they're allowed to sell it to anyone who wants it. These data are mainly used for advertising and marketing claims, but once the data is sold, nobody keeps track of it. It is now the property of the buyer, to be used however they wish. We might just be paranoid, but this still sounds creepy.
Apart from using a VPN to keep your ISP's (and anyone else's) prying eyes away from your information, it can be used for other things.
Stream from anywhere
Where do you live? Are you allowed to watch anything you want anytime you want it? Probably not. Even when you live in the US, there are some shows that you can't watch because your IP address is busy blabbing about your location on any site you visit. These media streaming websites and networks have placed geo-restrictions on their content. Netflix, for example, is not available in certain countries like for example China.

A VPN allows you to bypass these location restrictions and stream any content. Media streaming companies spend a lot of time blocking VPNs, and this is why most free providers cannot bypass these blocks. Only paid, top tier VPNs can access most of these sites.
Secure your voice calls
Unless you're using an encrypted voice-over-IP app, your voice calls will not be private and are vulnerable to anyone who wants to listen in. Most voice calls are unfortunately encryption-less and therefore leave you wide open. If you use Google Hangout, Skype, Apple Facetime, Viber, etc., your calls are wide open and quite accessible to the average hacker.

A VPN sends every bit of your data through its encrypted network, which offers it a high level of protection. No hacker will be able to unscramble the encryption code. Say what you want, how you want, to whom you want.
Torrent all you want
Sharing files just became as easy as pie with a VPN. You can download whatever you want without fear of getting caught. BitTorrent is not illegal, but it's not strictly legal either. It allows users to share information, videos, music, and pictures without any sort of payment. Windows 10 uses P2P sharing to download updates, and some online games do that as well. There are tools to keep your torrenting safe, but none of them is as good as a VPN.
Sensitive Information
When researching, sending, or receiving confidential information, whether in written format or with a VOIP chat, it's best to use a VPN. There are some types of information that you would never even want to think of it falling into the wrong hands.

Any good hacker can steal your information while it's en route to someone else. If your phone mistakenly connects to a hacker's Wi-Fi and you're in the middle of revealing some sensitive data, that data might make it to the hacker's device before it gets to the original destination. A VPN protected device would prevent cases like this.
Bypass government censorship
In some countries such as China, Saudi Arabia, Iran, etc., the government places strict regulations on what sites can be accessed within the country's borders. If you're living within such countries, your social media, gaming, music websites, video streaming websites are severely limited. Some states go as far as setting up organizations to watch the activities of citizens on the internet through ISPs. Your network speed can be throttled at times as well.

Some VPNs are able to bypass all these restrictions successfully. They hide your IP address to allow you to browse social media and other websites that you would otherwise not be able to.
Save money with a VPN
Thinking of taking a trip? Or getting some brand new clothes? You can save money with a VPN on things like online shopping, hotel prices, and flight tickets. This is a slightly weird and little known VPN trick. Many online shopping platforms, hotel websites, and online flight bookings change prices based on where your IP address places you.

If you want to make sure you're not getting scammed, you can choose servers in different locations and compare the prices. For many international shopping websites, the price will increase or decrease. You can compare and choose the one which works best for you.
These are just a couple of reasons why you'd want a VPN at home, though. Depending on the one you choose, you can get some pretty great benefits. We like to look out for our readers, so we've recommended our three favorite VPNs for home use. And we'll tell you why we love them, too.
Top 3 VPNs to Use at Home
ExpressVPN
NordVPN
Surfshark
In conclusion
There you have it. These are our top reasons you need a VPN at home. Remember, when buying a VPN for home use, it's better to look at the paid ones. Free VPNs don't have the security paid VPNs provide, and most of them aren't capable of unblocking restrictions. When choosing a VPN for your home, choose one that can give you both security and entertainment.