Best VPN for Japan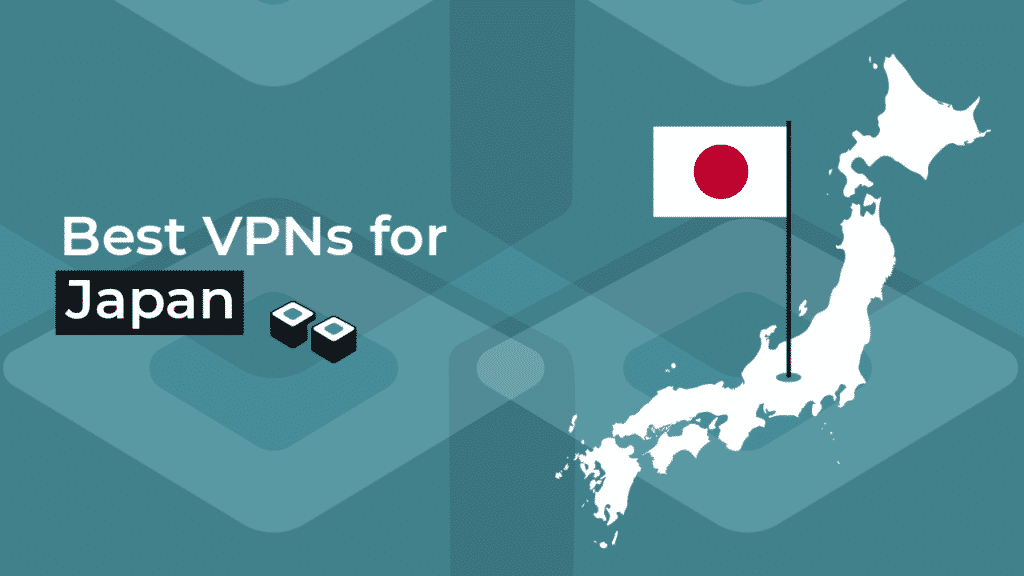 Japan is one of the countries with the highest internet penetration rates in the world, with a whopping 93.5% of its population online. Japan is also one of the most technologically advanced countries, with innovations like the first camera phone, lithium-ion batteries, and the QR code developed in the country.
But Japan is also home to some of the most stringent copyright laws in the world. Most of us won't think twice at streaming or downloading copyrighted material. But doing so in Japan can get you heavily fined or cooling your heels in prison for two years. While Japan is not part of the 5/9/14 Eyes Surveillance Alliance, it has been known to regularly share information with the USA, one of the founding members of the Alliance.
The Computer Monitoring Law, also known as the Harmful Rumors law, allows the Japanese government to demand logs without warrants from any internet service provider. It also requires them to keep records of up to three months. Sounds threatening, right? Along with that is the constant threat of public Wi-Fi. There's Wi-Fi in most urban areas in Japan. How do you know if it's just a public Wi-Fi or an attempt by data thieves to steal your banking information? Well, you don't. The only way to prevent it is to use a VPN.
And when it comes to streaming content, there's an enormous amount of content you can't access with a Japanese IP address. If you're planning to move to Japan or visit the country and you still want access to all your favorite shows, you'll need a VPN. A VPN will allow you to bypass content restricted in Japan. It will also help you access a larger repertoire on streaming services such as Netflix, Hulu, BBC iPlayer, HBO, Amazon Prime Video, etc. You can also download games from sites that may not be allowed by the Japanese government. Also, you can torrent in peace.
But which VPN should you choose? Which VPN is the best? We've compiled a list of the 5 VPNs that work best in Japan based on the quality of their security, privacy, and streaming features. Let's dive in!
ExpressVPN

Features
Number of servers: More than 3,000
Speeds: Unlimited
Server locations: 160 in 94 countries
Maximum devices supported: 5
24 live chat: Yes
30 day money back guarantee: Yes
Pros/Cons
Fastest VPN out there
Strict no logs policy
256-bit AES encryption
ExpressVPN is our #1 pick for Japan. It has a reputation for being extra secure with AES-256 encryption and OpenVPN protocol. A trustworthy zero-logs policy along with TrustedServer technology guarantees the safety of your data. A kill switch, DNS leak protection, and an automatic connection to the fastest server in your area make this VPN as secure as possible. You can connect to as many public Wi-Fi networks as you want and still feel confident in your data's safety.
ExpressVPN is located in the British Virgin Islands, outside the reach or jurisdiction of any 5/9/14 Eyes Surveillance Alliance. The British Virgin Islands are lenient with internet surveillance, which makes ExpressVPN mostly immune to anti-privacy laws. ExpressVPN has 3000 servers in 94 countries, and amongst those servers are stealth servers, which allow you to sneak undetected past blocks on the web.
Along with its unblocking feature, ExpressVPN offers fast connection and streaming speed for torrenting, viewing movies, shows, and games. It also de-censors censored content. ExpressVPN has a user-friendly interface and is available on Windows, Android, macOS, iOS, Linux, routers with browser extensions for Chrome and Firefox. It allows simultaneous connection to 5 devices, but this can be extended by installing the app on a router. Friendly and professional customer service is available 24/7 to help you with any issues.
ExpressVPN costs a bit higher than the average VPN, but its pricing is fair at $99.95 a year, with three months extra on your first payment. Its 6-month plan is billed at $59.95 bi-annually, and its monthly plan costs $12.95. All plans are fully refundable within your first month.
Pros:

Fastest VPN out there;

Strict no logs policy;

256-bit AES encryption;

Lowest price: $6.67
NordVPN

Features
Cryptocurrency accepted? Yes
Simultaneous connections: 6
Dedicated IP-addresses? Yes
Servers: 5342 in 58 countries
Pros/Cons
Lots of pricing options
Netflix support kept up to date
256-bit AES encryption
NordVPN is the Fort Knox of VPNs. It's packed with all kinds of security and privacy features to ensure that your data isn't going anywhere you don't want it. Features like double encryption security, a zero-logs policy, and VPN into Tor ensure additional safety for users. NordVPN also has a strict zero-logs policy. By maintaining its private DNS servers, it provides another layer of security and prevents DNS leaks. The company that created NordVPN is situated within online privacy-friendly Panama.
With over 5,200 servers in 59 countries, you can expect your streaming speed to be lightning fast. Which means you can kiss bandwidth throttling goodbye. A feature called SmartPlay automatically connects you to the best server for streaming online services that won't be available in the Land of the Rising Sun. Like Netflix USA, Hulu, CBS, BBC iPlayer, Fox TV, etc. Customer care agents are at your service if you experience a problem connecting. Or, if you want a list of the best servers to stream your content from, you can ask via the live chat service.
NordVPN will also let you torrent in peace without your ISP spying on your data and divulging your web traffic to the authorities. This VPN allows simultaneous connections of up to 6 devices. NordVPN is supported on all popular platforms like Windows, macOS, Android, iOS, and Linux. There are also versions for routers and browser extensions for Chrome and Firefox.
NordVPN's plans decrease significantly the more you commit. The 3-year plan has a bonus of three extra months attached at $125.64 every three years. For two years, you get charged $119.76. A year's plan goes for $83.88, and the monthly fee is $11.95/month. New users get a 30-day money-back guarantee so you can change your mind and get your money back, no questions asked.
Pros:

Lots of pricing options;

Netflix support kept up to date;

256-bit AES encryption;

Lowest price: $3.71
ProtonVPN

Features
P2P support? Yes
30-day money-back guarantee? Yes
Country of origin? Switzerland
Servers: 600+ in over 40 countries
Simultaneous devices: 5
Pros/Cons
Professional support
Modern interface and apps
AES-256 encryption
ProtonVPN is based in Switzerland, a country famed for its banking and privacy-friendly laws. In keeping with the famed Swiss privacy protection, ProtonVPN also uses military-grade security to ensure your data's safety. It has a strict no-logs rule, and what information they do collect is spelled out on their website.
ProtonVPN has added a few new and unique security features to beef up their security system even more. Perfect Forward Secrecy gives your data a new encryption code each time you sign in. So, on the off chance that your information is stolen and decrypted, your previous and future data will be safe. Secure Core is another security feature. This one takes your web traffic through different servers in a few privacy-friendly countries like Iceland, Switzerland, Norway, etc. Doing this ensures that even if your data is traced to one server, it can't be traced to the next. You can also take your data through some Tor servers ProtonVPN provides to add another level of encryption.
ProtonVPN supports torrenting and streaming. It has over 560 servers in 43 countries. This provider allows you to stream content like Netflix, Hulu, Amazon Prime Video, CBS, etc. in HD. It is available on all popular platforms.
ProtonVPN's pricing is a bit original. Prices range from free to $24 per month with four plans. The free plan supports one device, allows three countries for users to choose servers from and medium speed. The basic plan supports torrenting, two devices, and high speed at $4/month. The Plus plan supports five devices, high speed, torrenting, all countries, Secure Core, Tor servers, and reliable streaming billed per month at $8. The Visionary plan provides all that the Plus plan offers with the addition of 5 other devices and a Proton Mail Visionary account included at $24/per month. There's an option to pay yearly for each plan and get a 20%/ discount.
Pros:

Professional support;

Modern interface and apps;

AES-256 encryption;

Lowest price: €4
UltraVPN

Features
One click connect? Yes
Servers: 100+ superfast servers
Bandwidth cap? No
Platforms: Mac, Windows, iOS, Android
Pros/Cons
Firewall
Apps for all devices
256-bit AES encryption
Not as many servers as others
UltraVPN is a UK based VPN, so we went through this VPN's privacy policy with a fine-toothed comb. We found out that this VPN does not keep any logs of your activities, and the personal information they hold is limited to information kept for a few days to help them improve their service.
UltraVPN protects your traffic with AES-256 encryption and OpenVPN protocol. Alongside its zero-logging policy, it also secures your web traffic with a secure firewall to make sure no data slips outside the VPN.
Considering the fact that UltraVPN just recently began operations in August 2018, the amount of servers and locations it has is fantastic. With 100+ servers in over 50 countries, this VPN is present in every continent except Antarctica. It may be because of this range that this VPN performed at a high steady speed through all our tests. It conceded only a few megabytes every time we connected to a server farther away. Along with its high speed, UltraVPN managed to unblock Netflix, Hulu, HBO, Amazon Prime Video, and BBC iPlayer.
UltraVPN has apps for all major platforms and has a simple user interface designed for the average person. Its installation and activation process is quick and straightforward, and the functions are pre-set. All you have to do is choose a server and click connect, and you're off. If you have questions, professionals are available on 24/7 live chat to clear up any problems you might encounter.
UltraVPN offers three plans from 12 months to monthly. Its most economical plan is the 12-month plan at $3.75/month. Its 6-month plan is raised at $5.99/month, and the monthly plan comes in at a reasonable $7.99/month. UltraVPN operates a 30-day refund policy, so you have a bit of time to test the waters a bit.
Pros:

Firewall;

Apps for all devices;

256-bit AES encryption;

Lowest price: €2.99
HideMyAss

Features
Speeds: 20 Gbps
Money-back guarantee: Yes
Activity logs? No
Locations: 190+ countries
Pros/Cons
Best server database on the market
No-logs and kill switch policy
Multiple device protection
Expensive short term plan
HideMyAss is an affordable VPN with a massive reach. It has servers in 290 locations spread over nearly 200 countries. You won't run out of servers with this VPN! HMA uses these massive servers to shuffle your IP addresses randomly at a schedule you choose. It's enough to make any tracker dizzy.
This provider has a clear no-logs policy, but you can read its privacy policy to be sure of what information it does collect, why, and how long they keep it. A customizable kill switch allows you to choose the apps it should work for, or if it's for the whole system. HMA's split tunneling feature allows you to choose which apps' traffic will go through the VPN and which will go through your standard ISP. HMA uses its own DNS servers to ensure protection against leaks and guard users from malicious sites. It also protects against DDoS attacks.
With HMA's wide array of servers, unblocking and de-censoring content is easy and fast. Loads of servers in every continent gives you shockingly fast network speed, fast enough to stream 4K videos without buffering or delay in loading. While you're in Japan, this VPN speeds past every block placed by the Japanese government and at the same time keeps you anonymous. HMA also allows torrenting.
A 24/7 support team keeps HMA users satisfied by answering questions quickly and helpfully. HideMyAss has apps available for download on Windows, macOS, Android, iOS, and Linux. It can also be used on routers.
HideMyAss has three plans that come with a 30-day money-back guarantee for new users. The best is the 36-month plan, which at the moment, is billed at $107.64. Its 12-month plan goes for $59.88 while the monthly plan costs only $7.99.
Pros:

Best server database on the market;

No-logs and kill switch policy;

Multiple device protection;

Lowest price $2.99
What should you look for when choosing a VPN in Japan?
Although we've explained a few great VPNs you can use while in Japan, there are a few specific things to look out for when selecting a VPN to use in Japan.
Encryption and security
The best encryption at the moment is AES-256, and this is what you should look out for when VPN hunting. You should also look at the security features of a VPN. Does it have a kill switch? What about its DNS servers? Is there split tunneling? Will your IP be encrypted, shuffled, or geo-spoofed?
Privacy policies
A VPN's privacy policy is meant to explicitly state what information they do not collect, what information they do collect, what it is used for, and who can access it. You must go through these details carefully to avoid buying a VPN that uses your information for an unfavorable purpose.
Speed, streaming and unblocking
Many people living in geo-restricted countries would like the means to unblock and stream such content seamlessly. For this to work, you must keep your eyes open for a VPN capable of unblocking your favorite streaming website or gaming site.

Even if you're not crazy about unlimited streaming or gaming, having a fast VPN also serves to ease your frustration when browsing. Nothing raises the blood pressure quite like a slow internet service.

A VPN with more servers in more countries will probably be faster than a VPN with fewer servers, but this is not always true. If a VPN has loads of customers, it will undoubtedly be slower than one that has less. So, rush hour applies here too.
Jurisdiction
The 5/9/14 Eyes Surveillance Alliance and other countries affiliated with them have stringent laws that make the government entitled to see users' data and logs. Jurisdiction ties into privacy policy because a VPN with a  true zero-logs policy will not be able to give the government clients' information if requested because they don't have it.
In conclusion
A VPN is essential when browsing in Japan because of its stringent digital information law. The VPNs listed above are the best we've found based on the qualities you should look for when choosing a VPN to use in Japan. The Land of the Rising Sun is a beautiful place, but make sure all your online bases are covered while you're there by using a VPN.