NordVPN vs IPVanish (2023): Full Guide (Netflix, Speed, Safety)
A VPN is almost a necessity in today's world. With cybercrime becoming a daily occurrence, there is a burning need for one to get protection in the form of a VPN. However, how do you know the provider to settle for? There are quite a number of options available, all claiming to provide stellar service.
In this review, we will have two popular providers go head to head. NordVPN, the first of them, is quite popular in the industry. It has a wide network of servers and claims that they all are optimized for speed. IPVanish, on the other hand, isn't quite well known – at least not as much as NordVPN. It claims to be a top-tier provider, stating that it owns all of its servers, without exception. It also boasts of some unique features that make the use of the VPN a joy.
We will compare the features of both analyzing their strengths and weaknesses across several parameters. In the end, we will inform you of our choice and why that is so. Let's get to it.
NordVPN: Short Summary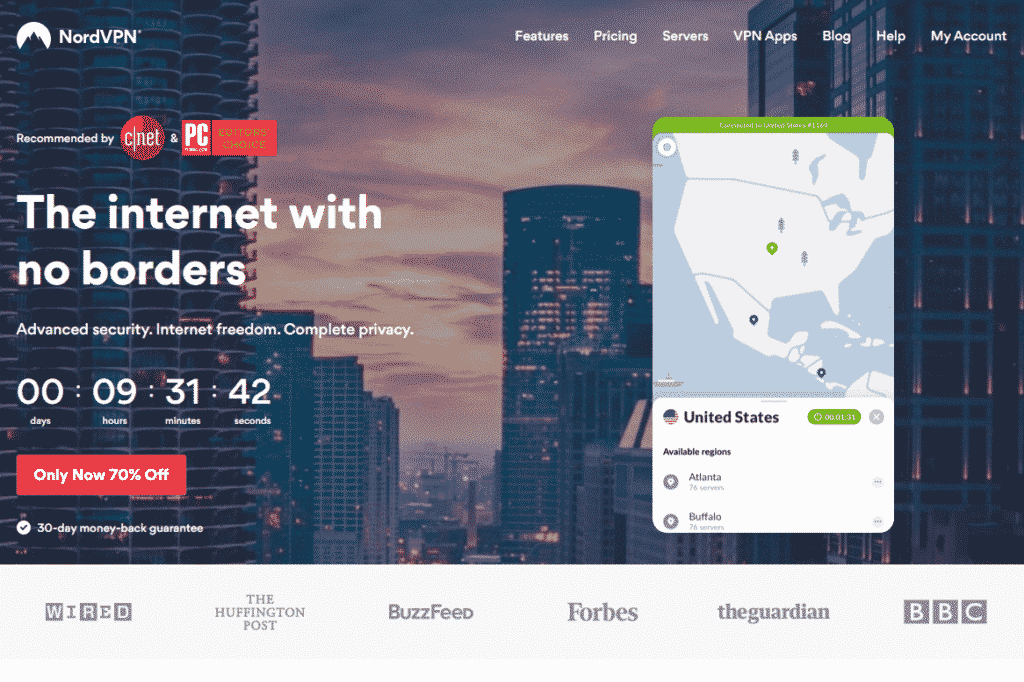 This provider has been around for a long time. Even more impressive is the fact that it has remained relevant the whole time.
On its security/privacy front, this provider does quite well, too. It makes use of the AES 256-bit encryption system. In addition, it affords you the 'Onion Over VPN' feature. Here, the VPN routes your traffic through the provider's network, through the Onion network, and then back to you. This obfuscation tactic makes it virtually impossible for anyone to keep tabs on you. With a slew of other features, including its kill switch, DNS-leak prevention features, and split tunneling, NordVPN is well ahead of the pack.
Apart from security, NordVPN also offers excellent browsing and streaming speed. This provider is one of the speediest in the market. You can surf, download, and stream content without experiencing any lags.
Unblocking geo-restricted platforms is a walk in the park for this provider. It can get around the encryptions on BBC iPlayer, Amazon Prime, and Hulu without any issues. If you are into P2P file-sharing, you will be glad to know that NordVPn supports torrenting. It has dedicated servers that make sure that you have an awesome experience torrenting files.
You can find NordVPN apps for most device types.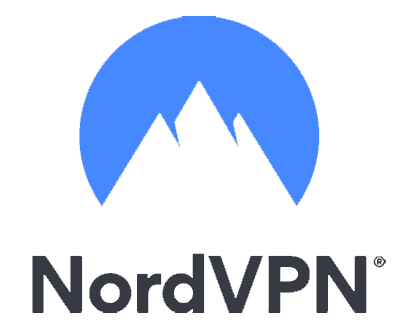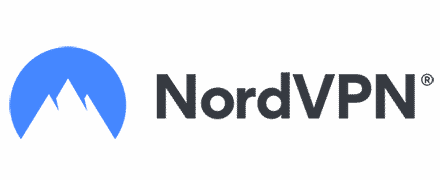 Get 68% off now
IPVanish: Short Summary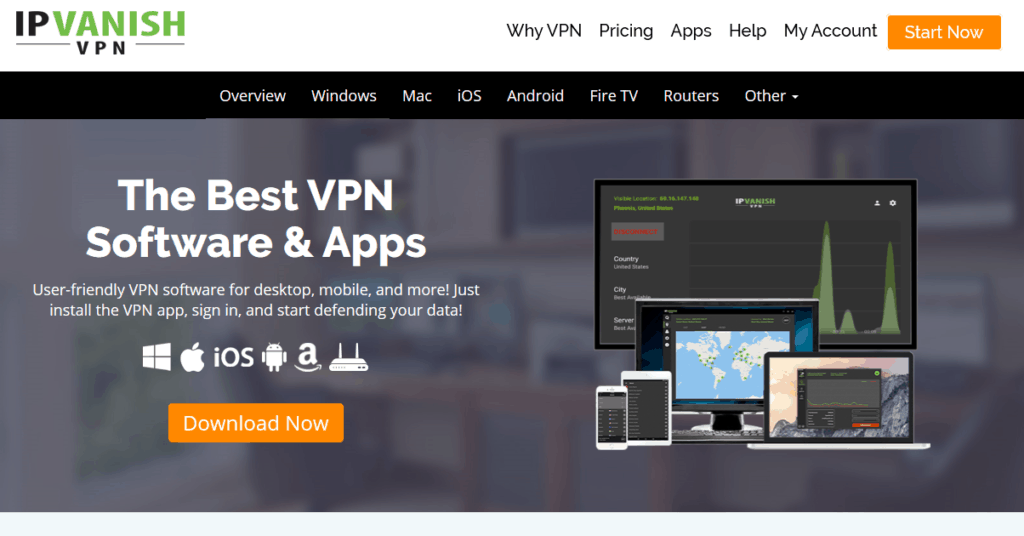 This provider is relatively unknown in the industry. However, it is equipped with some surprisingly amazing features that will definitely appeal to any user.
IPVanish is based in the United States. This does not help its privacy status, given the United States' stance on privacy-related issues. However, this works to the advantage of users in the United States. This is because they can rest assured of a smooth service in that location.
IPVanish has a modest number of servers – 1300 at last count. However, these servers are fast and also get around geo-blocks with relative ease. You should be able to access streaming platforms with the snap of a finger. Yes, even the tough ones like Netflix are not exempted. If you are big on torrenting, IPVanish's servers all support torrenting and P2P file sharing.
Its wide range of apps includes the ones compatible with Windows, Mac, Android, iOs, and Linux. It supports simultaneous devices connections, allowing you to connect 10 devices to one account. Finally, you can resolve complaints by reaching out to its customer support personnel. This process is basically straight-forward.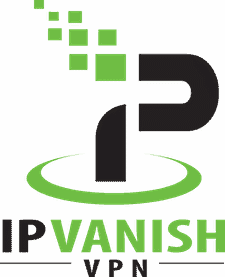 Get 58% off now
NordVPN vs IPVanish: Server Coverage
A VPN's server coverage is the first factor you ought to consider. Typically, a provider allows you to connect to any of its servers. Hence, the higher the number of servers the provider has, the more flexibility you will get. This is important for a couple of reasons.
The first reason is the ability to unblock content across the globe. You may have noticed that you are unable to stream or watch content on platforms like Netflix and Hulu, in some cases. Well, the reason is because of geo-blocks. These streaming platforms only allow users to access content specific to their location. A VPN eliminates this problem. However, there's a little challenge with this: the provider has to have servers in that location. Secondly, the server should be able to beat the encryption on the streaming platforms. Now, you can see why a provider with a large network of servers is important. It will be able to get you access to more content, and easily, too.
The second importance of a vast network is speed. Ostensibly, the wider the network coverage, the faster the servers' speed will be. This is not always the case. Providers who have an extensive network of servers but with low speed are the exception, not the rule. The expectation, and what has been the reality, is that if a provider can go the length of providing multiple servers, then its speed must be good, too.
NordVPN has 5457 servers in 59 countries. This is a large number, by all accounts, and one of the highest in the industry. If you travel a lot or have a need to connect to multiple locations, you cannot go wrong with NordVPN. Please find a further breakdown of these locations below.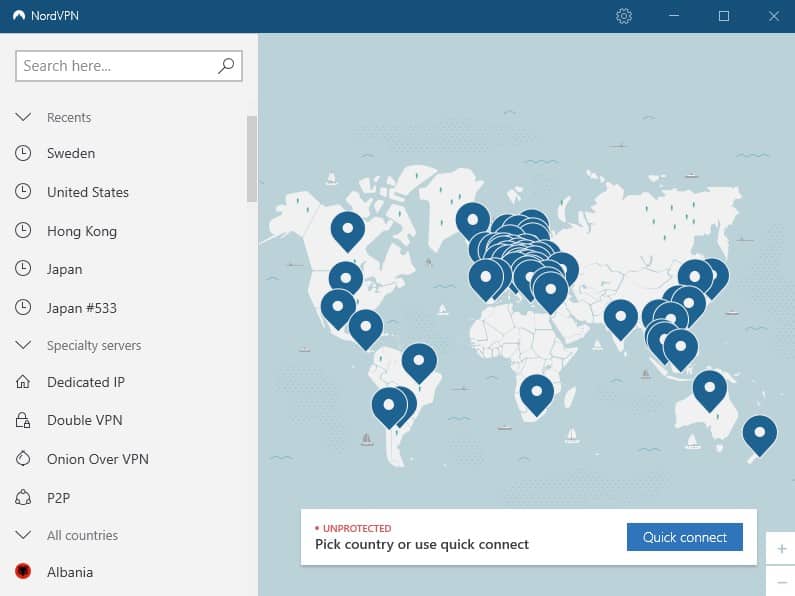 The Americas – 2537 servers
Europe – 2130 servers
Africa, the Middle East, and India – 115 servers
Asia Pacific – 672 servers
IPVanish, on the other hand, claims to have 1500+ servers in 75+ locations. On its website, it holds that these servers are optimized for speed. IPVanish may not have the reach that NordVPN has, but its number is pretty decent. This is especially when considered against the number of servers most providers in the market have. Also, having these servers in 75+ locations is remarkable. You can travel to almost any country and be sure of VPN coverage. Find below a detailed breakdown of the servers.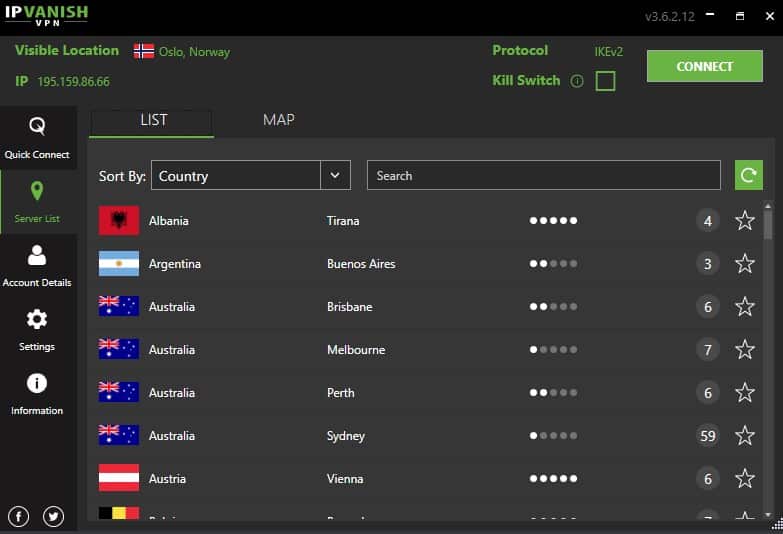 Europe – 479 servers
Asia – 45 servers
North America – 841 servers
Oceania – 80 servers
South America – 37 servers
Africa – 11 servers
Obviously, NordVPN trumps its rival in this category. If you are a user in the United States, you will find this provider indispensable. This also applies if you want to connect to a United States server for any reason. It has more than 2000 servers in the United States alone. This gives you an almost limitless range of options.
Speed and Performance Differences
The speed of the VPN is important, regardless of the use you need the VPN for. Whether for regular browsing, or for video downloads, or even for streaming content, great speed is essential. This is because lags and slow speeds can make for frustrating user experience. Additionally, your security can get compromised if your VPN speed is slow.
Generally, it is usual to experience a reduction of speed while using a VPN. This is because of the time it takes your provider to encrypt and decrypt our traffic. Great providers make sure that this difference in speed is negligible.
Similarly, the distance between your location and that of the server can affect your speed. The closer the distance between the two, the faster your speed will be. Other factors include the choice of protocol, the server load on the servers, etc.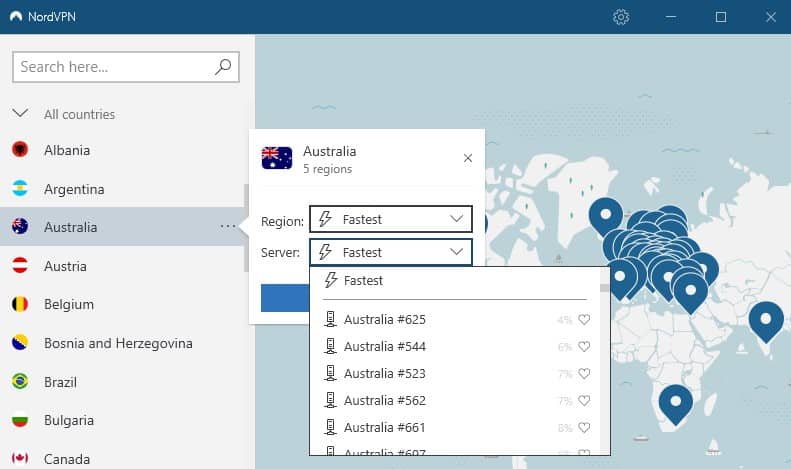 NordVPN equips its servers with remarkable speed. On its website, it declares that it maintains a balance between speed and security. Thus, you will not have to compromise one for the other. More so, its speed in the United States is the highest. As already mentioned, this provider has more than 2000 servers in the United States alone. This makes for an optimal experience for users located there.
IPVanish ranks pretty high in speed, too. Its average download and streaming speeds are remarkable. You will hardly experience any buffering while making use of the provider. Similarly, you will not experience lags or delays while downloading content from any platform.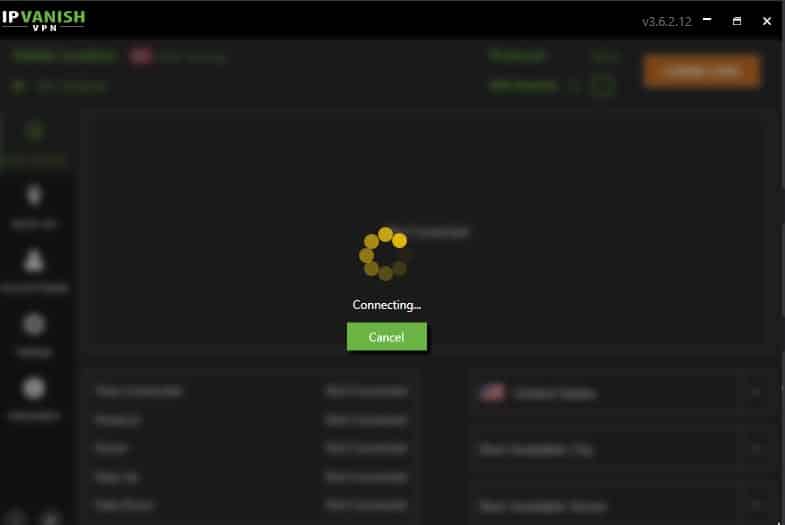 NordVPN takes this one, too. However, you have to understand that IPVanish is no pushover. In fact, it does better than some established providers in the market. NordVPN has some features that give it an edge over IPVanish when it comes to speed.
First, the provider has a larger network of servers and also offers more bandwidth to users. Its number of servers makes it that users are not clustered on to one server or a group of servers. This helps increase the overall speed of all the servers.
Furthermore, this provider offers CyberSec ad-blocking features. This feature blocks ads from loading on your browsing page. This way, your loading speed increases. Another benefit of this is that it saves your bandwidth. The faster your web pages load, the smaller the bandwidth you'll expend.
Finally, NordVPN makes use of the WireGuard VPN protocol. This is one of the fastest VPN in the world today. It further contributes to the speed of this provider.
Safety and Security Features
Unarguably, security is the chief function of any VPN. A VPN encrypts your traffic, keeping you safe from nefarious elements on the internet. Hence, even if you make use of unsafe connections, you will remain protected. Similarly, an ideal provider should have strong enough features to protect you from surveillance from the government or your Internet Service Provider (ISP).
Due to the importance of security for VPNs, most providers have excellent features. Hence, using this benchmark, these two providers are almost at par.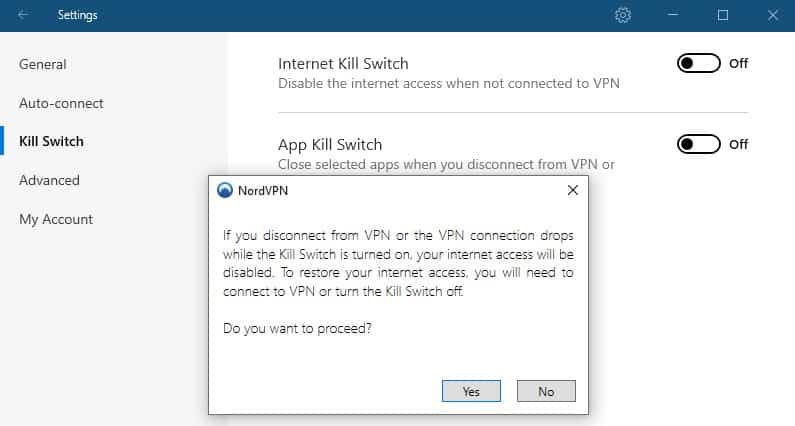 Both providers make use of AES 256-bit encryption. This is the strongest kind of encryption available. The United States military even makes use of this. It is almost impossible, even for the strongest supercomputer, to break through this code. Both providers also have kill switches enabled on their platforms. A kill switch preserves your anonymity if the VPN falters or you get hacked. It automatically takes you offline so that your details do not leak.
While IPVanish makes use of three very solid protocols, i.e., IKEv2, OpenVPN, and L2TP/IPsec VPN protocols, NordVPN makes use of just the first two. However, it more than makes up for it with the other stellar security features it boasts of. These include Perfect Forward Secrecy. This assigns you a new key any time you log on. This further creates a new session for each log-in you make. This is important because if you are ever hacked, the individual will find nothing from your previous sessions. Furthermore, they will be unable to use the same key to reaccess your account.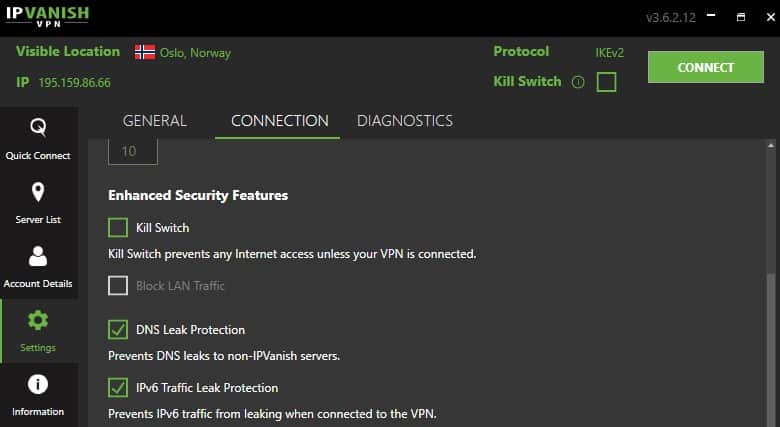 NordVPN also allows for split tunneling. Here, you will be able to split your traffic through the VPN and your regular network. It is ideal in the instances when you want to make use of your regular network, but still want some parts of your network under VPN protection.
Evidently, both providers have similar security features. However, if it comes down to one, you may want to go with NordVPN.
Anonymity and Privacy Features
This is one area where the integrity of your provider is tested. The relationship between users and providers is predicated on the unspoken commitment to privacy. These providers agree not to violate the privacy of users by keeping them anonymous every time they make use of the VPN. Thus, they typically wipe out the user's online history as soon as they are done using the service. This is to prevent a situation where they will be forced or compelled to give up users' data.
Similarly, they also have locations in countries with friendly privacy laws. This way, they minimize the possibility of being at loggerheads with the government regarding data-retention laws.
Some providers, however, are unscrupulous. They (sometimes deliberately) fail to keep to their own part of the bargain. Thus, you may find that they store user logs, regardless of promising to do the contrary. They go ahead to sell the information mined from users.
NordVPN is located in Panama. This is a privacy-friendly country. It does not have any laws requiring providers to either store or make logs available. The accounting firm, PricewaterhouseCoopers(PWC), carried out an independent audit on the provider's servers. It gave it a clean bill of health, stating that its servers retain no logs about users.
It also has some features that are great for maintaining privacy. The first is the 'Onion over VPN,' which reroutes your traffic through the Onion network. This enhances privacy by encrypting your network.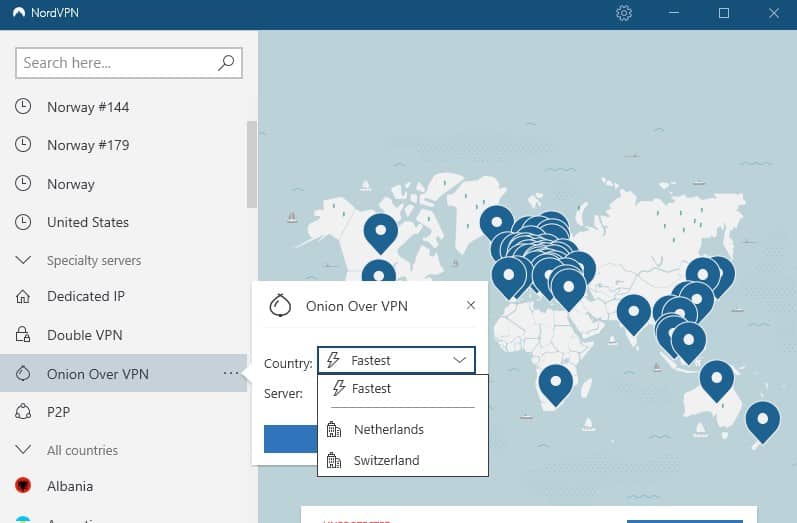 Also, NordVPN affirms that it does not keep logs of users. It is transparent about this and has even been independently vetted.
IPVanish is situated in the United States, and this does no small favors to their reputation. The United States is part of the 14 eyes network. This is a global alliance of countries with similar data unfriendly laws. Thus, it comes at no surprise that VPN providers in the country routinely receive gag orders and subpoenas. The FBI forced IPVanish to give up logs of its users. However, the provider has since clarified that this was under different management. They claim to be stricter with privacy at the moment.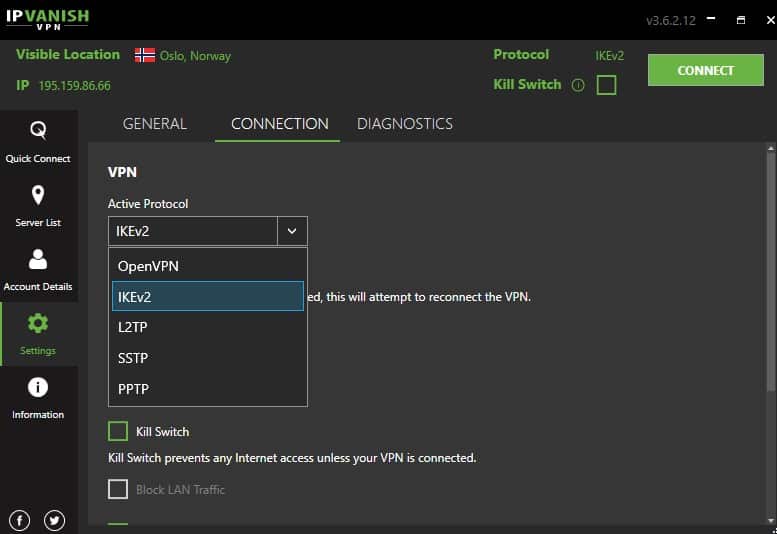 IPVanish also claims that it keeps no logs of users' data. No evidence shows otherwise. It has never been sued or ever had the record of being hacked. More so, it completely owns all of its servers. While some providers rent the servers they have in different countries, IPVanish outrightly buys theirs. The advantage of this is that it gives them greater control over their VPN.
IPVanish also has some unique features great for privacy. For instance, it offers a feature known as 'Scramble'. This hides the fact that you are making use of a VPN. This is great for countries like China, where there is massive government censorship.
Either provider is good as far as privacy goes.
NordVPN vs IPVanish: Platforms Supported
NordVPN has apps compatible with most device types. Thus, it provides apps for iOS and Android apps. For these mobile options, you can set up quickly with the one-click connection. Here, you click on a button to complete the installation process. For accessing servers, you can manually select a server in any location you want. However, you can make use of the Quick Connect Feature to hasten the process. This feature automatically connects you to the fastest server in your location.
This provider also has extensions for Firefox and Chrome. You can use this either on your desktop or mobile. This is remarkable because most providers only allow you to use their extensions on desktops. Please note that the extensions only protect the traffic from your browser. If you want all-round protection, please make use of any of the apps. Finally, NordVPN has apps for routers. The benefit of a router is that it gives you unlimited simultaneous connections. When you install the app on your router, you can hook up all of your devices on to it.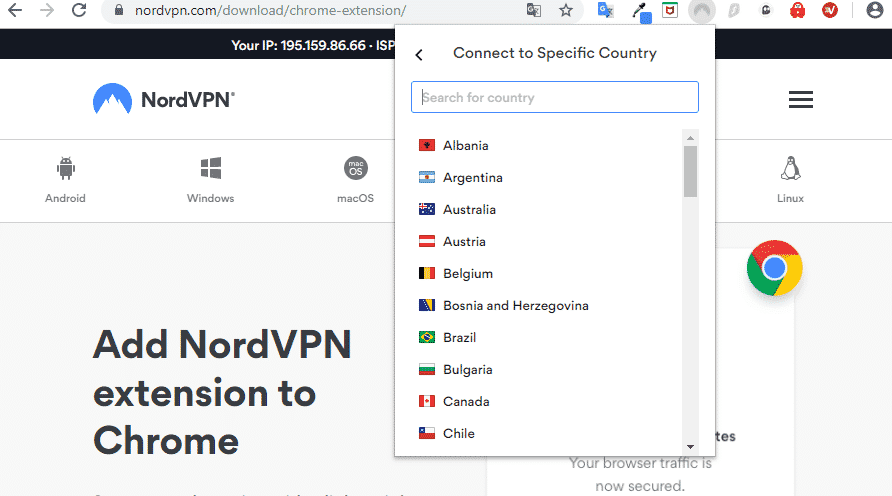 Similarly, IPVanish has apps for mobile and desktop devices. For mobile devices, it has apps for Android, Mac, and iOS operating systems. For desktop devices, it offers apps for Windows and Linux. On its mobile apps, you will find the full range of features the provider offers. Thus, it has the AES 256-bit encryption, kill switches, excellent protocols, and allows double encryption.
This provider, however, does not offer browser extensions. This can be limiting, especially if you intend to make use of the VPN on your browser.
NordVPN allows you to connect 6 devices on one subscription plan; this is slightly above the industry average of 5. IPVanish allows for unlimited simultaneous connections and offers unlimited bandwidth to users. Needless to say, IPVanish trumps NordVPN in this area.
Streaming and Torrenting
Many VPN users use it for streaming content. This is because, as pointed out, a VPN grants you access to hitherto blocked content. Thus, in considering the suitability of a provider, you ought to evaluate its ability to unlock regionally-blocked platforms. Your VPN of choice should be able to unblock content on a plethora of platforms.
More so, the VPN's unblocking speed is also quite paramount. You do not want to be stuck while streaming your favorite show or video.
NordVPN is excellent for streaming and getting around geo-blocks. Its SmartPlay feature is specifically designed to beat tough geo-blocks. It still manages to maintain your security at the same time. It combines its DNS-leak prevention function with the VPN technology to ensure water-tight security whilst you are streaming.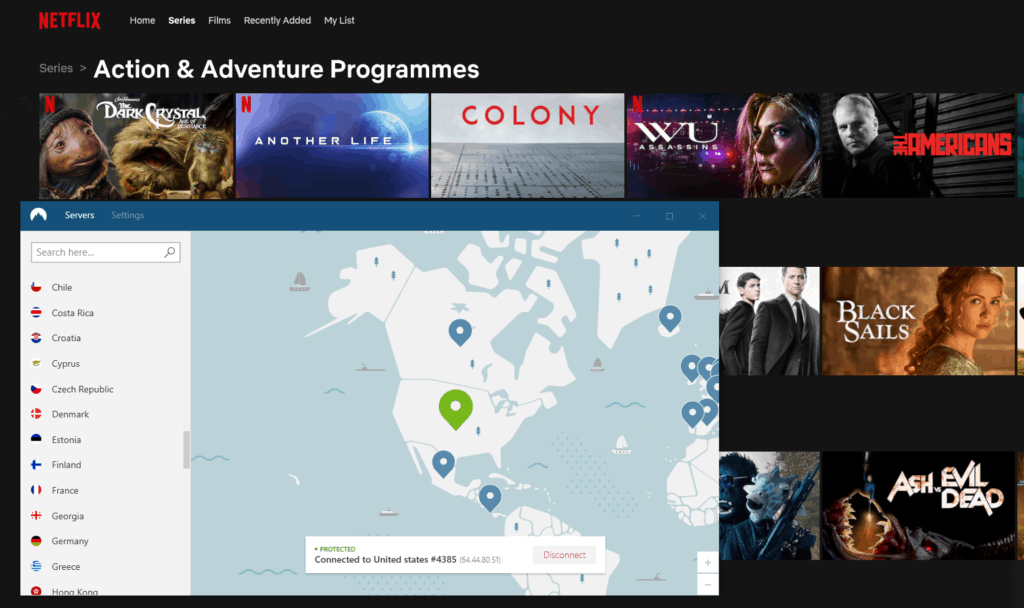 NordVPN grants you access to Netflix US's impressive library, regardless of your location. This provider is the best when it comes to masking your IP address and leaving you undetected while accessing Netflix. Similarly, for other streaming platforms like BBC iPlayer, Hulu, ESPN, Amazon Prime Video, and HBO GO, you get seamless access. You will be able to watch content in HD with no hassle at all.
NordVPN supports torrenting, too. It offers P2P optimized servers, allowing you to torrent easily and safely. Additionally, you do not have to worry about being restricted to one torrent client. NordVPN is compatible with popular torrenting platforms such as BitTorrent and Vuze. It even allows you to set up and use a proxy. You can set up and use the torrent client on the proxy, upping your speed remarkably. However, please be aware that proxy servers are not as secure as the regular servers NordVPN makes available.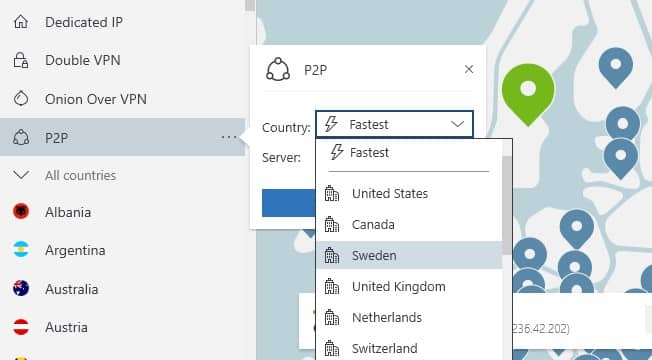 IPVanish unblocks content on platforms such as Netflix and Hulu. However, its process is neither as smooth nor as easy as NordVPN's. For Netflix US, you may have to check out several servers before finding the one that works just fine. More so, it also has difficulties unblocking platforms with tough encryption such as BBC iPlayer.
For torrenting, IPVanish does just fine. Every one of its servers supports torrenting and p2p file-sharing. It also offers impenetrable security while you are making use of the torrent sites. You can rest assured that your security will not be compromised throughout the process.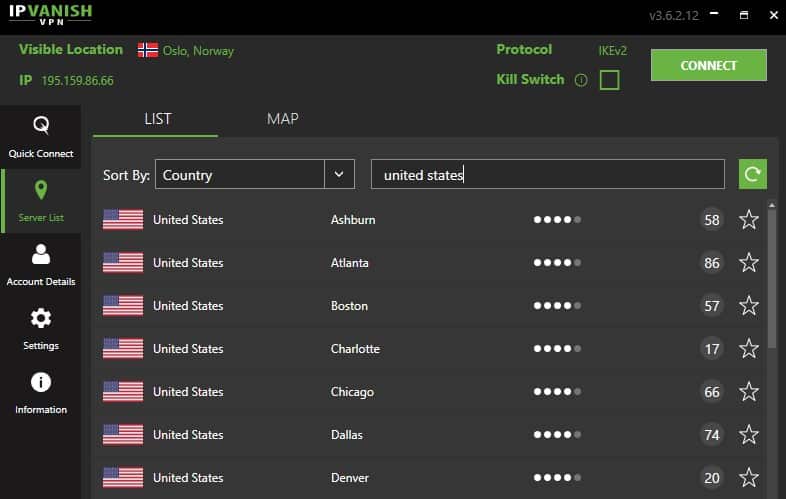 Overall, for streaming, NordVPN is the better option of the two.
NordVPN vs IPVanish: Plans and Pricing
Here, we will be considering the subscription plans and offerings of each provider. It goes without saying that regardless of a provider's features, the price could be the decider. If you simply cannot afford the subscription, you will have to go with a different provider. Below are the subscription options for each provider.
NordVPN

Monthly plan – $11.95
6-month plan – $9.00 per month
2-year plan – $3.71 per month
IPVanish

Monthly Plan – $10.00
3-month plan – $8.99 per month
1-year plan – $6.49 per month
On the surface, IPVanish is cheaper than NordVPN. You will arrive at this conclusion if your focus is on the rate both providers charge for their monthly subscriptions. However, if you are looking to subscribe for an extended period, then NordVPN's options are excellent. With its 2-year subscription, you get to pay as low as $3.71 per month.
IPVanish accepts payments using credit cards and Paypal. However, you cannot pay for the subscription using cryptocurrencies. NordVPN accepts payment using all three mediums. Payment using cryptocurrencies has the attraction of tightening your security. With options like Ethereum or Bitcoin, it is almost impossible to have the details traced to you. If you are big on privacy and security, you may want to consider NordVPN.
Both providers offer a money-back guarantee period. This is the period within which you can request a refund. If you are unsatisfied with the quality of service, you will get a refund. This process is completely risk-free. This is to say that you do not have to jump through hoops to get your refund. IPVanish's money-back period is 30 days, the same as NordVPN. Here, you can make use of the full range of features both VPNs provide. In principle, this is essentially like having a free trial. See a comparison of different VPN price plans here.
Pros and Cons
NordVPN
Pros
Stellar security features
Blazing-fast speed
Strict no-logs policy
Remarkable unblocking ability
Allows for various payment systems
Cons
Torrenting is not supported on all servers
OpenVPN configuration is not user-friendly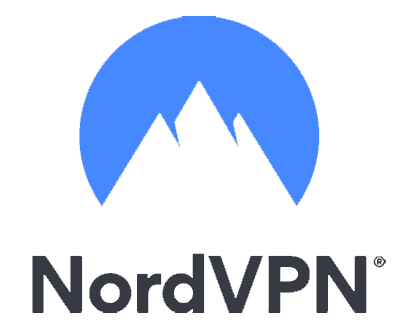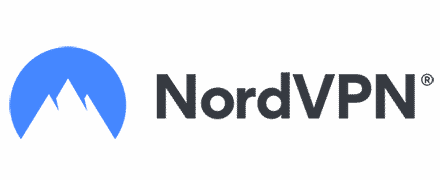 Get 68% off now
IPVanish
Pros
Unlimited connections and bandwidth
Great mobile apps
Strong security features
This provider owns all of its servers
Cons
Possible privacy issues
Slow speed
Unreliable unblocking ability
Poor customer support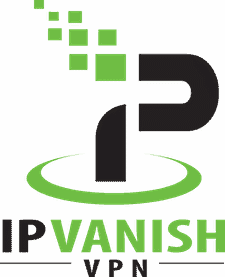 Get 58% off now
Our Recommendation
No doubt, these two providers are remarkable and are by no means average. However, we recommend NordVPN. This provider stands out because of its impressive speed, wide range of servers, strong security & privacy features, and strong connection. It is a one-stop-shop for all your VPN needs. IPVanish is no shirker by any standards. It even trumps NordVPN with its unlimited simultaneous connections feature. However, all things considered, NordVPN offers an unbeatable package.