How to Watch Sky Go Abroad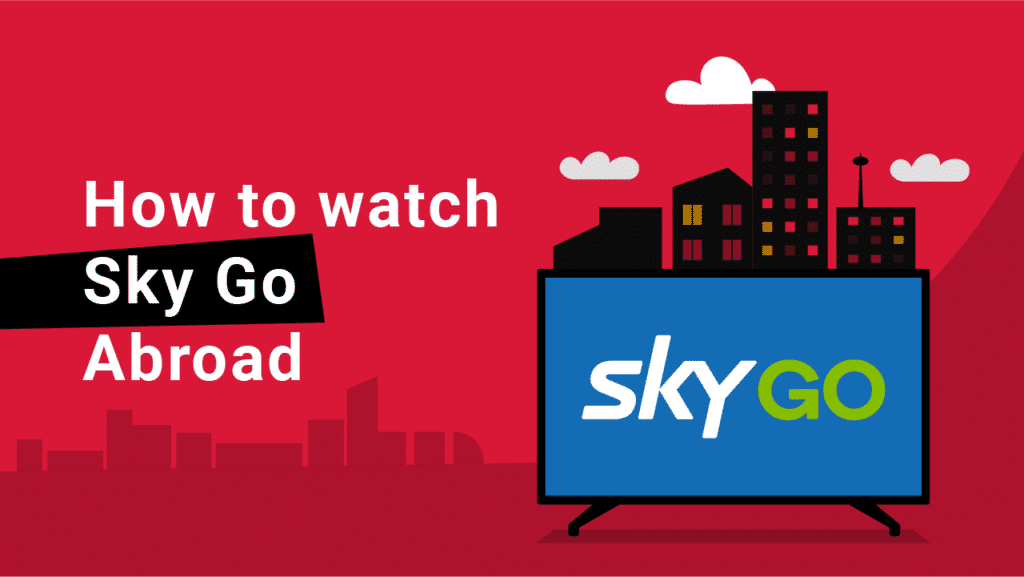 Sky Go is an online television service from Sky Group available for UK and Ireland users. It allows you to watch Sky TV content live and on-demand with an internet connection. This streaming service is free for all Sky TV subscribers. The service features a lot of excellent content, including thousands of movies and an array of Sky Sports channels.
With all the amazing content the service offers, it is not so far-fetched that users who travel out of their base in the UK or Ireland will want to access Sky Go from abroad. But you would find that if you try to access their service from outside these countries, you will be unable to. You're locked out with an error message. Why is this so?
This article will show you why you can't access your favorite streaming service and how you can bypass this block no matter where you are in the world.
Why Is Sky Go Blocked Outside the UK and Ireland?
Sky Go is only available for users inside the United Kingdom and the Republic of Ireland. If you attempt to connect to Sky Go abroad will receive an error message because it does not recognize your IP address as one based in either of these countries.
Many streaming services are geographically restricted to certain countries or regions because they only have a license to air some shows or other streaming content in these regions. However, you can bypass this geo-restriction with a VPN (Virtual Private Network).
A VPN helps you mask your IP address by changing it to any country of your choice. This will make it appear as if you're browsing from that country. So, with a VPN, you can appear to be streaming Sky Go from the UK, even when you are abroad.
The Best VPNs to Use With Sky Go
Watching Sky Go abroad with a VPN is easy; however, not every VPN is suitable for this. We have carefully chosen the best 5 VPNs with which you can stream Sky Go abroad. Find them below.
ExpressVPN

Features
Number of servers: More than 3,000
Speeds: Unlimited
Server locations: 160 in 94 countries
Maximum devices supported: 5
24 live chat: Yes
30 day money back guarantee: Yes
Pros/Cons
Fastest VPN out there
Strict no logs policy
256-bit AES encryption
ExpressVPN is the fastest VPN available, with over 3000 servers in 94 countries. It is available on Android, iOS, Mac, and Windows devices. Its servers are ultra-fast with unlimited bandwidth, guaranteeing smooth streaming experiences for users.
ExpressVPN has a No-Log Policy, which allows you to browse anonymously without being traced. Furthermore, it is very secure. Asides from using the military-grade AES 256-bit encryption standard, it also offers DNS/IPv6 leak protection (Domain Name System/Internet Protocol version 6). These guarantee the highest form of security for ExpressVPN users.
Even though ExpressVPN is costly, users are guaranteed quality unblocking services. It unblocks Netflix, Hulu, BBC iPlayer, Amazon Prime, and many more streaming platforms. With this unblocking prowess, you can relax knowing that it will unblock Sky Go too. A single subscription on ExpressVPN can be used on 5 different devices. This way, you can watch Sky Go wherever you are on any device of your choice.
ExpressVPN offers an extra three months of free subscription on a 12-month plan at $6.67/month (you get 15 months in total). For single month subscriptions, it costs $12.95 per month. But for a 6-month plan, you pay $9.99/month.
It offers a 30-day money-back guarantee if you're not satisfied with their services. Such confidence can only stem from stellar service delivery. It also provides excellent 24/7 customer service so you can get help whenever you need it.
Pros:

Fastest VPN out there;

Strict no logs policy;

256-bit AES encryption;

Lowest price: $6.67
NordVPN

Features
Cryptocurrency accepted? Yes
Simultaneous connections: 6
Dedicated IP-addresses? Yes
Servers: 5342 in 58 countries
Pros/Cons
Lots of pricing options
Netflix support kept up to date
256-bit AES encryption
NordVPN is another excellent choice for viewing Sky Go abroad. It operates out of Panama and has provided VPN services since 2012. It's a great idea to use a VPN service registered in Panama. This is because Panama has no mandatory data retention laws. It also isn't part of the Five Eyes or Fourteen Eyes alliances.
With 5400+ servers in over 59 countries worldwide, including the UK and Ireland, you can watch Sky Go with NordVPN from abroad. NordVPN guarantees privacy over public and unsecured connections. It has a strict No-Log Policy, which means that they don't track, collect, or share your data. So, even if a third party requests your data, there'll be none to give. It also uses AES 256-bit encryption. This encryption is combined with IKEv2, OpenVPN, and NordLynx.
With a focus on speed, security, and simplicity, NordVPN has a user-friendly interface. Live chat customer support is also available on the website for all users. Furthermore, there are no limits to its bandwidth, it allows users to connect up to 6 devices to the same subscription, and the subscription fee is as low as $5.75/month. It also comes with a 30-day money-back guarantee, just in case you don't think its services match your needs, and you want a refund. Compared to ExpressVPN the price is also cheaper.
Pros:

Lots of pricing options;

Netflix support kept up to date;

256-bit AES encryption;

Lowest price: $3.71
Surfshark

Features
Free trial? Yes
Simultaneous connections: unlimited
Ad blocking? Yes
Servers: 1000+ in 61 countries
Pros/Cons
No footprints
Allows torrenting
256-bit AES encryption
Surfshark is another VPN service you can use to watch Sky Go abroad. It has the necessary features for a good VPN service and some more.
Firstly, Surfshark has over 1700 servers in over 63 countries, including our preferred UK and Ireland locations. With this, you can connect to a UK server and access Sky Go from anywhere you are. It uses the AES 256-bit encryption to protect your data from hacks and the prying eyes of the government. It also boasts of an Ad Blocker to protect you from unwanted ads, an internet kill switch that disables your connection if your VPN connection drops, and maintains a strict No-Log Policy.
A distinguishing feature of Surfshark from the other VPNs is that it works on unlimited devices simultaneously. With only one subscription, you can connect every gadget you have and more.
One slight issue you may face is the fact that Surfshark is pricier than the average provider. The first 12-month subscription includes an extra 12 months for free at $2.49/month. Subsequently, Surfshark gets costly, at $12.95/month, and $6.49/month for 6-month subscriptions.
Nevertheless, if you add its 24/7 Customer Service plus a 30-day money-back guarantee to the list of great features, then no amount will be too much to pay for this VPN.
Pros:

No footprints;

Allows torrenting;

256-bit AES encryption;

Lowest price: €2.49
Ivacy VPN

Features
Cryptocurrency accepted? Yes
Simultaneous connections: 5
Supported devices? All, including TVs
Servers: Over 1000 in 63 countries
Pros/Cons
Streaming support
Support for torrenting as well
Military grade 256-bit encryption
Ivacy VPN boasts of 1000+ servers in 75 locations, ensuring that your internet presence is always secure. It replaces your IP address with a secure IP address from whichever location you wish to unblock. This new IP address enables you to browse anonymously, thus escaping monitoring by your ISP.
Ivacy has unlimited bandwidth so that you can stream Sky Go in HD. Ivacy allows you to connect up to 5 devices simultaneously; and ten devices with a custom feature. There is also an Internet kill switch feature in case your connection stops abruptly.
Your online security is also guaranteed with military-grade AES 256-bit encryption. With this, you have zero hacking fears, even on public WiFi networks. Ivacy has malware protection and fast speed because of the absence of ISP throttling. Furthermore, Ivacy maintains a strict No-Log Policy. This policy promises not to keep user information except for the basics, such as names and email addresses. Logs are never stored, so they can't be shared, thus protecting you.
Ivacy subscription options are cheap for its high standards. It offers a 7-Day trial at $0.99, after which it costs $47.99/year (at $3.99/month), with the option to cancel anytime. Finally, Ivacy currently has a limited 5-Year plan (at $1.16/month totaling $69.99 in 5 years).
Pros:

Streaming support;

Support for torrenting as well;

Military grade 256-bit encryption;

Lowest price: $2.45
CyberGhost

Features
Connected devices at once: 7
Automatic kill switch? Yes
One click connect: Yes
Servers: 5900 worldwide
Pros/Cons
No logs policy
24/7 live chat
Apps for mobile devices and routers
CyberGhost is a VPN service that has been operating out of Romania since 2011. The provider allows you to access blocked websites and unblock streaming services such as Sky Go. It also has a list of servers that are the best for streaming on its app. This feature will help you connect to the best server (out of its 6400+ servers) for streaming on Sky Go. 24/7 customer service.
It uses the AES 256-bit encryption standard for user data protection from cybercriminals, hackers, and online snoops. It also guarantees your security on unsecured and public networks. The VPN uses IKEv2 (Internet Key Exchange version 2) and WireGuard for further protection.
One advantage of using CyberGhost is that it is located in Romania, which is known for privacy-friendly laws. So, it is not under any obligation to keep tabs on its users. It believes that "the only way to secure your data is not to store it." With its No-Log Policy, users can remain anonymous and untraceable.
CyberGhost offers an extra 6-month free subscription on a one-time subscription for 12 months at $2.75/month. It also provides a 45-day money-back guarantee. This guarantee is higher than what is offered by most other providers. Also, CyberGhost offers a 1-day free trial before you make decisions for a more extended subscription.
Single month subscriptions cost $12.99/month with a 14-day money-back guarantee. 6-month subscriptions cost $7.99/month, also with a 45-day money-back guarantee. CyberGhost also accepts payment in cryptocurrencies, including Bitcoin. Also, a single subscription allows you to connect up to 7 devices simultaneously.
Pros:

No logs policy;

24/7 live chat;

Apps for mobile devices and routers;

Lowest price: €2
Is It Legal to Use VPNs?
You must be wondering if the use of VPNs is legal, based on many of the claims a lot of them make. The use of VPNs is legal in many countries, even the US. People use VPNs for legitimate purposes like protecting their sensitive data from criminals of the webspace. The anonymity offered by VPNs is also attractive for unlawful activities. Unlawful activities include hacking, illegal file sharing, illegal activities on the dark web, and cyberstalking. The basic rule is that whatever is illegal without a VPN will still remain illegal if you use a VPN.
However, there are countries where VPNs are outrightly banned. These are usually countries with restrictive regimes and repressive governments. Such countries include Iraq, North Korea, and Belarus. It would be inadvisable to use VPNs in these countries. You could get into trouble, to the point of even being jailed. However, if you must, make sure of that VPN, ensure that your IP address is obfuscated. Obfuscation prevents the government from discovering that you are making use of a VPN.
The use of VPNs is legal but heavily restricted in China, Russia, the United Arab Emirates (UAE), and Turkey.
What to Look Out for in a VPN
We've listed five of the best VPNs above with which you can watch Sky Go abroad. However, it may be challenging to choose the right VPN, mostly if you haven't used one before. Below is a list of things to consider when choosing a VPN:
Security and Privacy Features: The whole idea behind using VPNs is to mask your digital footprint so that your real location is unknown. To achieve this, you must choose a VPN that offers absolute digital privacy.
Number of Servers: To unblock Sky Go, ensure that the VPN you're choosing has servers in the UK and Ireland. Thus, the number of servers a VPN has and the number of locations these servers are present in are crucial factors to contemplate before choosing a provider.
Presence of Money-back Guarantee: Finally, you should check if the VPN has a money-back guarantee. A risk-free trial before any long-term commitment is a useful feature. Such a warranty is a sign that the VPN offers quality services. However, many VPNs don't have this option.
The Number of Simultaneous Connections: It would be an absolute waste to subscribe to different VPNs on multiple devices. So, you should check the number of simultaneous connections a VPN offers before settling for any. This should be especially important if you have multiple devices.
Bandwidth: Sky Go needs a high-speed internet connection of at least 2Mbps. So it would be best if you chose a VPN with high bandwidth, or better still, unlimited bandwidth.
Price: Always consider the cost of a VPN before subscribing to it. There is no need to pay exorbitant fees to get a VPN. On the list above, there are good VPNs at relatively low prices. It is also wiser to use long-term subscriptions because the service will bill you less.         
Conclusion
Don't let something as little as a geo-block stop you from experiencing the excellent TV content that Sky Go offers. With this list of VPNs that we have compiled, you can subscribe to and start using any of the VPNs on our list to enjoy Sky Go content without hitches.