5 Best Free VPNs for Finland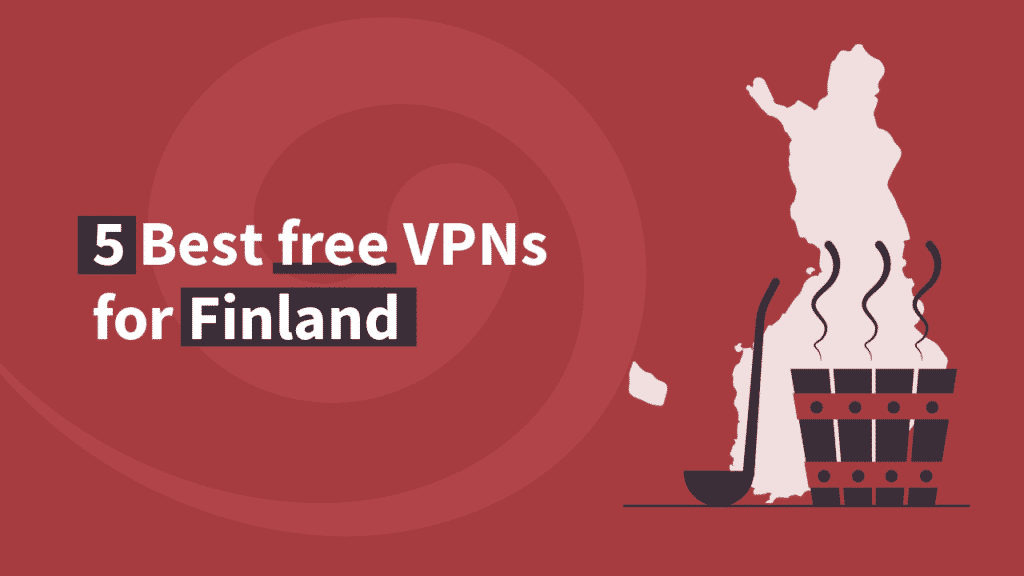 Finland may be the fourteenth most peaceful country worldwide, that doesn't mean that there are no crimes in the country. Internet fraud is one of the most significant crimes occurring around the world. Hackers are taking advantage of the crisis going on to steal sensitive information and money, and Finland hasn't been spared.
But, we have VPNs to protect us. There are risk-free and free VPNs available for Finland. You don't pay for free VPNs, but risk-free VPNs require you to pay for their services. However, these VPNs come with a money-back guarantee that'll allow you to take your money back within a specified period. You're also allowed to use the VPN's full service, unlike most free VPNs that usually come with hindrances like slow networks, inability to bypass censorship, etc.
We've compiled a list of the best risk-free and free VPNs with their features. Let's begin with the risk-free VPNs.
Best risk-free VPNs
Risk-free VPNs are VPNs that are not completely free, but have a 30 day money back guarantee. These VPNs are often way better than the totally free VPNs, and you can try them without risk.
ExpressVPN

Features
Number of servers: More than 3,000
Speeds: Unlimited
Server locations: 160 in 94 countries
Maximum devices supported: 5
24 live chat: Yes
30 day money back guarantee: Yes
Pros/Cons
Fastest VPN out there
Strict no logs policy
256-bit AES encryption
ExpressVPN has long been touted as one of the best VPNs available. This VPN has over 3000 servers located in 94 countries, Finland being amongst them. Because of its massive range, ExpressVPN has servers in countries that provide some of the most popular entertainment worldwide, such as the USA, Japan, Korea, Spain, etc. All ExpressVPN's servers are optimized for both speed and streaming, so you can be sure that you'll be able to watch whatever you want whenever you want.
ExpressVPN is based in the British Virgin Islands, where they're not obligated to log your data. ExpressVPN also goes the extra mile to protect their users' data by incorporating a new technology called TrustedServer. This technology writes users' data onto the RAM instead of a hard drive, which means that your data will be erased entirely once your system reboots.
This VPN doesn't lack when it comes to securing your data. ExpressVPN encrypts your web traffic with best-in-class encryption technology and the most secure protocols. A private DNS server with WebRTC and DNS leak prevention keeps your data safe as it heads to its destination. And finally, a kill switch safeguards your computer from hackers, just in case, the VPN connection suddenly drops.
ExpressVPN is available on Windows, iOS, macOS, Android, and Linux (standard platforms). It also has software available for routers, game consoles, and browser extensions. Though ExpressVPN is a bit pricey, it offers a 30-day no-questions-asked money-back guarantee, so there are no risks. What more do you want?
Pros:

Fastest VPN out there;

Strict no logs policy;

256-bit AES encryption;

Lowest price: $6.67
NordVPN

Features
Cryptocurrency accepted? Yes
Simultaneous connections: 6
Dedicated IP-addresses? Yes
Servers: 5342 in 58 countries
Pros/Cons
Lots of pricing options
Netflix support kept up to date
256-bit AES encryption
Our second best risk-free VPN is NordVPN. NordVPN is based in Panama and was established by four friends with a passion for an uncensored internet. To achieve that goal, NordVPN has become a true giant in the VPN industry. With over 5700 servers in 59 countries, NordVPN has the densest concentration of servers in the world. Finnish users will never have to worry about overcrowded servers with this VPN.
NordVPN is extremely serious about its users' security. It uses next-generation encryption and an automatic kill switch to protect the user's security. The kill switch has no deactivation option, unlike other VPNs. Like it or not, you're protected. There are also special features like Double VPN and Onion over VPN. These features encrypt your data multiple times to make sure that your data will take lifetimes to interpret if it ever got into the wrong hands.
This VPN believes in a free internet sot staff at NordVPN work hard to ensure that you can bypass any blocked content, be it a website or a media streaming app like Netflix, Hulu, Crunchyroll, etc. A feature called CyberSec keeps any ads, malicious websites, and phishing attempts away from your browsing experience.
NordVPN has apps available for all standard platforms, routers, Android TV, and browser extensions for Chrome and Firefox. NordVPN used to offer a free trial period, but unfortunately, they don't do that anymore. They do offer a 30-day money-back guarantee, though, which gives you a month to enjoy their services for free.
Now that we've looked at the risk-free VPNs let's move on to the completely free VPNs.
Pros:

Lots of pricing options;

Netflix support kept up to date;

256-bit AES encryption;

Lowest price: $3.71
Best Completely Free VPNs
These are the best completely free VPNs for Finland.
ProtonVPN

Features
P2P support? Yes
30-day money-back guarantee? Yes
Country of origin? Switzerland
Servers: 600+ in over 40 countries
Simultaneous devices: 5
Pros/Cons
Professional support
Modern interface and apps
AES-256 encryption
ProtonVPN is a unique free VPN. It's not only a free VPN. There are other versions of ProtonVPN that are paid for. However, ProtonVPN offers one of the most generous free VPNs in existence. ProtonVPN has over 800 servers in 50 countries, but the free version allows users to choose between servers in Japan, Netherlands, and the USA. While they're not as fast as paid servers, they won't make your browsing unbearably slow, especially for Finland users whose country is pretty close to the Netherlands.
ProtonVPN is based in Switzerland, so your data and privacy are protected by Swiss privacy laws. However, that's not enough for ProtonVPN, whose mission is to provide everyone with online privacy. To achieve this, ProtonVPN doesn't use insecure protocols or encryption levels. They only use the best and most secure online security technology, even with their free VPN.
However, their server speeds are not high, which is understandable because it takes considerable resources to maintain high-speed servers even for paying clients. Their servers may slow down the speed of your web traffic, but there are no bandwidth limits. ProtonVPN also keeps your webspace ad-free, which is pretty rare for a free VPN. You can browse what you want, when you want, without ads.
However, there's no P2P support on the free version, and bypassing global restrictions may very well be impossible. It's safe to say that you won't be streaming much with this VPN.
Pros:

Professional support;

Modern interface and apps;

AES-256 encryption;

Lowest price: €4
Trust.Zone

Features
Complete anonymity? Yes
Unblocking of all websites? Yes
Pricing options: 4
Servers: 164 in 80+ zones
Free trial: Yes
Pros/Cons
Military grade encryption
Bitcoin accepted
App for mobile devices
Trust.Zone is a VPN that makes it easy to access the internet securely but for a very limited amount of time. This VPN's free version is more of a test for prospective users to see how their services work. However, this may make it a more full-featured VPN than any other free VPN as users have access to over 170 servers spread out over 40+ countries. These servers are all optimized to have enough speed to enjoy streaming videos without buffering.
However, Trust.Zone has a rule for its free VPN. You will not be allowed to use the VPN anymore after three days or after you've exhausted 1GB of data. But within this period, you have full access to the protection offered by Seychelles law, which is where Trust.Zone is based. Your data is also encrypted and protected by super secure protocols.
In its privacy policy, Trust.Zone makes it clear that they will never log a users' data. They stated that the only information they keep is the user's email, which is used as an identifier for Trust.Zone members. Any other information or usage data is anonymous and can not be traced back to the user.
Trust.Zone is also a very capable unblocker. Its servers can bypass geo-restrictions and geo-blocks on certain streaming media with ease, and their fast server speed makes it easy to watch your favorite shows from the comfort of your Finland home.
For now, Trust.Zone is only available to Windows and Android devices.
Pros:

Military grade encryption;

Bitcoin accepted;

App for mobile devices;

Lowest price: €3
IPVanish

Features
One click connect? Yes
Bandwidth cap? No
Servers: 100+ superfast servers
Platforms: Mac, Windows, Linux, Chrome OS, iOS, Android, Routers
Pros/Cons
Firewall
Apps for all devices
40,000+ shared IPs, 1,300+ VPN servers in 75+ locations
Not the cheapest out there
IPVanish has been around since 1999 and has since established a reputation for speedy security. It has over 1,400 super-fast servers, which help users stay protected without sacrificing their connection speed. This VPN has servers all over the world, including Finland. If you want a VPN that'll give you speed and protection, this is it.
IPVanish has had time to perfect its online security, and they don't disappoint. With IPVanish, your data and the tunnel it passes on the way to its destination are encrypted. This protects IPVanish users from hackers and scammers, especially when using public Wi-Fi. Also, IPVanish stops your ISP from throttling your speed. This means that you won't experience any sudden, unexplained slowdowns anymore.
IPVanish is passionate about stopping all forms of censorship and geo-targeting. Geo-targeting means targeting users for certain ads or analyzing an internet user's information because their IP address places them in a certain country. With IPVanish providing you a new IP address, you can put an end to that.
IPVanish is also an efficient unblocker. With the help of the right IP address, you can bypass censorship all around the world. IPVanish has apps for Android, iOS, Windows, macOS, and Linux. It also has router firmware available, even though it allows ten simultaneous connections.
IPVanish's free version is more of a trial period. It lasts for seven days. If you cancel your plan before the seventh day is over, you'll get a refund. Unfortunately, this offer is unavailable for iOS users.
Pros:

Firewall;

Apps for all devices;

40,000+ shared IPs, 1,300+ VPN servers in 75+ locations;

Lowest price: $2.62
Is it legal to use a VPN in Finland?
Although Finland has had a little brush with censorship, the use of VPNs is still fully legal. The right to protect yourself and your information from being harmed by information loss or fraud is still upheld.
While European countries are known for their strict censorship and disapproval on online privacy, Finland is not one of such countries. It doesn't overtly support data privacy, but it doesn't subvert it, either.
However, Finland, like many, many countries, does impose some restrictions on their Internet Service Providers (ISPs). They have a filtering system in place that forces ISPs to block websites that focus on illegal activities like gambling or torrenting. Though this basically amounts to censorship, VPNs are still allowed in this country.
Will a VPN mess with my current internet network and connection?
No, it won't. A VPN doesn't affect your internet connections in that way. They only affect your virtual connection. This means that they protect you on your network. If you had to change networks just because you want to use a VPN, then installing the software would be impossible for people who aren't tech-savvy.
Your VPN only changes your IP address and reroutes your connection through your network, but the abnormality of this process makes it look like you're going through another network. If you were changing networks, your ISP wouldn't be able to see your information at all, not even your encrypted data.
The only thing your VPN might interfere with is the speed of your network. VPNs have to go through the process of encrypting your data before sending it off. This can cause a lag in your network speed. However, this speed depends on what VPN you're using. If a VPN has optimized servers, the speed reduction may be minimal.
What to look out for when searching for a VPN
We've listed five of the best risk-free and free VPNs for Finland. However, you may want to take matters into your own hands and go VPN shopping yourself. To help with that, here are six important factors to look out for so you can get the best Finland VPN for you.
Servers: Servers are extremely important for a VPN. This is because the more countries a VPN has servers in, the greater their range. A VPN needs to have servers within a country before it can bypass any of its restrictions. Fire example, a VPN needs to have servers in the US before it can bypass restrictions on Netflix USA.
Speed: A slow network can be extremely frustrating. But your VPN will inevitably slow down your network. However, by choosing a VPN with optimized servers, there won't be a big difference in your normal speed and your speed when browsing with a VPN.
Privacy and security: A VPN for Finland needs to have several privacy and security measures in place. When surveying a VPN's privacy and security, you must look at features like encryption and protocols, DNS and WebRTC leak prevention, a no-logs policy, etc.
Bandwidth caps: Some VPNs have bandwidth caps, and others offer unlimited data. However, if you do choose a VPN with a cap, don't choose one below 1GB a month. A lower bandwidth cap will only limit your browsing.
Devices: An ideal VPN for Finland should have apps for at least a few standard platforms. It should also be able to support a few simultaneous connections. Make sure that your VPN can support your device.
In conclusion
Although free VPNs don't require you to pay any money, they might not be strong enough to protect your privacy properly. All over the world, fraud is reaching a new high in these trying times, and you need to have the best security to guard all your important information properly. We've provided five options here that'll do just that and make sure that you're able to bypass censorship. With the right VPN, the internet can be as safe as your bedroom.