Best Free VPN Download for Samsung Smart TV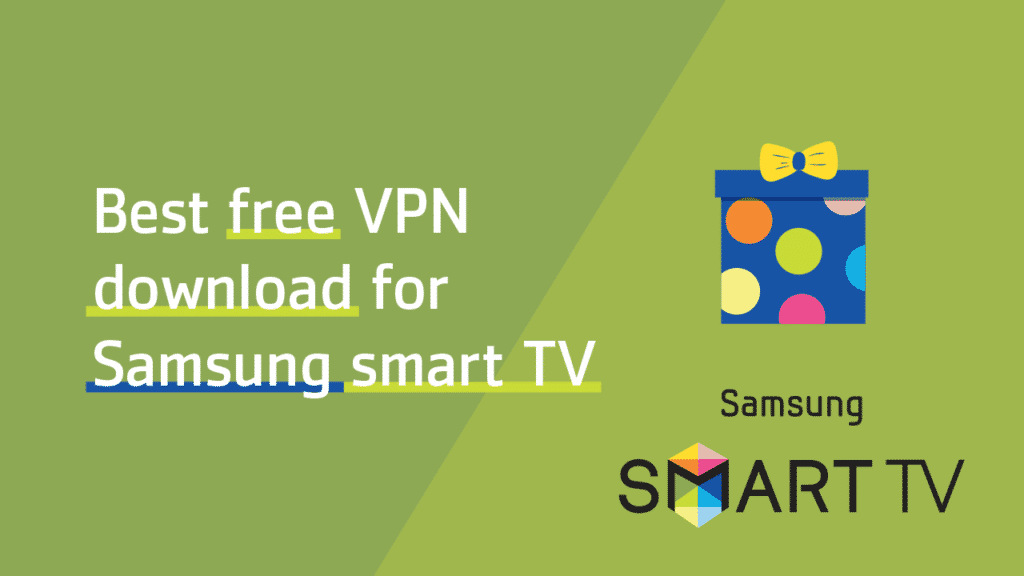 Over the years, the internet has diversified and given us the ability to do a lot of things. With the host of activities carried out on the internet on our many devices, including Smart TVs, we leave a trail for cybercriminals, the government, and other prying eyes to follow. This is why it is essential to arm yourself with a Virtual Private Network. With a VPN, you'll have safety, privacy and security as you surf the internet.
Getting the right VPN for your Samsung Smart TV is a serious business. There are many factors, criteria and features to look out for to ensure you have a smooth online experience. For example, if you're big on heavy streaming, you would surely want to get a VPN that has a top-notch geo-unblocking power that can open access to geographically restricted content. And if you are unwilling to spend on a VPN, then you would want to know the best free VPNs you can use on your Samsung TV.
Best Risk-free VPNs for Samsung Smart TV
Before we will mention our top 3 completely free VPNs, it is important that we share with you two excellent VPN providers that are "risk-free." These providers offer a 30-day money-back guarantee within which you can use their services, and if you're not satisfied, then you can get it for free. In terms of getting a VPN for Samsung TV, ExpressVPN and NordVPN is definitely some of the absolutely best VPNs.
ExpressVPN

Features
Number of servers: More than 3,000
Speeds: Unlimited
Server locations: 160 in 94 countries
Maximum devices supported: 5
24 live chat: Yes
30 day money back guarantee: Yes
Pros/Cons
Fastest VPN out there
Strict no logs policy
256-bit AES encryption
This provider is unarguably the best and fastest out there with lots of proof to back up this claim. Although it is not a free VPN service, if you're looking for quality service and some of the modern features that make a great VPN, you should be looking at ExpressVPN. It is an entirely risk-free service that is worth the price you would pay. Here is a list of some of the features you benefit by signing up to the service:
It is primed with the highest level of encryption: the 256-bit AES encryption that is a combination of AES 256-bit cypher, 4096-bit RSA key and SHA-512 HMAC authentication. All these encryptions make it is almost impossible to decrypt any data that's been passed through ExpressVPN's servers. It also makes it very secure for transferring data as in P2P sharing. These encryption algorithms also work in such a way that every time you log in to the account, it generates a new encryption key.
It uses the OpenVPN UDP protocol, OpenVPN TCP protocol, and the PPTP and L2TP/IPSec protocols, which make ExpressVPN's security and privacy even more reliable. It also has an advanced security feature called the Kill-Switch that is used to protect your IP address and keep your data secure in case the connection drops. ExpressVPN helps to protect you against DNS leaks, which ensures you are always anonymous online.
When it comes to connection speed, ExpressVPN beats them all. It tops all the VPN speed tests that have been carried out and always emerges first, despite having to route data from country to country. No matter the server you connect to using ExpressVPN, it delivers lightning-fast speed, giving you reliable connections to servers worldwide. Knowing this, ExpressVPN would be the best bet for your Samsung Smart TV when it comes to gaming and streaming of your favourite shows.
Express VPN is perfect for unblocking almost all the geo-restricted sites such as Netflix, Hulu, BBC iPlayer, ITV Hub, Amazon Prime Video, Disney+ and a host of others. Apart from your Samsung Smart TV, ExpressVPN allows you to connect 4 more devices simultaneously, so you are protected on all your devices.
The provider, however, doesn't have a free version or free trial period, only a risk-free 30-day money-back guarantee and a reliable customer service that's always available to help you with your refund or any other challenge you may have.
Pros:

Fastest VPN out there;

Strict no logs policy;

256-bit AES encryption;

Lowest price: $6.67
NordVPN

Features
Cryptocurrency accepted? Yes
Simultaneous connections: 6
Dedicated IP-addresses? Yes
Servers: 5342 in 58 countries
Pros/Cons
Lots of pricing options
Netflix support kept up to date
256-bit AES encryption
Just like ExpressVPN above, NordVPN is also one of the big kids on the VPN block. It is committed to keeping its users' data and their entire browsing experience safe and secure. It also is certified risk-free, with many test runs that have been carried out and user reviews that are on its website to prove it.
The Panama-based provider boasts of an expansive network with over 5,100 servers in at least 60 countries. It also has a powerful 256-bit encryption plus suitable, secure protocols, including OpenVPN and IKEv2/IPSec. It has a reputation of offering its users privacy and security through the following features:
It has a 'No-Logs' policy and being far away from the surveillance of the Fourteen Eyes policy makes it even better. The company is not under any compulsion to keep users' data, so you don't have to worry about your activities being recorded, stored or sold to willing buyers. Asides this, it has a malware protection feature that blocks off annoying pop-up ads giving you a smooth experience as you browse the web.
The DoubleVPN protocol and Kill-Switch are vital security features that give you even more protection. The DoubleVPN servers route your data through two different VPN servers, so you have double data encryption. The kill-switch feature seals off your data from being exposed to trackers, hackers and malicious spyware if ever the connection goes down.
Other features you stand to gain from using the NordVPN include – Reliable IP servers, DNS leak protection, Auto-connect, Multi-device connections, Onion Over VPN servers, unblocking georestricted sites like Amazon and BBC iPlayer and much more. It allows up to six simultaneous connections with different apps compatible with your device. They have a high-end customer service that provides 24/7 live chat and a section for FAQs where you can get swift answers to any of your challenges.
NordVPN is not a free VPN; neither does it offer any free trial period, but if you are looking for a risk-free service that offers you a ton of features at a reasonably priced amount, then you should try their service. It also offers a 30-day money-back guarantee should you decide you no longer want to make use of its services.
Pros:

Lots of pricing options;

Netflix support kept up to date;

256-bit AES encryption;

Lowest price: $3.71
Top 3 Free VPNs for Samsung Smart TV
Below is a list of some of the best 100% free VPNs available for your Samsung Smart TV:
Hotspot Shield

Features
Unlimited data? Yes
Simultaneous connections: 5
Military grade encryption? Yes
Servers: Over 3200 in 80+ countries
Pros/Cons
Unlimited HD streaming
Blocks malware
256-bit AES encryption
This Virtual Private Network easily makes it to the top of our list when it comes to 100% Free VPNs to use with your Smart TV. It has many quality features that make it a ideal for your Smart TV. It is quite popular with over 650 million users and many servers in over 55 countries. Hotspot Shield claims it is "the No. 1 grossing app for productivity in the US App store," although after proper inquiry, it ranked no. 8, which is still quite impressive.
One major feature that makes this VPN unique is its Catapult Hydra Protocol that allows for maximum speed while still making sure of a user's security. User reviews and some of the most stringent test runs have led us to believe that Hotspot Shield truly delivers high speed while streaming and browsing the web.
Another feature of this VPN is the easy to use, user-friendly design that helps users navigate through the app without difficulty. When it comes to streaming and torrenting, Hotspot Shield is simply exceptional. It helps to unblock some (not all) streaming sites like Netflix, BBC iPlayer, Hulu, Amazon Prime Video, and some others. It also works well for torrenting. It helps to shield your IP address and covers your P2P activity from your ISP.
Although Hotspot Shield has a 100% free version, it also has a paid premium version with affordable plans. You can try this version out using its 7-day free trial period. Also, the paid version comes with a lavish 45-day money-back guarantee if you like to change your mind about using the service.
Pros:

Unlimited HD streaming;

Blocks malware;

256-bit AES encryption;

Lowest price: $6.99
ProtonVPN

Features
P2P support? Yes
30-day money-back guarantee? Yes
Country of origin? Switzerland
Servers: 600+ in over 40 countries
Simultaneous devices: 5
Pros/Cons
Professional support
Modern interface and apps
AES-256 encryption
This provider makes its name from its well-known partner, the secure email service ProtonMail. Although the two companies are separated because of security reasons, the VPN counterpart takes a good amount of its security and other technology from ProtonMail. This provider places a lot of focus on security, privacy, and total anonymity and has many features to show for it.
For streaming purposes, ProtonVPN has been tested across many categories. We did discover that the provider is great at unblocking some streaming sites like the different Netflix libraries, including US Netflix. It can also unblock others like Hulu and Amazon Prime. However, when it comes to speed, this VPN is not one of the best, because it does come with a little lagging during streaming.
It has an average-sized server coverage of 395 servers in over 30 countries with network speeds that are reliable for many online activities you may wish to carry out on your Samsung Smart TV, and it is available in different locations across the globe. For torrenting, ProtonVPN is also a good choice. It allows for P2P file sharing between users across all servers. Its strict 'no-logs' policy is also instrumental in keeping your data private.
For a further shot at security, the provider has a secure encryption algorithm, the AES-256 encryption and the 4096-bit RSA key exchange. It also adds the Perfect Forward Secrecy as an additional protective "cherry on the top." This feature is unique in that it generates a new encryption key every time you connect to any of its servers.
Along with its free version, if you are looking to upgrade your services, ProtonVPN has 3 paid plans to step up your privacy game. These plans are cheap and affordably priced, with the cheapest of the plans being its Basic Plan. These paid plans do not have a free trial period, but all the subscriptions come with a 30-day money-back guarantee that has been tested and certified legit.
Pros:

Professional support;

Modern interface and apps;

AES-256 encryption;

Lowest price: €4
TunnelBear

Features
Cryptocurrency accepted? Yes, bitcoin
Dedicated IP-adresses? Yes
Simultaneous connections: 5
Locations: 28 countries
Pros/Cons
Unlimited browsing
Account manager
Military grade encryption
Free version allows only 500MB data
Very heartwarming to note, is the fact that despite being a free VPN service, TunnelBear still boasts of high connection speed. Not just that, it has some of the best security features on the free VPN market, quality encryption features and an automatic kill-switch that sweetens the deal.
TunnelBear has a high connection speed that is very important for Smart TV users. Its download speed, upload speed and ping rates were put to a speed test, and they passed. Despite the far distance a user's data has to travel to connect to its servers, the connection speed was still fast enough to stream videos in HD. This speed makes it good enough to use with Samsung Smart TV. Although TunnelBear may not be great for unblocking many geo-restricted sites, it can unblock a few of them.
TunnelBear is a Canada based VPN which exists under the 5/9/14-Eyes Alliance along with the United States, which may make privacy a bit of a concern. Still, interestingly, the provider runs under a no-logs policy that ensures none of your data is recorded for any purpose. Therefore, all your online activities on the Samsung Smart TV are safe.
On the free version, TunnelBear allows users 500MB of free data monthly. It also comes with a premium paid version that allows up to 5 simultaneous connections for users on different devices. Unfortunately, according to their terms of services, they have a non-refundable subscription fee policy, but some requests may be considered depending on the case.
Pros:

Unlimited browsing;

Account manager;

Military grade encryption;

Lowest price: $3.33
In Conclusion
One thing is clear as you go through the list of VPNs above; security and privacy features have to be top tier to make a VPN good enough to protect your Samsung Smart TV online. Both free and paid VPNs have specific benefits that make them competent enough, depending on the needs of the user. The list above highlights many features that you stand to gain from using free VPN plans, but it's still apparent that these features are restricted and may not offer all your Samsung TV needs to stay risk-free on the internet. To achieve this, a paid VPN would be more reliable; ExpressVPN and NordVPN do a great job of delivering these promises.