What Do Reddit Users Think About NordVPN?
It is one thing to base our judgment of a VPN's quality on some unverified info available on the provider's website, and another to do some groundwork. We took time out to check with Reddit users about the efficacy of NordVPN for the average VPN user. Each Reddit community and subreddits that says anything about NordVPN got some real combing through. Although Reddit users are known to be sometimes sentimental and often biased in the opinions they express, news finds its way to the platform in real-time.
The various Reddit posts about NordVPN mention specific issues like speed, security, privacy, etc., albeit in isolation. This article is a summary of our findings on Reddit users' view on all NordVPN features.
Reddit Users Thoughts on NordVPN
NordVPN has the essential features that make many Reddit users positively review their service. The average hunter for VPN reviews on Reddit is likely to stumble across more negative reviews than positive ones. People are more likely to go through the trouble of expressing displeasure than acknowledge a good deed. More so, few other platforms give account holders an incentive for voicing their opinions (positive or negative; true or false) like Reddit.
However, the ubiquity of negative reviews for VPN services (not just NordVPN) does not mean they are right-off-bad. Some of the negative reviews may be due to the VPN user's inability to utilize the application appropriately. We shall hereafter assess some of the discussions and comments of Reddit users on NordVPN.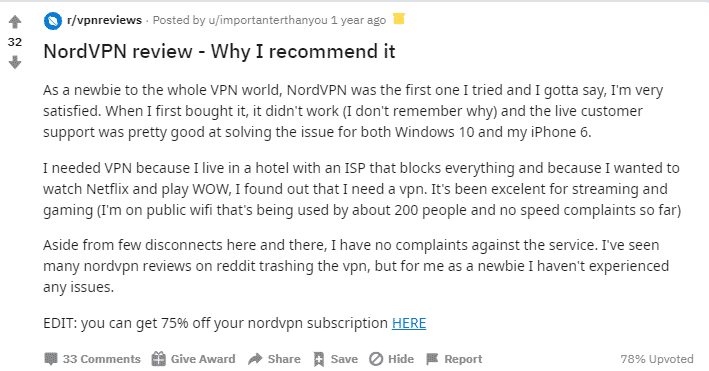 importanterthanyou is a Reddit user who is a beginner with VPNs. They, however, recommend NordVPN because it works perfectly with their iPhone and Windows 10 PC. A VPN became necessary because the network administrators at this user's hotel censored internet usage. NordVPN helped this user eventually overcome the restrictions while avoiding the security threats of using a public network.

This other user has quite a history with NordVPN. After trying out their service, he went ahead to subscribe for another three years at $125. An offer that the user sees as a giveaway.
As mentioned earlier in this article, this user has equally come across several negative reviews on Youtube, TrustPilot, and Reddit. In light of this, he advises potential subscribers to take advantage of the 30-day free trial offered by NordVPN before going with the downbeat opinion poll on Reddit.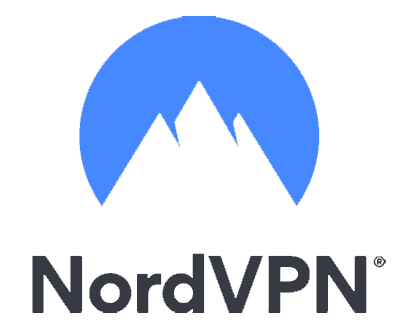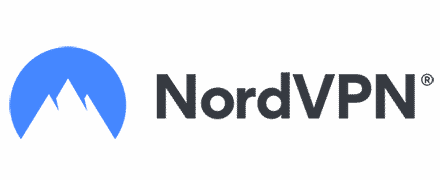 Get 66% off now
NordVPN Pros According to Reddit Users
The following are the features that NordVPN boasts of on their official website. We shall be looking at Reddit users' opinions concerning the pros used as a selling point for the NordVPN service.
Speed:
Speed is one of the key factors users contemplate when choosing a provider. This is because, regardless of the level of protection the VPN offers, speed lags affect the whole experience.
NordVPN performs excellently well when connected to a local server. Speed tests by standard VPN reviewers like Wired and PCMag, using Ookla and AV-Test, also show NordVPN as reducing download speeds. Similar to several other VPNs, the tests reveal this provider as reducing download speeds by a 60% average and increasing connection latency. Internet connection latency is the time, usually in milliseconds, that it takes a device to receive a response for a network query.
Opinions on NordVPN's Speed
Here are opinions from some Reddit users about speed and other features of NordVPN.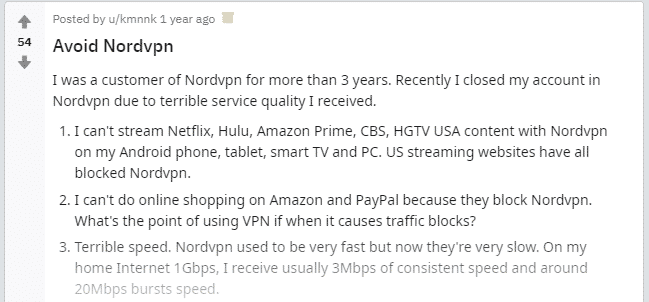 This Reddit post by a user – kmnnk, raises some issues concerning the below-par experience of the user with NordVPN. He cites the inability to use video streaming services, the inability to use online payment services, and low connection speeds as the significant complaints.
It is, however, worthy of note that providers of video streaming services like Netflix and Hulu are out to make some bucks. Having learned of the clandestine ways people are accessing their services, these video streaming companies have upped their games. With sophisticated firewalls that come with substantial price tags, they have successfully blocked off most VPN services, not just NordVPN. The block experienced with video streaming services is similar to what you experience with payment services like Skrill, PayPal, and Amazon.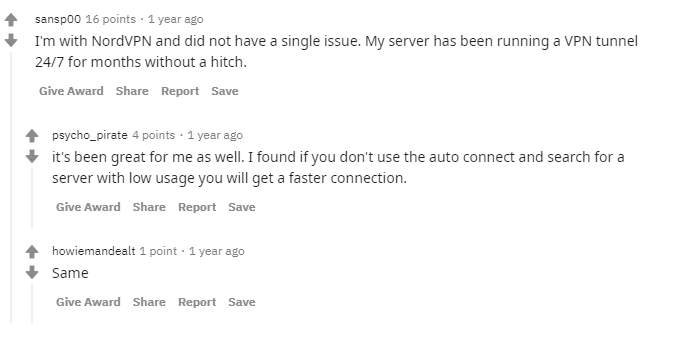 In response to kmnnk's post from earlier, sansp00 and two other users commented in a string, sharing contrasting experiences with NordVPN. Sanspo testifies to using NordVPN for his server for several months, with no noticeable disruption in service.
psycho_pirate, on the other hand, recommends declining using the server auto-select feature. According to psycho_pirate, it's more advisable to check for servers with little traffic and close to your location. Such servers would offer a better VPN connection relative to the nearest local VPN server, which may be overloaded at the time.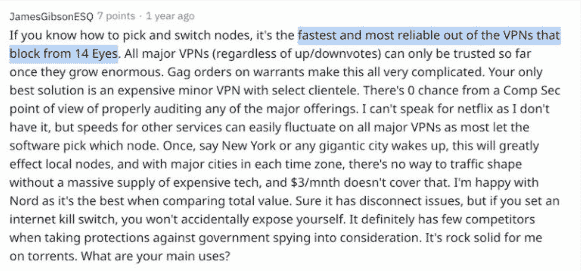 JamesGibsonESQ looks beyond the opinion polls on Reddit, though admitting that NordVPN does have its drawbacks. But he eventually submits that the NordVPN service is still one of the best. From his arguments, lagging internet traffic in densely populated locations cannot be helped, irrespective of the VPN provider's quality.
In conclusion, James claims to know how to tweak his way around with NordVPN, forthwith, his resolve to stick with them.
Security:
Occasional concerns have been raised on Reddit about the privacy breaches of data centers recently made public. Rumors of NordVPN not being domiciled in Panama, as initially claimed, has caused some steer among subscribers. In response to the user mentioned above privacy challenge, NordVPN has started building a series of self-owned data centers in Finland. The company is said to have broken all standing affiliations with contracted remote data centers.
OpenVPN was the toast of VPN protocols, that was before WireGuard came on board. Being an improvement on the OpenVPN framework and being similarly open-sourced, it is a great plus to the security features of NordVPN.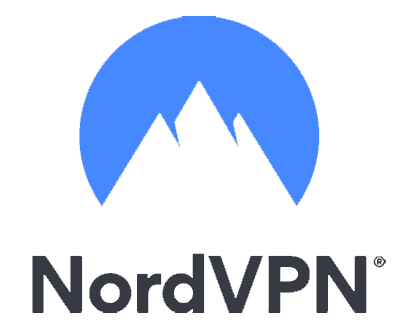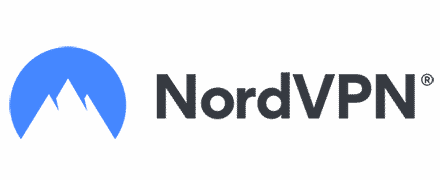 Get 66% off now
P2P Servers/Torrenting: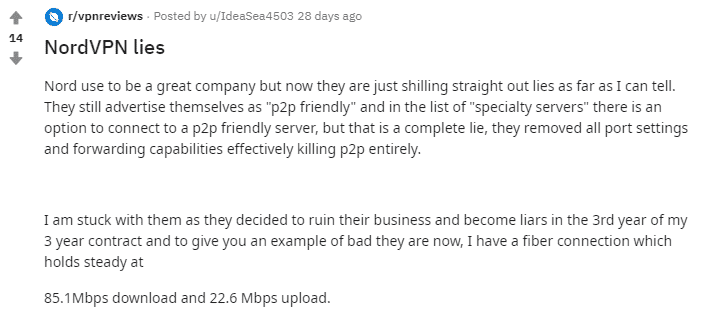 In a vpnreviews community post on Reddit, IdeaSea4503 (an old-time user of NordVPN) laments how terrible their torrenting service has been in recent times. Right underneath the post, another user (cuppaseb) counters the claim. He tries to encourage the initial complainant to check for interference and his internet connection before surmising that NordVPN is the problem.

With well over 5,300 servers in over 55 countries worldwide, a careful selection of the appropriate NordVPN server should do the job.
Performance:
A lot of the NordVPN users who cry woes of poor performance on Reddit seldom mention their country of domiciliary – perhaps for privacy reasons. But as one of the earlier Reddit snapshots said, the VPN server's closeness to the server being queried via VPN determines how good any VPN's performance would turn out to be. Though NordVPN is not as cheap as some other providers, its performance far outranks many of its peers.
Unblocking Ability:
NordVPN services come with special-purpose endpoints that permit the accessibility of users to services like connecting to the Onion networks via a Tor browser. By default, ISPs, and surveillance watchdog can only tell if a person is accessing the internet via a VPN. They can not trace the trail of VPN users or their activities. However, sophisticated firewalls like those being used by NetFlix and the government of China can still block VPN users. VPN services like NordVPN that possess the Tor feature can bypass all forms of restrictions and geo-blocking. This unblocking is possible because the VPN app utilizes Obfuscation technology to give the appearance of regular internet protocol packets.
NordVPN Cons According to Reddit Users
The following are the perceived cons of NordVPN according to Reddit users:
Expensive
NordVPN is expensive when compared to other services like ProtonVPN that offer even more features to users. The cost is quite understandable, though, with the infrastructural expenses accrued from trying to scale up for customer satisfaction.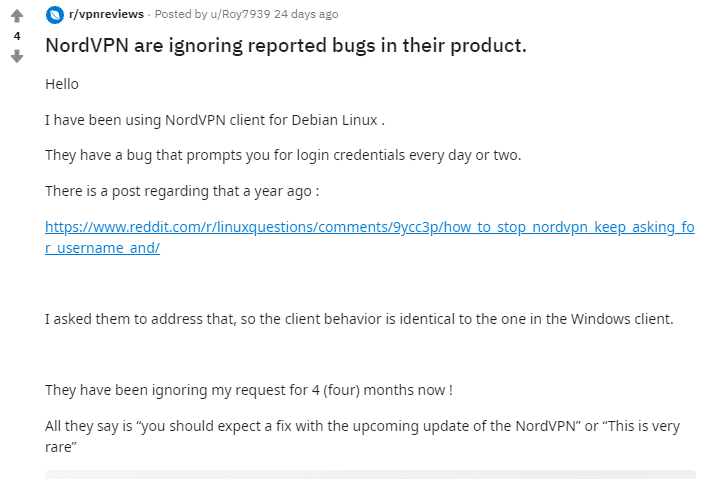 Complaints about poor customer service are quite ubiquitous. Though the iOS app versions of the NordVPN comes with live support. PC users on Reddit often complain of only having access to customer care facilities via email. The responses to the emails are equally said to lag for as long as a week. For most Redditors, that was a major turn off.
Does not support Split Tunneling
Reddit users also complain about the fact that NordVPN does not support Split Tunneling. This Split Tunneling feature gives a VPN application the capability of selecting specific user applications to protect while exempting others.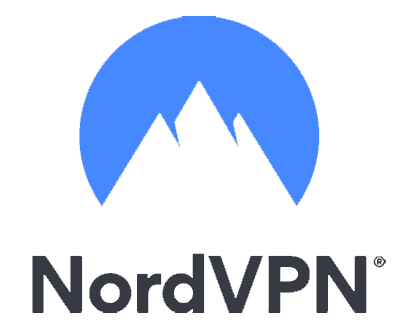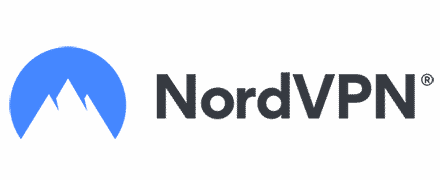 Get 66% off now
Conclusion
Several factors contribute to the performance of any single VPN service. Factors like location, platform, the traffic load on local VPN servers, quality of internet connection, etc., are consequential. The perfect VPN service for Mr. A–a Tokyo resident, may suck for Miss Z, who lives in New Zealand. To ascertain the quality of NordVPN, and its suitability for your purpose, use the 30-day money-back offer. If you are not satisfied with what you get, opting out before the lapse of the 30 days will pardon you of all costs. Happy trial!