Install and Use a VPN on Steam Deck
Looking to install a Steam Deck VPN? The introduction of the long-awaited Steam handheld console has set the gaming world ablaze. Since it runs on conventional PC hardware, the portable gaming console doubles as a handheld computer. The nifty device allows users to install other operating systems. That automatically brings up the need to protect your privacy and perhaps hide your location with the help of a VPN.
A VPN comes in handy to unblock restricted or regionally-altered games. You can bypass regional differences in the gaming market and get early access to some games. Players can even score a discount by purchasing games at lower prices in other locations.
Valve's Handheld – The Steam Deck Specs
Many respected voices in the gaming community have called the Steam console the next big thing after the Nintendo Switch. After checking out its cutting-edge software and high-quality graphics, we're inclined to agree. Gamers can essentially play more games on the portable console than anywhere else!
The Steam Deck is a handheld gaming computer created by Valve. Players can enjoy games from the Steam library while on the move. For now, it's reserved for users in select countries like the USA, UK, and Canada. Since it's still being rolled out, the device is still on backorder. You can place an order now, but it'll only be processed when the inventory is back in stock.
Technical Specifications
Circling back to the Steam Deck specs, the device is available in three versions determined by the storage size. The first gives you 64GB of eMMC storage. You can go for the model with 256GB of NVMe SSD storage for faster and better performance. Lastly, you can go premium with the 512GB NVMe SSD model, which is the most popular among gamers. All units come with a standard 16GB of RAM. In addition, users can further expand storage space using the high-speed MicroSD card slot.
The Steam Deck is quite portable with its 7" touch screen that boasts an impressive 1280 x 800 resolution for quality graphics. Couple that with the optically bonded IPS LCD for enhanced readability, and we have unmatched visuals. It runs at 60Hz to guarantee fast speeds and superior performance. You can connect the device to Bluetooth. Plus, it comes with a standard jack for microphones and headphones. It also has a USBC1 port and docking station to connect to external displays.
Pricing
For such a full-featured device, the Steam Deck is surprisingly affordable than most gaming consoles. The cheapest version costs $400, which is less than half the cost of similar devices.
How to Install a VPN on Steam Deck
While there are many VPNs on the market, you'll need to use a VPN on Steam Deck that allows OpenVPN or WireGuard. One such VPN that does have this open, is NordVPN. Allowing this kind of client configuration is a little more complex, but allows users the ability to configure a VPN connection manually. Users will need to do the following:
Open the System Settings
Click "Connections" under Network
Click on the "+" to add a connection
Scroll down to the type of VPN you want to add
Enter the VPN information
The downside to doing something like this is that users are reporting that this doesn't seem to be a permanent solution as every time Valve ships an update to the SteamOS on the Steam Deck, the device wipes this information, which means the user has to do it again. Frustrating!
Other Ways for Using a VPN for Steam Deck
Of course, there are a few workarounds for installing a VPN on Steam Deck. If you're not someone who wants to stay disconnected so that your device doesn't update, or don't want to insert the new VPN information each time, you can use other methods to circumvent the OpenVPN method.
Install a VPN on your Router
If you happen to be able to have a router that allows you to configure it through a browser, you can try to install a VPN on your router. Here are a few helpful guides that should be able to guide you through these processes.
Install TunnelDeck on your Steam Deck
Another method that gamers can use is to install TunnelDeck. Using something called Decky Loader, users will be able to put TunnelDeck on their Steam Deck which can be launched from the Desktop Mode of the Steam Deck, and then read OVPN files natively, allowing it to import VPN connections. This will then open up a user interface where you can insert your username and password, after creating an account.
Please note that these methods are at a user's own risk and TechShielder takes no responsibility for your Steam Deck's integrity, or your own mental health and well-being should it break into a million pieces right before your eyes.
The Steam PC or Steam Portable Console?
As we mentioned, the Steam Deck is essentially a PC. That means you can install third-party software onto the device, including a Steam Deck VPN. You have the option to play it as a handheld device or connect it to a monitor. It's built on the premise of other Steam machines but intends to offer a more mobile-focused gaming approach.
The Steam portable console runs on Linux, whose backbone boasts a full desktop environment. That leaves a lot of opportunity for game emulation and tinkering, especially if you throw a Steam Deck VPN into the mix.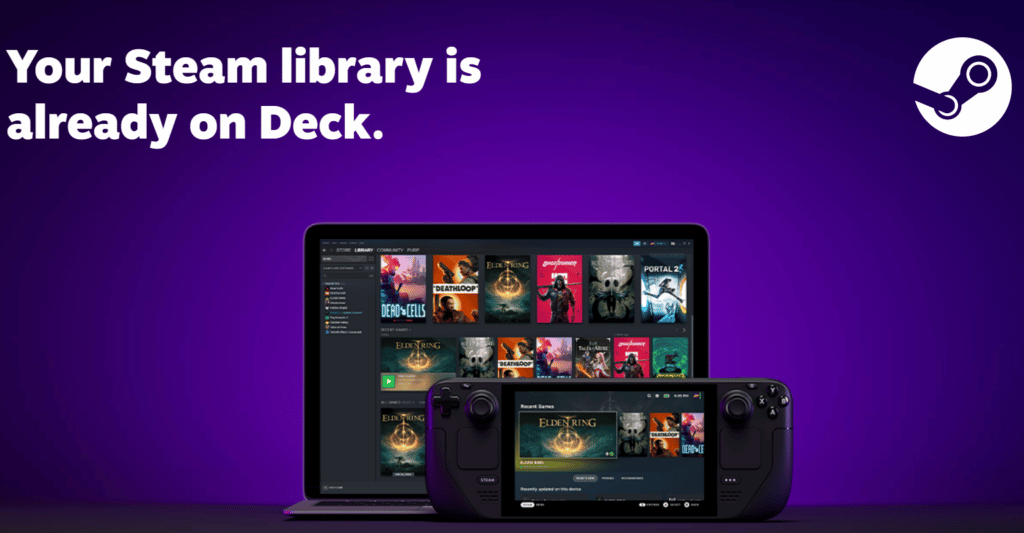 Steam Deck and Windows
The Steam Deck uses Valve's SteamOS 3.0 operating system for its software and interface. Thankfully, the SteamOS front end doesn't present a steep learning curve and is incredibly easy to use. The icing on the cake is that it's an open-source platform that allows users to easily install other operating systems like Windows.
The fact that Steam Deck runs Windows is a game-changer because it means the device can run a significantly more comprehensive range of games. Not to mention how the games run surprisingly well on the gaming console, thanks to its Proton compatibility layer.
From what we see, running the Steam Deck window is working wonders for the most part. However, it's not without its limitations. For starters, issues with anti-cheat software have been detected, making it challenging to run games like Fortnite. Players can always get around this hiccup by resorting to game streaming instead. Also, because SteamOS doesn't have dual support, Windows will likely blow through the battery life, and games may run slower.
Do you prefer to focus on the positives associated with running Windows on the device using a Steam Deck VPN? Start with how you're not confined to the Steam library privacy when playing games. In addition, you can unlock games not supported by SteamOS and enjoy improved performance on some titles.
Maintaining Steam Privacy
Because Steam Deck runs Windows, you can access more options on the device, including playing other games on different platforms. For instance, you can use the device to play FIFA from the EA store or Fortnite from the Epic Store. But to use the device to access games locked to other locations, installing a VPN on Steam Deck is a prerequisite.
It's no secret that game developers sell their titles at different prices depending on the location and audience. There's a chance you can spot a title for a lower price than where you are. A VPN is the perfect solution to navigating these hurdles. That's especially true if you connect to a VPN close to Brazil or India. IPVanish is one such example that has servers close to that area.
Besides maintaining streaming privacy, using a VPN with Steam Deck has other benefits. For starters, you can get games early if you connect your VPN to countries like Australia, known for releasing titles a day earlier. Also, a VPN like Nord protects you against Denial of Service (DDoS) attacks while using the Steam handheld device. Instead of your network, the attacker will be attacking your VPN server.
The excellent news is installing and using a VPN with Steam Deck is easy when using brands like SurfShark. It has open VPN definitions that you can download. The VPN also provides OpenVPN client configuration, which makes it easy to configure VPN connections.
Using a Steam PC for Everyday Use
The Steam PC is versatile and can serve users in more ways than one. Primarily, it's a gaming console that allows you to play the latest games. But over and above that, you can use it as a regular PC. The device has a USB port, so you can plug in virtually anything using a hub. So, depending on your preferences, you can buy it to use on the go and then bring it home to plug into a monitor.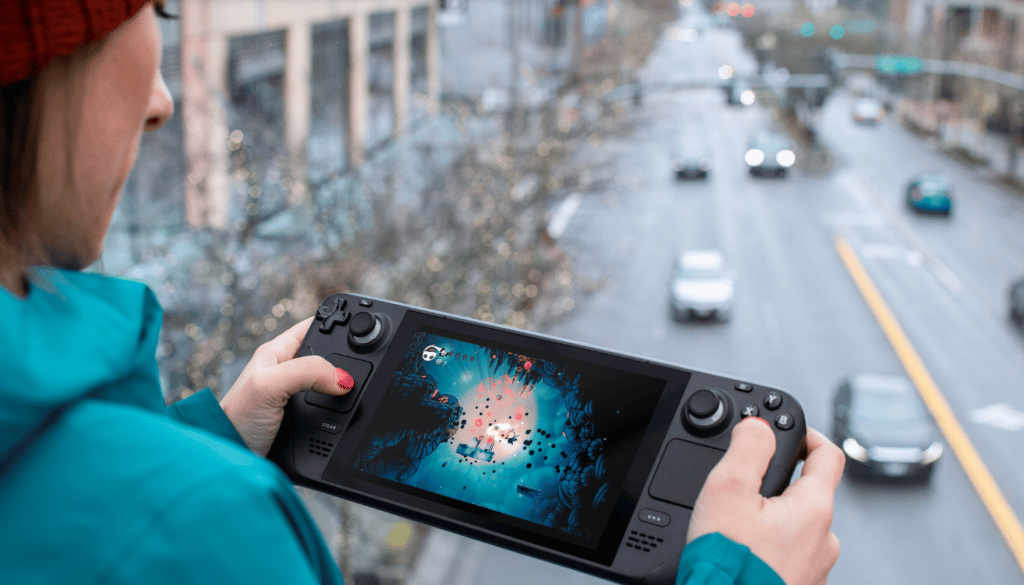 You can plug in a keyboard and mouse and connect the Valve Steam Deck to external monitors. The latter is also made possible with the use of an HDMI adapter. With the latter approach, players can throw the display onto a larger screen for better viewing. You can use the device for pretty much anything you would with a PC. That includes anything from organizing to transporting files. You can also download and install different applications and perform updates.
Considering its price and capabilities, the Valve Steam Deck is quite competitive compared to many laptops or desktop computers. Since using it as an everyday machine is doable, there's even more reason to use a VPN.
Conclusion
The Steam PC is a revolutionary device set to change the face of mobile gaming. Seeing as the device runs on desktop hardware, players can customise it as they see fit. That includes adding a Steam Deck VPN to access a broader range of games and Steam privacy. Installing a VPN on Steam Deck allows you early access to games at a discounted price. ExpressVPN will work excellently with this portable gaming device that works as a good old PC.
Frequently Asked Questions
Is Steam OK with a VPN?
Steam is OK with players using the Valve Steam Deck with a VPN, provided you don't use it to override price differences. With that said, Steam reserves the right to block you if you violate any terms of service.
Which VPN is the best for Steam?
The best VPN for Steam privacy would be the one that's fast, secure, and has an extensive server network. The idea is to reach as many locations so players can access different games from all locations. ExpressVPN fits that description down to the tee.
Which VPN is best for gaming?
The best VPN for gaming provides fast speeds for flawless performance. It also offers low latency on all devices, not to mention unlimited bandwidth. Nord has all these qualities and is one of the best for Steam privacy gaming.
Can the Steam Deck access Internet?
Yes, users can access the internet using the Steam portable console. It's used to play games online, provided you have secure Wi-Fi.
Does the Steam Deck need Wi-Fi?
According to the Steam Deck specs, users can use the device with Wi-Fi. However, you also have the option to use it without Wi-Fi if you install the game on the disc and play offline.
How do I use a VPN on Steam games?
You can use a VPN on a Steam console to access games blocked in your region. The same VPN allows you to bypass firewalls and ensure your connection remains private while you play.
Related Articles: