Best VPN for Gaming According to Reddit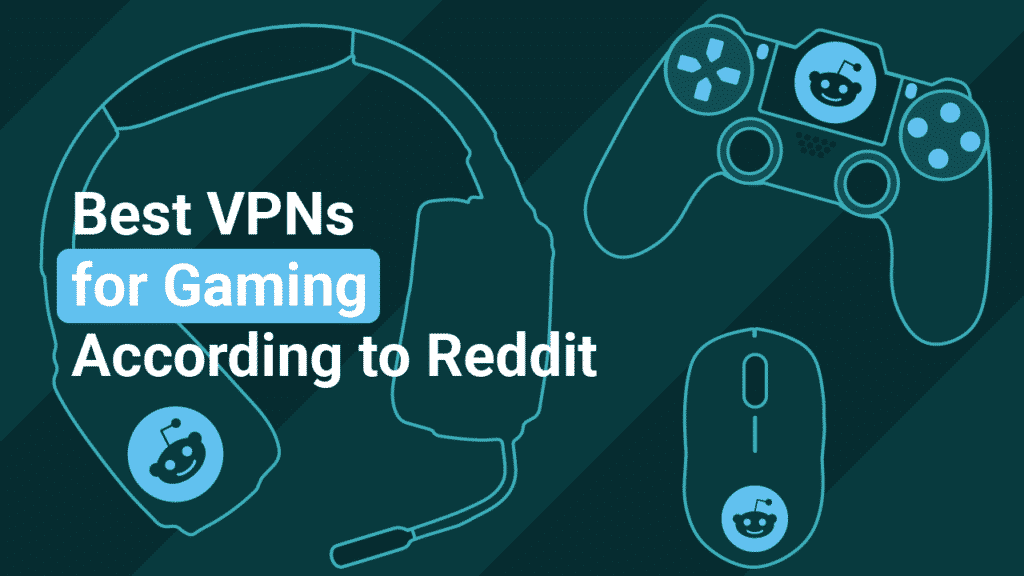 Reddit is one large social media repository that permits users to exchange information. It gives users a platform to share their personal opinions about a particular topic. Information and opinions are freely moderated, thus making Reddit your plug for the latest news. 
The votes and ratings of information shared on Reddit have come to be reckoned with among many. In the United States alone, there are about 26 million active subscribers to the site. Reddit also pulls a large following from across borders, making it a global forum. 
After scouring through several reviews and votes of Reddit users, we have been able to identify the VPN preference of most online gamers. Several content uploads appear to be engineered and unreliable on Reddit. So, banking on the few reliable ones we could lay hands on, positing on VPN topics like protocol, encryption, torrenting, and security becomes easy. 
Read along to assess what Reddit users have to say about VPNs and their usefulness for online gaming.
Top Recommended VPNs for Gaming by Reddit
The few reliable reviews we came across, on average, have a similar listing of recommended VPN services for gaming. The benefits are equally listed below while reflecting the average scale of preference in the order of recommendation by Reddit users.
ExpressVPN

Features
Number of servers: More than 3,000
Speeds: Unlimited
Server locations: 160 in 94 countries
Maximum devices supported: 5
24 live chat: Yes
30 day money back guarantee: Yes
Pros/Cons
Fastest VPN out there
Strict no logs policy
256-bit AES encryption
ExpressVPN is one VPN service that enjoys a massive following on Reddit. Ten out of the twelve subReddits that discussed the best gaming VPNs rank ExpressVPN as the best. It has ubiquitous upvotes for fast connectivity. There are, however, several other factors that make ExpressVPN rank high on Reddit community reviews. The Redditor below confirms that streaming (games) with ExpressVPN from a different location is easy peasy.
One of such is its strong encryption. ExpressVPN scrambles user packet data into an unbreachable mash before sending it out of the VPN network. The security is made possible by the AES 256-bit technology.
Furthermore, this provider supports a strong no-logs policy. By default, a data footprint is left behind as network packets are sent through a VPN server. But ExpressVPN is proactive concerning maintaining customer privacy and zero-log of user data.
The TrustedServer technology by ExpressVPN ensures that no user data is recorded on server hard drives. Most times, there is no way for users to know if the No-log claim is factual. But the proactive TrustedServer technology shows ExpressVPN as genuinely concerned about their subscribers' privacy.
Another remarkable feature is the split tunneling. With this feature, users may select the applications that have to access the internet via the VPN. Other applications not thus selected can then have direct access to the Internet.
With ExpressVPN, gamers can enjoy early releases of game upgrades that are restricted to specific locations. Finally, ExpressVPN supports simultaneous protection, for up to five devices.
Negative reviews about tanking connection speeds are starting to surface on random Reddit posts. But, Reddit enthusiasts of ExpressVPN are still up and about with reviews affirming it to be the fastest.
Pros:

Fastest VPN out there;

Strict no logs policy;

256-bit AES encryption;

Lowest price: $6.67
NordVPN

Features
Cryptocurrency accepted? Yes
Simultaneous connections: 6
Dedicated IP-addresses? Yes
Servers: 5342 in 58 countries
Pros/Cons
Lots of pricing options
Netflix support kept up to date
256-bit AES encryption
With the many user-centric features available on NordVPN, the positive appraisal we encountered on Reddit is not surprising. We shall try to do justice to them by shedding light on a few of NordVPN's features.
NordVPN has a server presence on all populated continents of the globe. The global server strength of NordVPN is at an excess of 5,500 in 58 countries of the world. Of the 5,500 network of servers, 60 high-speed connection servers make streaming, torrenting, and high bandwidth data transfer possible. Several Reddit users testify to the cheap offerings of NordVPN, and its easy-to-use application interface. So, if NordVPN is your first experience with a VPN service, there's no cause for alarm. The Redditor's comment below says it all.
NordVPN uses the most robust encryption technology available (256-bit AES), which is its default data security feature. It also allows your device to utilize the server-smart selection to bypass geo-blocking restrictions.
The technology type of your device will not be an issue, as NordVPN works on multiple platforms. Reddit users, in separate reviews, vouch for NordVPN's suitability for Linux, Windows, macOS, Android, iOS, Android TV, Firefox, Chrome, and some other browsers.
NordVPN does not keep the log of user information, according to their No-log policy. Leakage of user identity is preserved during unexpected service disruptions by the Automatic Kill Switch feature.
Also, with a frequent IP shuffling on the server ports, the anonymity of their subscribers is quite sealed. You do not have to install an antispyware or antimalware app on your device because NordVPN comes with one in-built. The feature is called CyberSec, and it blocks off all websites with the potential of causing a vulnerability attack.
Reddit users appreciate the fact that NordVPN offers a 30-day free trial. This period helps the new user assess the suitability of the provider
Pros:

Lots of pricing options;

Netflix support kept up to date;

256-bit AES encryption;

Lowest price: $3.71
ProtonVPN

Features
P2P support? Yes
30-day money-back guarantee? Yes
Country of origin? Switzerland
Servers: 600+ in over 40 countries
Simultaneous devices: 5
Pros/Cons
Professional support
Modern interface and apps
AES-256 encryption
Secure Core, a vast global server network, and high-speed connections are just a few of the features that make Reditters give ProtonVPN a thumbs up.
The Secure Core technology works like a miniature version of the relays used on Tor browser's Onion Project. Secure technology evades spies by bouncing data packets off random servers before exiting the VPN web of servers.
The majority of ProtonVPN's chain of servers is located in countries with strong privacy laws. With servers in Iceland and Switzerland, user data is protected by law from online surveillance teams. The privacy policies in the domiciliary countries of ProtonVPN makes it one of the few that would keep true to an acclaimed no-logs system.
In response to a question about the best VPN for gaming, a Redditor left the following comment:
Similar to NordVPN, ProtonVPN applications also come with robust encryption technologies. The 256-bit encryption would make an unbreachable feat for even the best hackers.
For Redditors that are particular about their security, ProtonVPN includes the in-built Tor over VPN feature. This feature permits an overlap of the security benefits of using both Tor and a premium VPN service. For example, ProtonVPN protects users from the vulnerabilities posed by malicious exit nodes on a Tor network. Government firewalls like the Great Firewall of China can be bypassed by such overlap of Tor and VPN technologies.
Like all reliable VPN services, ProtonVPN permits users to try out the quality of their service packages. They offer new subscribers a free test version and a 30-day money-back premium trial.
A certain Reddit user who tried out their connection speed while using ProtonVPN discovered there was a negligible reduction in speed from 150MB/s with VPN off to 138MB/s speeds with it on. However, all things considered, ProtonVPN is an excellent provider to bank on.
Pros:

Professional support;

Modern interface and apps;

AES-256 encryption;

Lowest price: €4
Surfshark

Features
Free trial? Yes
Simultaneous connections: unlimited
Ad blocking? Yes
Servers: 1000+ in 61 countries
Pros/Cons
No footprints
Allows torrenting
256-bit AES encryption
Subscription for Surfshark premium is by no means ten-for-one-penny. However, with the plethora of available features, their price offering remains the cheapest on the VPN market.
For as little as $1.70 a month, you can access several mouth-watering features that keep some Redditers rooting for Surfshark.
Firstly, Surfshark's comprehensive server coverage is to die for. We cannot compare the population of Surfshark VPN servers with NordVPN's 5,500+ army. However, Surfshark's content remains global and far-reaching, with 1,700 servers in over 60 countries.
If you are looking to stream restricted content on Netflix while gaming, you can do that with this VPN. The Redditor above is honest in their assessment of Sufshark's capabilities in this area.
One other excellent feature is its cross-platform support for unlimited devices. Some VPN services will require users to subscribe for individual devices. In contrast, some service providers will specify the limit for the number of devices permissible per subscription. Surfshark's unlimited support for multiple devices has won it many upvotes on Reddit.
Furthermore, Surfshark has an excellent customer response system. Nothing can be frustrating as having to end a gaming campaign before completion. Also, not having round-the-clock access to customer support could cause many a terminated game. Redditors sure like prompt feedback, as they marked this as one factor that makes Surfshark favorable.
Other exciting features include CleanWeb, a Surfshark feature that protects subscribed users from phishing, and malware attacks. Furthermore, the Whitelister feature functions like split tunneling, only that it merely permits pre-selected apps and websites to bypass the VPN.
Pros:

No footprints;

Allows torrenting;

256-bit AES encryption;

Lowest price: €2.49
CyberGhost

Features
Connected devices at once: 7
Automatic kill switch? Yes
One click connect: Yes
Servers: 5900 worldwide
Pros/Cons
No logs policy
24/7 live chat
Apps for mobile devices and routers
Be it a Nintendo console, the latest PS5, or the cloud-based Google Stadia, CyberGhost VPN works compatibly with all gaming technologies. With servers spread out in over 90 countries, it becomes easy to connect to a local VPN server for excellent gaming sessions.
The general consensus is that CyberGhost is a reliable provider. the comment in the post below confirms this.
The few Reddit reviews about CyberGhost indicate it to be one of the top contenders for best gaming VPN. Due to its user-friendly functionalities, CyberGhost would be a wise choice for first-time gamers and VPN users.
VPN service providers need servers in multiple locations in order to provide top-notch service. CyberGhost, however, has servers in 60 countries around the world. This makes gaming from remote locations easy via re-routing of internet connections.
Users of VPN services often have to divulge their personal information when making an online payment for the service. To further buttress their No-log policy of customer data, CyberGhost offers subscribers the option of paying with Bitcoin. This option further secures customers' privacy.
CyberGhost supports multiple technology platforms. This is particularly favored by Reddit users who love hopping from gaming on one device to the other.
Up to 7 active gamers can simultaneously use a CyberGhost login details. On occasions when the subscription is required for more than 7 gaming users, a router plan is the best bet.
Pros:

No logs policy;

24/7 live chat;

Apps for mobile devices and routers;

Lowest price: €2
Essential Features Reddit Users Consider When Choosing VPN for Gaming
When selecting a VPN for gaming purposes, a rallying ground for Reddit users are certain features, for which they strongly look out for. On Reddit VPN communities, the following capabilities appear repeatedly as sacrosanct for gaming VPNs:
Fast routing speed 
Only a few VPN services provide the quick and consistent routing speeds needed for gaming. Slow connection speeds result in buffering. Services with a slow pace or connections that time out repeatedly are a turn-off for gamers.
Overcoming Geo-restrictions
The geo-restriction of online games is quite commonplace. Users accessing the game from locations inside the restricted areas are not able to play the game using their local IP addresses. It takes a VPN service that can outsmart geo-blocking to serve as a gaming VPN. 
Shields against DDoS attacks
Gamers are known to go to mildly unprecedented extremes to gain an advantage over their opponent. Some engage in coordinating a DDoS Attack against opponents with exposed IP addresses. An ideal VPN should be able to guard against this.
Premium service 
Redditers widely disagree with using VPN for gaming, solely due to the lack of safety. With regards to the inadequate protection of free VPN services. It is then safe to surmise that 9 times out of 10, if you're not paying for a VPN service, you become the product. 
Reddit users posit that it's very risky to use a free VPN for torrent download. This is because most free VPNs will log users' activities. Likewise, in the case of copyright infringement, there is a high likelihood of getting traced by law enforcement agencies.
Using free VPN services for P2P file sharing and Torrenting often results in user IP leakage. Connections are seldom encrypted and lack features like DNS leak protection and internet kill switch. With all the mentioned drawbacks, seeking to get the protection of premium quality from a free VPN service would be foolhardy.
If you find yourself in a situation where you briefly need to use a VPN service, you can use the trial version of premium services. That would pay off than using outrightly free VPNs. 
Using a VPN to Secure Your Online Gaming Experience 
In case you are a beginner at gaming or using VPNs, here are simple steps to follow for user privacy while gaming online:
1. Choose the VPN with features that best suits your preferences. 
2. Visit the provider's official page to download the VPN app. 
3. Log into your VPN trial or subscription account.
4. Identify and select a server close to the gaming. 
5. Connect to the gaming server. 
6. You are good to go! 
Conclusion
From Reddit reviews on the best VPN for gaming activities, we have successfully established that a VPN is necessary for a seamless gaming experience. Make your pick, and enjoy a secured gaming campaign as you embark on quality online adventures.