CyberGhost vs NordVPN (2023): Which VPN is the best?
CyberGhost and NordVPN are two of the most popular Virtual Private Networks (VPNs) around. Their increase in adoption comes primarily due to their expanded menu of features and top-level security. Considering that most VPN users crave anonymity while surfing the web, these two VPNs also come up strong in that area.
The companies behind these services have also done quite a lot to improve their service offering, with new updates being rolled out almost yearly.
With how much adoption they've gotten over the years, we thought we'd look into them and provide a simple comparison for them. Beginners will generally be impressed by any option amongst these two, but there are some lines of divergence that might make all the difference for you, based on some criteria.
We've gone through the two VPNs' features in-depth and have come up with a round-up of what they offer — and might not. Here's the definitive comparison sheet for NordVPN and CyberGhost for users looking to decide which to choose.
CyberGhost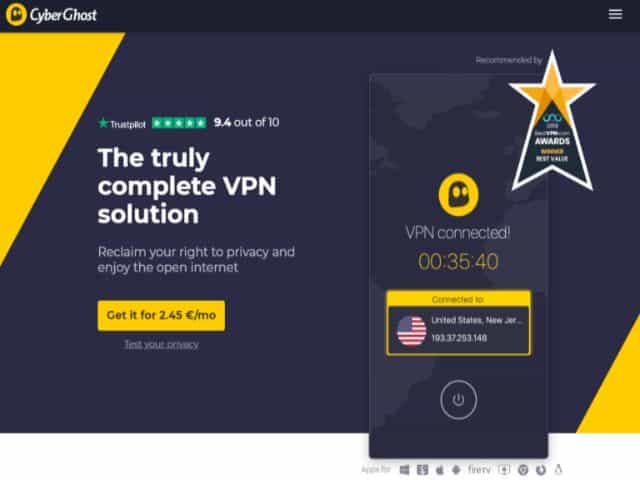 CyberGhost isn't one of those VPNs that newbies will know. However, experienced VPN users would have come across the service once or twice. They can tell that it packs a pretty solid punch as far as features are concerned.
With CyberGhost, the most prominent benefit that you get is significant server coverage. Currently, the VPN has over 6,000 servers in over 90 countries. As far as mid-range and top VPNs go, none matches it.
CyberGhost's VPN coverage doesn't come at the cost of internet speed either. While it's not the fastest VPN service in the world, it has more than average speed. So, there's no doubt that it would be able to support all of your internet activity. Support for all activities is available here, from streaming and gameplay to web surfing and optimal file downloads.
You'll also love how well the service protects you while online. It combines military-grade encryption with a kill switch and a port forwarding feature to ensure that you're always safe — no matter the security of the sites you visit.
Privacy features are also optimal on CyberGhost, led by the company's strict no-logs policy. With all of this, you get a moderate pricing level and even the ability to connect seven devices.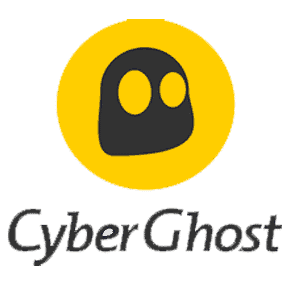 Get 83% off now
NordVPN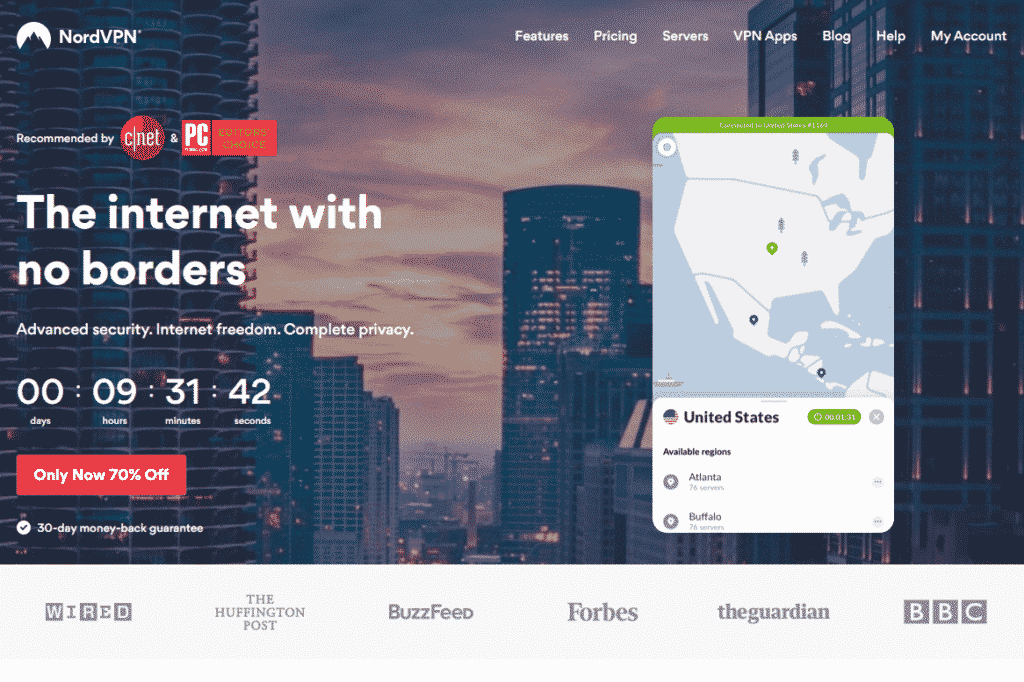 NordVPN has been known as one of the top VPN services in the world for a long time. The VPN provides a host of benefits that distinguish it from the rest of the pack. While it might cost more than a lot of its competitors, there's no doubt that it gives you full value for your money.
With NordVPN, you get everything you could want. The service has over 5,400 servers across the world. With all of these located in both high-traffic areas and some not-so-popular sites. With such access, you get the ability to quickly log on to services that might be restricted in your country.
Like CyberGhost, NordVPN also ensures a broad range of restriction bypass features. It quickly gets past restrictions set by services like Netflix, which means that you won't have any issues with content access.
Internet speed is excellent on NordVPN, as you can expect from a VPN of this caliber. Whatever you would like to do on the internet, this VPN has the bandwidth and capacity to help you out.
NordVPN encompasses all of this in an uncompromisable package that includes support for all major platforms and reliable customer service.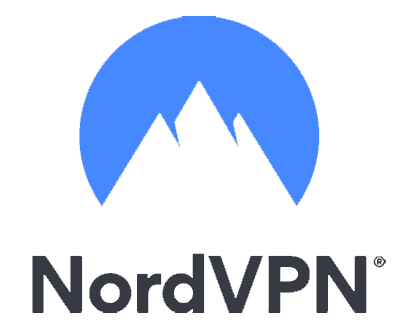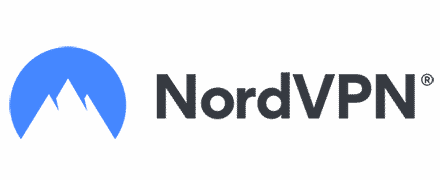 Get 66% off now
Server Coverage
Server coverage is the feature you consider when you genuinely need global access. If you're traveling out of your country or you would like to access certain exclusive content, you need to know that a VPN can access specific servers that grant you access.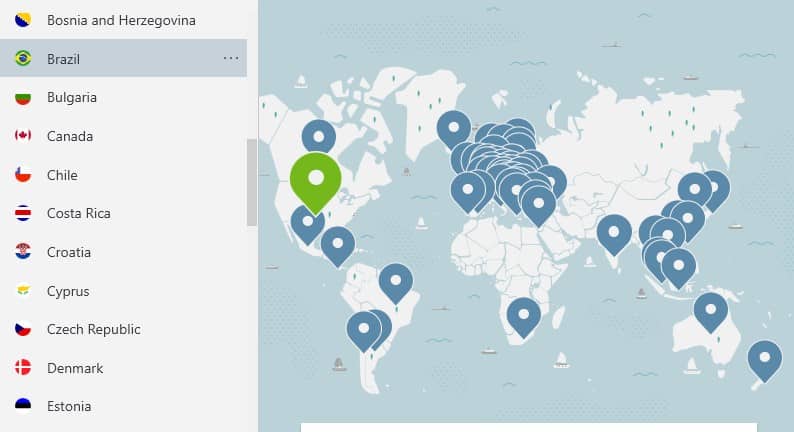 NordVPN currently has 5,400+ servers across 59 countries. Its servers are available on every continent, although some have way more servers than others. The VPN also comes with a server recommendation feature. Essentially, you click on the feature, and it brings out the best server for you based on your location. You can also tweak the service's algorithm to search for servers based on your country preference.
However, CyberGhost beats NordVPN in this regard. The service currently has over 6,400 servers across 90 countries, so it provides a more expansive coverage. CyberGhost's servers are spread across all continents as well, and like NordVPN, it provides features for you to look through VPNs and find the one you would pick instead.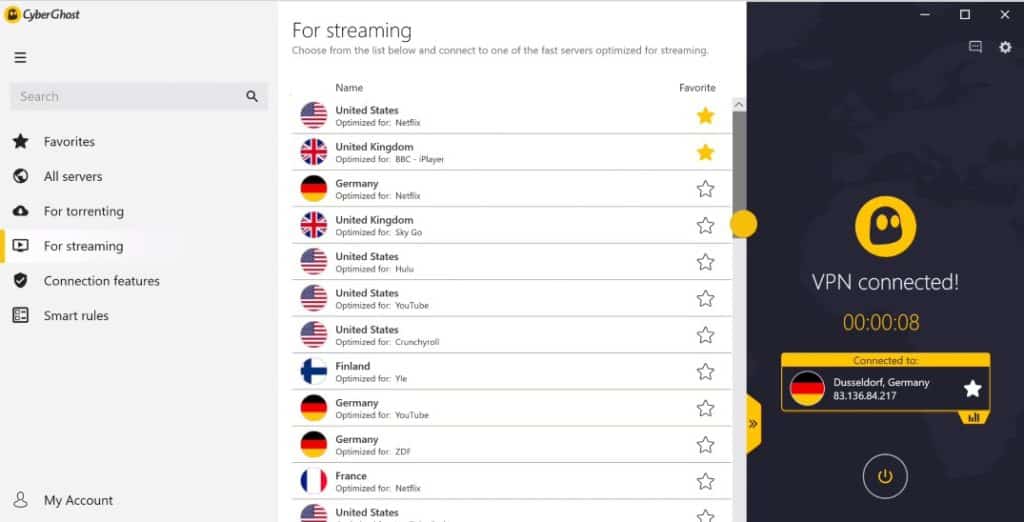 Speed and Performance
Speed is one of the most significant pointers you look into when you want to purchase a VPN. You need a service that is quick and effective. Otherwise, the point of using a VPN isn't made.
On NordVPN, the battle for speed has been a long one. For many years, users complained about how slow it was — especially when connected to specific servers. However, the service has improved in various areas, and speed is one of them. NordVPN now has impressive speed on several of its servers, although there are still some challenges.
This year, NordVPN launched NordLynx, a proprietary VPN protocol that immensely improved its speed. The protocol is an extension of WireGuard, which is more efficient at optimizing speed than older protocols like IKEv2 and OpenVPN.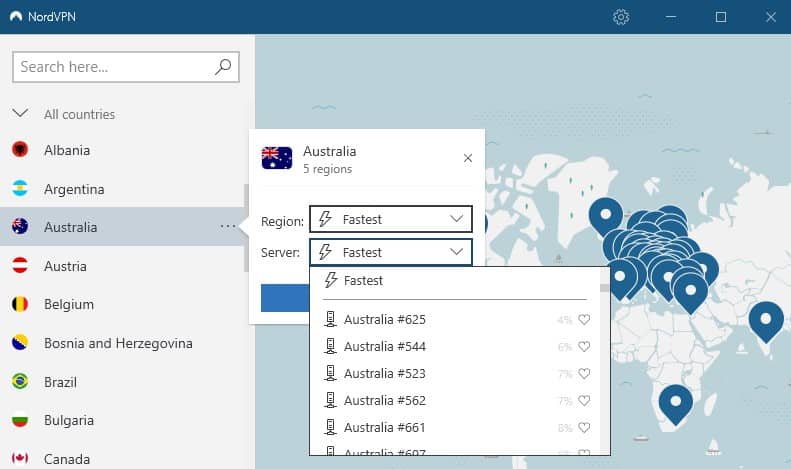 Due to this, NordVPN is now one of the fastest in the world, it is quick enough to support HD video live streams, 4K resolution videos, and even video conferencing. Note that this speed doesn't come at the expense of your security.
NordVPN currently has an average download speed of 115Mbps across all locations. Although there are always the occasional slow servers or those that won't connect from time to time, the VPN holds up everywhere.
As for CyberGhost, the VPN is also pretty fast. Average download speeds are 55Mbps across all locations. While you might notice a bit of a slowdown when you're running on 100Mbps or higher resolution, the VPN has enough bandwidth to help the average user.
CyberGhost also allows you to choose between different protocols. The IKEv2 establishes connections for the quickest servers, and it is probably the best for mobile devices. If you want to use CyberGhost's Extensions feature, then you should check out OpenVPN.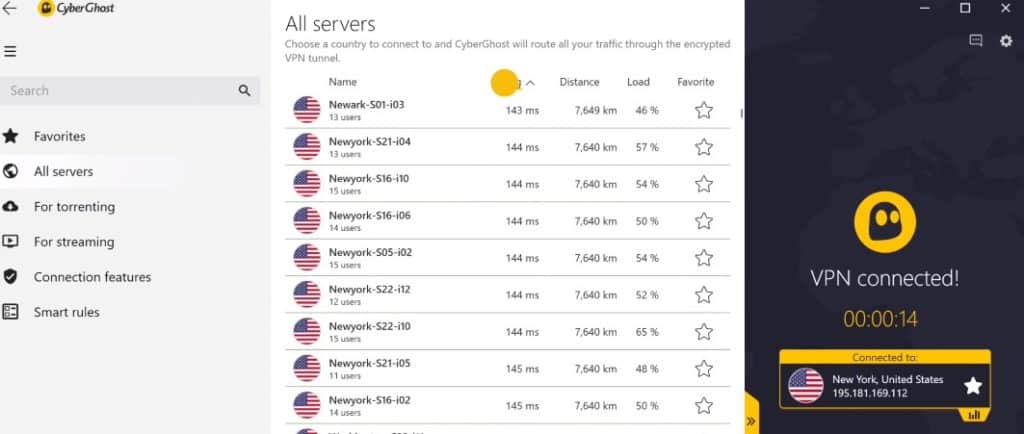 You can stream HD and 4K videos on CyberGhost and play high-bandwidth games. However, it is best to choose a server close to yourself, which has a high connection speed. The VPN displays servers for each country, along with their distance from you and their current load. So, you can get an idea of how much latency and bandwidth to expect.
Safety and Security Features
VPN users also require the best and highest levels of security when they are connected to the internet. VPNs provide safety by keeping you out of hackers' reach and encrypting your data.
NordVPN has the following encryption specs — SHA384 authentication, AES 256-bit encryption, Perfect Forward Secrecy, and 3072-bit DHE-RSA key exchange.
The VPN's encryption meets military-grade standards. For the average user, this is more than enough to protect you. The apps won't leak your IP address and DNS traffic when you connect too. However, some tests have shown that the NordVPN desktop app might encounter an IPv6 WebRTC leak.
Perfect Forward Secrecy ensures that NordVPN automatically changes your security key from time to time. In a world of constant security threats, this is a vital feature.
When it comes to dropped connections, NordVPN also has your back. The all-or-nothing kill switch completely disconnects your internet connection if the VPN signal drops, and there is an app-specific kill switch that lets you choose the programs that get protection.
Moving on to CyberGhost, as for the primary security details, here are some things you will want to keep in mind. CyberGhost has the industry-standard AES 256-bit encryption that protects your data at all costs, as well as the Perfect Forward Secrecy that prevents any possible encryption key compromises from being used to decrypt any of your past sessions. 2,048-bit RSA keys and SHA256 authentication are also available.
Anonymity and Privacy Features
NordVPN also has a no-logs policy, which means that they don't collect any information about your location or internet activity.
NordVPN also recently added CyberSec, a feature that enables you to block malware, ads, and phishing threats. Features like these come standard with antivirus programs, but it never really hurts to have a second security layer keeping you up.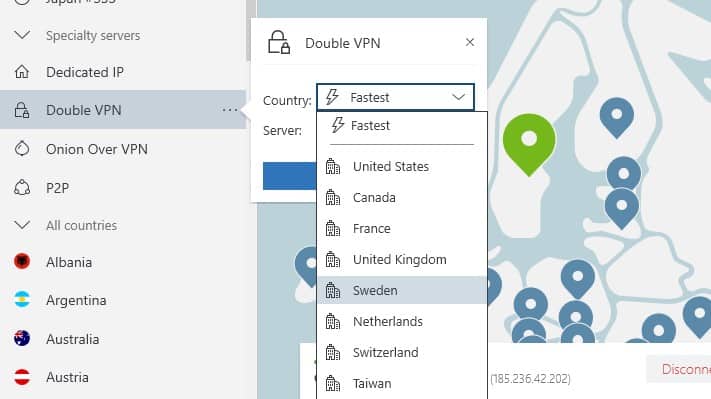 The WiFiSec feature connects to the VPN whenever you connect to a new WiFi network. You can use it on secure and unsecured networks, and you can choose whether to engage auto-connect on cellular networks, too (for mobile devices).
For CyberGhost, you'll first notice that it doesn't collect any of your logs. As long as you don't give your consent, they won't take any of your information. While it keeps some connection logs, none of those can be tied to individual users.
With CyberGhost, you have a VPN that uses its private DNS servers. It prevents all IPv6, DNS, and WebRTC leaks.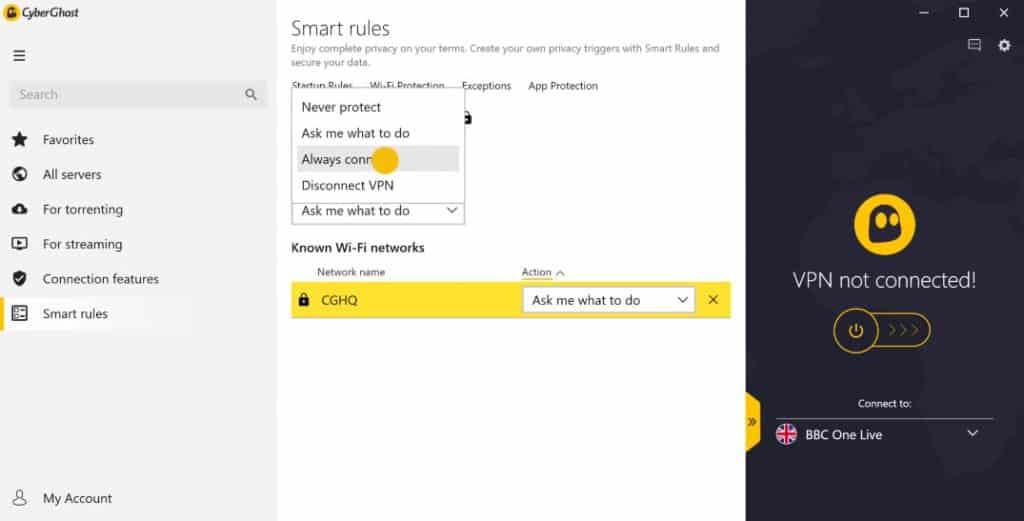 You can set CyberGhost to protect you from any unfamiliar WiFi networks automatically. When in transit, this is one of the most useful features. The kill switch and app protection features are also available here, so you're safe even if the connection to a server drops.
You also get an "Exceptions" feature that works like split tunneling. You can specify websites that won't use the VPN, even while you're connected with the feature. Like most commercial VPN services, CyberGhost uses shared IP addresses. So, when you connect to a server, you share its address with other VPN users on it. This feature improves anonymity when you connect, as hackers won't easily trace your online activity back to you.
With CyberGhost, you can block malicious websites, online tracking, and pesky ads. The VPN also allows data compression, which is useful if you use a mobile connection. Lastly, automated HTTPS redirection will let you access the secure versions of websites when they are available.
Streaming and Torrenting
A lot of the time, streaming services are the benchmark to which VPN users measure a services' ability to bypass restrictions. Streaming services are among the most restrictive globally, with permissions for people based on where they are. So, how do these two VPNs perform when it comes to streaming?
NordVPN unblocks all streaming services. It does that better than most VPNs on the market. Currently, NordVPN can unblock Netflix libraries in countries like Japan, Australia, the Netherlands, and the United States. You can connect to just about any NordVPN server to unblock Netflix if you're abroad, although you should note that most of them will redirect you to the default United States version.
Again, not all the servers in a country will let you access streaming content. NordVPN doesn't show you the servers that unblock streaming making it a little challenging to select the right one. You can check any online forums and message boards available to see the best servers it offers for streaming.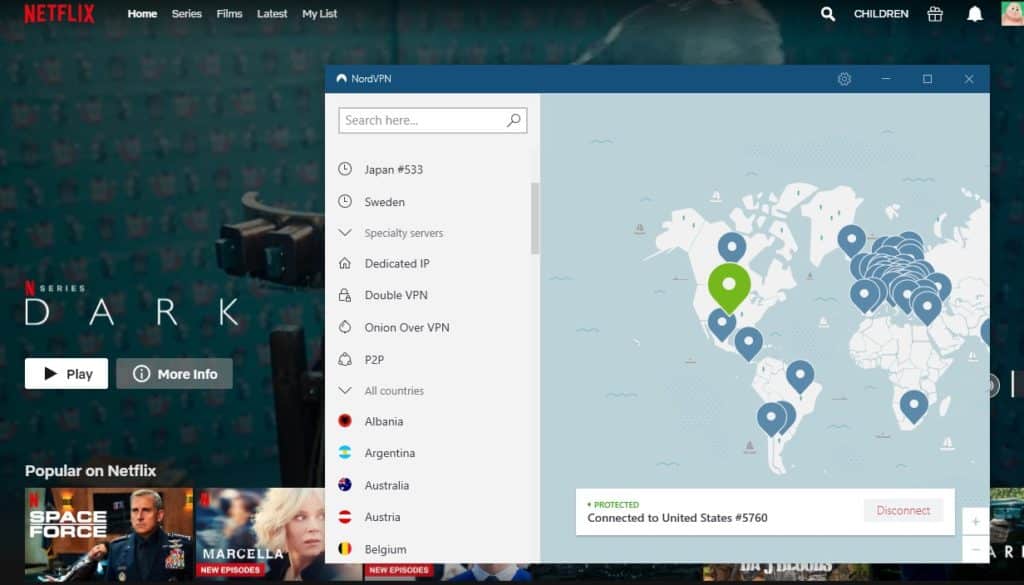 When you find a server that lets you connect easily, you can add it to your favorites. By doing this, you won't have to always look for Netflix-compatible servers now and then. Along with Netflix, NordVPN also seamlessly unblocks services like Hulu, Kodi, BBC iPlayer, and more.
NordVPN also allows its users to torrent easily. The VPN provides optimal support for unlimited peer-to-peer file sharing over any protocol, especially BitTorrent. It's worth noting that some of its servers have unique designations for torrenting. However, you can choose whether you would want to use them or not.
We already established that NordVPN's security is powerful. So, they don't store any of your logs as well. The company doesn't have any data retention requirements, so it won't know what you do online when you connect to its VPN. Hackers won't know anything either.
If you use the iOS, macOS, and Windows apps, the kill switch is available on these platforms. When you enable it, the feature will cut off data flow once you disconnect from the network. This feature will prevent any leakage of your data.
You can select the apps that the kill switch covers. So, you could do things like protecting your mobile browser — but not your web browser — if you like.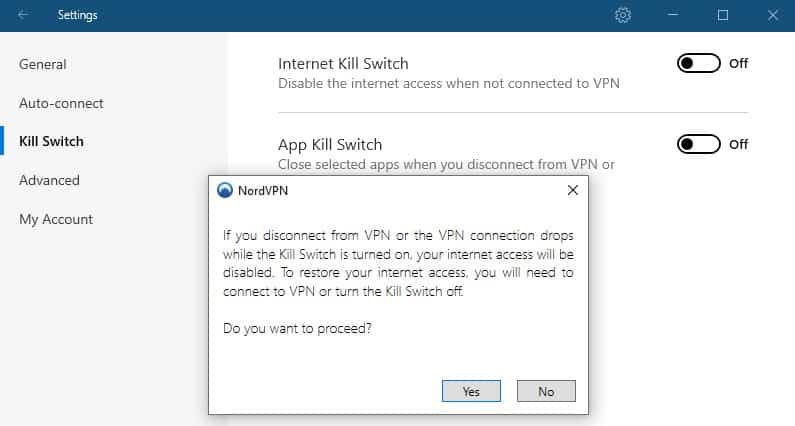 As for CyberGhost, you also get access to streaming services too. The VPN initially didn't support streaming, but it has made a change. It even allows you to access libraries in France and Germany — which have different catalogs of shows that you might not even find on the American version.
Now, most VPN apps will give you a list of server locations to connect and enjoy content. However, CyberGhost works a tad differently.
This VPN allows you to choose a server based on how you want to use it. So, in addition to the list of locations, you can select if you wish to stream or torrent. When you pick the streaming option, you can find the best servers to connect to — and a list of the services they unblock.
Compared to other servers, this approach is highly convenient. Instead of looking through server options and hoping that they work, CyberGhost pretty much does the job for you. There is also the fact that CyberGhost's recommended servers are usually packed with improved connections. So, you will be able to stream in HD quality and enjoy the best of your content.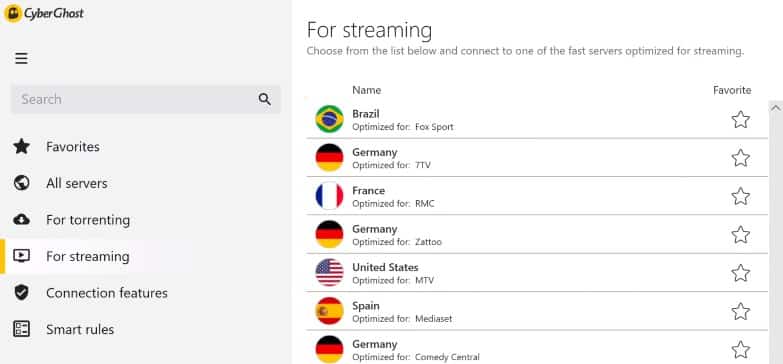 CyberGhost is pretty much the same thing. The VPN allows for unlimited torrenting, and it operates a lot of servers that have been optimized for easy peer-to-peer file sharing and downloads. Even better than NordVPN, you can find the servers that work best for torrenting on CyberGhost. Just search the "For Torrenting" tab, and you're ready to go.
The VPN's app protection means that you can specify the apps connected to the internet when connected to the VPN. For instance, you can add your torrent client to this list so that you can't use it without the VPN. Anytime you launch the torrenting manager, CyberGhost will connect to the VPN automatically and protect you.
CyberGhost also offers a kill switch for both mobile and desktop apps.
Platforms Supported
There's no point in getting a VPN if it won't work for your device. In this section, we'll look at device compatibility for both VPNs and how they measure up.
NordVPN has functionality with Windows, macOS, iOS, Android, Linux, and Amazon Fire TV. There are also proxy extensions available for Mozilla Firefox and Google Chrome. While these versions aren't official, they encrypt and route your web traffic from the browser — not the device itself.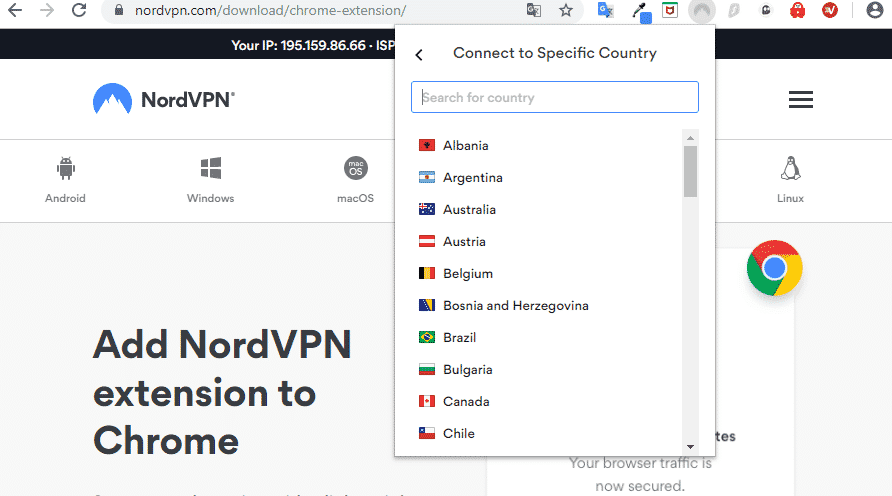 Note that some features will be available on the mobile versions and not the desktop versions — and vice versa, too. For instance, split tunneling comes on NordVPN's Android app, but not the Windows version. The feature allows you to disable access to the VPN for some apps and not others.
At the same time, the Windows version of NordVPN provides an option for dual VPN servers. The feature can improve security a great deal. However, it is not available on the Android app. Before you choose, it's critical to consider the features you need and whether they're available for your selected platform.
You should also note that you can connect a maximum of six devices on one NordVPN account. Many individual users find this to be more than enough, although you might have a problem when you want to connect your friends and others' devices.
For CyberGhost, the VPN also has versions available for the major operating systems. You can access it on iOS, macOS, Windows, Android, Linux, and the Amazon Fire TV. There are free browsers available for Google Chrome and Mozilla Firefox as well.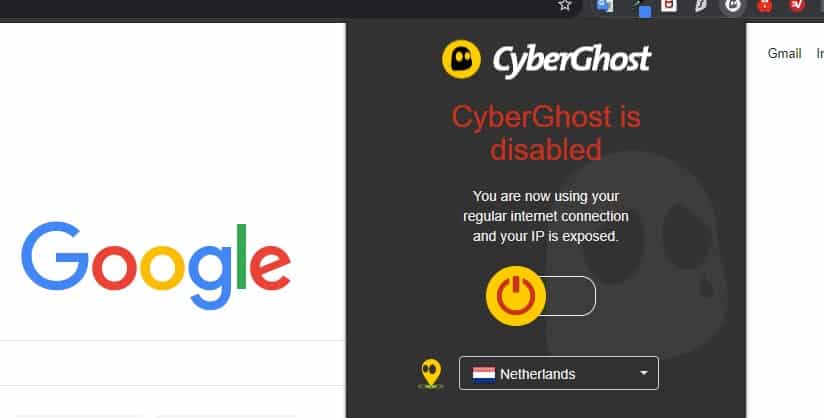 On this VPN, you can connect up to seven devices. That's just one ahead of NordVPN, but it does make all the difference in the world when you think about it.
While CyberGhost appears to have the upper hand, some have found some issues with the service and its apps. Sometimes, the app can get stuck for a few seconds when moving between servers. The Android app also sends an elaborate notification when the VPN isn't connected.
Lastly, another significant drawback on CyberGhost is the lack of an option to allow local network traffic when connected to the VPN. This means that you might have trouble accessing things like smart home devices, printers, and shared files when you connect to the VPN. Most other VPNs allow you to at least choose between connecting and disconnecting local area networks.
To be fair, these drawbacks are pretty minor. Nothing is stopping you from enjoying your user experience at all.
Plans & Pricing
NordVPN is a pretty good choice for people looking to get VPNs on a budget. The service has a one-year plan that costs $5.75 per month. If you're looking for something more short-term, you can go for the 1-month and 6-month plans, which cost $11.95 and $9 monthly.

So, NordVPN is pretty cheap – especially if you opt for the yearly plans. Since you can connect multiple devices on a paid account, you can split the bill with one or two people and end up paying way less for the entire thing. At the current price, you won't find many all-around VPNs that are as cheap.
Keep in mind that all NordVPN plans come with a 30-day money-back guarantee. So, you can try the service without any risk and cancel if you won't think it is the right option for you. This is in addition to a 30-day free trial that you get when you start using the service. That's a pretty sweet deal.
Finally, there is "NordVPN Teams" — a custom offering that allows companies with massive amounts of data to protect their files and their workers. With NordVPN Teams, you can connect your staff members to your company's network remotely. You get a dedicated dashboard to manage all connections, thus improving ease of access and use.
You will need to contact NordVPN to negotiate the price for Teams. Get in touch with the sales team, and they'll let you know the financial implications.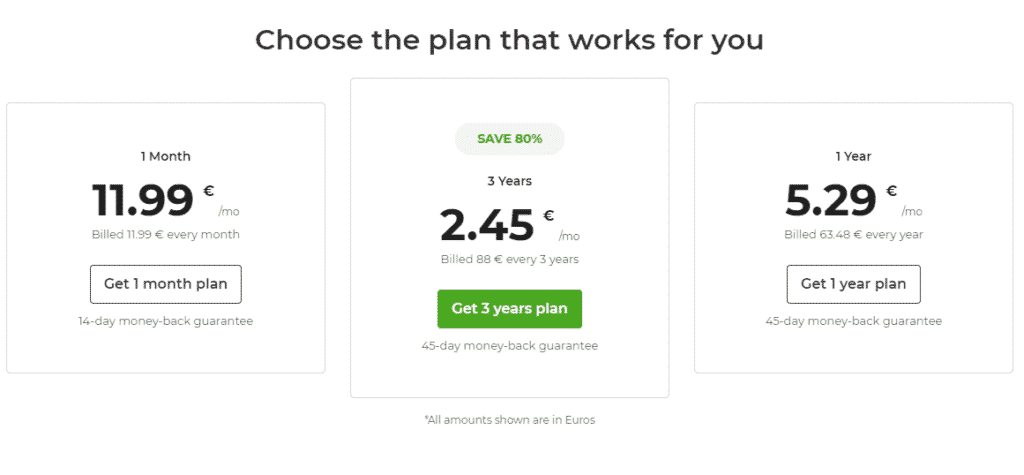 On CyberGhost, you get a free trial that lasts for a day. When you do start to pay, there are several plans available. You can try one month at $12.99 and six months for $7.99 per month. There are also 12 and 18-month plans for $5.25 and $3.50 per month, respectively. See price comparison of different VPNs in this article.
Pros and Cons
Now that we've looked through the two VPNs and what they offer, let's do a quick recap of their features.
CyberGhost
Pros
Broad global server network: CyberGhost has over 6,000 servers worldwide. Hardly does any other top VPN come close.
No-logs policy: The no-logs policy is a significant benefit for CyberGhost. It ensures your anonymity and keeps your data off the hands of unwanted parties.
Great privacy and security settings: CyberGhost particularly shines when it comes to privacy and security. For a top VPN service, it has managed to steer clear of security breaches largely. That's not easy to pull off.
Cons
No LAN connections: You can't connect with a local area network if you're using CyberGhost. That might present a problem if you need to access some shared files.
NordVPN
Pros
Quick connections: In terms of speed, NordVPN takes the cake. Most of its servers are fast, and the connection is pretty seamless.
Optimal Netflix unblocking: Currently, NordVPN unblocks many of the Netflix content that even many other top VPNs won't let you find.
Works in China: NordVPN allows you to access locations in China. For a top VPN, this is a pretty huge deal.
Cons
Issues with streaming selections: NordVPN doesn't show you the servers that work best for streaming. So, you might find yourself looking through options online before you connect.
Our Recommendations
Both NordVPN and CyberGhost are reliable options as far as VPNs are concerned. They get the basic things done, and they ensure a pretty impressive browsing experience. NordVPN takes the prize over CyberGhost particularly for its more abundant features. It might not have as many servers as CyberGhost, but NordVPN covers the high traffic areas and is also much faster.
NordVPN also has more robust security features and a greater focus on privacy. While Cyberghost isn't a bad choice, NordVPN is the clear winner here.