Best Free VPNs for Hong Kong: Be Safe From Surveillance
Hong Kong has not been linked with any sort of censorship. Popular social media platforms like Facebook, Twitter, and Instagram are accessible from there. Also, you can connect to streaming platforms such as Netflix and Hulu while in the region. However, this could change at any point. If that happens, you will be unable to access most of these platforms (just as it is in China at the moment). In that scenario, your best bet to having a wholesome internet experience is through a VPN.
VPN providers often offer free services. This could either be in the form of a completely free plan/free-trial period, or a risk-free VPN. You aren't required to make any payments before making use of the completely free option. However, to access the risk-free offer, you will need to get on a plan and make some payments before use. Risk-free offers give you a money-back guarantee period. You will be able to recoup your funds within this timeline if you so wish.
Below you will find a review of these two types of free VPNs for Hong Kong.
Best Risk-Free VPNs for Hong Kong
Risk-free VPNs give you an excellent trial experience. You will have a flexible opportunity to try out all the features of a premium VPN. Recovering your funds is also quite straightforward.
Best Free VPNs for Hong Kong
The VPNs discussed under this section will be ideal for you if you are uncomfortable making any upfront payment. Unfortunately, we were unable to find many providers who provide free servers in Hong Kong. However, the ones discussed here offer completely free trials. Thus, you can take advantage of their trial period to make unpaid use of the VPN.
Are Free VPN Services Good?
Our short answer — not really. Generally, the quality of services free VPNs provide is usually not up to par. Free providers intend to convert free users to paying customers. Thus, in some cases, they deliberately provide subpar services in the form of slow servers' speed, a limited number of servers, etc. to force their users to go for the premium versions. Also, you cannot count on being protected while using free VPNs. Their services may not be up to date, leaving you vulnerable to malware.
Additionally, in some cases, these providers sell the users' data to third parties to generate funds to run their VPN service. A risk-free VPN is a better choice for full, protective services on the web.
Features to Look Out for in a Free VPN
1. Number of servers: You must consider the number of servers a VPN has and their various locations. The number of servers will determine how broad your reach will be. A provider that has a lot of servers makes it easy for you to find a server that is fast and reliable. Regarding location, in this instance, you have to be sure the provider has servers in Hong Kong. The providers discussed above have servers in Hong Kong.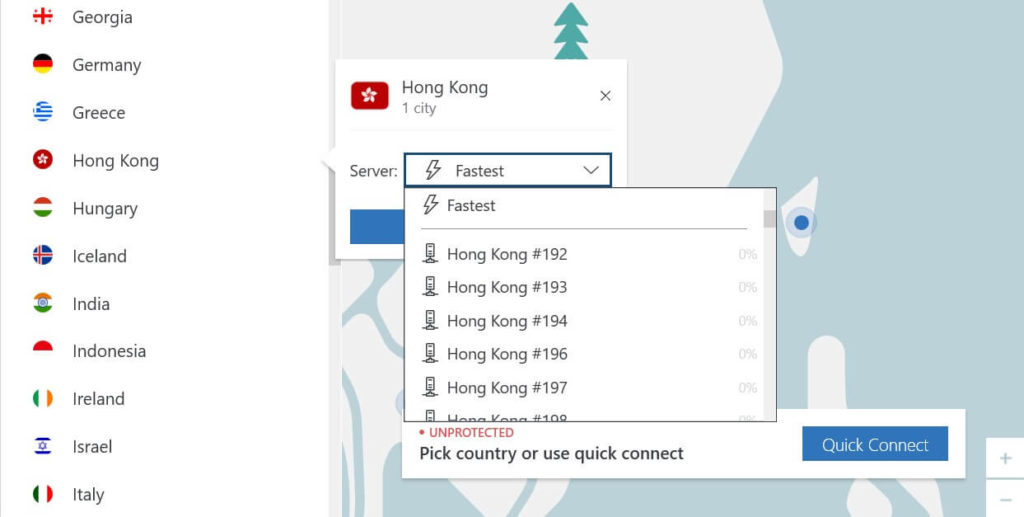 2. Privacy Policy: The privacy policy will let you know if a VPN keeps logs of your data and shares the same with third parties. Choose a provider that has a strict no-logs policy. When a provider does not keep records, it will have no data to give up when subpoenaed. Also, in the unlikely case that the provider gets hacked, your data will be safe. The risk-free providers discussed above maintain a strict no-logs policy. Unfortunately, we cannot give the same guarantee for free providers.
3. Data Limit: Most free providers have a limit to the data you can expend in the trial period. This provision varies from provider to provider. Alternatively, others have a time limit within which you can make use of the VPN for your free trial. This time limit usually ranges from 7 days and downwards. As expected, this cap on data may hinder you from carrying out a lot of actions with the VPN.
For instance, you can hardly expect to stream or download a lot with the 1GB of data ProtonVPN provides. In the same vein, the time limit makes it hard for you to explore the VPN to your satisfaction. However, that is not the case with risk-free providers. There is usually no cap on the data limit you can expend. Also, the money-back period is generally between 30 and 45 days. This gives you ample room to explore the features of the VPN.
Frequently Asked Questions
Why Use a VPN?
Using a VPN in Hong Kong allows you to secure your connection and access geo-blocked content from different parts of the world. It will change your IP address and make it appear as you reside in another location or country.
Whenever you travel, you can also use the VPN to access your favorite home content, regardless of your location. Moreover, using a VPN drastically improves your online security and privacy. It eradicates the risk of cyber attacks, as your internet connection will be encrypted and kept away from snooping eyes. Whether you're using a public or home network, you will be free from government surveillance, hackers, and data breaches.
Is It legal to use a VPN in Hong Kong?
Yes, it is legal to use a VPN in Hong Kong. Unlike other places in China, the government in Hong Kong operates an open internet. Social media applications like Whatsapp, Twitter, and VPNs that are banned in China, are allowed in Hong Kong. You can conveniently use a VPN service in Hong Kong to access geo-blocked content, secure your connection from surveillance, and remain private/anonymous on the web. However, we recommend that you do not engage in illegal activities while using the VPN service.
Is it safe to use a VPN?
Yes, it is safe to use a VPN. A Virtual Private Network, or VPN, is a way to protect your privacy when you are online, especially when you log in from a public space in Hong Kong. It will be difficult to know if someone around you is picking up on your keystrokes or logging your IP address. A VPN can encrypt your network and prevent such activities. However, some VPN providers can store your online activities or sell it to a third party. To ensure your online safety, we recommend that you use a VPN provider with a strict no-log policy. Such providers will not store any information regarding your online activities. Your internet connection will be free from surveillance.
What's the difference between a paid and free VPN?
The difference between paid and free VPNs goes beyond the cost factor. Free VPNs offer to secure your internet connection and typically make their money through ads. You may be forced to watch numerous ads before you access the VPN connection. Since it's free, they may put limitations on the number of servers or data bandwidth you'll have access to. A paid VPN on the other hand, will encrypt your network, give you access to top security features and protect your privacy. A reliable paid VPN will always outshine a free VPN. However, using a free VPN may be safer than not using any VPN.
Conclusion
There is no argument about the necessity of a VPN. Even if you are not worried about censorship from the government, it protects you from hackers, cybercriminals, and other malware. More so, it helps you stream geo-blocked content from anywhere in the world. We've highlighted the two broad categories of free VPNs available, and you've seen our top recommended choices. While you may wish to choose from either category, we leave you with one last piece of advice: you cannot go wrong with risk-free providers!