Windscribe suffered what can only be described as a somewhat embarrassing security breach in 2021, but has since recovered and bounced back, and can now be considered a reliable VPN service. Our Windscribe VPN review deep dives into this Canadian-based VPN service, founded in 2016, that is dedicated to privacy and undermining internet censorship.
But is Windscribe safe? Our experienced experts have rigorously tested every corner of this VPN service in our free Windscribe VPN review. Read on to see how Windscribe stacks up on performance, safety, useability, and keeping your data and identity anonymous online.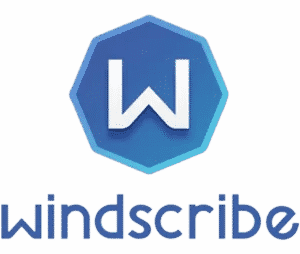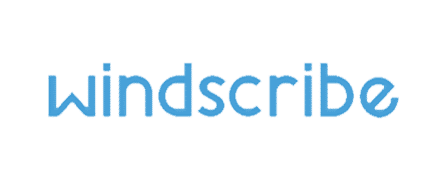 Get 54% off now
Pros and Cons – Windscribe Review
Do you want to know whether Windscribe is good but haven't got time for our full review? We've packed our thoughts into an easily digestible Pros and Cons list below.
Pros
170+ servers physically located in 60+ countries
Very affordable Pro account
Military-grade security
Great Ad Blocker
Cons
Recent security breach
Slow speeds
Plans and Pricing for Windscribe
Our Windscribe VPN review confirmed three different plans – a monthly, yearly, and a unique "Build A Plan". The monthly plan will set you back a very reasonable $9.99 per month while subscribing for a year upfront will cost $49 or $4.08 per month.
Compared to some VPN services like SurfShark, Windscribe is a rather cost-effective service. All of the paid plans are considered Windscribe Pro accounts. This means you'll get the full range of features compared to the free version which has several limitations. But what is Windscribe Build A Plan?
The unique Build A Plan lets users pay for their service, one location at a time. You'll be charged $1.00 per location with each location receiving 10GB of data allowance. We noted during our Windscribe VPN review that you can pick up an additional 10GB for another $1.00.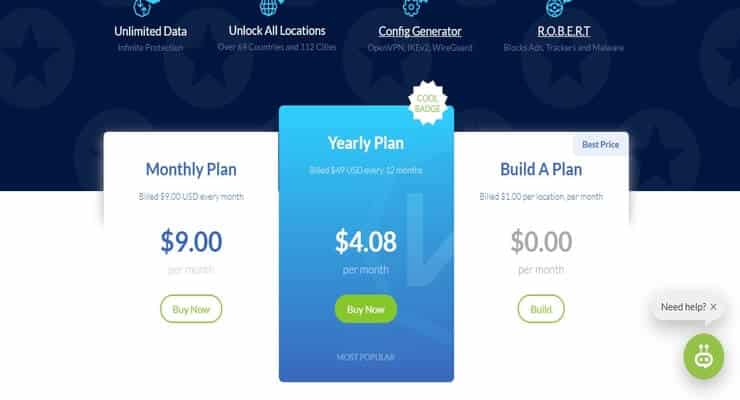 All the Windscribe Pro plans feature unlimited data, with the exception to Build A Plan, and there are no limitations on security functions, server access, or privacy features based on whichever plan you choose to use.
Unique Features for Windscribe
For our free Windscribe VPN review, we've examined the special features unique to this VPN service. The most notable of these features is R.O.B.E.R.T. This is a customizable server-side domain and IP blocking tool that prevents trackers and annoying ads help protect against viruses and aids in improving browsing speeds.
R.O.B.E.R.T is essentially a malware blocker that is powered by a DNS filter. This also means that you can pick and choose the sort of content you want to get through – perfect to act as an additional parental content filter for families.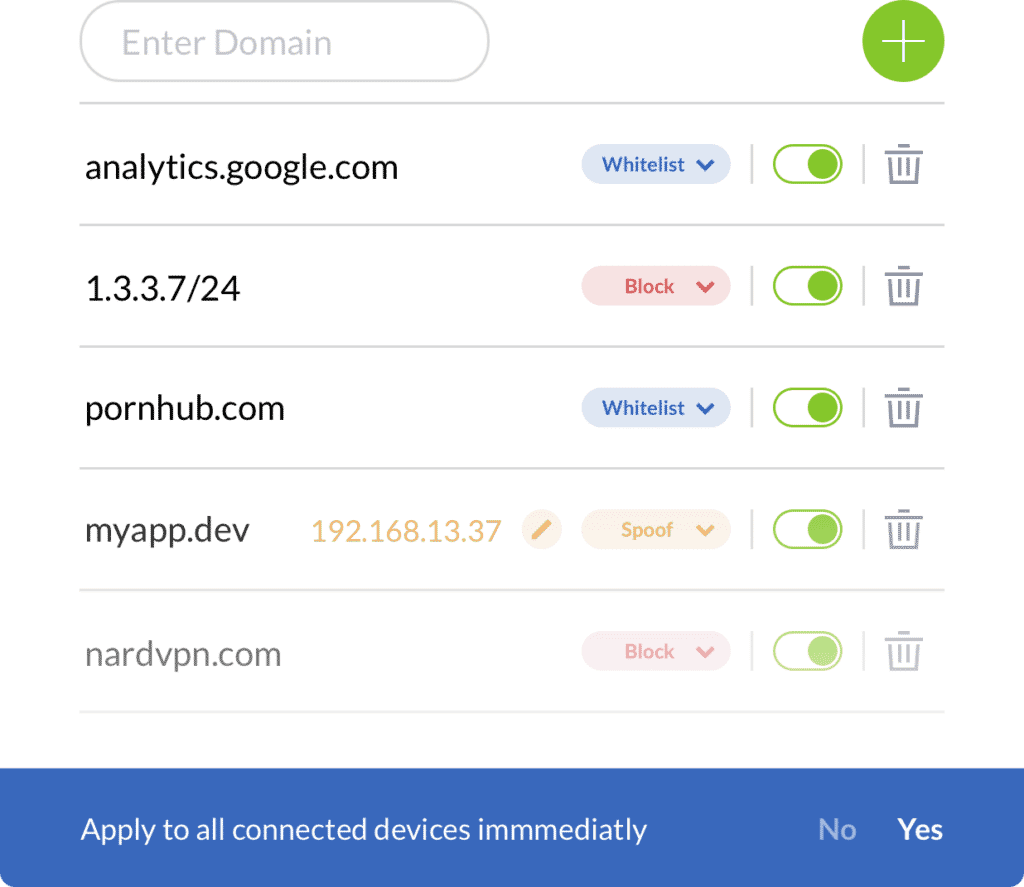 For an additional $2 per month, users can also grab a static IP. This is perfect in the era of working from home, as some companies may require staff to have a static IP in order to access their company network.
Users also benefit from a free Kill Switch called Firewall. This feature will sever your internet connection in the event your connection to a VPN server drops. During our review of Windscribe, this feature worked perfectly but on a few occasions, we didn't get a notification.
Windscribe – Server Locations, Numbers & Coverage
Is Windscribe a good VPN? Well, their coverage is certainly good. By our count during this review of Windscribe, we found at least 170 servers covering 63 countries and even feature a server providing an IP address for Troll Station in Antarctica – although the server is actually located in Canada.
This isn't a massive number of servers – ExpressVPN, for example, boasts 3,000 servers – but it is still great coverage for the majority of users. Unlike many other VPN services, Windscribe servers – with the exception of Fake Antarctica – are located in their respective countries rather than faking locations.
One security downside to being able to offer genuine geo-located servers is that many of those servers are rented rather than being owned by Windscribe. This does mean that some security will rely on a third party.
Performance and Speed of Windscribe
Our Windscribe VPN review confirmed several protocols using the Pro account – OpenVPN, IKEv2, WireGuard, and Stealth. The OpenVPN protocol was a major disappointment during our Windscribe review.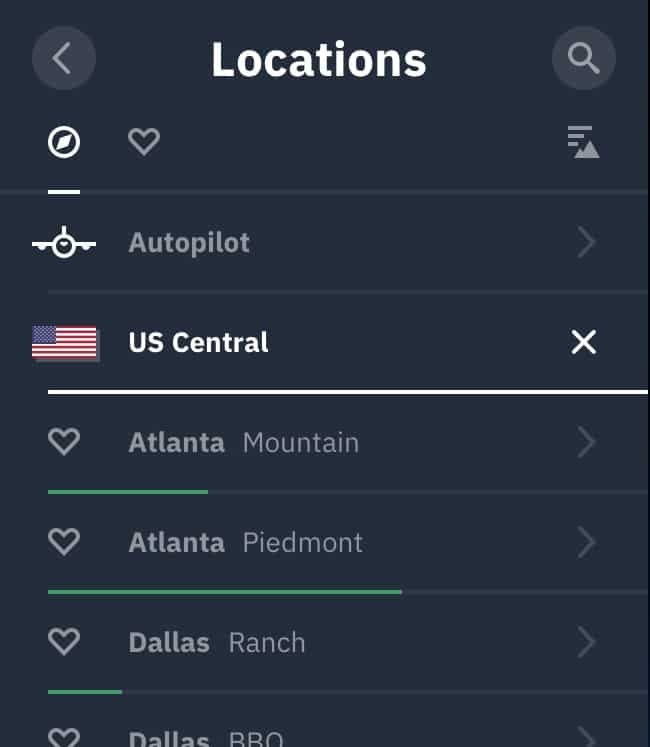 With a 150 Mbps internet connection, our tests could only peak at around 28 Mbps while connected to some nearby servers. Local servers should be hitting close to our full capacity bandwidth, and this was far from it. As our tests moved further abroad we typically hovered around 18 – 20 Mbps.
We test IKEv2 as well and noticed minor improvements in speed and performance. IKEv2 is also the default protocol used by Windscribe. Stealth protocol is an additional method that can be used to get around VPN restrictions, especially in countries with high internet restrictions.
Staying Safe with Windscribe
Like most other top VPN services, Windscribe offers military-grade security in the form of AES 256-bit encryption. This encryption is bolstered with a SHA512 algorithm and a 4096-bit RSA key. What does this mean?
Essentially, your data will be unreadable by any other device other than your own as your data is encrypted into random characters. A new key is created for every session, so even if by some miracle your key was cracked, it would be useless by the time you start a new session.
Further security when using your browser can be found by leveraging the Windscribe Double Hop function. What is Windscribe Double Hop? It is the ability to use a desktop app and a browser extension to gain double encryption and additional anonymity in exchange for slower speeds.
However, Windscribe has had one hiccup. In 2021, two VPN servers were seized in Ukraine and the seized disk contained an OpenVPN private key that could have been used to spoof a Windscribe server and capture traffic. In this case, Windscribe clearly failed to encrypt this server for what was confirmed to be almost 3 years.
Premium Vs. Free with Windscribe
We conducted a thorough free Windscribe VPN review and were pleasantly surprised to learn that the only restriction is on data allowance. You'll be able to use all the same features as the Pro account – just like TunnelBear – and enjoy the same speeds and performance.
However, that restriction isn't too low at 10 GB. While that won't be enough for consistent VPN users and streamers, it is certainly enough for those who merely need to get around the odd website from time to time or to protect themselves when using public WiFi.
Staying Anonymous on Windscribe
During our Windscribe VPN review, we noted the service claimed to be a No Logging VPN and this is basically true. The only logs Windscribe keep is your total bandwidth usage per month and last activity timestamps to determine if an account is inactive.
Where Windscribe is based is an important factor too. Based in Canada, this country is a member of Five Eyes and a nation that is considered to be a major surveillance state. Windscribe successfully protects users from WebRTC and DNS leaks and offers Port Forwarding which aids in keeping your external IP private and protects you from DDoS attacks.
Our review of Windscribe determined that this service does a great job of protecting your identity, and privacy, and successfully prevents tracking. Users can feel confident using Windscribe on a public WiFi and zero logs ensure that your traffic never falls into unwanted hands.
Platforms & Extensions for Windscribe
Windscribe is available on 8 different devices and two different browsers with extension applications. Firstly, you can download a dedicated app for either Windows, Mac, or Linux devices such as laptops and desktop computers.
Mobile users can download a Windscribe app for their Android or iOS device, and there is also an app just for Huawei users too. Windscribe can also be downloaded for FireTV and just for Routers too.
Browser extensions are a great way to use a VPN if you just want protection while you surf the internet and are not too concerned about factors such as ping or over-customization. An extension is particularly handy if you just need to get past a geo-locked page every now and then.
What is Windscribe VPN Router?
Known as the Invizbox 2, this router works with an existing Windscribe subscription and requires no additional software. The router features the VPN kill switch, parental controls, the capacity for multiple VPN hotspots, and can block ad provider domains with ease.
The router is designed to be capable of speeds upwards of 100 Mbps and features its own AES 256-bit encryption. In a nutshell, it's a Windscribe dedicated router.
User Experience
Another significant draw of the Windscribe platform is its useability and intuitiveness. While it can seem overwhelming with every single feature-packed into a small dashboard, everything actually fits into a small dashboard.
We were never left wondering how to find a feature or function, as everything was only ever a click or two away. It was easy to find servers for any of the available countries in a second, and servers that wouldn't handle P2P were clearly marked with red flags.
Streaming and Torrenting Using Windscribe
During our Windscribe VPN review, getting past geo-locked streaming services was a mixed bag. While we could easily access sites such as Netflix, BBC iPlayer, and even Disney+, we found some limitations.
For example, some servers provided access to the streams, but Netflix would quickly uncover our VPN usage a few minutes into a stream. On other occasions, speeds appeared to plummet when accessing the actual streams making those servers infit for purpose. However, we were able to find successful servers too.
We did like the ability to split tunnel – this means you can access your local Netflix while using a VPN to safely browse the internet. Split tunneling allows users to choose which apps and sites will use the VPN tunnel provided.
For those who utilize P2P networks, Windscribe is a good VPN. There are a number of servers that Windscribe has identified as ideal for P2P networks, and you can easily find these on the status page of the Windscribe app.
We tested Windscribe with popular torrenting apps such as uTorrent and found speeds to be consistent across every application. However, you won't get the same speeds as bigger VPN services with dedicated P2P servers, but you can still download quite large files using this service.
Hot Tips – Windscribe Review
Whether you are new to using a VPN or a regular user giving Windscribe a go for the first time, it's always handy to check out a few hot tips from Techshielder. Below are two of the hottest tips from our experts.
Try before you buy – Windscribe VPN can be used for free with a 10 GB data allowance. This is perfect for testing out the range of features and testing the speeds against your normal internet connection. You'll be able to test Windscribe using any of the platform apps or extensions too.
Check the default tunnel – Windscribe is set to IKEv2 protocol which may likely be a faster connection, but it certainly isn't as secure as the OpenVPN protocol. Be sure to check which protocol you are using instead of blindly accepting whichever connection you receive.
Conclusion
Despite the security breach of 2021, Windscribe appears to be doing a fantastic job of providing a secure VPN service that has extensive coverage and successfully unlocks geo-locked content.
The free Windscribe platform is feature-packed and a 10GB limitation can suit some casual users but is certainly not enough to be a full-time VPN service. Thankfully, we found the Pro accounts to be an incredibly affordable and good value-for-money platform.
Comparisons
FAQ – Windscribe Review
Is Windscribe VPN really free?
Yes, Windscribe can be used for free, but you'll be limited to 10GB a month.
Where is Windscribe based?
Our review of Windscribe confirmed that the company is based in Canada, but servers are located around the world.
Is Windscribe safe?
Despite a rather embarrassing security breach back in 2021, Windscribe is a safe broker with extensive security features and a great no-logging policy.
Can Windscribe unblock Netflix?
During our Windscribe review, we were able to successfully unblock Netflix from several locations.
Is Windscribe a good VPN?
Yes, after completing an extensive test, we believe Windscribe is a good VPN for most users.
Can Windscribe VPN be tracked?
Windscribe does not store any connection or session logs, so Windscribe traffic should not be able to be tracked.