Our TunnelBear review dives deep into this Canada-based VPN service formed more than a decade ago in 2011. Bought out by global software security powerhouse McAfee in 2018, TunnelBear might be one of the best free VPN services on the market.
Is TunnelBear that good? Our experts have rigorously tested the VPN services servers, unique features, and the ability to get around those tricky geo-blocks and let you know how much does TunnelBear cost. Read on for a TunnelBear rating you can trust at TechShielder.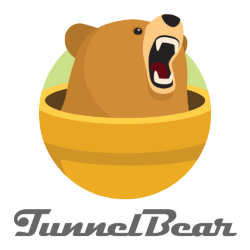 Get 67% off now
Pros and Cons – TunnelBear Review
Looking to pass judgment and declare a TunnelBear rating in a hurry? We have reduced our detailed TunnelBear VPN review into a bite-sized pros and cons list.
Pros
Powerful free account available
Can unblock DAZN
Over 2,500 servers from 49 countries
Very transparent privacy policy
Cons
No P2P support
No dedicated streaming servers
Plans and Pricing for TunnelBear
You're no doubt be wondering how much does TunnelBear cost? Unlike some other VPN service providers like PureVPN, TunnelBear is available for free. However, our TunnelBear free version review confirmed that this plan is limited, and you'll need to upgrade to enjoy the full suite of features.
There are two more account types available: Unlimited and Teams. The Teams plan is aimed at businesses that will have multiple users and will set you back $5.75 per month. For individuals, the unlimited plan will only cost a mere $4.99 per month for one year, $3.33 per month for three years, and $9.99 for a single month.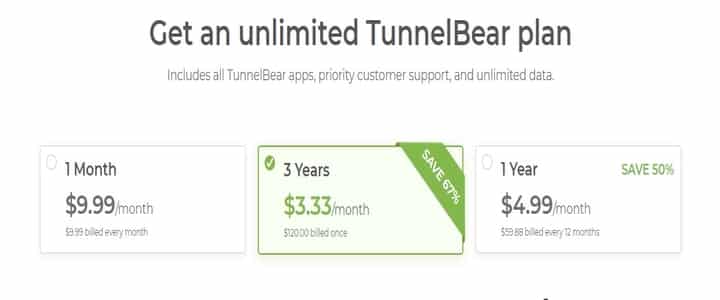 During our free TunnelBear review, we noted that the free account is listed as having only 500MB of data, but we actually received 2500MB and were able to access servers in all 49 of the available countries. The free account can only be accessed by one device at any one time and your data allowance resets every month.
The Unlimited plan offers unlimited data allowance, the ability to connect to 5 devices simultaneously, and priority customer service. The Teams business plan also receives unlimited data, 5 devices per user, a dedicated account manager, and tools for centralized team billing and management.
Unique Features for TunnelBear
TunnelBear has a number of useful features that aid in keeping your internet usage anonymous and ensuring the security of your data. For those living in heavy censorship nations, TunnelBear has the Encrypted Server Name Indicator that connects to server names in encrypted form to get around government DNS blocking or blacklisting.
GhostBear is a handy feature that aims to disguise your traffic patterns so that governments attempting to stamp out VPN usage will see your VPN traffic as regular traffic. We couldn't find this feature on the iOS app though.
TunnelBear – Server Locations, Numbers & Coverage
After a thorough TunnelBear VPN review, we confirmed more than 2,500 servers cover 49 countries. This is a rather impressive number of servers, especially considering the free TunnelBear plan features all the same servers.
While the server network is smaller than some bigger competitors, our TunnelBear reviews noted more physical servers than virtual ones and the network is rather well distributed. Users can also quickly locate the fastest server by using the Closest Tunnel feature.
The server network is extensive in Europe and also comfortable covers Asia, the UK, and North America. We noted a handful of South American countries were covered and even Australia/NZ – which is particularly difficult to find for free.
Performance and Speed of TunnelBear
Very rarely do we see a free VPN service that offers similar speeds as the paid counterpart.
Amazingly, during our TunnelBear free review, the speeds on the free version didn't appear to be any slower than the full paid Unlimited plan. So, how good is TunnelBear for speedy internet usage? The answer is rather impressive.
While it's pretty normal for most VPN services to reduce your internet speed by as much as 15-20%, during our TunnelBear VPN review, we only noted average speed losses of around 8-9%. This is incredibly competitive, especially considering the free version boasted the same level of performance loss.
Staying Safe with TunnelBear
The main goal of TunnelBear is to keep users safe online and this is certainly achieved. First and foremost, your traffic is encrypted with AES-256 encryption and SHA-256 hash for authentication – nothing out of the ordinary here and this compares to most of the biggest competitors.
TunnelBear, like many VPN services, offers a Kill switch known as VigilantBear which kills your internet connection in the event your VPN connection is lost. There are a few tunnelling options in OpenVPN and IKEv2. OpenVPN is available across all the platforms and is certainly the better protocol as it is incredibly difficult to detect.
IKEv2 protocol can only be found on the Windows and iOS apps and is ideal when switching between WiFi and mobile data networks. During our TunnelBear review, we did note that at no point could we actually choose our preferred protocol.
Premium Vs. Free with TunnelBear
Once again, one of the biggest selling points of this VPN is that all the same features are available in the free version – albeit with limited data allowances. All traffic is encrypted using the same protocols as a premium plan account and free users can still use security features like VigilantBear and Ghost Bear.
Staying Anonymous on TunnelBear
Our TunnelBear review uncovered a seriously impressive privacy policy that details every instance of information that TunnelBear collects from its users – this includes specifying the purpose of every single cookie used by TunnelBear. This means the logging policy is very clear.
For the most part, we liked everything we read – TunnelBear does not collect IP addresses, DNS queries, or any information about what a user does while connected to a VPN. Essentially, all traffic protected under a TunnelBear VPN shouldn't be able to be linked back to you.
This policy is also certified by Cure53 which conducts annual independent audits of security aspects of the TunnelBear service. However, our TunnelBear review confirmed that this service does collect some minor data including OS version and total data used.
TunnelBear provides IP and DNS leak protection and we found that TunnelBear has its own DNS servers which block IPv6 traffic effectively. Ensure these options are switched on and TunnelBear proves very effective in hiding your identity.
However, it's also important to consider where TunnelBear is based. TunnelBear is based in Canada and is a Five Eyes Alliance member – an organization made up of several states known for mass surveillance.
Platforms & Extensions for TunnelBear
TunnelBear is good for numerous platforms. For laptops and desktop devices, you can download TunnelBear for Windows and macOS devices. Those looking for protection while using a smartphone can download an app for either an Android or iOS device.
TunnelBear also offers extensions for both Chrome and Firefox browsers. There's no support for Edge but Opera users can access the extension through the Opera Add-On allowing users to download Chrome extensions. Our TunnelBear reviews noted that the extensions were sleeker and faster to use than the apps.
Another added benefit of the TunnelBear extensions is that users of Linux can still use a VPN – albeit for their browser only.
TunnelBear Blocker
Our TunnelBear VPN review revealed that Chrome extension users can benefit from an additional platform known as Blocker. In a nutshell, the TunnelBear Blocker increases your privacy by blocking ads and other forms of online tracking.
How good is TunnelBear Blocker? We also noted that webpages loaded faster with Blocker activated since load times were no longer affected by online tracking.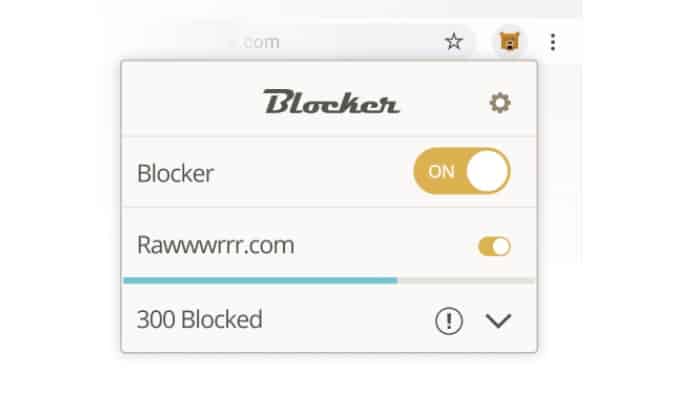 User Experience
TunnelBear might very well be the most pleasant VPN experience going around these days. With so many VPN providers looking like clones of other bigger and more popular services, it's refreshing to see a VPN provider with a unique interface and theme.
While you can use very simple menus to select your preferred country, you could also use the TunnelBear map and watch your sheep avatar borrow into your country before tunnelling out in the country you have selected your VPN for, transformed as a bear. It's a small element but it goes a long way toward creating a memorable and enjoyable experience.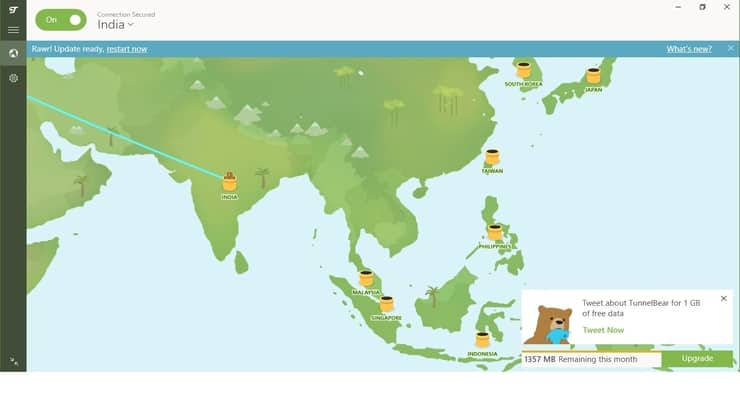 During our TunnelBear review, we found the features easily accessible and the platforms to be incredibly responsive. We encountered only a single VPN dropout during our entire tests and most attempts to unlock a streaming service were successful on the first or second attempt.
Streaming and Torrenting Using TunnelBear
Streaming is a little bit hit and miss at this VPN service. While most VPN companies really promote their service's ability to get around geo-blocked content, TunnelBear offers zero support for streaming. With that being said, our TunnelBear review proved the service can still pull out an impressive performance.
During our TunnelBear review, we were able to unblock Netflix and, surprisingly, DAZN which is easily one of the hardest platforms to gain access to. However, finding successful servers is entirely a guessing game and we still struggled at times – for example, we were never able to get videos to load on the BBC iPlayer or Amazon Prime.
Is TunnelBear a good VPN for torrenting? Unfortunately, TunnelBear won't be a great option if you like Peer-2-Peer downloads. While the service doesn't outright object to torrenting, it offers no specialized servers and in some cases, servers appear to throttle your speeds when accessing a P2P network.
Frankly, TunnelBear is not a good VPN for torrenting, especially when other services such as SurfShark offer dedicated P2P servers.
Hot Tips – TunnelBear Review
Are you looking for some quick pointers on getting the most out of TunnelBear? We've provided three hot tips that should ensure you have the best experience possible using this VPN service.
Try for free – Want to come up with your own TunnelBear rating before you buy? The free version of TunnelBear is identical to the premium version – with a data limitation – so your experience will be very similar to what you get with a paid plan.
Consider your devices – Some features are limited to certain TunnelBear apps. So, it is a good idea to consider if your device type will be able to enjoy the full suite of features offered by TunnelBear.
Geo-unlocking – If you need to occasionally get around geo-blocked content on a budget, you could just use the free TunnelBear account. You'll be able to access most countries as if you were there and won't have to pay a cent. 2,500MB will get you further than you think.
Conclusion
TunnelBear is a decades-old VPN service that offers a premium service for free. Yes, that free service comes at the cost of rather limited data, but for those who have specific needs for a VPN, TunnelBear is arguably the best free VPN service you'll find.
While our TunnelBear VPN review proved this service can be highly capable of unlocking geo-blocked streaming services, there are no dedicated servers for this purpose. We also noted that there is no P2P support, and you may even experience significant speed drops when accessing P2P networks.
However, casual internet users can enjoy great anonymity, excellent security and encryption levels, and use TunnelBear on multiple devices for a very low cost and with unlimited data.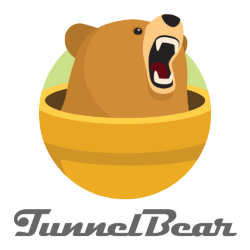 Get 67% off now
FAQ – TunnelBear Review
Is TunnelBear legit?
Yes, TunnelBear is a trusted VPN service with a long provable history and is independently audited.
Is TunnelBear free?
Yes, our TunnelBear review confirmed that TunnelBear can be used for free. However, you'll need a paid plan for unlimited data.
Where is TunnelBear based?
While TunnelBear was purchased by US-based McAfee, the company has maintained its head office in Canada.
How much is TunnelBear VPN?
TunnelBear offers a free account but the Premium account with unlimited data can be used for as little as $3.33 a month.
Is there a TunnelBear Opera extension?
No, but Opera browsers can download the Chrome extension by using the Opera Chrome Extension Add-On.
Is there a TunnelBear free trial?
TunnelBear offers a data-limited free version but there is also a 7-day trial for the TunnelBear Teams account type for businesses.