How To Use NordVPN With Omegle – Using Omegle with a VPN
In order to protect themselves against cyberthreats, people look towards VPNs for protection. VPNs provide safety and security, among other features, to ensure consumers are not at risk of cybersecurity attacks. NordVPN is one of the VPN service providers with a strong user base because of its reliability and excellence.
Its users are at peace knowing they can access any website without worrying about hackers stealing their data. Omegle is one of those sites. It is a social networking site that connects users to strangers. This article guides you in setting up NordVPN with Omegle and suggests solutions for any issues you might encounter.
What Is Omegle?
Omegle is a social site where you can talk to random strangers. It has two options: text chats or video chats. Unlike other social networking sites, Omegle does not require you to set up an account. This gives you a way of socialising with other people without having to divulge any personal information about you, keeping your privacy intact.
There is a box where you can put in your interests to pair you with a person with similar interests. Omegle seems safe initially, but it isn't. Chats are not encrypted, and hackers can intercept them.
How To Use NordVPN With Omegle
NordVPN can effectively take away the risks that come with using Omegle. Asides from that, there are countries in which Omegle isn't available. With NordVPN, you can circumvent heavy restrictions in those countries and access Omegle without any hassle. Let's take a look at a step-by-step process of using NordVPN with Omegle.
Go to NordVPN's website, select a subscription plan, and subscribe.
On the website, you will see guides to download the applications. Depending on your operating system, download the application.
Open NordVPN and connect to a server of your choice.
Go to Omegle's website, and you can start chatting with strangers.
In these four steps, you can easily activate NordVPN's protection and use Omegle within minutes. When you connect to a NordVPN server, it hides your IP address, thereby protecting you. 
There are a few cases where your VPN connection can get cut off, and your original IP address becomes exposed on Omegle. NordVPN has security features like leak protection and a kill switch to prevent that from happening. The kill switch halts your internet connection when you disconnect your VPN connection.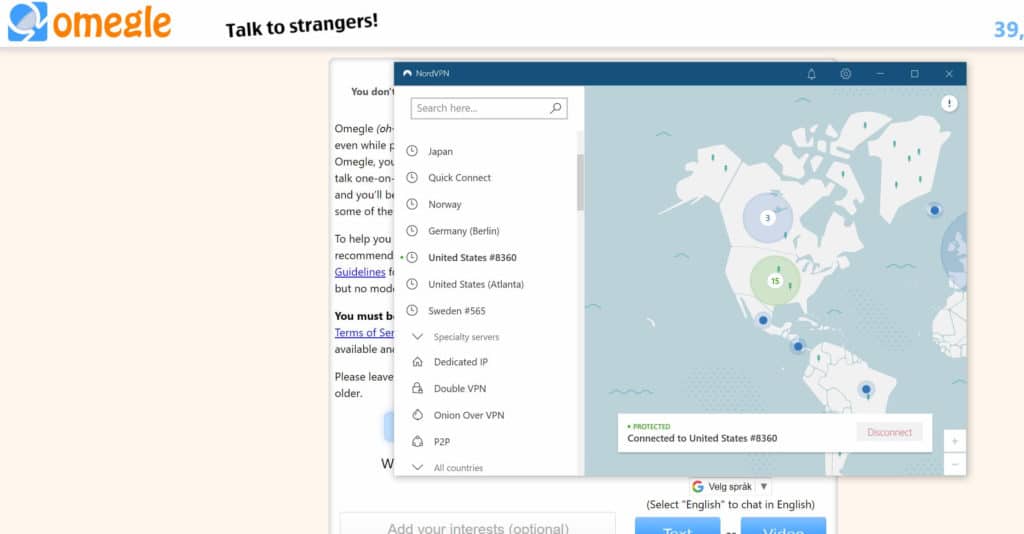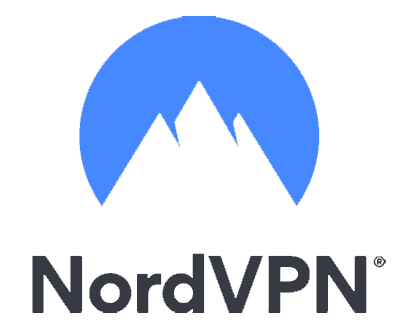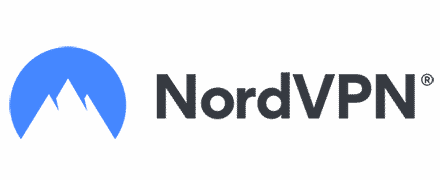 Get 66% off now
How To Fix Errors Connecting to Omegle With NordVPN
There are a few reasons why connections to Omegle are not successful when using NordVPN. They include the following:
1. Bad Network Connection
A bad or slow network prevents you from establishing a good connection to Omegle's servers. Using a VPN will affect your connection speed. So when you have a slow connection and connect to a VPN, it will worsen. The solution to this problem is to wait until you have a good connection or change your ISP.
2. IP Address Blocked
Omegle blocks/bans IP addresses that break their rules and regulations. It will block the server's IP address if another NordVPN user on the same server violates its rules and regulations. In this case, the solution is to find another server to get a different IP address. 
If you're still having issues connecting to Omegle, you can remove cache and cookies from your browser or contact NordVPN's support team to see if they can help you. Otherwise, you should have little or no issues using NordVPN with Omegle.
Pros of Using NordVPN With Omegle
1. Speed
NordVPN is one of the VPN services that assures fast connection speed and delivers. You need a reliable connection to prevent your chats from abruptly ending.
2. Server Network
NordVPN has a pervasive server network of more than 5400 servers that span 59 countries. This is more than enough to cater to your needs, especially in cases where Omegle blocks a server's IP address.
3. Security and Privacy
NordVPN uses industry-standard encryption and authentication ciphers combined with other security features like a kill switch to keep you safe. 
Is It Legal To Use Omegle With NordVPN?
Using NordVPN with Omegle is legal in many countries. This doesn't stop Omegle from trying to detect you're using a VPN and block you. Only in a few cases does it become illegal to use a VPN. For example, VPNs are illegal in regions where the government bans them.
Using NordVPN with Omegle or any site in such regions will put you at risk of incarceration. In every other region, illegality is out of the question. However, it is essential to note that performing any illegal activity on or with Omegle can put you on law enforcement radar.
Conclusion
NordVPN is the perfect VPN service provider for Omegle due to its brilliant speed, extensive server network, unblocking powers, and robust security features. It is a seamless process using NordVPN with Omegle. If you're still not convinced about NordVPN, then take a look at our full review on NordVPN.